AeroGardens are great for growing plants indoors or in areas where there isn't adequate sunlight throughout the year.
While it works well for plant growth, the light on the Aerogarden is too bright for you, your family, or your pets.
It is safe for health and eyes but the brightness can be distracting and annoying. 
Solutions exist to correct an Aerogarden light too bright to make your home a comfortable place for all. Those dimming the lights include side panels, or silk covering for plants. You can also raise and lower the light hood.
What Does An Aerogarden Grow Light Do?
These lighting machines help plant continue their growth and other chemical functions when sunlight isn't available or at night.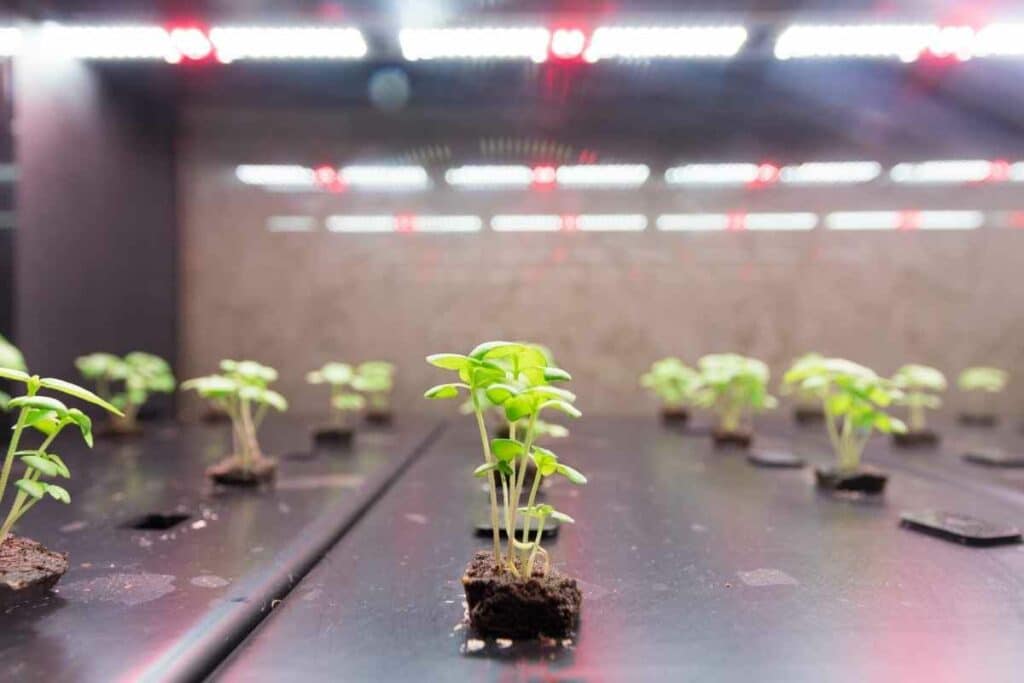 They shine daylight white illumination using LED technology. This is the best light to use for growing plants. 
Even if the AeroGarden light is bright, it doesn't give out any purple glares, which can be harsh on plants.
---
Double-check: The problem is an AeroGarden light too bright can hurt the eyes. However, the light is safe as they are rated with either a 12 or 45 Watt LED.
---
How Do I Dim the Lights on My AeroGarden?
Several ways can help you dim the bright lights from the AeroGarden on your plants.
These include using:
voice control
an app
and remote control
Using Alexa to Dim the Lights
The first thing you must do to use Alexa with your AeroGarden is to pair it with the AeroGarden App. Once you do that, Alexa will respond to your voice commands whenever you use the name given to your AeroGarden. 
You can ask Alexa to turn lights off or on or dim them, anytime you wich without disrupting your pre-programs cycles for light. 
Another remote voice control solution is to use the Amazon Echo to manage your garden device to reduce an AeroGarden light too bright.
Using the AeroGarden App
You have an AeroGarden App available to you that can be used to control lights on your plants.
The app isn't automatically downloaded on your phone when you buy your AeroGarden.
You can get the app by searching with the keyword "AeroGarden" in the app store on your phone. 
The good thing about the app is you can use the AeroGarden Bounty WiFi to connect to your app.
This WiFi enabling allows you to manage your garden settings for any mobile device no matter where you are and at any time so you can dim lights as you want. 
Using a Remote Control to Dim Lights
Smart technology is integrated into AeroGardens but different models have various types of technology. Those that have WiFi connectivity can be managed remotely using a tablet or smartphone.
The Sprout and Harvest are two models that don't allow for remote technology.
The AeroGarden needs WiFi connectivity for remote operations. 
Some devices have one-touch control that makes operation easy.
Some models, like the Farm collection, have a touch screen for adjusting lights. That's an easy way to manage an AeroGarden light that's too bright.
What Are Other Ways to Make the Lights Less Bright?
There are some low-tech ways to lessen AeroGarden lights too bright.
Using Form Boards
One of the easiest solutions is to use Tri-Fold Foam Poster Boards around the units to cover the front or back and block the sides, preventing light from flooding the room.
The boards come in both white and black but black tends to be a favorite color to defect from AeroGarden lights too bright. 
Boards will need to be cut to size to match the size of your AeroGarden. 
Some use binder clips to attach the fabric to the poster board to cover the plants at night, keeping the light from reaching beyond the plants.
If your AeroGarden is on a shelf, you can make curtains or use straight panels to cover them and the shelves when you don't want light. 
How to Lower Your Light Hood Manually
Another way to control an AeroGarden light too bright is to raise or lower the light hood.
This won't significantly affect the amount of light but can help reduce the glare.
Here are the instructions to raise and lower the light hood. 
Wrap a hand around the light post bottom above the Grow Deck. 
Use your other hand to grasp the upper part of the light post and push it up to raise it or down to lower. The light post will move a notch at a time. Keep moving it until it is where you want it when your AeroGarden light is too bright. 
Using a Silk Fabric Over Your Plants
This solution is similar to putting fabric over the lights and plants but this variation may be better for the plants. 
You can use a dark silk fabric to place over the entire AeroGarden and plants when you don't want to be disturbed by bright lights. People use silk because it is less heavy so it won't put weight on plants and is highly breathable.
You can uncover the plants at any time so you have the ultimate control over the light.
It is an incredibly simple solution to the problem of bright lights from your garden.
Would Dimming my AeroGarden Lights Hurt My Plants?
No, dimming your AeroGarden won't hurt your plants.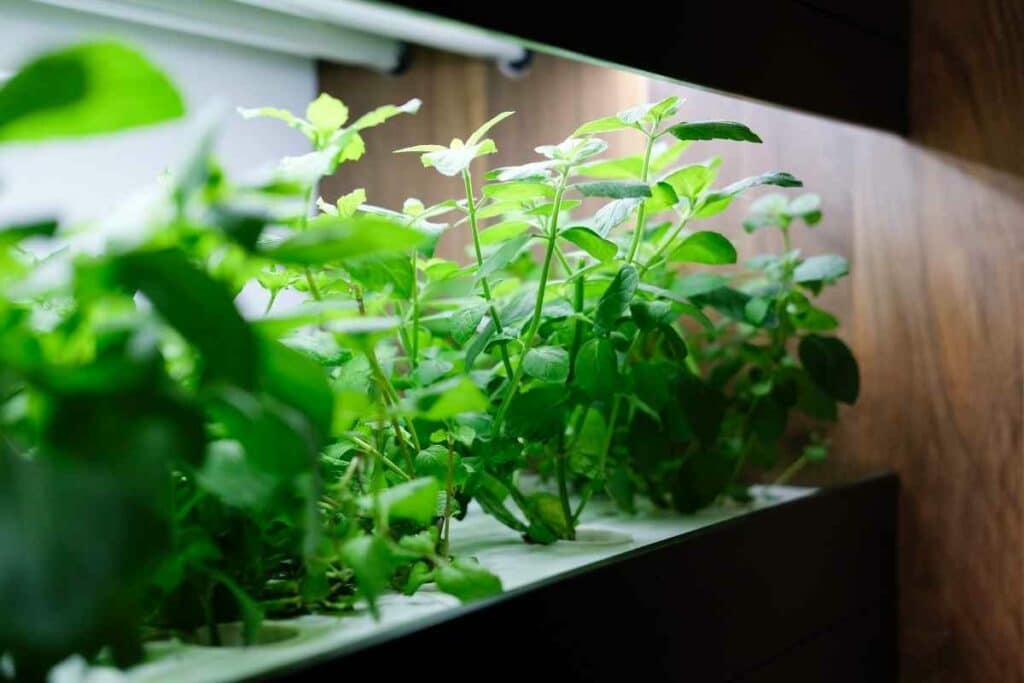 Plants adjust well to changes and some people use both sunlight and the Aerogarden to provide enough lights to their plants. 
---
Don't Forget: Plants also need around 8 hours of darkness to have the right balance of daylight to dark. Learning how to shut off or dim your AeroGarden will allow your plants to thrive in balance. 
---
Conclusion
Your plants will love the AeroGarden and you will too.
However, learning to manage your garden and the lights will also bring some relief to you and your family, especially if they must share a room with the AeroGarden lights too bright. 
There are plenty of inexpensive, practical ways to dim and lessen the glare from the lights and your eyes will thank you for the efforts.
You Might Also Read