You've probably heard of aquaponics, but aeroponics is a fairly new farming concept.
No growing medium is needed for aeroponics, so plants can be arranged in virtually any formation to maximize space and make watering easier.
Vertical farming is common for aeroponic gardens.
This setup requires a water misting system to deliver the nutrients and a powerful grow light that can replicate – even go beyond – the sun's effects.
The right grow light can drastically cut down the amount of space that is needed to grow larger crops, reduce the need for chemical pesticides, and lessen the amount of water the plants need (as well as wasted runoff water) used in farming. To find the best aeroponic grow light, you need to consider a wide range of factors, such as photon-flux output, intensity control, and cost.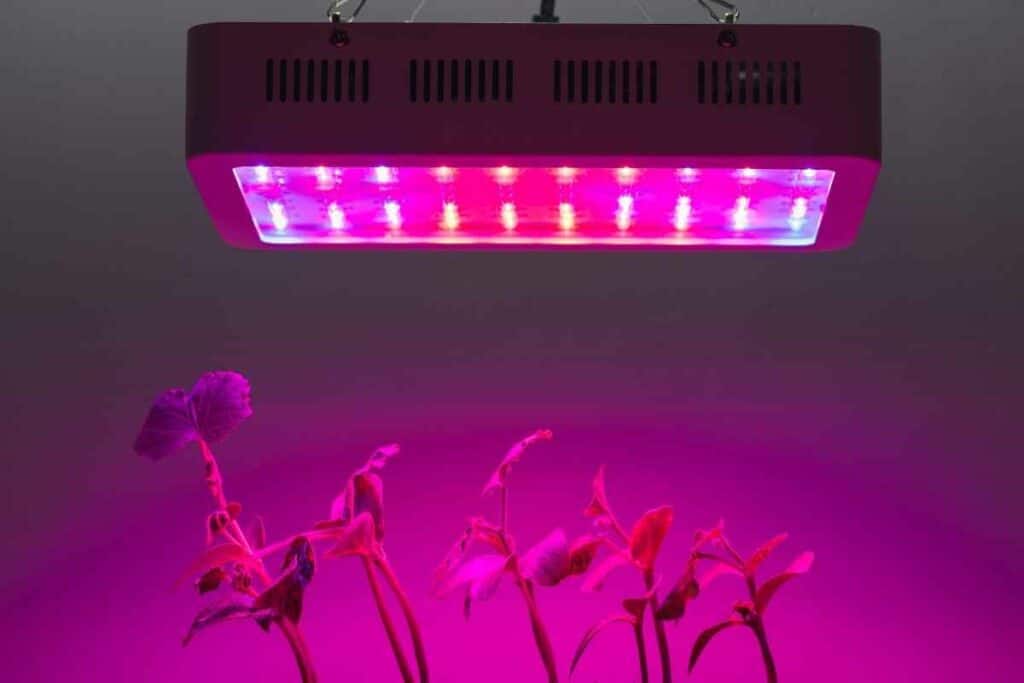 Let's compare a few of the most popular brands and styles.
1 – AGLEX LED Grow Light Bar
First up is the M240 LED Grow Light from AGLEX.
While AGLEX isn't a well-known name in aeroponics, that may soon change.
This grow light is less than $200, yet it can meet the needs of any small-budget growing project.
This unique light bar style is 4'x4.5' in diameter, with roughly the same coverage footprint.
This light is effective over the entire footprint at any height, unlike older spotlight models, making it a real bang for the buck.
This light bar comes with ratchet ropes and clips for installing the light.
What Is This Grow Light Bar Best For?
This light's unique structure lends itself very well to vertical farming, grow tents and personal greenhouses.
What Are the Major Features of the Aglex Led Grow Light Bar?
This bar light folds in half, making it considerably smaller and easier for one person to handle.
When folded, it is also more convenient to store when not in use.
The dimmer is on the power cord, not the light itself.
---
A long power cord (just over 6 feet) means that you can place the light anywhere and still control the intensity of the light without having to go into your greenhouse, grow tent or backyard.
The dimmer feature offers 10 distinct levels as well as an "off" position so you don't have to unplug it to completely shut it off,
---
Even Better: It is also constructed with an aluminum frame for a built-in cooling system to extend the life of the lamps and frame. This also eliminates the need for a noisy fan.
---
What Type of Full Spectrum Light Can I Expect from the Aglex Led Grow Light Bar?
You'll get a complete range of light from your AGLEX LED Grow Light that benefits plants throughout the growing and blooming (or production) cycle.
The light offers all of the following, with the corresponding benefits:
3000K warm white- responsible for bigger, more colorful blooms
660nm red – results in more leaves and an overall healthier plant
5000K white – converts to heat within the leaves, keeping the plant at the perfect growing temperature
740nm infrared light- known to result in a better yield from any type plant
2 – Spider Farmer SF-4000 LED Grow Light
Durability is the name of the game for the Spider Farmer SF-1000.
A single aluminum board holds all the LED lights, so the entire system stays cooler.
In addition, the lights are coated to make them water resistant, increasing the life span of the board.
This light is around $150, far below the cost of other grow light boards, but you'll still get reliable light for indoor use.
The board itself is 5'x5', so it is larger than comparable models. It offers a 3'x3' footprint for vegetables and 2'x2' for flowering plants.
This can be adjusted slightly depending on how high it is hung.
Spider Farmer SF-4000 uses Samsung LED diodes and Mean Well drivers. These components make the grow light extremely durable and reliable.
Where Can I Use This Light?
The Spider Farm SF-4000 is great for small spaces where too much heat can become a problem, such as growing closets and tents. It's maximum benefits can be seen when used with fewer plants.
What Are a Few Remarkable Features of the Spider Farmer Sf-4000?
The manufacturer is dedicated to energy efficiency.
As a result it promises that the SF-4000 model requires 50% less power consumption than other SMD LED grow lights.
Another result of the low-energy needs of this grow light, the system stays cooler than other models, so there is no need for a fan which would create more noise and use more energy.  
---
This is one of a few models that is equipped for a daisy chain dimmer system. Using power cords, you can connect up to 12 different light boards of different models.
Controlling the entire daisy chain is done by adjusting the first light. Then the rest follow suit.
Spider Farmer products undergo strenuous durability and quality control testing before leaving the plant, so your purchase is officially and unofficially guaranteed.
Does the System Have Full Spectrum Grow Lights?
Yes, your plants will have access to the following types of light:
3000K warm white
660nm red light
760nm infrared
5000K blue light – speeds up germination and increases growth rate due to maximized chlorophyll production
3 – Vivosun VS 1000 LED
Another great board variety is the Vivosun VS 1000 LED.
It is as attractive as it is effective, and for less than $150, it's a good value as well.
This LED grow light is smaller than similar models, at just 11.8"x11.8" with a footprint that's about the same size, so you aren't losing much in terms of coverage area with this smaller unit.
An advantage to this smaller surface area is that two panels fit nicely into a 2×2 growing tent.
Samsung diodes and Sosen drivers make the Vivosun VS 1000 a reliable option for small-scale growing.
The unit also comes with grow room glasses for UV protection and rope hangers.
Who Is This Light Good For?
Beginners may feel more comfortable with this smaller grow light versus larger models. It's perfect for indoor growing, of course, but it is especially effective in shorter tents. It will also appeal to growers on a budget.
What Are the Features of the Vivosun Vs 1000 Grow Light?
If you're looking for a low heat output, this is one that can be hung at any height without fear of damaging plants.
A 6-foot power cable allows you to control the light intensity from outside the growing area, so you aren't exposed to the lights and humidity, and your plants aren't disturbed.
---
This unit has 4 intensity settings, from 25% up to 100% to give your plants the right amount of light at any stage of growth. These settings can be adjusted from an exterior dimmer on the power cord.
The entire board, including the bulbs, is waterproof so it won't be affected by excess humidity or daily watering. This increases the lifespan and durability of the board.
As we mentioned earlier, the board is compact, so you'll get just as much light from this unit as you would some larger units.
Does It Offer Full Spectrum Light?
Yes, you'll get a range of light, featuring all of the following types of light which are responsible for healthier, denser plants and bigger, better blooms:
660nm red light
5000K cool white
3000K warm white
4 – Philzon PL-1000
The Philzon PL-1000 is a growing light of good quality, and if you do experience issues, the company also has highly rated customer service.
If you are nervous about going with a lesser-known brand, this is an excellent one to start with or a more affordable brand to switch to.
For less than $100, you'll get a slim 2'x4' grow light that has a footprint of about the same size.
Each light comes with a convenient temperature gauge that helps you keep the perfect amount of light on your plants throughout the various stages of development without guesswork.
You will also receive cords and clips for hanging the light at any height.
Why Should I Choose the Philzon PL-1000?
This light is great for filling in dark spots in an outdoor garden or greenhouse. Since it is waterproof, it's great for high moisture areas like growing tents, closets, and greenhouses.
What Features of the Philzon PL-1000 Are Most Appealing?
There are several things you'll like about this particular grow light.
These features make the light a reliable alternative to more expensive brands:
First of all, this model is capable of a daisy chain connection for multiple units. Once connected, all units in the chain can be controlled by a single dimmer on the first board in the series.
An external dimmer and power supply ensures that you can control one or several boards from outside the grow tent or garden area if you wish.
The heat-minimizing design of the board eliminates the need for a cooling fan. This virtually eliminates noise produced by the light.
The board also has a waterproof coating like many other models within the same budget and footprint. If you are in the market for a grow light in this range, you should definitely look for one that is waterproof. There are too many affordable options to overlook this important feature.
Philzon also uses Samsung diodes. This is partially responsible for the lower temperatures while running. In fact, this board does not require a heat sink because it maintains such low running temperatures. The Samsung diodes also promote a longer lifespan and more reliable light output.
---
Does the Philzon PL-1000 offer full spectrum light?
This model offers customers some of the most complete specs about its full spectrum light: 
500-599nm of green – not as effective as other light colors for growing plants, but still somewhat useful during photosynthesis, especially when combined with red and blue light
380-399nm of UV light – creates natural sunblock within the plant and promotes the production of natural oils (which maximizes the flavors and aromas of most plants)
5 – AGLEX K1000 LED Grow Light
The final grow light on our list is the AGLEX K1000 LED Grow Light.
This AGLEX grow light utilizes the board design rather than individual light bars for consistent intensity over the entire coverage area.
Similar to its grow light bar counterpart, this light board is an affordable option that offers an alternative to pricier brands.
The AGLEX K1000 is less than $100. For this price, you'll get a compact 8"x18" grow light with a 2'x4' footprint for maximum growing space.
The smaller size of this light opens up the possibility of placing two lights close together (as in the case of a grow tent) or creating a daisy chain to accommodate a larger number of plants.
What Situations Is this Grow Light Good for?
As a small, powerful grow light, this product is perfect for indoor grow tents. It also works well in situations where it is necessary to daisy chain with multiple models for a larger crop.
What Features Can I Expect from the Aglex K1000 Led Grow Light?
As expected, this light has a 0-100 dial dimmer switch for customizable intensity and the all-important "off" setting that eliminates the need to unplug the unit to remove light from plants.
---
The unit employs and effective heat sink that keeps the unit cool, so you don't have to worry about overheating your plants or burning yourself while working with plants.
A low profile design allows you to hang this light at any height, and it is easy to store when not in use as well thanks to its convenient small size.
Will I Still Get Full Spectrum Light from This Smaller Model?
Yes, the AGLEX K1000 LED Grow Light will cover a 2'x4' area, which is really surprising. This light offers the best range for growing vegetables and flowers, including the following frequencies:
660nm red light
3500K warm white
6500K white light
Final Thoughts
As you can see there are a number of factors when it comes to Aeroponic lights that you will need to consider.
Some will be down to personal choice and some will come down to cost.
There are options to suit all budgets and size of projects.
We hope the information provided helps you make the best purchase for your needs and budgets.
You Might Also Like