Nothing is as frustrating as having to stay indoors because your sidewalk or driveway has a lot of snow.
This adds to the infuriating experience of enduring bleak winter conditions.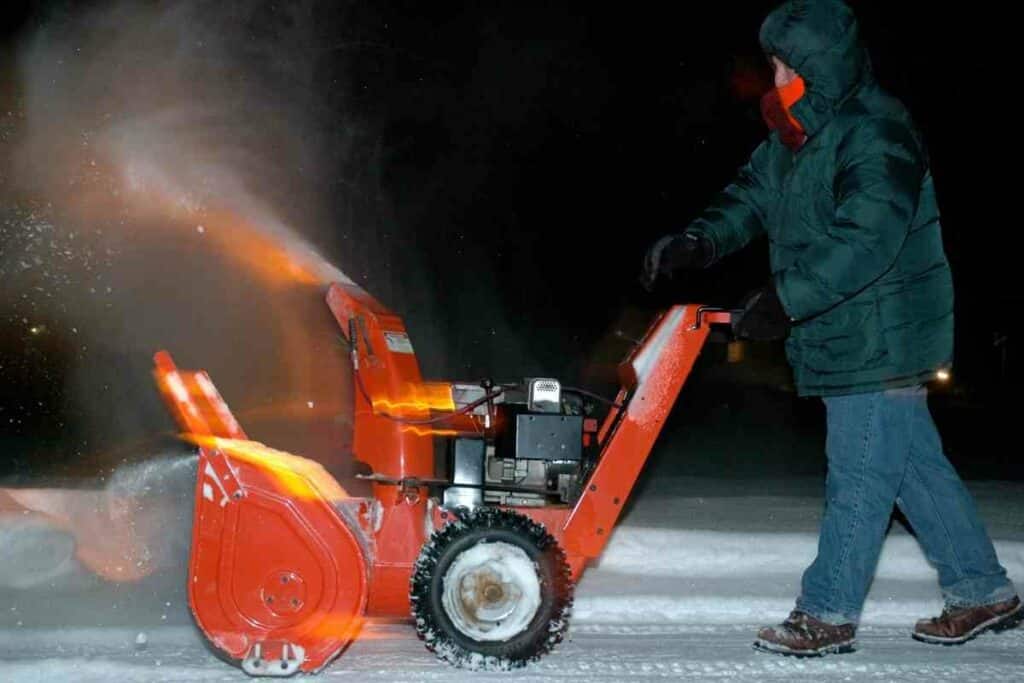 People had to spend lots of time shoveling snow off their backyards in the past. This often left the person shoveling exhausted.
Luckily, snow clearers and throwers came into the fray.
Currently – There are various models available in the market, including electric, single-stage, and multi-stage machines.
Here are the top seven best snow clearers and throwers available to you.
1. Snow Joe 24V-SS11-XR 24-Volt 1 Cordless Snow Shovel
Ergonomic design
27 minutes run time
20-foot throwing distance
If you fancy portable machines, look no further than this unit from Snow Joe.
The company has a protracted reputation for developing reliable power tools, and this one is no different.
It features the company's trademark iON 24-volt Lithium-ion battery system that allows you to clear snow for 27 minutes non-stop.
You can use it on your deck, driveway, and sidewalks with little hassles.
Moreover, this product is highly portable, as it weighs a mere 12lbs.
Despite being small, a single charge is enough to dig through 2025lbs of snow.
The 24V-SS11-XR has a heavy-duty auger paddle with two blades that can throw snow up to 20 feet.
It's made of durable material that digs through snow without damaging your deck or pavement.
However, it's not advisable to use it on gravel surfaces.
2. PowerSmart Snow Blower
All-steel auger
Electric starter
13" snow tires
180-degree chute control
Two-stage throwers don't come better than the PowerSmart Snow Blower.
Its powerful 212cc gas-powered engine allows it to dig through fluffy, light, and heavy snow with incomparable ease.
Operation is also simple, as you only have to push the button to turn on the machine thanks to its inbuilt electric starter.
Another impressive feature of this product is its 180-degree chute control.
It allows you to choose where you want to throw the snow. You can throw snow up to 40 feet.
Furthermore, this machine has an all-steel auger that makes it ideal for heavy snow.
3. Briggs & Stratton 1022 Single-Stage Snow Blower
Auger-Assist Drive System
208cc Briggs & Stratton OHV Engine
Chute-mounted rotation and deflector controls
Do you want a reliable single-stage snow thrower? If so, consider buying the Briggs and Stratton 1022.
It comes with the new Briggs & Stratton Snow Series Engine designed to deliver optimum power in extreme winter conditions.
Even better, it has oversized controls that make it easy to operate.
Like other products from the company, it has a compact design that improves maneuverability.
This also saves storage space in your garage or outdoor shed.
Interestingly, this unit comes with an Auger-Assist Drive System.
The auger paddles have a wear-resistant rubber lining that clears snow while protecting your pavement from damage. It also helps in forward propulsion.
4. EGO Power+ SNT2102 Cordless Snow Blower
35-foot throwing distance
On-board chute control
Peak Power technology
Some people argue that electric snow clearers aren't as effective as their gas-powered counterparts.
However, the EGO Power+ SNT2102 defies that. It has a unique Peak Power technology provided by its two ARC lithium-ion batteries.
These run the high-efficiency brushless motor.
Even better, it comes with a variable-speed auger that allows you to control the throw distance.
This machine can discharge snow up to 35 feet away at its peak.
Imagine all these perks without the harmful fumes and annoying noise of gas-powered engines.
5. Earthwise SN74018 Cordless Electric Brushless Motor
180-degree rotating chute
Brushless 40-Volt motor
30-foot throwing distance
Earthwise is a company committed to environmental conservation, and their SN74018 abides by this stand.
Its most significant advantages are its quietness and quickness. 
Its powerful 40-volt brushless motor can move up to 500 lbs. of snow per minute.
Because it's battery-operated, it doesn't require oil or gas to function, making it a quiet and eco-friendly choice.
Your snowblower can serve you for many years since it comes with the reliable Earthwise battery and 4Ah battery charger.
6. WORX WG471 40V Power Share 20" Cordless Snow Blower
Enclosed battery compartment
180° rotating chute
Single stage rotary auger
Besides being overly effective, this cordless snow thrower is easy to use.
It can clear up to 20 inches of snow and throw up to 20 feet of debris. With this, you can comfortably clear off debris in a two-car driveway. 
Like other electric blowers, this product is cost-effective and requires little maintenance.
7. Greenworks 13 Amp 20-Inch Corded Snow Thrower
Lightweight design
Directional throwing
Push-button start
The 13amp motor included in this product is pretty impressive for such an affordable unit.
It's as good as the gas-powered models, as it can throw snow for up to 20 feet.
Unlike the other models above, this has a 360-degree rotating chute. This guarantees an almost seamless control.
How to Choose the Best Snow Clearers and Snow Throwers
There are four different snow clearers currently available to homeowners:
electric
single-stage
two-stage
and three-stage
Each of these is ideal for unique applications, with the most significant determinants being snow height, snow type, and the surface you intend to clear snow from.
Here is how to choose the perfect equipment for removing snow from your backyard or entryway, depending on its type.
Electric Models
If you have light snow around your home, investing in an electric snow thrower makes sense.
This equipment can remove snow whose depth doesn't exceed 12 inches, making it easier to access your home.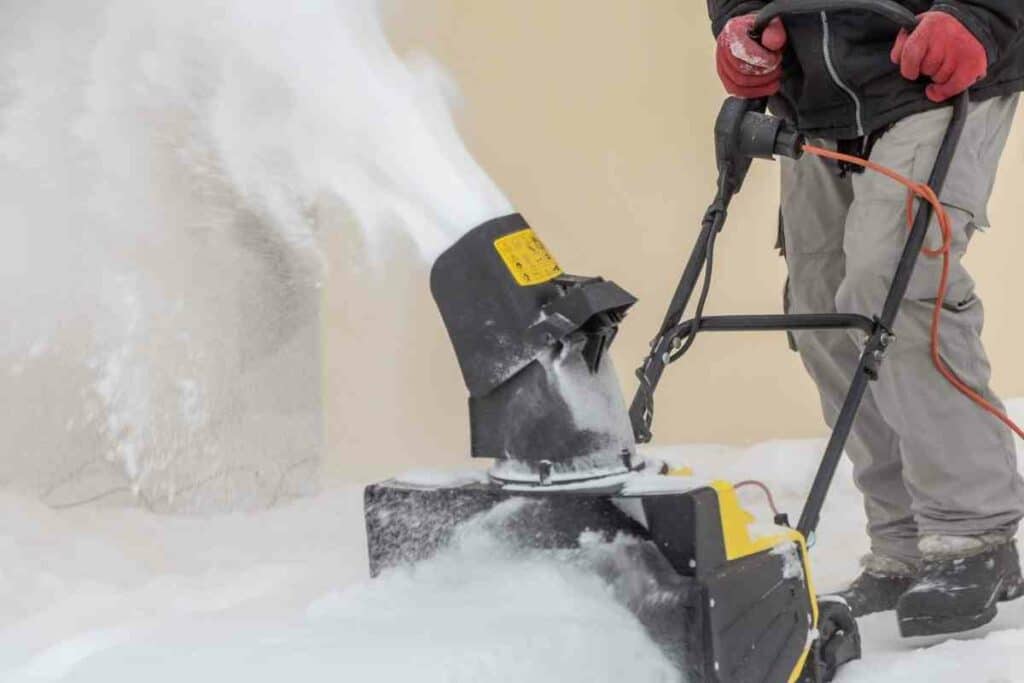 Because they're typically small, electric blowers are suitable for decks and steps where heavier gas-powered models can't fit.
Besides portability, electric blowers are easy to maintain.
They don't have moving engine parts, meaning that you don't have to change or refill oil regularly.
However, you might need a long extension cord, especially with a long driveway.
Thanks to technological advancements, more people are opting for battery-powered blowers.
These further enhance the portability of these equipment, as you won't need a nearby mains outlet to operate them.
---
Even Better: Some of these batteries are compatible with other power tools such as chainsaws, lawnmowers, etc.
---
Single-Stage Snow Blower
As the name suggests, single-stage snow clearers throw scoops of snow once through the chute after you turn on their gas-powered engines.
This explains why they're the lightest and most portable of gas-powered models.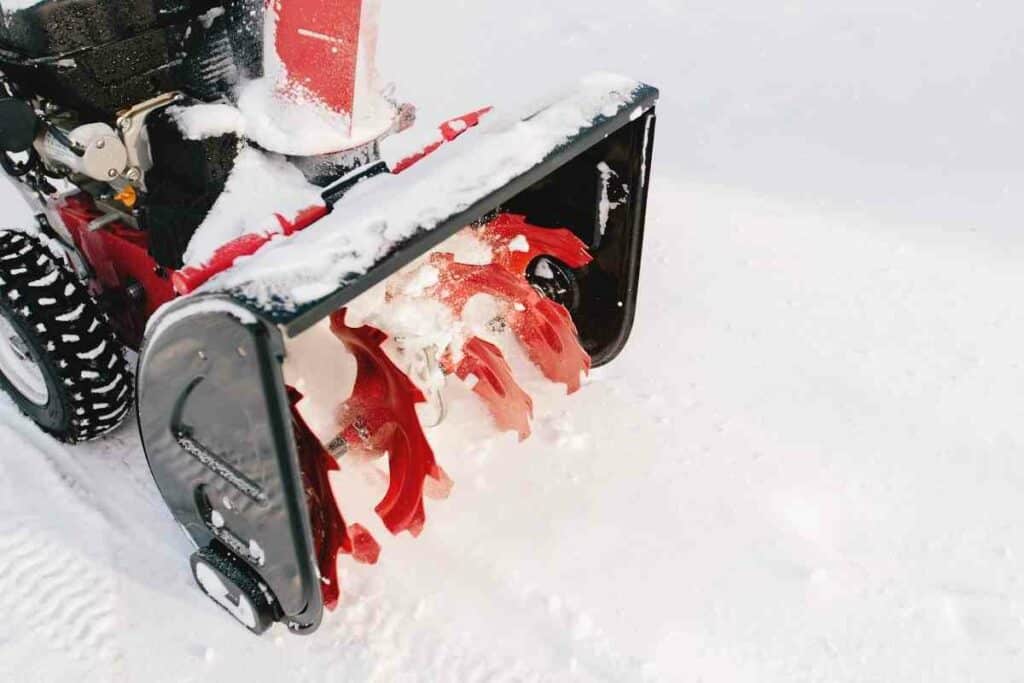 Since they have a simplistic design, they are only effective at clearing snow that doesn't exceed 12 inches.
That's what you'd find in a driveway of a typical suburban residence in areas that experience moderate snowfall. Their price is also pocket-friendly.
It isn't advisable to use these blowers on gravel surfaces since the auger paddles brush against the ground during operation.
You risk injuring others or damaging glass surfaces and your driveway if you do so.
---
On the Downside: Single-stage snow clearers don't have sufficient robustness to handle 12-inch snowdrifts. This is where the more powerful two-stage and three-stage models come in handy. 
---
Two-Stage Snow Clearers
As you would expect, two-stage throwers are significantly better than electric and single-stage blowers.
Precisely, they can effectively dig through snow that's 18 inches deep without any mechanical hitches.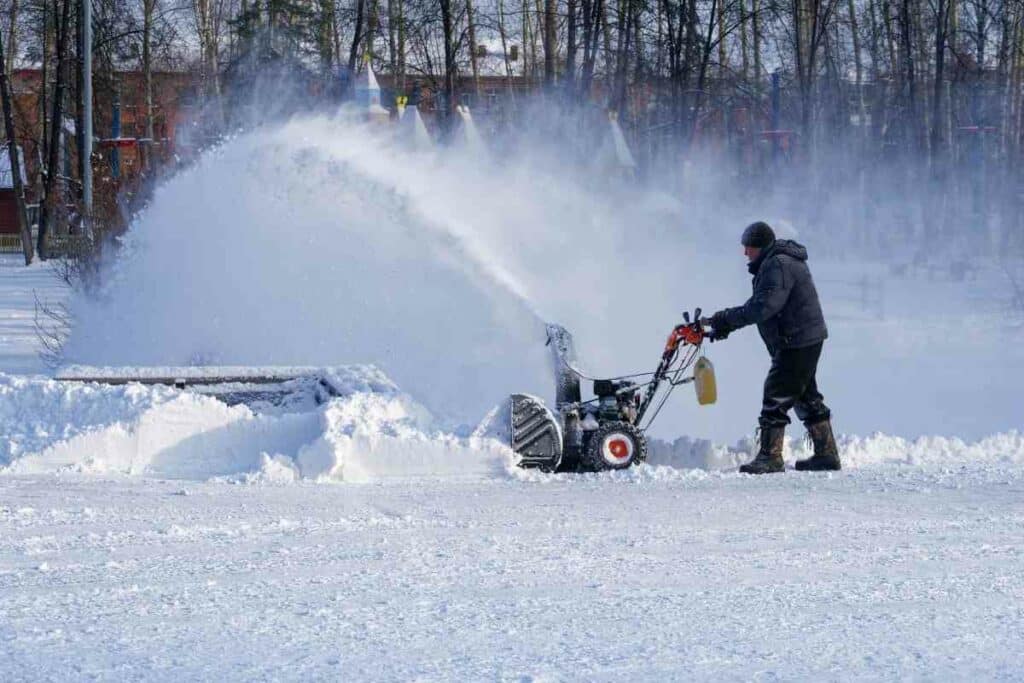 As such, they're ideal for regions that experience heavy snowfall.
Two-stage throwers work by scooping snow and ice first. Then, a high-speed impeller throws the scooped snow through a chute.
This prevents the clogging of the intake bucket. 
Notably, the auger in a two-stage thrower doesn't touch the ground during operation.
This means that you can use the equipment on concrete and gravel surfaces without potential risks.
---
Moreover: These models have larger intake buckets that enable you to operate them for more extended periods.
---
Three-Stage Snow Clearers
Three-stage snow clearers are the most powerful and efficient snow removers available to you.
They have two metal augers that scoop up the snow and ice. After this, they move it centrally where an accelerator breaks down the snow and transfers it to the impeller.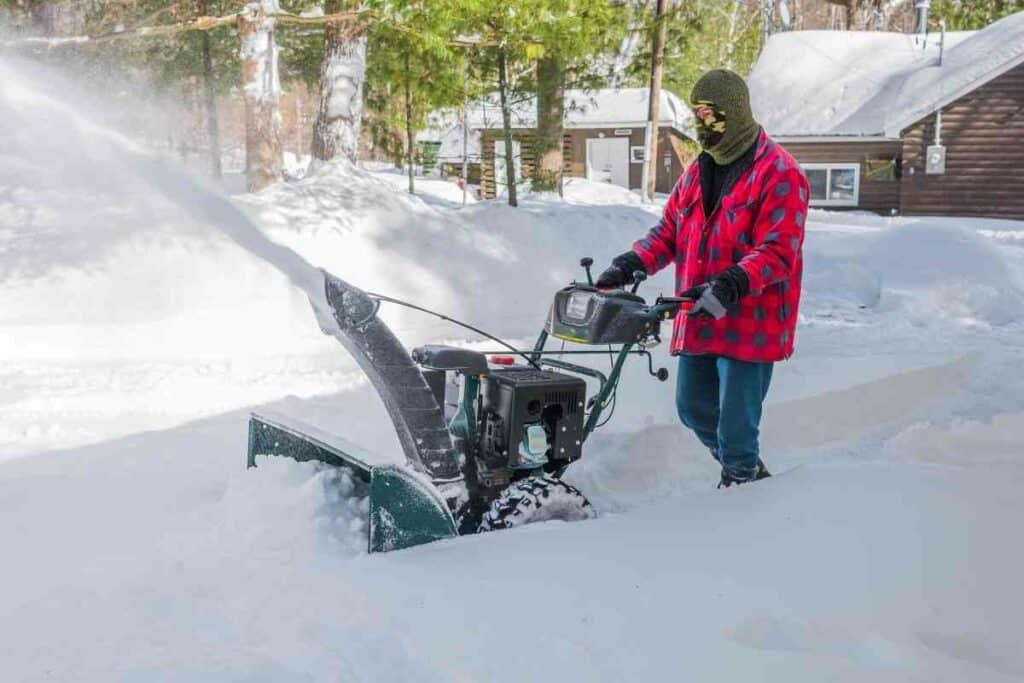 The impeller then pushes the bits through the discharge chute.
The unrivaled efficiency of these models makes them perfect for heavy-duty applications.
They can easily cut through deep, heavy, and wet snow with heated grips, self-propelled wheels, and one-touch chute control.
What Are the Must-have Snow Thrower Accessories?
The following are the must-have accessories if you want to make the most of your snowblower.
The Melt Buddy
Naturally, snow is bulky because of its high moisture content. This is why people use salt to melt it into water and make disposal easier.
The best thing about this accessory is its compatibility with multiple types of snow blowers.
As such, you don't have to drag along a huge sack of salt as you clear snow from your driveway.
Snow Cab
Another vital accessory for your snow thrower is a snow cab.
It protects you from the extreme conditions experienced during winters, such as strong winds and snowstorms.
Moreover, it prevents the snow from the chute from hitting you in case winds blow it back.
Most snow cabs have a heavy-duty fabric shell with freeze-resistant properties to withstand the strongest blizzards.
Like the Melt Buddy, this equipment is compatible with all types of snow blowers.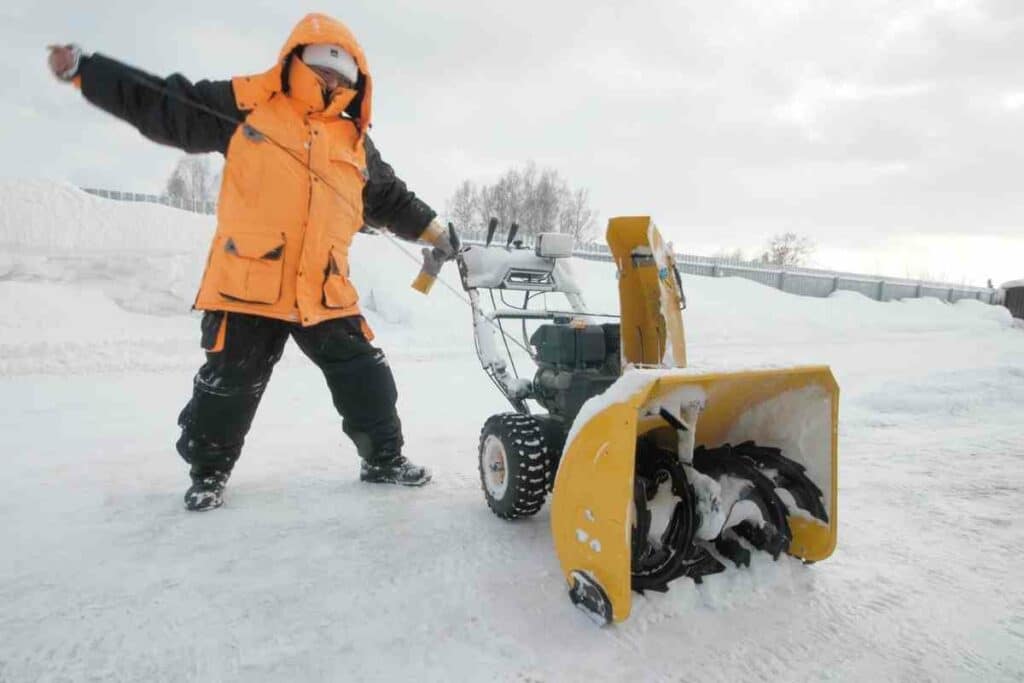 Clean Out Tools
Like other mechanical equipment, snow blowers require regular cleaning to maintain optimal functionality.
The most vital aspect of maintaining a snowblower involves removing clogs of snow and ice.
After extensive clearing, wet snow usually accumulates and clogs the interior of the auger housing.
If left unattended, these clogs can reduce the effectiveness of your machine.
---
Besides: Removing clogs increases safety. How? Large clogs of snow can be potentially hazardous if they hit you during operation.
---
Tire Chains
If your snow blower's tires don't have adequate grip, you're likely to experience challenges when clearing your driveway.
Specifically, the equipment can start skidding across the surface while in operation.
But, what causes skidding? When snow thaws during the day and freezes overnight, an underlying layer of ice develops beneath your driveway.
This makes the tires slide as you move your machine across the surface.
The best solution to this challenge is wrapping chains around the tires to add more traction.
Floor Mats
Your snow clearer will have some snow once you finish removing snow from your sidewalk.
When you return the machine to your garage, the snow will inevitably melt and make the floor slippery.
A floor mat contains the melted snow, saving you from the trouble of cleaning up your store after every snow removing session.
The mat also protects the floor from fluid leaks and scratches. More importantly, it ensures that your machine doesn't freeze, extending its life.
Front Weight Kit
Installing a front weight kit adds more stability to your snow thrower and increases its digging power.
The extra weight exerted by these kits keeps the augers closer to the ground. As a result, the equipment digs deeper into the snow.
---
Additionally: Weight kits increase stability, especially if your unit has snow cabs. This is because they weigh at least 10lbs.
---
Snow Jet Spray
A common problem experienced by snow blowers is snow sticking inside your machine.
Investing in a jet spray can help you remove clogs off the metal parts and prevent rusting.
Snow Blower Gloves
Do you know that touching your machine with cold hands increases the risk of damage? For this reason, gloves are a must-have accessory.
With gloves, you get extra protection from possible cuts and bruises, provide extra warmth, and guarantee extra comfort when operating the snowblower.
Snow Blower Covers
For the lazy ones, snow blower covers are a valuable investment.
They ensure that your machine doesn't get dirty, even if you fail to clean it in the off-season.
Snowblower covers have a waterproof fabric that doesn't stretch or shrink.
These properties ensure that your machine withstands adverse weather conditions and protects it from other unwanted debris such as bird poop and falling leaves.
Wrapping Up
If you live in an area that frequently experiences snowstorms, the best snow clearers and snow throwers are a must-have.
After all, who can make do with waking up in the morning, taking a shovel, only to remove snow off their driveway? No one, not even you.
The ultimate solution to this conundrum is investing in the machinery reviewed in this article.
You'll never get disappointed, and more importantly, you're assured of a lifetime's performance, provided you put in the performance.
You May Also Like