Modern brides are doing away with the traditional wedding flower garlands, backdrops, and table arrangement centerpieces.
Bridesmaids and the bride now carry beautiful, cost-friendly, and unique alternatives that are becoming popular.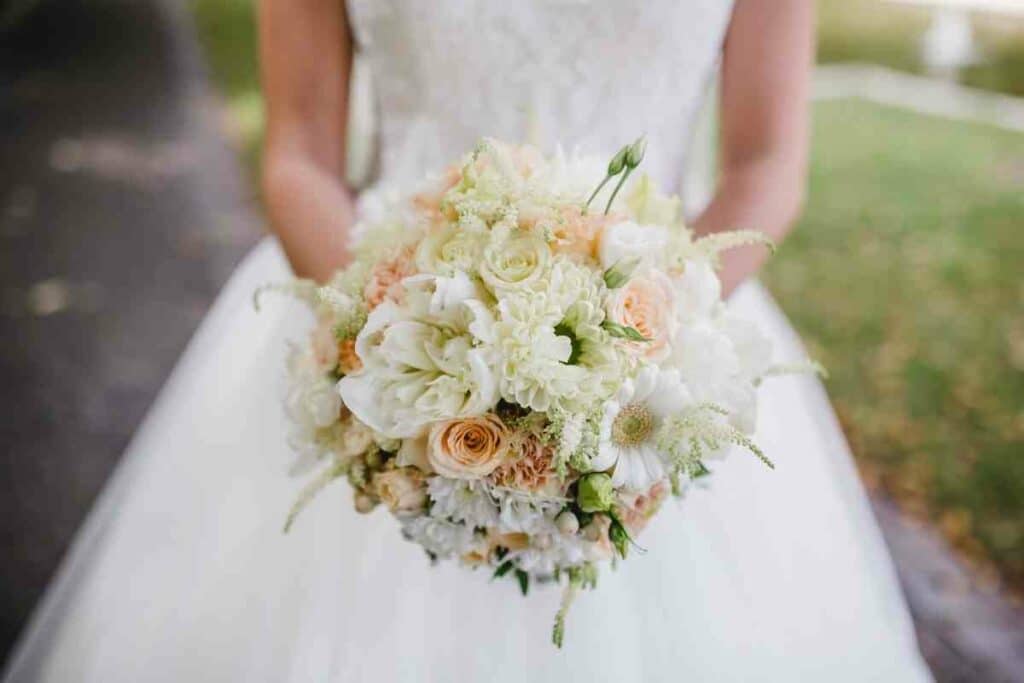 You do not have to spend a fortune on the rarest blooms to have a stylish wedding.
The numerous organic wedding flower alternatives available can make your special day equally elegant, if not better.
What to Expect? These eco-friendly alternatives are good for the environment and save money on special transport costs.
Why do brides carry flowers at weddings?
Bridal flowers are a stunning accessory.
Flowers are communicative, as the various types share different meanings.
Weddings are joyous occasions that send all sorts of positive messages.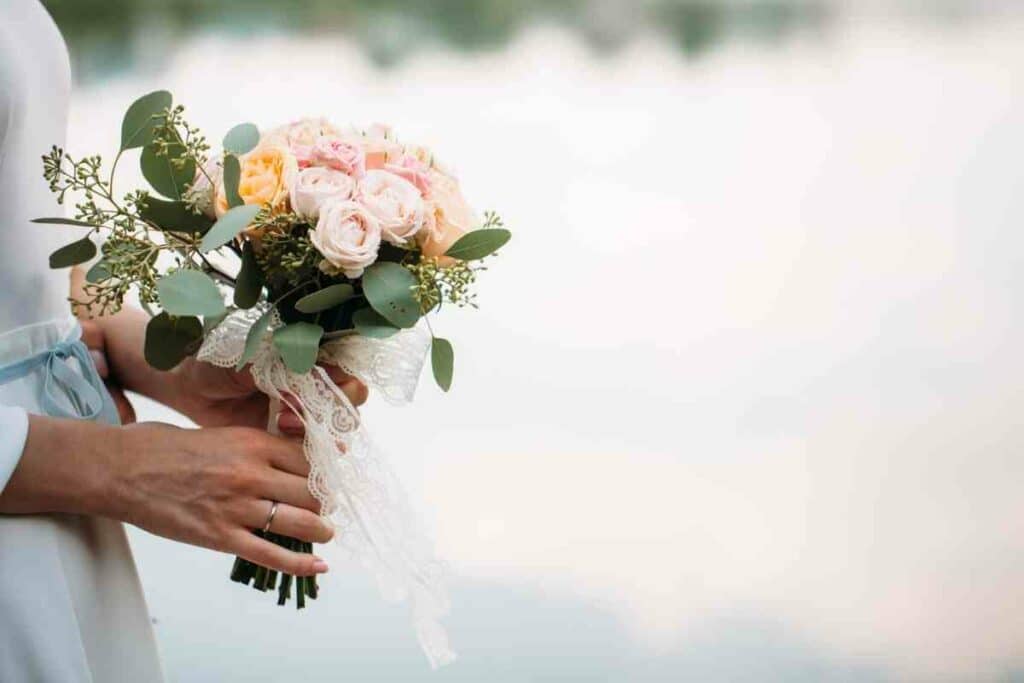 Brides intend to portray happiness, contentment, and pride during their wedding day. 
Not only are flowers gorgeous as they brighten up a room, but their history as wedding bouquets goes back thousands of years.
Ancient Romans began this tradition as flowers in weddings signify:
fertility
loyalty
and a new beginning
They became a sign of love and hence, the long-lasting tradition as a display of affection in wedding ceremonies.
Despite this noble reason, today's bride is modern, environment-friendly, and money conscious.
They want their wedding day to be a non-traditional and unique affair.
Although flowers remain popular among brides, many consider alternatives for their wedding decor.
Spending a lot of money to purchase fresh flowers for a few hours event is deemed unnecessary.
Can you do a wedding without flowers?
You can have a wonderful wedding without flowers.
A wedding without flowers is contemporary and a personal decision.
Most non-flower wedding decor is unique and sometimes necessary due to individual pollen allergies.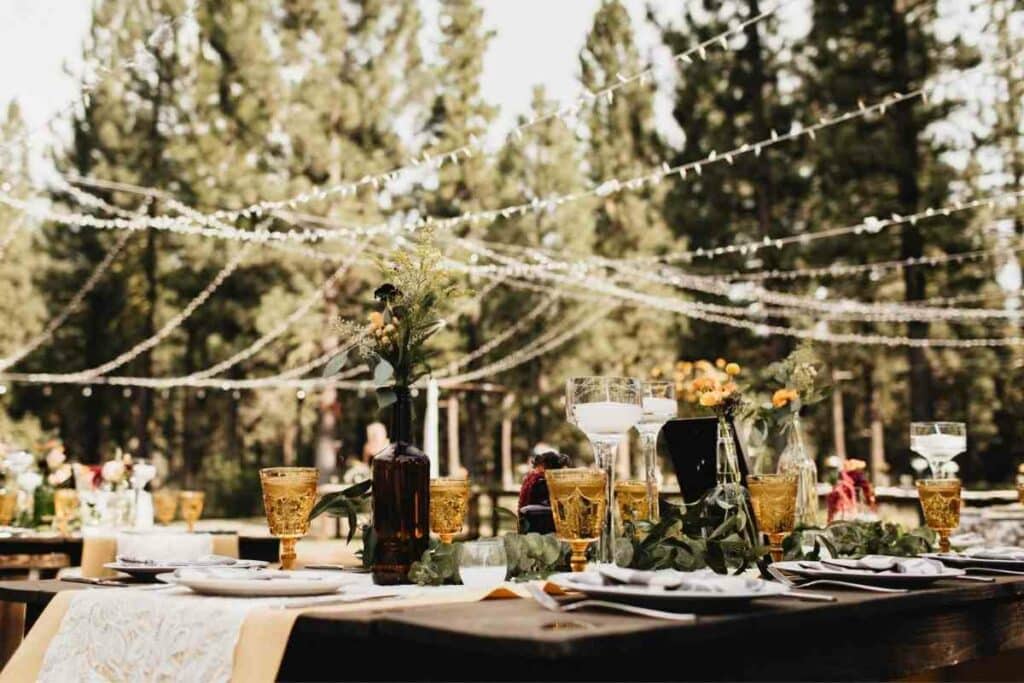 Brides that do not like flowers can consider having their wedding decor done in various friendly options that are beautiful.
They are uniquely crafted for every wedding location and season.
These DIY alternatives to flowers also save money and can be re-used for other occasions.
You can also quickly move the decorations from the aisle to set up the reception area without damage.
---
Always Good Idea: Balloons, candles, jars, fruits, place cards, and lamps are a few decoration ideas for a wedding aisle and reception set up.
---
What can I use instead of a flower bouquet?
For the bride who does not love flowers or is looking to save on the cost of fresh flowers, these bouquet alternatives are worth considering. 
Lamps and Lanterns
If you have an evening outdoor or indoor wedding, carrying a vintage lantern down the aisle can be pretty charming.
Balloons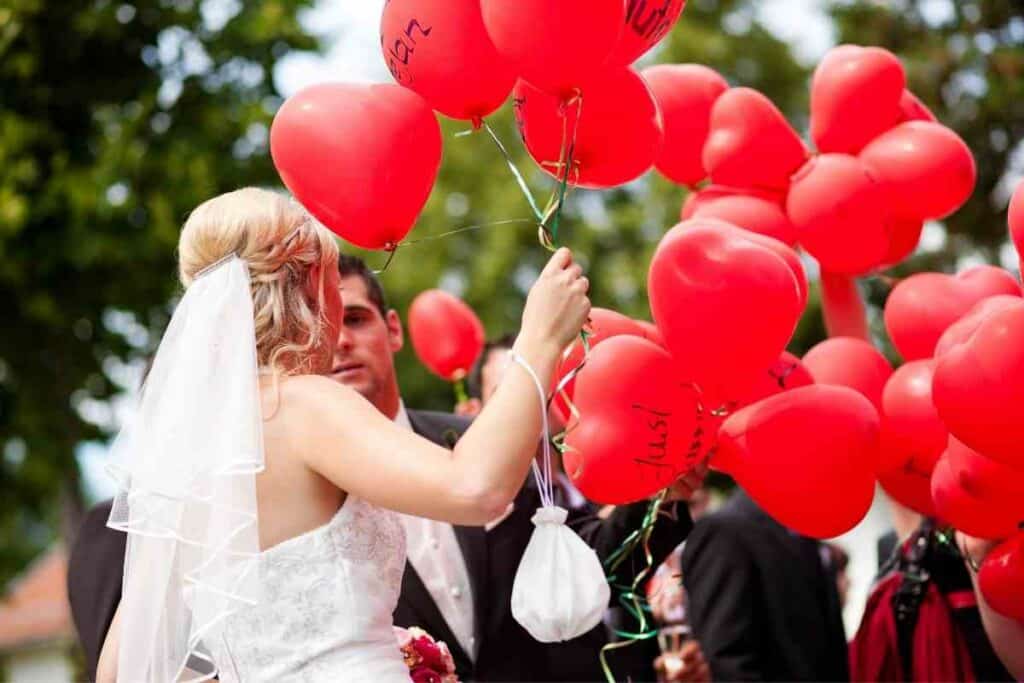 Personalized and perfect colored balloons are now available for all occasions.
Custom make a few balloons with a romantic message or design to carry along the aisle.
This is such a clever choice for the crafty and humorous bride.
White Fur Muffs
A winter wedding can be a chilly affair, and what better way to warm up the room and bride than a period muff piece.
You will feel like royalty with this cozy bouquet alternative.
Clutch Purse
Carrying a bridal clutch purse is artistic and quirky.
Do away with a traditional flower bouquet and get this small bag that you can use to store your lip gloss for that quick touch-up.
Garlands
You can make or purchase a dainty armband for a garden wedding party.
Unlike holding a bouquet throughout the ceremony, your hands will be free to grab the groom's and greet your guests.
Classic Fans
On a hot summer day, brides with simple weddings can carry a vintage fan as a bouquet.
Not only is it a fantastic and unusual accessory, but you can also use the fan to get that much-needed cool air around your face.
Mason Jars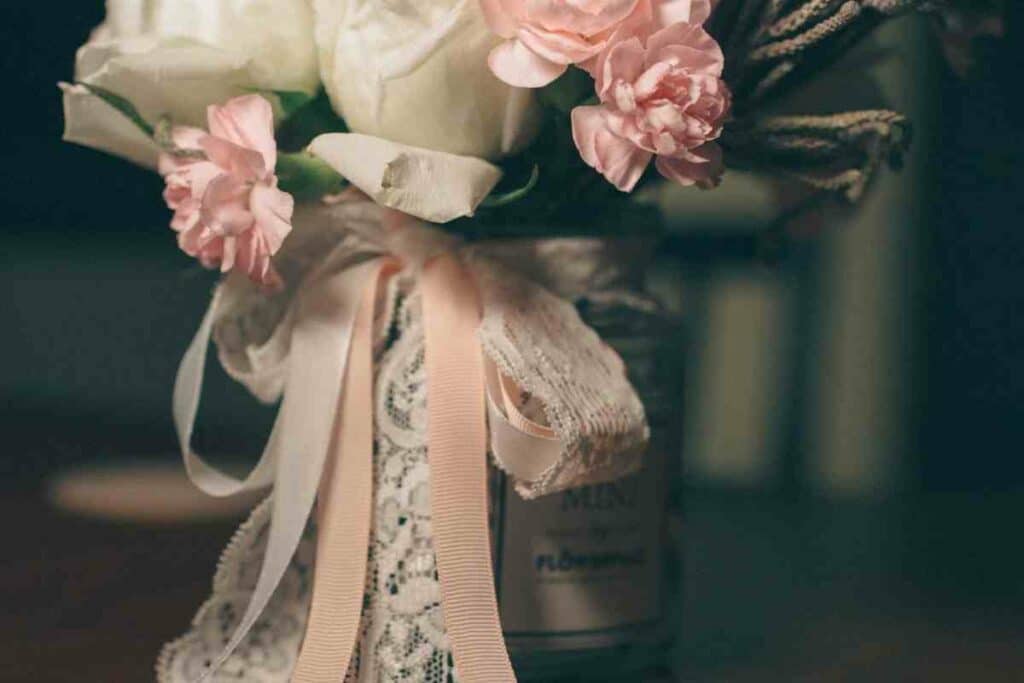 Mason jars are not only valuable for holding flowers for centerpieces and as cocktails glasses.
They can make a chic alternative to the traditional bouquet.
Engrave it for a personalized message and add a colorful ribbon to accessorize your dress.
Origami Flowers
Pomanders made of paper in different colors and textures make unique bouquets for the bride and bridesmaids.
You can fold the paper to form any flower you like.
Fresh fruit and herbs
Nutritional components like artichokes, berries, and rosemary bunches make a garden-fresh bouquet.
Parasols
These are perfect for outdoor weddings on a hot summer day for brides and bridesmaids to use walking down the aisle.
They make lovely props for photos and can decorate the venue if properly hung indoors.
How can you make a bouquet eco-friendly?
You can choose green and conserve the environment by shopping locally for your bouquet.
Sourcing your flowers from a nearby farm saves time and money.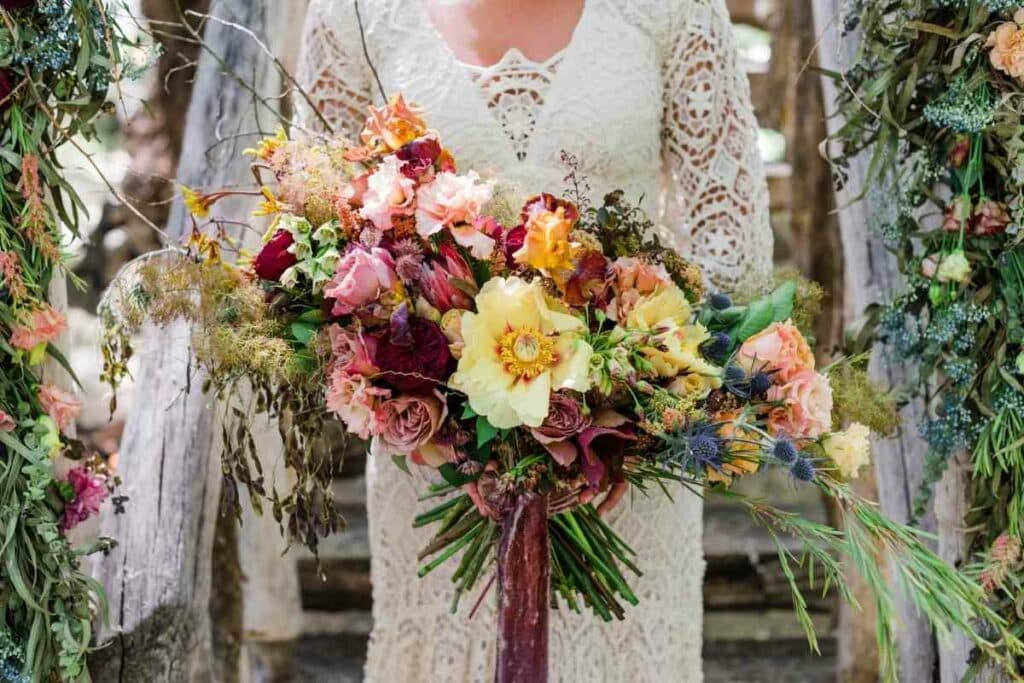 You do not need to worry about the freshness of your blooms on your special day as they can be delivered the same day.
Encourage your florist to consider using a vase to deliver your flowers as the plastic packaging commonly used is not environmentally friendly.
Works Well – Paper wrappers are ideal as they come in lovely colors. Alternatively, make recyclable flowers that are an excellent alternative for a bouquet.
What flowers should you not use in a wedding bouquet?
Avoid flowers with intense fragrances that react to the bride or guests with pollen allergies.
Bouquets are held closely to the body and face; hence be careful with your choice.
Let your florist and wedding decorator know your preferences in advance.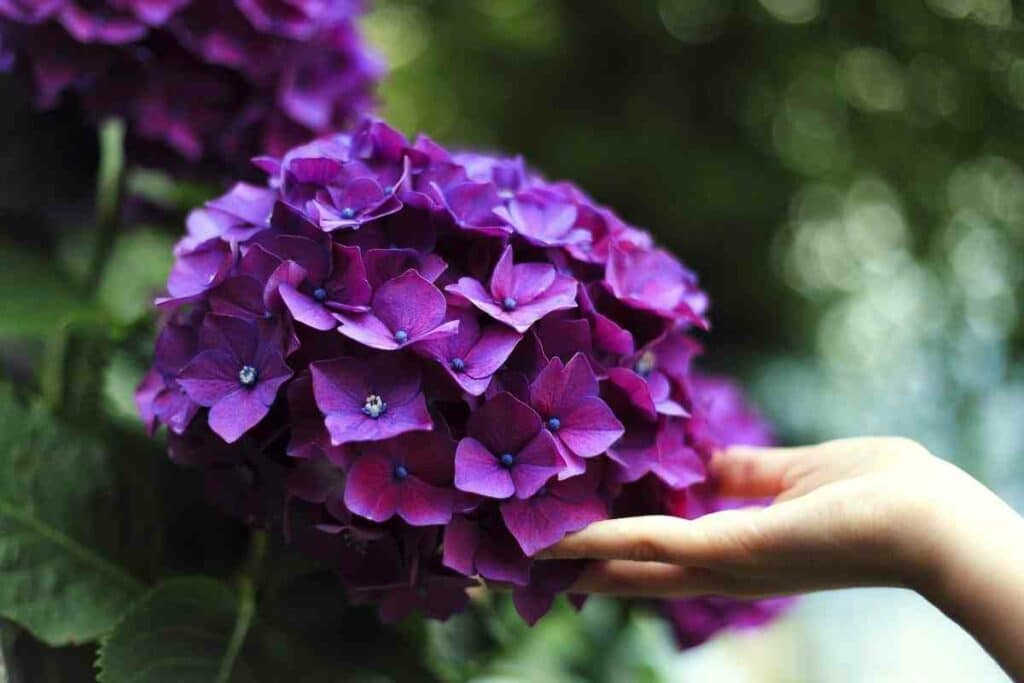 There are hundreds of flower varieties excellent for wedding bouquets.
However, some of the well-loved ones have adverse effects on the human body if mishandled.
Some of the flowers to avoid include:
Flowers such as hydrangeas start wilting immediately they are out of water. You do not want a dead-looking bouquet on your big day.

Calla lilies are poisonous if eaten. If you have young ones at your wedding party, keep them away from them or skip them altogether as a bouquet choice.
Daffodils tend to irritate the skin. Touching them on a bouquet may give you rashes, but they make lovely centerpieces or arrangements around the venue.

Chrysanthemums balls have a lot of pollen. Avoid them for an indoor wedding, as they can trigger allergies for your guests.

Peonies are fragile and expensive. Although preferred by many brides, peony bouquets are not ideal. They, however, make attractive centerpieces.

Poppies are bright colored and cheerful, but they can stain your wedding dress and are also toxic if accidentally ingested.
Hemlock flowers are a beautiful cluster of floral white in summer. However, if their oils contact skin or are eaten, they can be fatal.
The belladonna flower has a lovely bright shade and sweet smell but is dangerous and can cause respiratory failure. 
Sweet pea flowers are cute butterfly-shaped blooms available in white, blue, lavender, red, and pink colors. They blossom in late spring and the beginning of summer and are toxic.  
List of alternative organic flower arrangements for wedding display and bouquets
There are many alternatives to flowers for the environment and money-conscious brides for wedding displays and bouquets.
They are, without a doubt, elegant and fancy options.
Paper flowers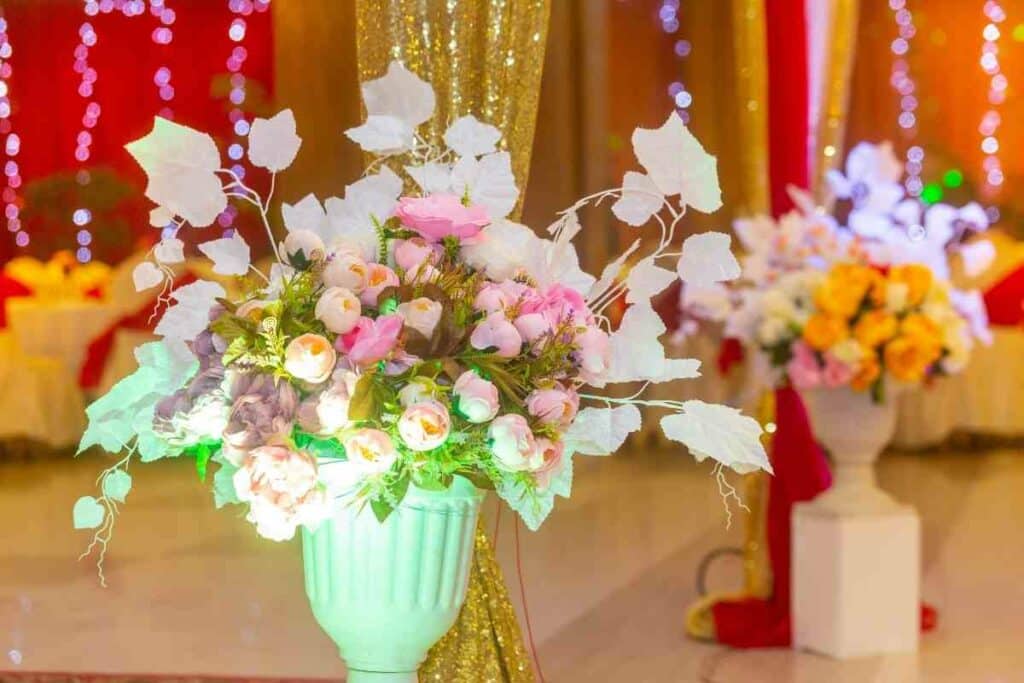 Paper flowers last long and are eco-friendly. You can use printed or plain colored paper designs to decorate the aisle and reception area.
They are not only affordable, but they also make cute environment-friendly bouquets.
Wood flowers
Although they lack fresh flowers' fragrance and original feel, wood flowers are elegant and last forever.
They also come in various colors as preferred and save you money.
Fabric flowers
Fabric makes a gorgeous organic flower alternative for all seasons.
Fabric flowers come in many shades and fabric textures. You can have yours made from silk, chiffon, wool, lace, or felt. 
Succulents
Succulents require low maintenance and are an attractive plant alternative to organic wedding flowers.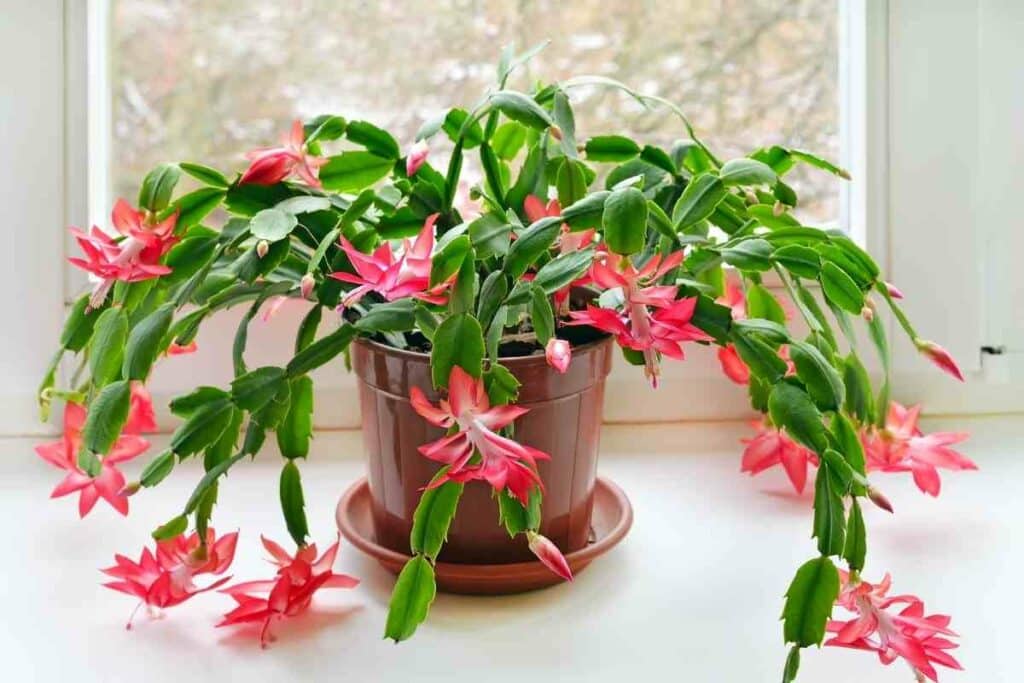 They make delightful and stylish centerpieces.
Choose a variety of green and bright-colored pieces to add to the glow of the venue and table arrangements.
Green plants
Foliage and lush green plants are a perfect modern alternative for indoor and beach weddings flower decorations.
These budget-friendly beauties are all-season friendly as they bring nature, shade, and life to the environment. 
Potted plants
Plants lovers can use potted ones to add a fresh, fragrant, and green look to their wedding venue.
You get to spend less on decor, and you or your guests can take the plants home after the wedding.
Mix the shapes, heights, and varieties to make the room enjoyable by adding a summer vibe.
Faux flowers
Artificial flowers are cheap, easy to clean, and store.
Choose the high-quality ones and be creative in arranging them on the reception tables and around the room.
Faux flowers make eccentric yet chic bouquets.
Wildflowers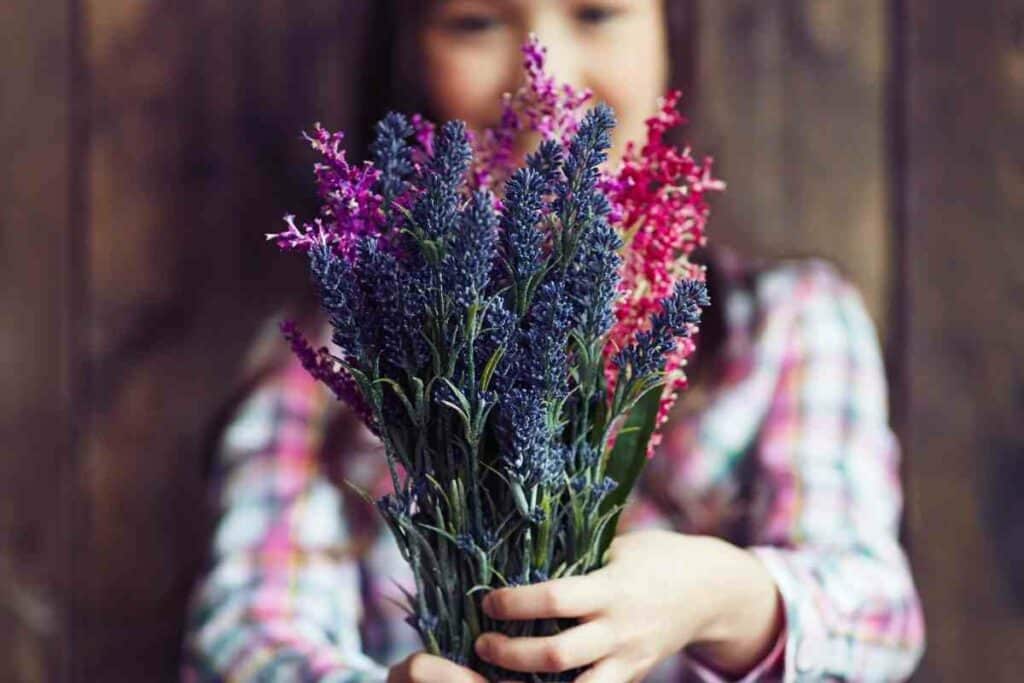 You can pick wildflowers from gardens and fields around you for a simple summer or spring wedding.
Have your decor team make a matching bouquet and crown for you and your bridesmaids.
Mix the wildflowers with herbs and green plants to create unique centerpieces.
Dried flowers
Dried bouquets are becoming suitable among modern brides who want a simple yet elegant wedding.
These blossoms come in different hues, from bright pinks to deep yellow shades that match any wedding outfit.
Select a color to match your wedding theme, from the dainty bouquet to the centerpieces, aisle, and table arrangements.
Seasonal locally sourced flowers
Instead of shipping rare and expensive flowers, save some of the wedding funds by sourcing your flowers from local farms around you.
Not only will the flowers get to your wedding venue fresh and green, but you are also guaranteed chemical-free blooms.
Pick the flowers in season as they will be at their best.
Unique craft bouquets
Artsy and creative brides think outside the box for organic wedding flower alternatives.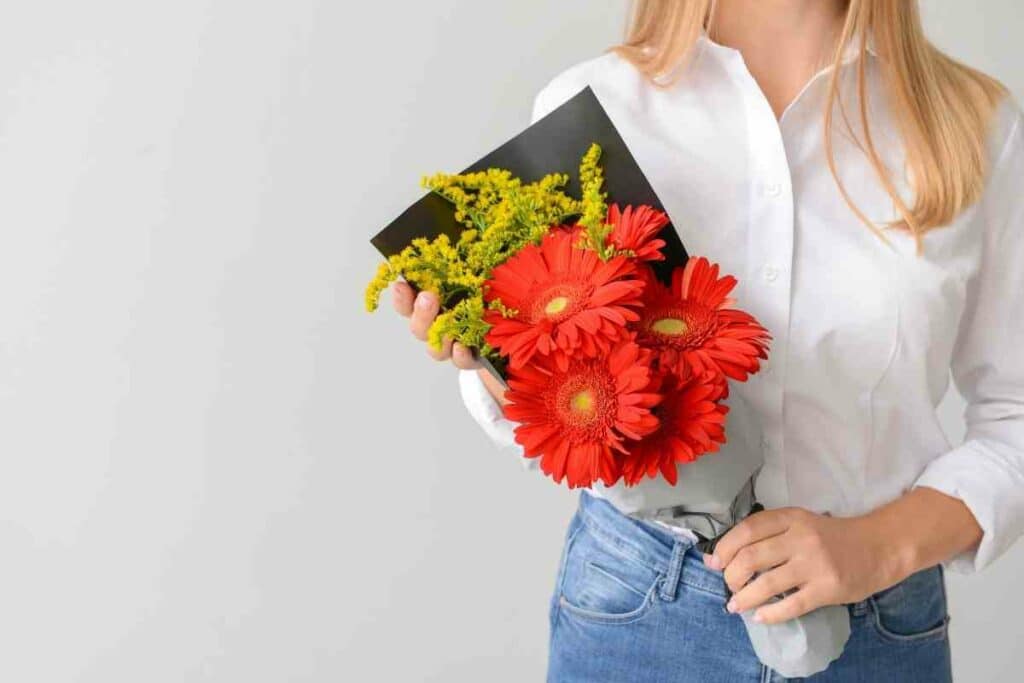 They are making them out of edibles such as candy and grapes fruit bunches.
Others come in unique pieces like feathers, brooches, crocheted flowers, and even different size colored buttons. Perfect for boho-chic style weddings.
Conclusion
Brides have a childhood vision of their perfect wedding day.
Part of it includes many fresh and rare flowers flown worldwide for their unique decorations.
Have a fragile, one-season bouquet to hold while walking down the aisle.
The reality is the cost involved is unreasonable, and the effects on the environment have been adverse over the years.
The organic wedding flower alternatives available are equally impressive, eco-friendly, and practical. Choose the perfect one for you and enjoy your day.
You Might Also Like