Japan is known for many things including its amazing culture.
But there is one thing that most of us think about when we imagine Japan; beautiful gardens.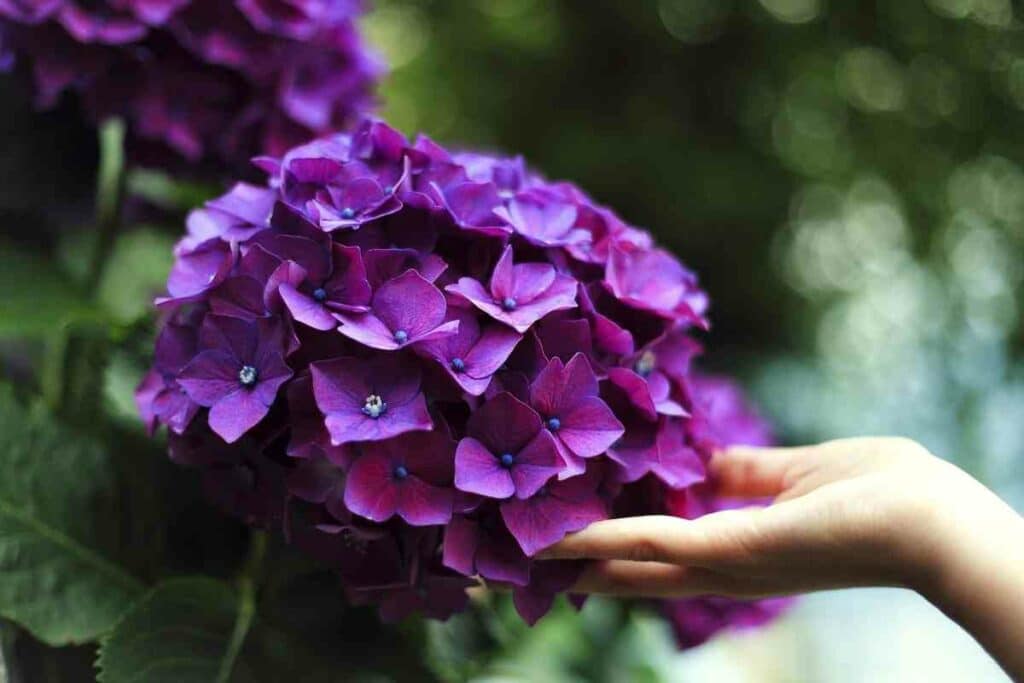 These Japanese gardens are blooming with all kinds of flowers and you'll find plenty in the wild too.
In This Guide – We want to introduce you to some of the most stunning Japanese flowers by season. So sit back, grab a cup of coffee and let's get started.
Spring Japanese Flowers
Spring is the most abundant time of years for flowers in Japan and it's certainly a feast for the eyes and the senses. 
Sakura Cherry Blossom
Perhaps one of the most closely associated flowers with Japan is the beautiful sakura flower of the cherry blossom tree.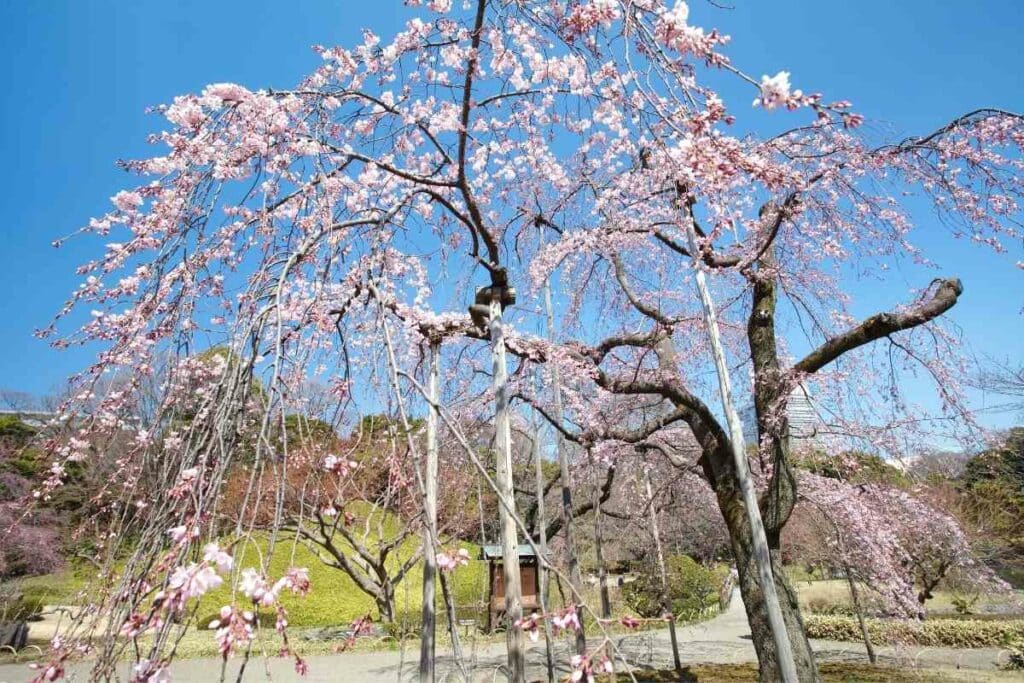 In fact, in Japan, there is a whole season dedicated to when the cherry blossoms bloom and it's a big deal over there!
These breathtaking flowers begin to bloom as early as March and will continue through until around May.
It's truly a sight for sore eyes. People attend picnics under the trees and carnivals happen around the country.
Once the flowers have finished blooming, the petals fall from the trees like delicate pink snow.
Head to the Merugo river close to Nakameguro station for views of some of the most stunning cherry blossoms in all of Japan. 
Fuji Wisteria
From around April and through into May, you will be treated to the glorious sight that is the Fuji or wisteria.
This plant is well known in Japanese culture and can be found growing all around the country.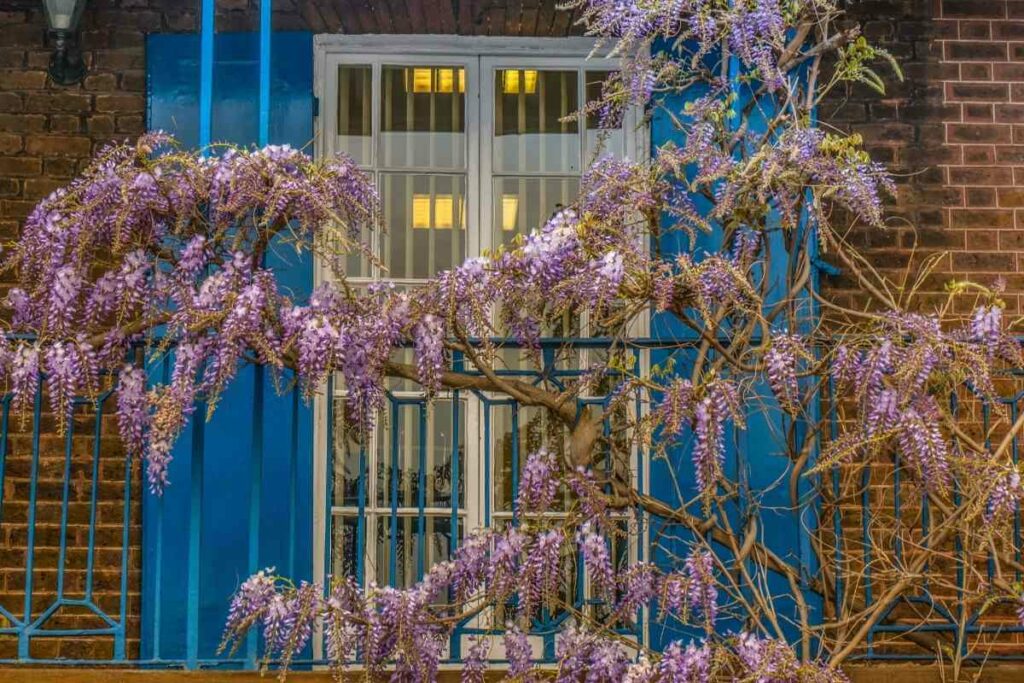 However, for the best displays, check out the Ashikaga Flower Park in Tochigi where you'll see some fantastic blooms.
The flowers trail and vine making them one of the most attractive in Japan.
In days gone by, these trees had very close connections to nobility but today, this isn't something that has stuck. 
Tulips
As we properly move into spring, around late April to May time, Japan treats us to a vast array of tulips which are often displayed in public parks and gardens.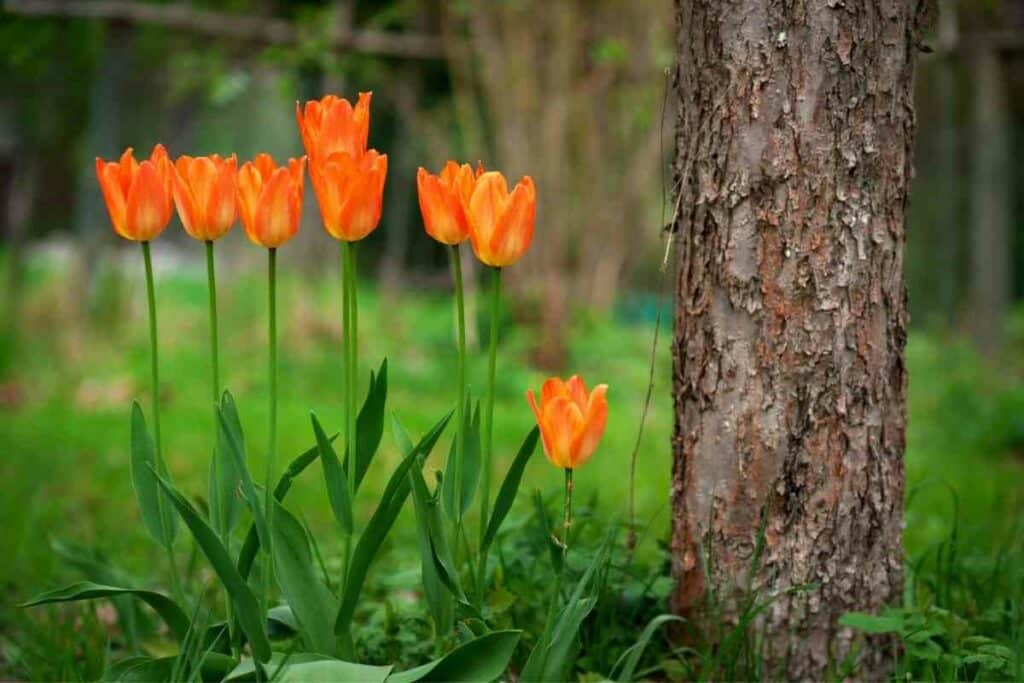 One of the most renowned is that Tonami Tulip Park and while it's a bit out of the way, it's certainly worth a visit for the floral displays.
However, if you wanted to stay a little closer to civilization then there's also an amazing garden called Sakura Furusato Hiroba which lies around 60 minutes outside of Tokyo. 
Azalea 
At around the same time as the tulips start blooming, you will also find azaleas popping up all over Japan.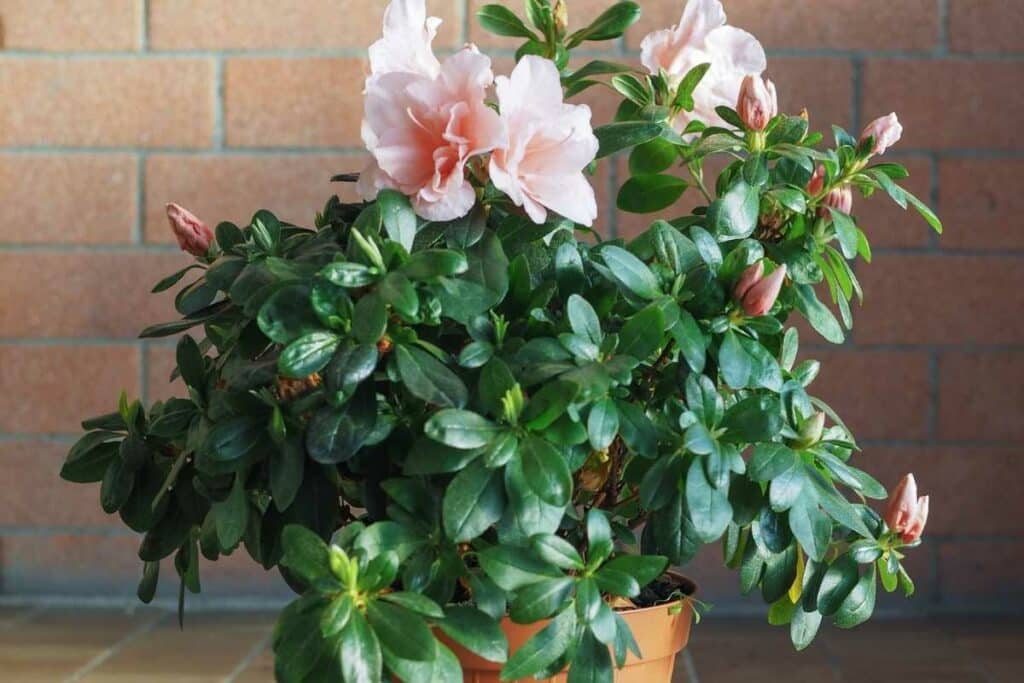 If you want to couple viewing these beautiful flowers with culture then head over to the Nezy Shrine where you will be able to see one of the best azalea displays in the country.
That Said – During blooming season, these white and pink flowers can be see almost everywhere even when you're in the thick of the city!
Nemophila
During spring, the fields of Japan take on an entire new look with nemophila creating wave after wave of beautiful light blue.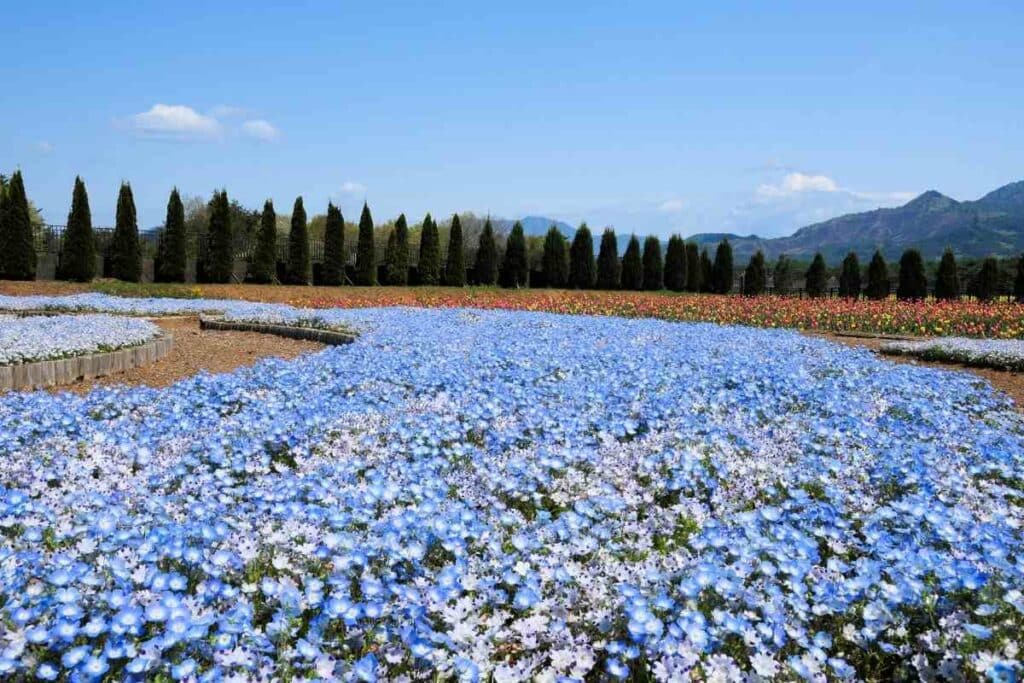 This is something that you just have to experience when visiting Japan in spring and your best bet is to head to the Hitachi Seaside Park near Tokyo.
However, there is also a park in tachikawa where nemophila are a sight for sore eyes called the Showa Memorial park. 
Creeping Phoenix
Another of the most stunning spring flowers in Japan is the creeping phoenix which is a gorgeous pink flower that makes a special appearance at one of the country's most renowned festivals.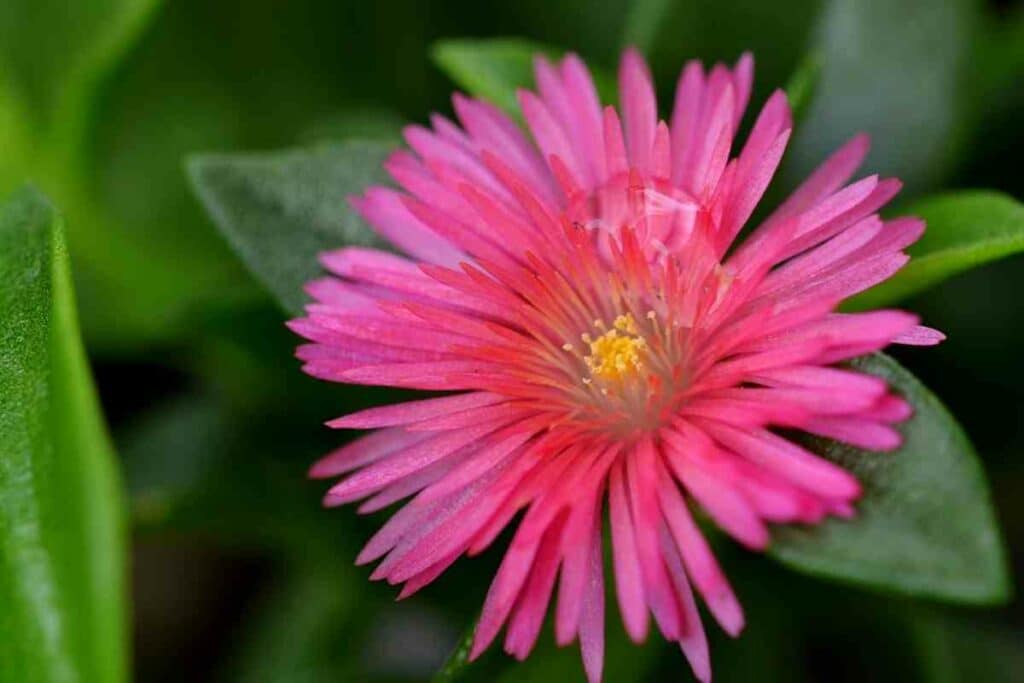 The Shibazakura festival is held in Kawaguchiko with Mount Fuji as the backdrop.
You couldn't get more Japanese if you tried and with the addition of these flowers, it's a moment you will never forget
Summer Japanese Flowers
As spring fades away, some beautiful summer flowers start coming through in Japan and while there may not be as many, they're still incredible. 
Hydrangea
From temples and shrines to parks and gardens, as the rains set in, hydrangeas start popping up all over the country.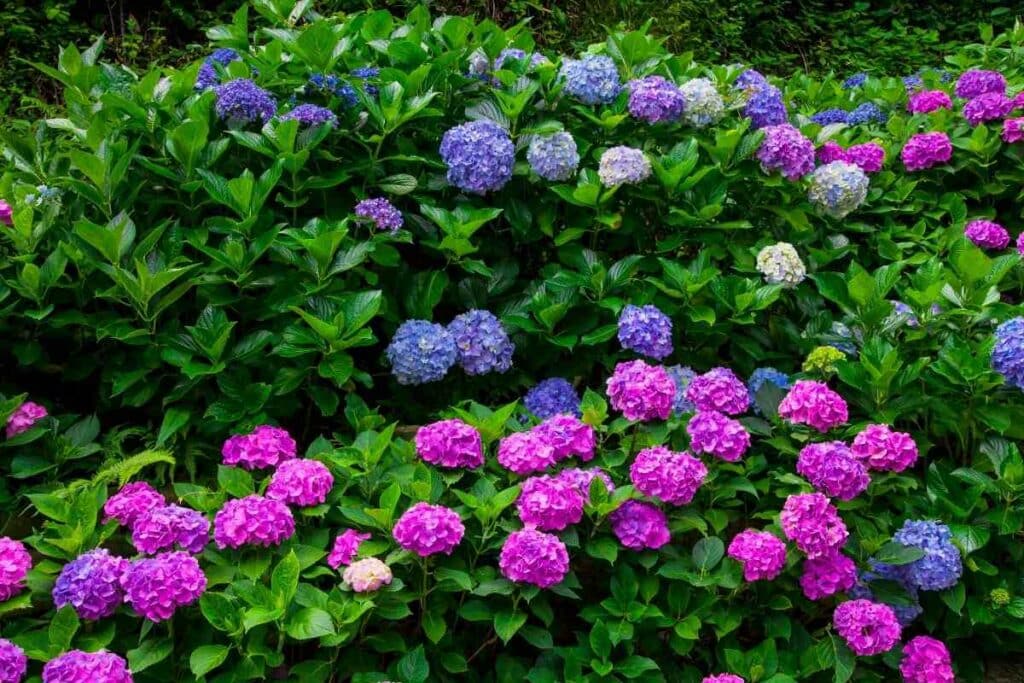 In fact, it became so associated with this time of year that it became symbolic of the rainy season.
These flowers come in a range of colors including purple, pink, and blue and are often found lining pathways as an ornamental plant.
What's amazing is that as the plant reacts with the acid in the soil, the colors will change!
Lotus
While the lotus is the national flower of India, it is abundant in Japan and throughout July and August, these unique flowers can be found everywhere from temples to ornamental ponds.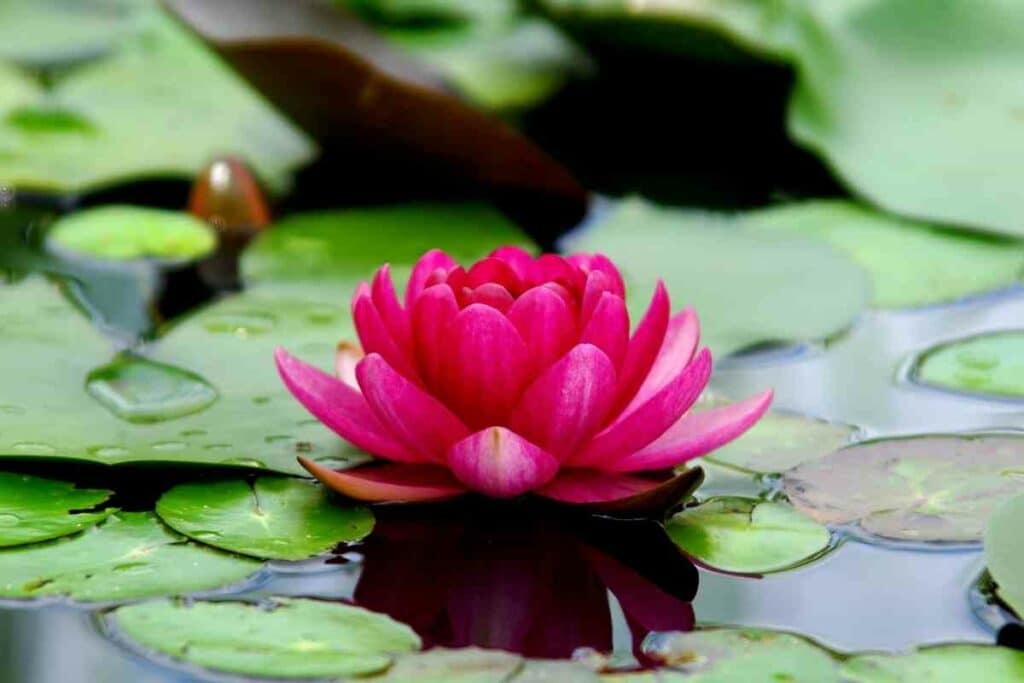 With very close links to the Buddhist religion, the lotus is a highly respected flower in Japan.
You'll need to head to one of the temples or shrines for the best flowers and the Tsurugaoka Hachimangu temple is one of the best places to see them. 
Sunflowers
At the height of summer during July and August, Japan becomes laden with bright and beautiful sunflowers.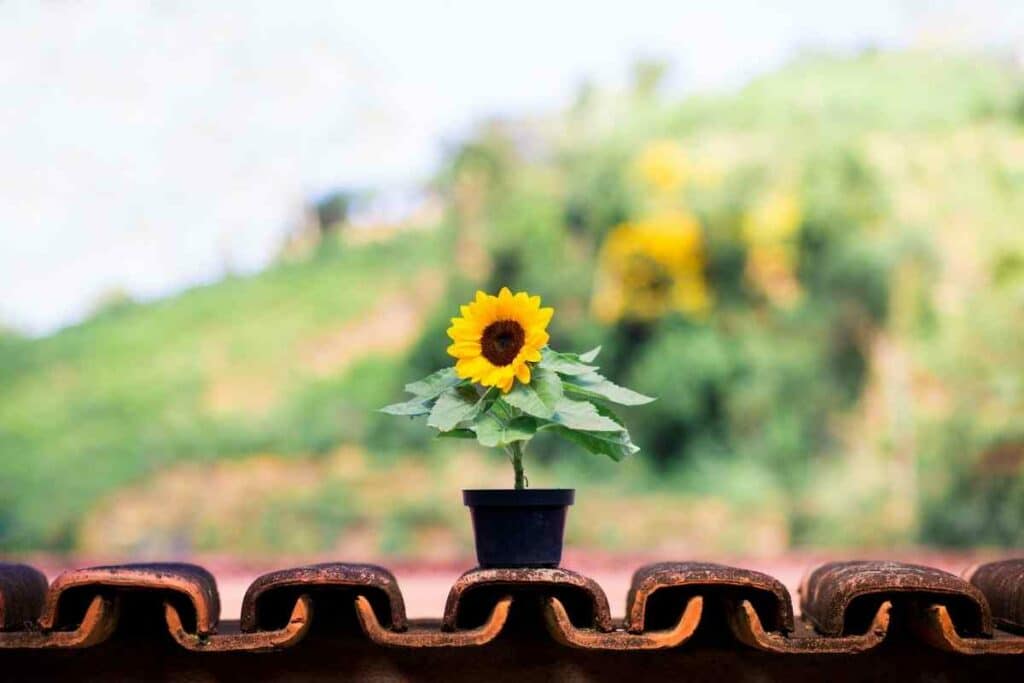 These flowers have various symbols but are most often associated with radiance and beauty. 
Since sunflowers are very beneficial to the soil, removing contamination, they have been used in various cleansing projects including at Fukishima where there was a nuclear disaster.
Fall Japanese Flowers
Not many people associate flowers with fall but this time of year in Japan yields some incredible blooms. 
Chrysanthemum
Beginning to bloom in the middle of September and lasting all the way through to November, the chrysanthemum is actually the national flower of Japan.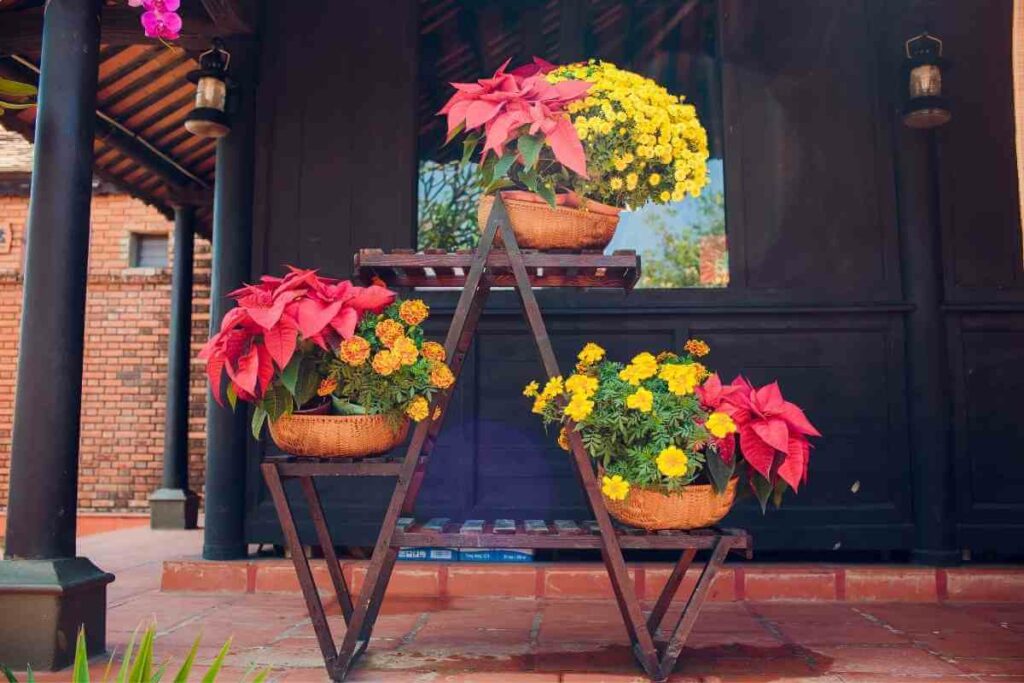 While many think it is the sakura, this is not the case and the chrysanthemum is symbolic to the Imperial family.
These blooms are found across Japan but one of the best places to see them is at the Shinjuku Gyoen.
Cosmos
This fall flower begins to come out around the end of August and keeps on giving until the beginning of October.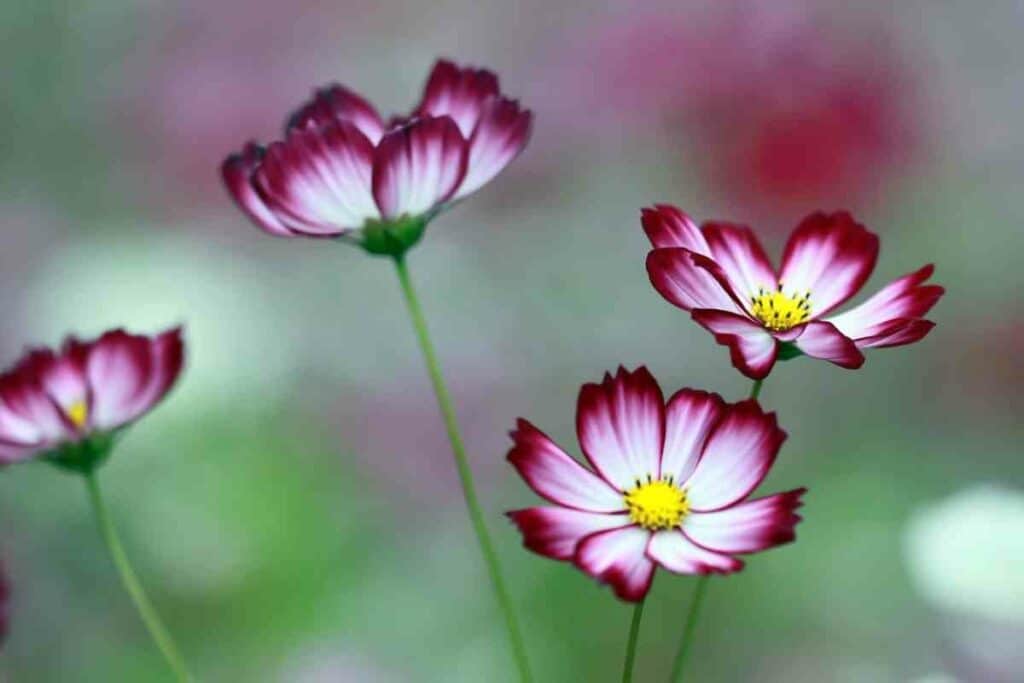 They cosmos comes in a range of stunning colors including:
red
white
orange
pink
and purple 
There are lots of parks and gardens where cosmos are on display but one of the best is the Hamarikyu gardens.
If you're staying near Mount Fuji then there is a wonderful array of cosmos at the Hana no Miyako Park and with the mountain in view as well, this is the ultimate Instrgrammable moment.
Winter Japanese Flowers
Winter is a time when a lot of the color goes away but there are still some bright and beautiful Japanese flowers to be seen. 
Winter Peonies
Winter peonies begin blossoming around the end of November and will continue right the way through until February.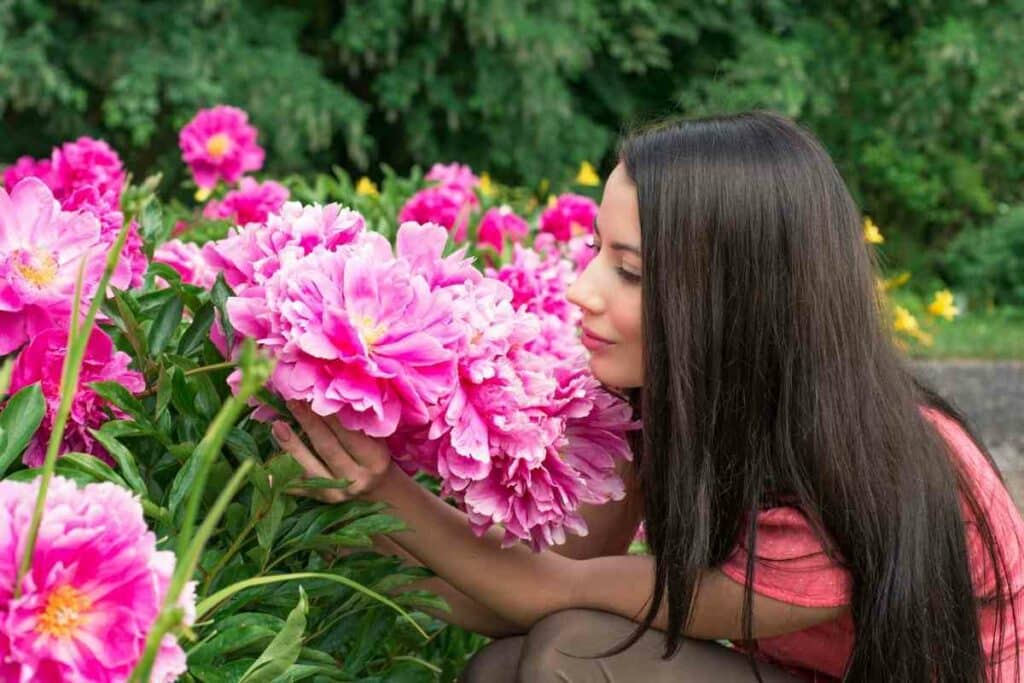 During the colder months, they're a breath of fresh air and come in stunning shades of pink and purple. 
If you're staying in Tokyo then you cannot miss the opportunity to see the winter peonies in bloom at the Ueno park.
Daffodils
Daffodils are seen worldwide as a sign of hope as the winter comes to an end and spring is just around the corner.
In Japan, you may see them as early as December and January and they will pop up in small groups pretty much everywhere you go.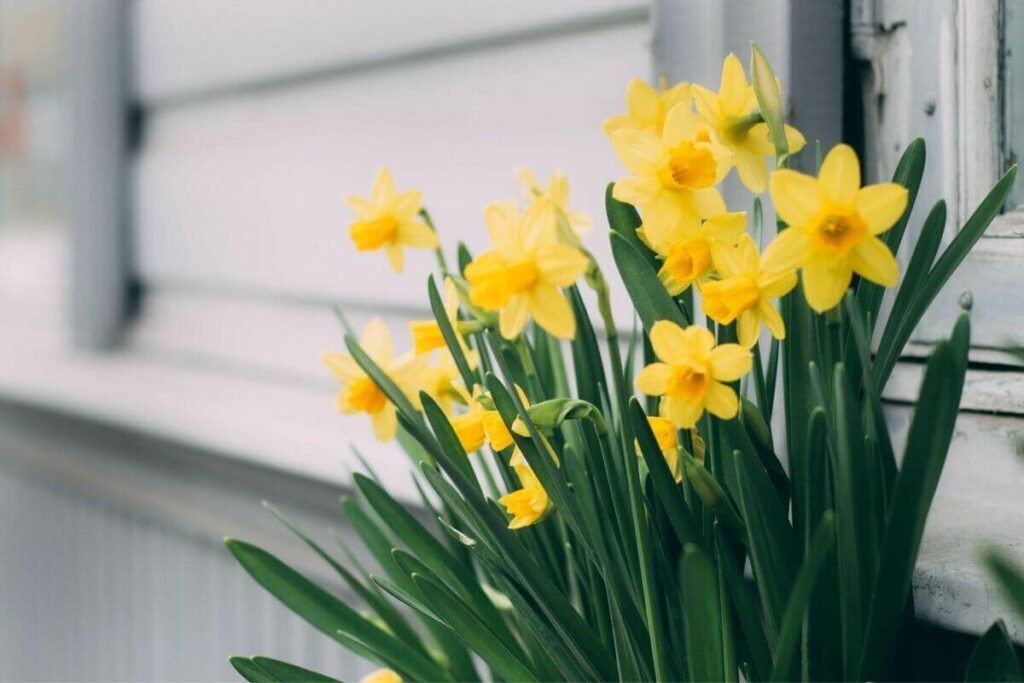 They certainly give a pop of color to the city in the colder months. 
But they don't only decorate urban areas.
If you head out of Tokyo for around na hour, you'll come to Jogashima park where there are fields full of brightly colored daffodils that will take your breath away.
Plum Blossom
From around January and all the way through into March, the plum blossom, known as Ume in Japan, will start blooming.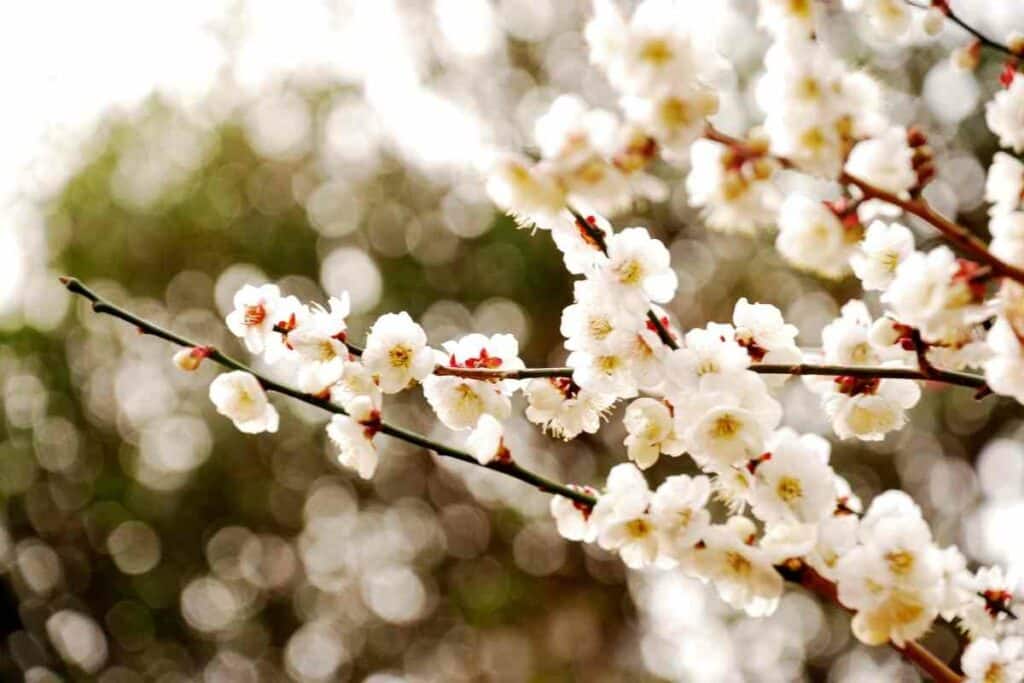 Many people see its appearance as a suggestion that spring is on the way and this flower is often used at the center of Ume festivals throughout the late winter. 
Conclusion
Japan is one of the best places in the world to see flowers as they are treated with such respect and symbolism.
You will find shrines and temples decorated with ornate floral displays and perfectly manicured parks and gardens.
No matter what time of year you go, Japan will have a flower that makes you fall in love.
You Might Also Like