Growing edibles at home is an exciting pastime activity.
It keeps you busy, saves you money, and gives you a sense of accomplishment when you harvest your first crop.
However, it seems like a cumbersome task to those who don't have a green thumb. This is where sprouting comes in handy.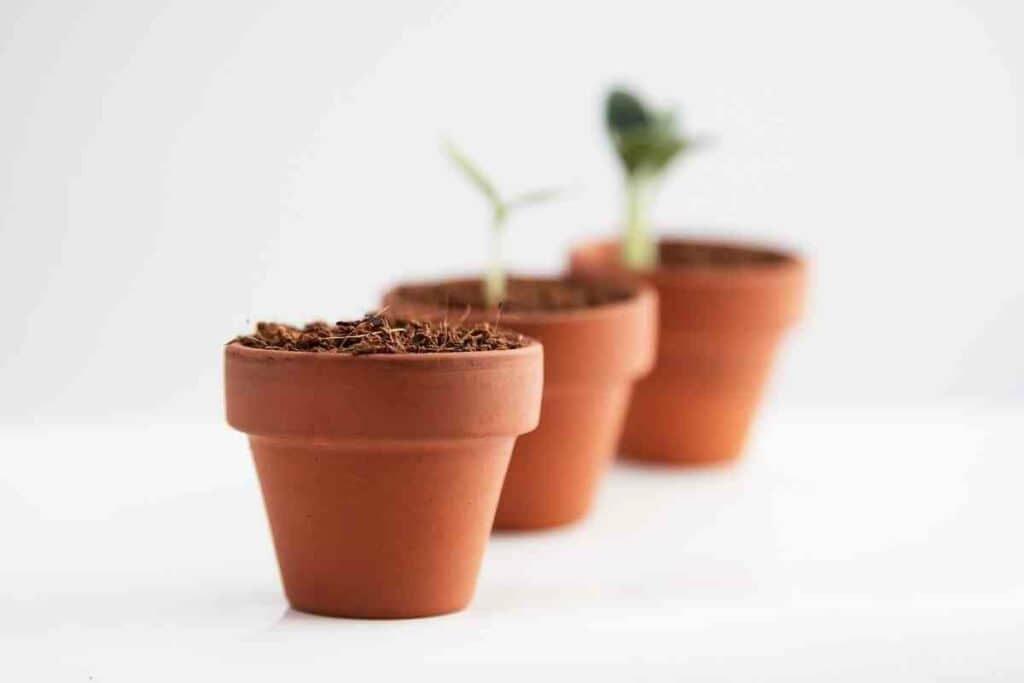 Sprouting is the growing of plant seeds until they produce the shoot. The crop is ready for harvesting within five days after planting.
After harvesting, you can consume it or refrigerate it for future use. 
The Best Terracotta Seed Sprouters
Here is an overview of the best terracotta speed sprouters available.
1. GEO Terradisiena 4-Tier Terracotta Seed Sprouter
The GEO Terradisiena boasts of the trademark finesse associated with Italian artistry.
It offers the perfect blend between beauty and functionality, allowing you to sprout seeds indoors or outdoors without disrupting your home décor.
It's easy to grow various sprouts and microgreens using this sprouter. The food-grade terracotta clay keeps the growing environment moist, guaranteeing fast and healthy growth.
With this product, there's more than meets the eye. Don't mistake its attractiveness for feebleness.
It's made using premium quality terracotta clay cured at high temperatures, enabling it to withstand harsh weather. However, it quickly breaks when it falls. 
Another impressive feature is the sprouter's innovative stacking system.
You can adjust the spaces between the individual trays to allow air and light inside or stack them to create moist and damp conditions.
This alternation mimics 'day' and 'night' conditions, which provides the optimal growth environment for your seeds.
2. Vensovo 6″ Terracotta Pot Plant Saucer
The vensovo Terracotta pot plant saucers are made using breathable material that improves root aeration.
As a result, your seeds sprout faster. Moreover, the clay is non-toxic, unlike plastic and glazed sprouters.
You can sprout seeds indoors or outdoors using this saucer. It's made using high-quality Chinese clay.
Although it doesn't have a reputation as good as Italian clay, it's fairly sturdy and durable.
The saucers' edges are slightly raised to improve moisture retention. This is particularly useful when growing plants that require a damp environment.
Each saucer is 0.9″ deep, making the harvesting of seed sprouts easier.
Vensovo wraps these saucers with polystyrene foam to prevent cracking during transit.
If the sprouters break accidentally, you can request a refund.
These, coupled with the fact it's a six-piece set, shows that it offers value for money.
3. Okuna Outpost Terracotta Plant Saucers
If you like simple, clean, and classic designs, the Okuna Outpost Terracotta saucers are your perfect choice.
The saucers are versatile; you can use them as drainage trays for pots or independently as seed sprouters.
Okuna plant saucers are made using premium kiln-fired clay to enhance durability.
You can use them outdoors without concerns over prevailing weather conditions.
However, it isn't wise to expose them to areas with fluctuating temperatures, as the changes can cause cracking.
Each piece in the 12-piece set is 0.9" deep. Shallow trays are ideal for sprouting seeds because they make it easier to separate individual plants.
With deep containers, it isn't easy to disentangle the sprouts.
On the downside, these saucers are tiny. The 4.5″ diameter limits the number of seeds you can sprout, although it appeals to people with small gardens.
Lastly, the package comes with Styrofoam padding around the set and thin foam layers between the individual saucers.
These provide shockproof protection and ensure that the unit arrives in one piece.
4. Kostruny JULIAS Tiny Terracotta Plant Trays
Due to its diminutive stature, this 18-pieces tray set from Kostruny is ideal for beginners. Each piece is 3.5″ wide and 0.7″ deep.
The small size allows you to try your hand at different plants as you gain valuable experience.
While expert growers will find the size disappointing, the material quality is impressive.
The saucers are made using high-quality clay baked at 975oC,  guaranteed many years of reliable service.
The smooth-textured finish adds to this product's awesomeness.
Additionally, it's easy to harvest seed sprouts from the shallow trays.
The slightly raised edges prevent water loss, facilitating faster sprouting.
Unfortunately, these saucers experience discoloration after extensive use. To avoid this, reduce exposure to direct sunlight. 
5. Juvale Store Mini Terracotta Set
The Juvale Store Mini Terracotta Set contains 16 pots and saucers, making it helpful in growing potted plants and sprouting seeds. Each piece in the set has a smooth, natural texture.
With a 1.9″ diameter and 1.5″ height, the pots are one of the tiniest you can find.
The small size allows you to use them interchangeably with saucers for seed sprouting.
Why?
Unlike typical planting pots, these are shallow, making it easier to harvest your crop. 
Moreover, the small size enables these pots and saucers to blend seamlessly into existing décor.
You can use them to make your porch, patio, or deck more attractive.
Size aside, these pits are durable. They are made using high-quality clay cured at high temperatures.
Why Sprout?
Sprouting is a convenient and inexpensive gardening method – you can practice it with a tight budget and in the smallest spaces.
Moreover, it isn't as demanding as other farming approaches.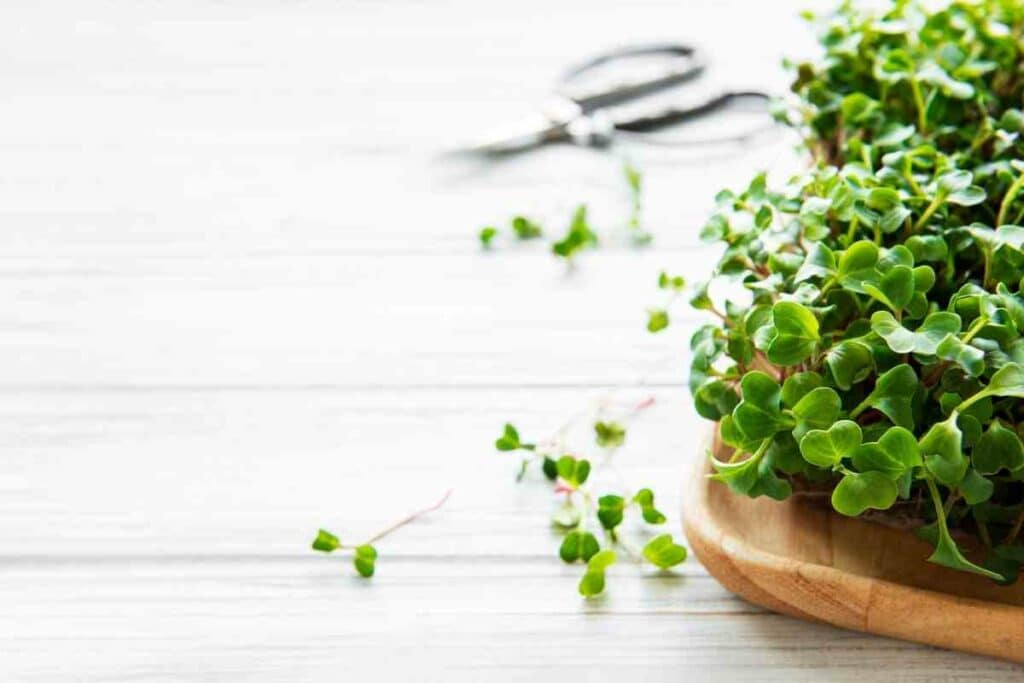 Additionally, sprouting guarantees nutrient-rich yields.
You harvest the crop at its peak growth phase, where it has its highest nutritional value.
Sprouts are precious to health-conscious individuals.
They are rich in:
antioxidants
minerals
proteins
and vitamins
Instead of less healthy spices, you can use them to make your foods tastier.
Furthermore, you can grind them into flour for baking nutritious bread and cakes.
What Plants Can You Sprout?
You can sprout most edible seeds, including beans, broccoli, lentils, kale, spinach, etc.
Vegetables and leafy greens mainly produce long sprouts with a few leaves.
These are perfect additions to salads, sandwiches, and other toppings.
On the other hand, beans and legumes are crunchy. They help make raw hummus and other goods that taste better when crunchy. 
How to Use Sprouted Grains
Unlike vegetables which can be eaten raw, you must cook sprouted grains before consumption. Alternatively, you can grind them into flour.
Here are useful ways of using sprouted grains.
Substitute regular flour for grain flour for baking pastries. Here, you dehydrate the grains before grinding.
You can use them to boost your energy drinks. Adding wheat sprouts to your protein shake improves its nutritional value.
Finally – You can let the sprouts grow into mature barley or wheatgrass, great for juicing.
How to Sprout Seeds
Before anything, ensure that you purchase sprouting seeds from your local grocery.
It isn't advisable to use regular gardening seeds because they produce undesirable outcomes.
Then, you'll need to acquire sprouting equipment.
You can use a sack, a glass jar, a plastic grow tray, or a terracotta saucer.
Read on to discover how to sprout seeds using a terracotta container.
Soak and rinse the seeds before placing them in the terracotta tray.
Place the terracotta saucer in a bigger container filled with water, then cover the two with a plate.
The terracotta saucer will absorb the right amount of water needed to germinate the seeds.
The seeds will be ready for harvesting within five days after planting. You can prolong the sprouts' usefulness for a week through refrigeration. 
Once your sprouts are ready, you can consume them as they are or place them under sunlight to gain more chlorophyll. 
Most people sprout seeds in dark environments to mimic the natural conditions, where seeds grow under a layer of dirt.
However, research shows that other approaches might produce better yields.
Consider placing your seed sprouter there instead of a dark place if you have a sunny spot.
Keep In Mind – Research shows that broccoli grown under sunlight has higher vitamin C and flavonoids composition. The same applies to other greens.
Wrapping Up
Terracotta planters are popular among gardeners because of their stunning appearance and eco-friendly properties.
They can double as home decorations and planting containers.
When choosing a terracotta seed sprouter ensure that it's made of durable, food-safe material. The trays must also be shallow to make harvesting easy.
The standout option in this list is the GEO Terradisiena 4-Tier Terracotta Seed Sprouter.
Its unique design allows you to sprout many seeds without taking up much space.
Furthermore, you can alternate between 'day' and 'night' growing conditions by adjusting the trays. To top it all, this masterpiece is a product of the famed Italian quality.
The only shortcoming of the GEO Terradisiena is its fragility.
You must be careful when handling these sprouters to avoid breakage like other clay products.
Posts You Might Like