If you live in an urban environment, it's easy to think that gardening is a far-fetched and almost impossible task.
Well, you're mistaken.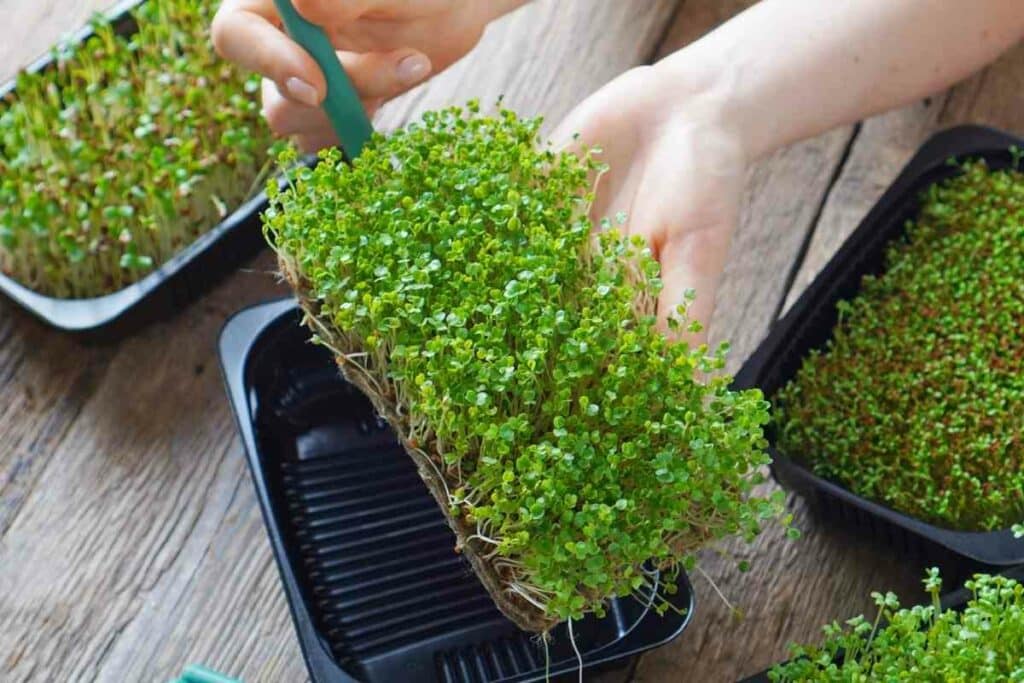 Innovations like trays for microgreen growing make it possible to grow herbs at home, in an environment that most people consider unconventional.
What are Microgreens?
As the name suggests, microgreens are small herbs and vegetables that don't exceed 3″ tall.
Also known as 'baby plants,' microgreens are ready between one and three weeks after planting.
Although they're tiny, microgreens have a rich nutrient composition.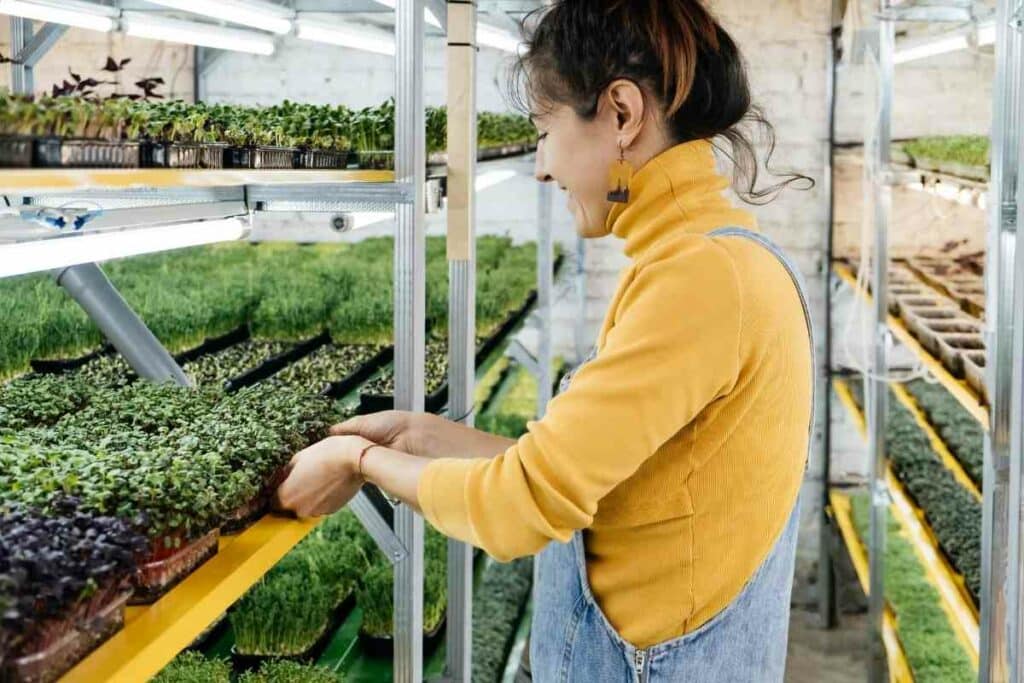 Mathematically, they're more nutritious than larger plants.
This is because the harvesting season coincides with the peak of the plants' growth cycle.
Besides having several minerals and vitamins, microgreens have pleasant aromas and flavors that make most meals delicious.
You can use them to make your meats, pasta, salads, and sandwiches tastier.
Best Trays For Microgreen Growing
Here are some of my favorite microgreen growing trays.
Alberta LTD 1020 Microgreens Growing Trays
If you want a durable and robust growing tray that won't buckle under the weight of your plants, choose the 1020 Microgreens Growing Tray Set from Alberta LTD.
Unlike cheaper units, this tray lasts for at least three years.
With a depth of 2.5″, the 1020s are ideal for microgreens. They're also compatible with standard humidity domes that help in optimizing plant growth.
Moreover, these containers are made using food-grade, BPA-free, and odorless plastic. You can grow edible herbs without risking your health. 
Lastly, the manufacturer offers a lifetime guarantee on these growing containers. If the purchased set doesn't meet your expectations, you can request a replacement.
This is proof of their confidence in the quality of these products. 
MUDUOBAN Seed Sprouter Trays 6 Pack 
The most impressive thing about the MUDUOBAN Seed Sprouter Trays is their ease of use.
Each piece in the 6-pack set has two trays – an inner mesh tray and an outer solid container. These have a concave-convex design that makes it easy to separate them.
The inner mesh tray facilitates breathability and drainage, while the outer container ensures that the soil remains moist.
Besides, this tray is versatile. You can use it for sprouting small seeds and growing microgreens, including buckwheat, radish, okra, Chinese cabbage, etc.
It's made using food-grade BPA-free plastic,so you won't have any gastrointestinal health concerns.
Germinator Premium Quality Seedling Trays
The Germinator 6 offers unmatched value for money, thanks to its affordable price and multiple valuable features.
First, it is suitable for both hydroponic and soil gardening.
It doesn't have holes, ensuring that your growth medium retains moisture throughout the planting cycle.
Second, it is versatile. You can use it for sprouting seeds and growing microgreens, such as cilantro, basil, beets, arugula, etc.
The package also comes with two comprehensive guides on germination and growing small plants.
Lastly, it's made using 1.5mm thick polystyrene plastic. Besides being durable, this material is recyclable and lightweight.
LeJoy Garden Seed Sprouter Tray
The LeJoy Garden Seed Sprouter Tray boasts a unique design that enables it to serve as a growing container and a storage option.
It comprises a transparent top cover and two trays -a mesh inner tray and a solid outer tray.
The cover acts like glass or plastic sheets on a greenhouse. It helps with heat and moisture retention, resulting in a faster growth rate.
On the other hand, the meshed tray allows the plants' roots free airflow.
Additionally, this tray is healthy and eco-friendly. It's made using food-grade BPA-free polypropylene, which is durable and reusable.
You can sprout and grow small plants with or without soil. It also comes with an instruction manual containing insightful gardening tips.
Bootstrap Farmer Microgreen 1020 Trays
The Bootstrap Farmer Microgreen 1020 is a cost-effective and eco-friendly solution for gardeners tired of purchasing single-use growing containers.
It's made using heavy-duty BPA-free polypropylene plastic that withstands adverse conditions. More importantly, it's leach-resistant, ensuring that harmful compounds don't contaminate your food plants.
These trays have drainage slits at the base. You can use the tray for growing several crops, including fodder, microgreens, and wheatgrass, without risking mold and fungal infections.
Finally, this product comes with a 2-year warranty, allowing you to focus on gardening instead of repairs and replacements.
Yoken Sprouter Seed Trays
Don't let your small space stop you from home gardening! With a bit of creativity, you can start this beneficial pastime activity.
Vertical alignment is arguably the most effective method of using confined spaces optimally.
The Yoken Sprouter Seed Tray comes with a 4-tier stainless steel shelf which allows you to make the most of small spaces. This arrangement also makes it easy to grow different species on each layer.
Interestingly, the structure is easy to assemble. You don't need special tools or expertise to connect the pieces. It also has four roll casters that enhance portability.
The shelves can also serve as storage units.
You can grow or store edibles without any concerns, as the trays are made of odorless, non-toxic, BPA-free plastic.
This material is durable and recyclable.
Factors to Consider Before Purchasing a Microgreens Growing Tray
The availability of many choices can make it overwhelming to choose the right growing tray for your microgreens.
Here are the top factors you need to consider.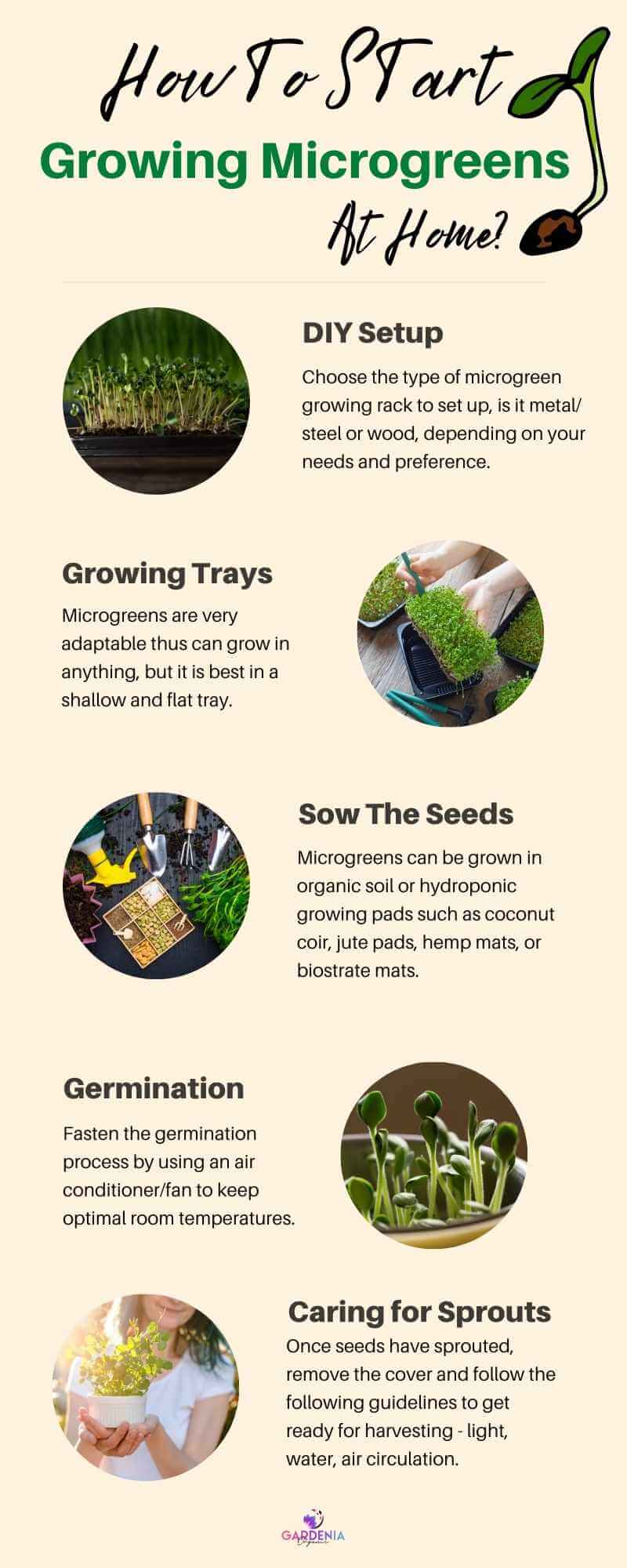 Durability and Quality
High-quality growing trays guarantee durability.
However, such trays are costly. On the other hand, cheaper trays aren't reliable.
When buying a tray, ensure that it's sturdy enough to withstand the weight of its contents and the impact caused by movements.
Emphasizing quality also helps conserve the environment, as you can reuse the container instead of littering your surroundings.
Tray Depth
Microgreens don't grow long roots, meaning they can thrive in shallow trays.
Most standard trays are 3″ deep, making it difficult to tend to and harvest microgreens.
Always choose a tray that is between one and two inches deep.
Shallow containers make harvesting easier because you can easily separate roots from the soil.
Anything deeper makes sense if you're growing other plants besides your microgreens.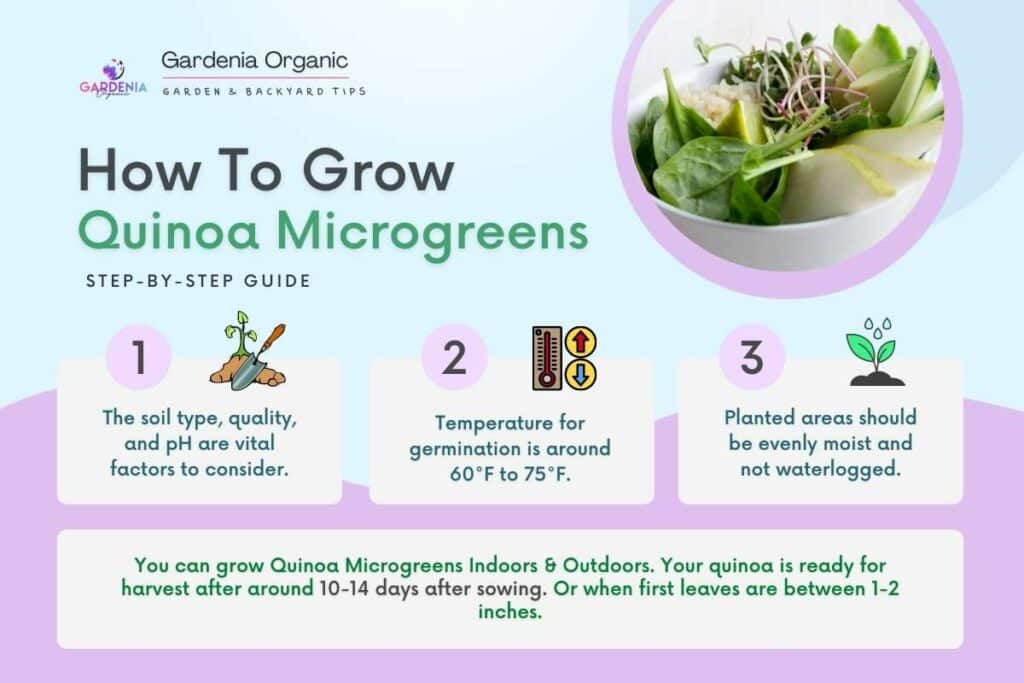 Holes (or no holes?)
Some growing trays have holes, while others don't.
Why?
The type of herb you're growing and the planting techniques you're using determine if your tray should have holes or not.
In some instances, both might be useful.
Most microgreens flourish in containers without holes. However, you must avoid overwatering the soil if you use hole-less trays.
Alternatively, you can use two trays with holes and another without. Here, you'll plant the microgreens in the tray with holes.
When They Sprout – Fill the tray without holes with water and submerge the planting container into it.
The plants will absorb the water without the need for standard overhead irrigation.
This is an intelligent way of preventing the adverse effects of wet leaves, such as fungi and moss.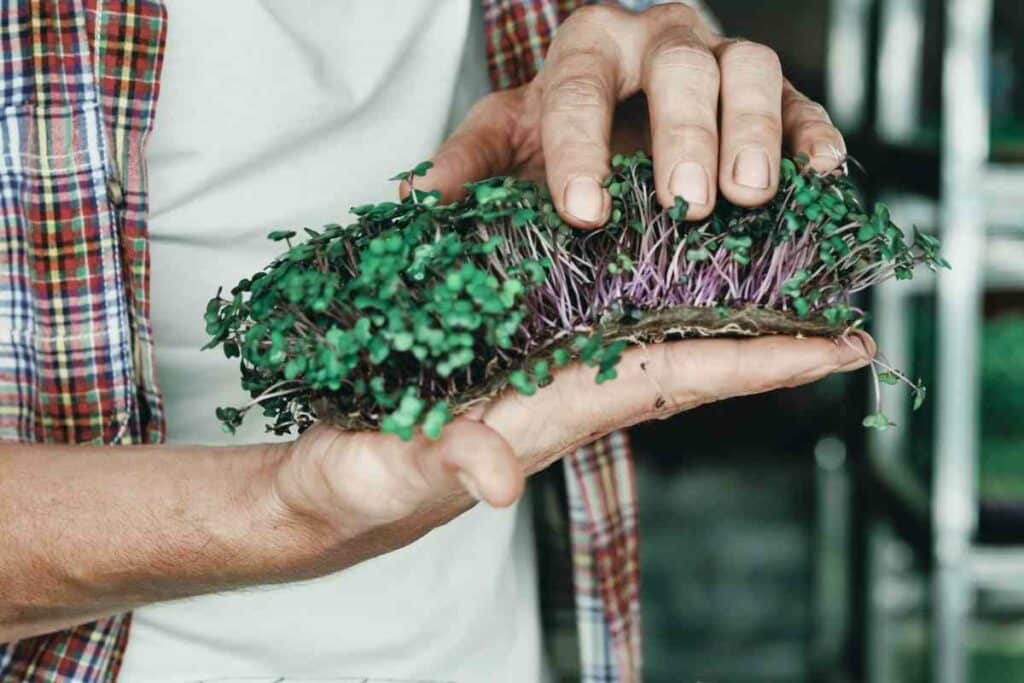 Tray Size
Typical microgreen growing containers measure 10″ by 20″, hence the name 1020 trays.
These are popular among gardeners because their size makes them easy to fit in a cart for transportation.
However, different manufacturers have varying depths.
Another common option is square containers with 10″ on each side.
These are precious to people who value aesthetics and symmetry.
All in all, the number of plants you want to grow determines the best tray size.
Cost
How much are you willing to spend?
Your budget determines the quality of trays for growing microgreens you get.
Like other farm products, cheap products are easy on your pocket, but you'll have to replace them sooner.
It's wise to choose an option that suits your needs without hurting your budget.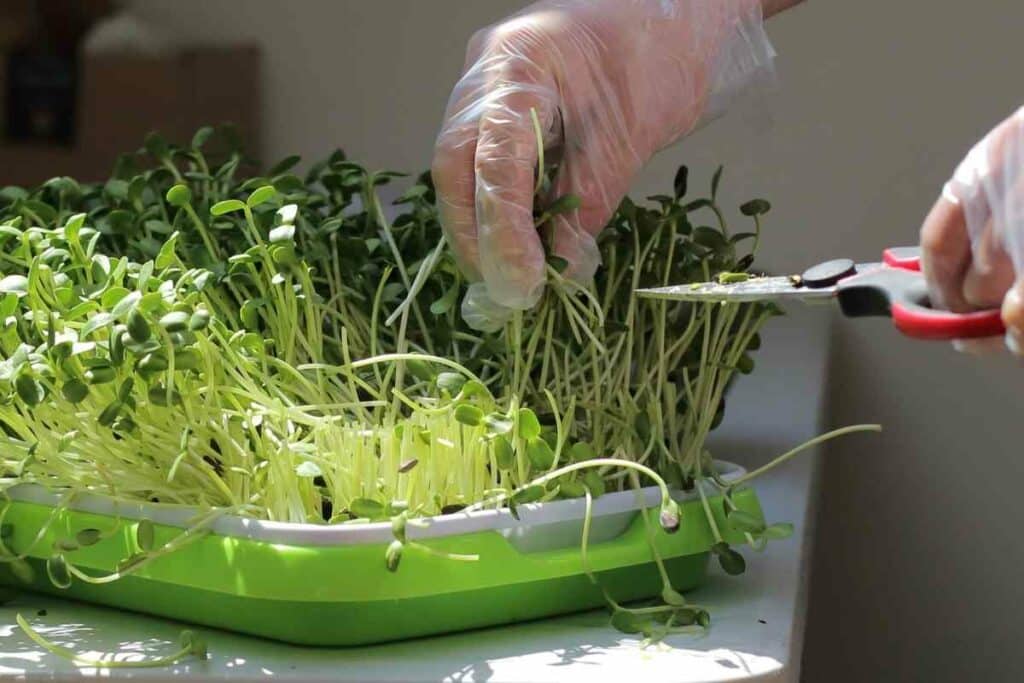 Material
Microgreens are food – for this reason, you must grow them in an environment with material that doesn't make them unsafe for human consumption.
Always check if the plastic container you're buying is BPA free.
Otherwise, you'll be increasing the risk of gastroenterological complications by consuming the microgreens grown in a tray that isn't food-grade plastic.
Color
Color might seem unimportant, but it can help your microgreen gardening project.
If you're growing different plants, or the same plant at varying times, using multiple colors on your trays can help you sort.
How to Use Trays For Growing Microgreens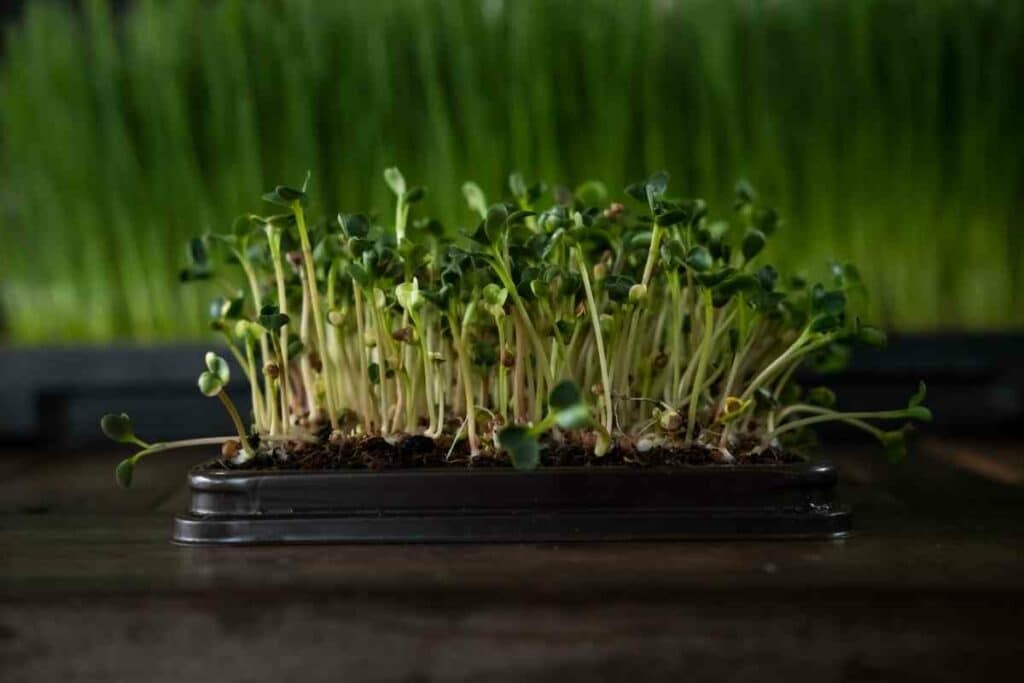 You must optimize your microgreen growing trays if you want the best results.
The following are valuable tips for improving your yield.
Spacing
Ensure that you leave adequate space between the seeds in your growing container.
Correct spacing prevents water and nutrient deficiencies.
Experts recommend using 10 to 15 grams of seeds on a standard 1020 tray.
Optimal Growing Environment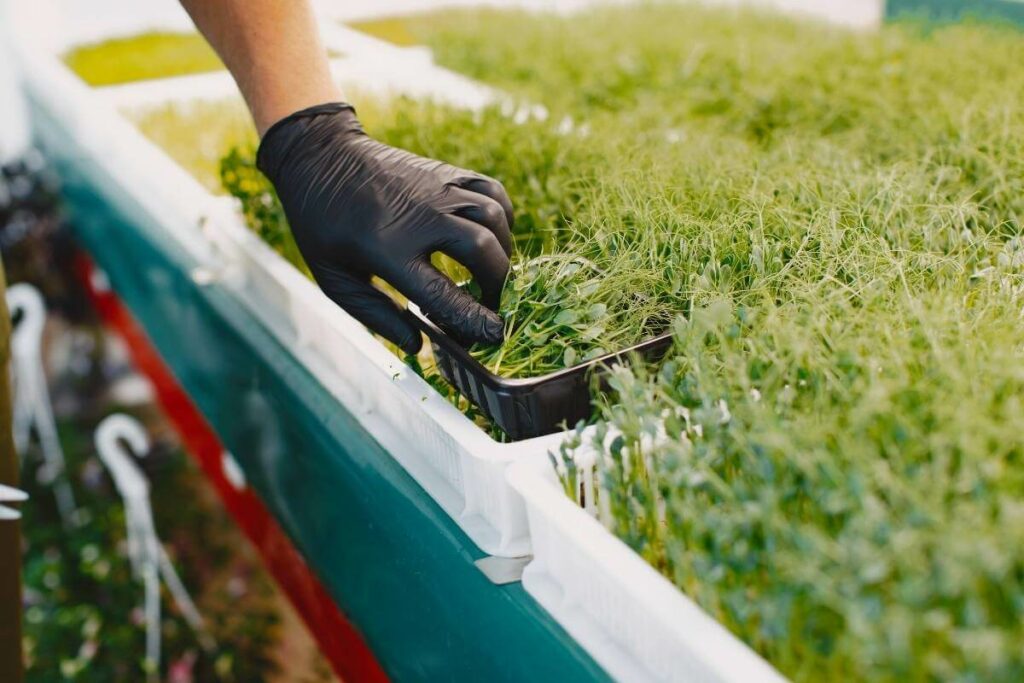 The growing container offers the optimal conditions for your microgreens to thrive.
It must be sturdy, provide the right size and depth, and be made using food-grade plastic. Otherwise, you will get disappointing results.
Observe Hygiene
Lastly, cleaning and sterilizing your containers is essential after every planting season.
Observing hygiene reduces the risk of passing infections from one crop to the next.
It also saves you money since you can reuse the old trays.
Final Words
Imagine having your favorite herbs at your doorstep.
Such is the convenience you get by growing microgreens at home. Besides, domestic gardening saves you money.
Lastly, it reduces the risk of gut-related diseases since you take care of the plant throughout its growth cycle.
What are you waiting for? Start microgreen gardening now!
Also Helpful