Conventionally, potatoes are grown in the ground as this offers the most conducive environment.
Sometimes, though, one may not have enough ground space to grow potatoes.
In this case, you could employ other alternatives, such as a potato growing container.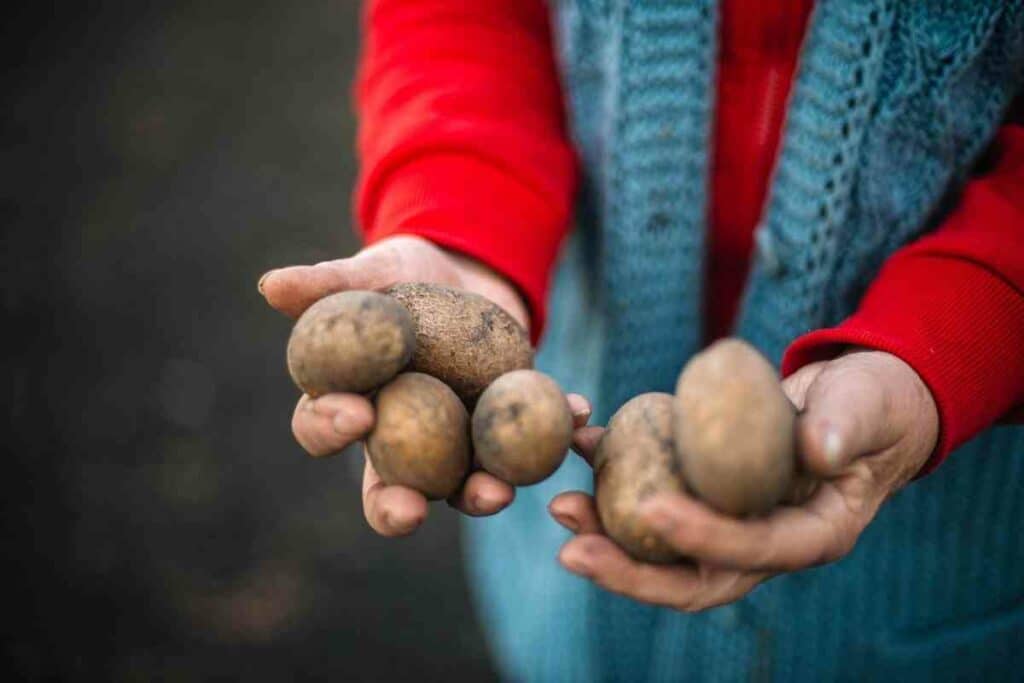 This ensures that you can still grow potatoes even when you don't have much space in your backyard or even a backyard, to begin with.
For Maximum Growth – Potatoes require adequate growing space. Thus, the potato growing container should be big enough, with an average volume of at least 12 gallons.
This size is ideal for growing about 4-6 seed potatoes as each potato plant needs about 2.5 gallons to grow well.
Is Growing Potatoes in A Growing Container Better Than Growing Them in Soil?
Essentially, potatoes will perform so much better in the ground than in a growing container.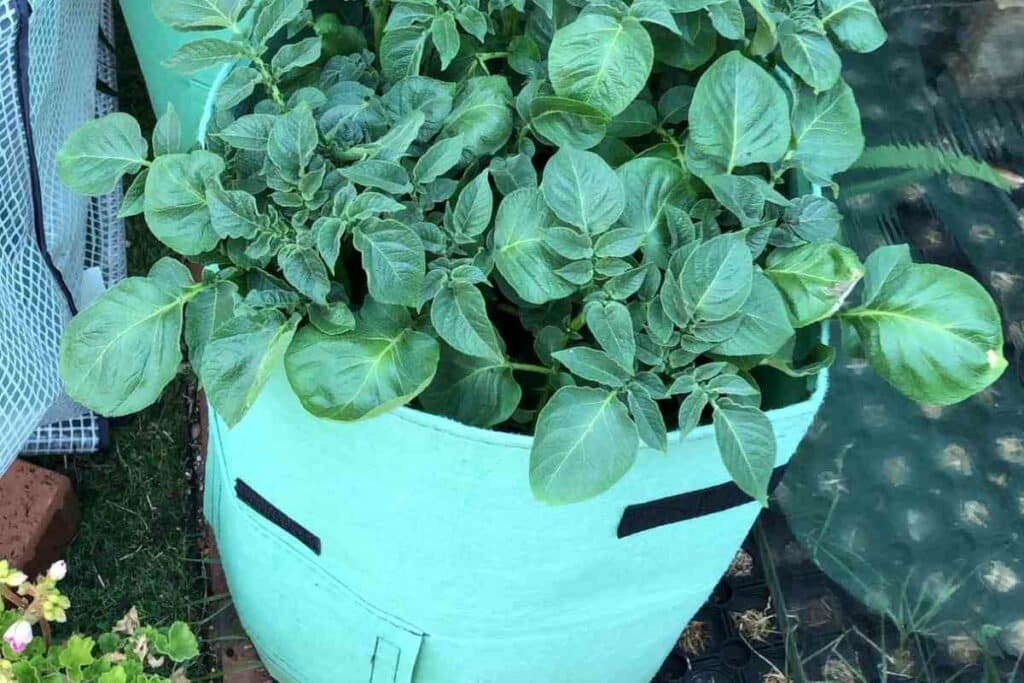 You would have to put in much more effort to successfully grow potatoes in a growing container than you would in the ground:
For starters, containers dry out much faster than the ground. So, you would have to keep watering the container to ensure there is adequate moisture.
Also, containers have a less elaborate drainage system, meaning that there are high chances that the soil therein will get waterlogged. So, you would have to be on the lookout to ensure that the soil moisture is at an optimum level for the prosperity of your potatoes.
Still, with the right amount of care, you can get just as good container-grown potatoes as you would potatoes grown on the ground.
Besides, there are upsides to using containers as well.
For one, containers enable you to always use fresh soil whenever you are planting, and this minimizes the chances of soil contamination.
Furthermore, potato growing containers shield your potatoes from pests, worms, and rodents.
---
What's More: The containers are pretty portable, meaning they can be set up anywhere and be easily transferred from one place to another.
---
How To Grow Potatoes in Potato Growing Containers
Keep in mind that as a tuber, potatoes require deep soil for proper growth.
Hence, the container should be able to accommodate at least 8 inches of soil in depth.
Typically, potatoes will grow up to a size of 2-5 inches, depending on the variety.
To successfully plant potatoes in a growing container, follow the following 4 steps:
Step 1: Place about 6 inches of potting mix into your container. Add fertilizer and lay your seed potatoes as well, 6 inches apart.
Step 2: Place about 6 inches of soil over your seeds and water sufficiently.
Step 3: Once your potato plants reach 6 inches tall, add more soil.
Step 4: Repeat this process often until your container gets filled up.
As your potatoes grow, you can begin harvesting them as and when required.
The growth process ends once their foliage starts turning yellow.  
5 Best Potato Growing Containers
1. Decorlife Grow Bags Combo Set
Key Features
Thickened, non-woven, rip-resistant fabrics
Accommodates 7 gallons of potatoes
X-shaped side handles for easy movement
Versatility is one of the strengths of these grow bags from Decorlife. More importantly, they enable you to make your own home garden, catering to all your growing needs.
They are also durable as they are made with thickened, nonwoven, rip-resistant fabrics.
They are well-suited for planting potatoes with a typical volume of about 7 gallons. This is because the bags offer the much-needed space for your seed potatoes to develop to maturity.
What's more, the bags pack double harvest windows for you to easily harvest your potatoes when they mature.
Pros
Durable
Double harvest windows for easy harvesting
Strong X-shaped side handles
Cons
They have a volume of about 7 gallons, limiting the number of seed potatoes you can plant
Moving these bags is made easy by X-shaped side handles that are sturdy enough to handle the weight of growing potatoes.  
An added advantage is that these bags are foldable, making it easy to store them when not in use.
2. Potato Bags, 3 Pack 10 Gallon Felt Potatoes Growing Containers
Key Features
Double chemical fiber felt
Visual harvesting window
Double carry handles for support
Comes with 3 Pack 10 Gallon Felt Potatoes Growing Containers
These bags are made of a double chemical fiber felt, which is not only sufficiently thick but also allows water to drain adequately.
These properties mean that the soil will not get waterlogged- instead, it will maintain appropriate moisture levels, which is essential for the growth of the potatoes.
The material on the container is of excellent quality and is bound to last long. It is also pretty soft and very breathable, ensuring the plants enjoy air circulation.
The visual harvesting window enables you to monitor the growing process of your potatoes closely. Also, you will be able to determine the right time for harvest.
Pros
These bags have a thick fiber felt that is soft and breathable
They have a visual harvesting window
Upgraded double carry handles
Cons
Not big enough for a big harvest of potatoes
In addition, this potato growing container has double carry handles to provide much-needed balance and stability. As such, the bag can handle up to 10 times its original capacity.
One disadvantage to this bag is that it may not provide enough space if you're looking to make a big harvest of potatoes.
3. Delxo 5 Pack 7 Gallon Potato Grow Bags
Key Features
Sturdy, environment-friendly fabric
All-weather fabric
It comes with 5 packs 7-gallon bags
It is reusable
If you are an environmental-savvy person, then this is a perfect grow bag for you. The bags are made with sturdy, environment-friendly fabric.
The fabric is also fairly permeable and does not hold excess water. Thus, your seed potatoes will be able to breathe and, as a result, grow faster and healthier.
The fabric is all-weather, meaning that your potatoes will do just fine in both summer and winter.
The fabric cools the potatoes when it is hot and keeps them warm during the cold season.
Pros
Bags have a sturdy fabric that is environment friendly
Fairly permeable to drain excess water
Fabric is suitable for all seasons
Cons
The handles, though reinforced, may not be strong enough to handle fully loaded bags
With all its good qualities, this product has one fallback. The handles are not strong or sturdy enough to carry the weight of a bag that is fully loaded with soil.
4. Legigo 2 Pack Fabric Raised Planting Garden Bed
Key Features
A 3-grid division
Foldability
Eco-friendly PP material
2 pack planters both 3 divided grids plastic rectangular garden grow bags
The Legigo raised garden bed is divided into 3 grids for a more organized unit. The division and space allow you to plant other vegetables alongside potatoes in a single unit.
One of the best qualities about this product is that it is foldable. So, all you have to do when you want to use it is unfold it and add soil.
It is made with an eco-friendly PP material that is not only durable but also breathable, waterproof, and recyclable. Also, it has a drain hole design that facilitates proper drainage of excess water.
Pros
3 separate grids that maintain the bag's shape
Made of a durable and eco-friendly material
They have a drain hole design to facilitate proper drainage
Cons
May be hard to lift off the ground.
They may bulge outwards at the sides when filled with soil.
The best place to place this garden bed when planting potatoes would be the courtyard. While they are pretty effective, they can be hard to lift off the ground when filled with soil.
For this reason, they are not exactly portable when filled with soil. They also tend to bulge outwards at the sides when full.
5. Potato Grow Bags, 3 Pack 10 Gallon Garden Vegetable Planter
Key Features
Strong and durable PE material
Visual Velcro window
Two sturdy handles for support
Comes with 3 pack 10-gallon planters
Made with strong and durable PE material, these potato growing bags have a long lifespan. The material is quite breathable as it is double-layered.
The breathability ensures that there is enough air circulation within the bag, which promotes the healthy growth of the potatoes.
Additionally, it has a Visual Velcro window that enables you to monitor the progress of your potatoes so you can harvest them at the right time.
Furthermore, the bags come with two sturdy handles that make it easy to carry them even when they are full. They are also washable and foldable, so you can easily store them away when they are not in use.
Pros
Made of durable material
They have a visual Velcro window
Two sturdy handles
Washable and foldable
Cons
Not big enough for a huge harvest of potatoes
The drain holes found at the bottom of the bags facilitate drainage. However, with a volume of 10 gallons, these bags are relatively small.
Thus, they may not provide enough space if you're looking to make a big harvest of potatoes.
Frequently Asked Questions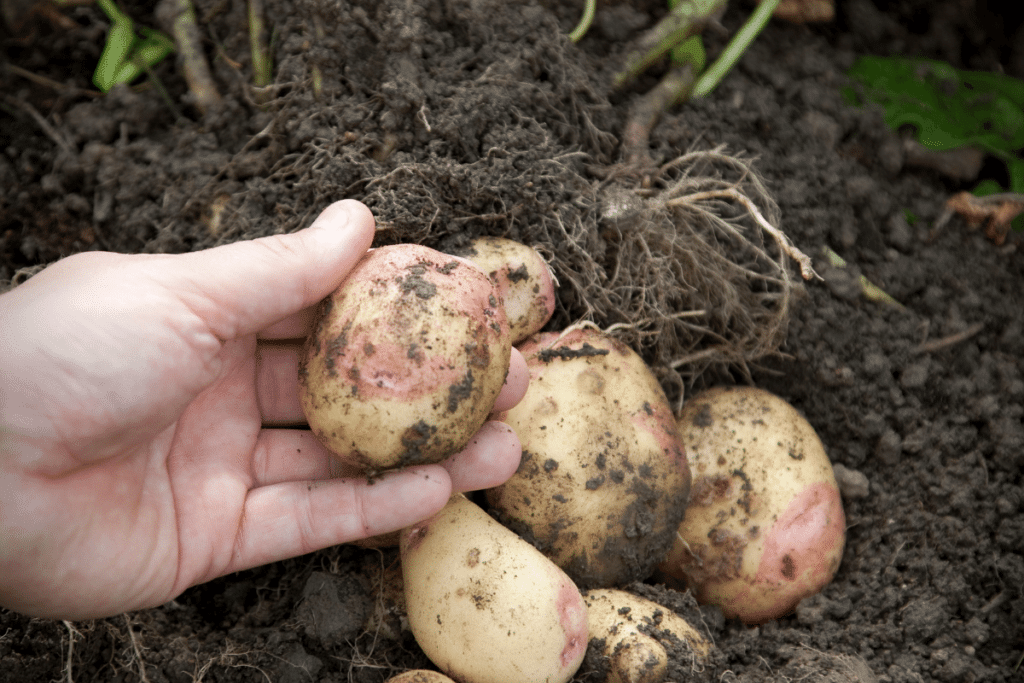 When should you grow potatoes in containers?
You should grow potatoes in containers when you are short on space in your garden or backyard. Containers are convenient because you can set them up anywhere, including the patio, balcony, or indoors.
This, however, is not a requirement, so you can use containers even when you have sufficient space. Furthermore, potatoes tend to grow very well in enclosed containers.
How often should you water potatoes grown in a container?
Since containers tend to dry out faster than the ground, you need to monitor the moisture content within the soil.
The soil will need at least 1.5 inches of water per week for maximum potato growth and production. So, you will have to water as often as required.
After how long do potatoes grown in a container mature?
In between 70-90 days, you should have your potato tubers ready for consumption. However, this depends on the variety, as some can take up to 120 days to mature.
Final Words
Growing potatoes in containers is quite efficient and beneficial.
There are several types of potato growing containers, and these come with their own features and advantages.
If you would like more information regarding the potato bags discussed in this article, or if you would like to make a purchase, feel free to click on the links provided.
Read Next