Garden pump sprayers come in handy when you want to kill weeds, fertilize a garden or keep pests away from your plants.
They are effective and convenient tools for distributing fertilizers, herbicides, and pesticides in your garden without requiring you to move around so much.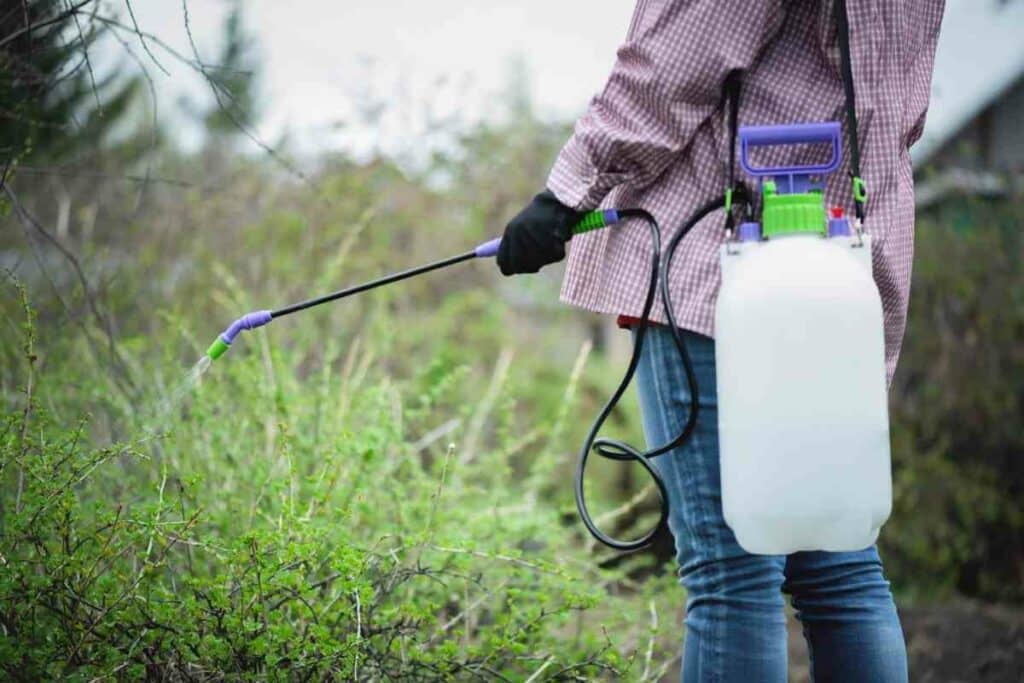 What to Expect? There are many brands of garden pump sprayers in the market, and they all come in different shapes and sizes. Choosing the perfect one for yourself can be a challenging task.
However, you do not need to worry – this guide will provide you with all the information you require to buy the best garden pump for distance.
How Do Garden Pump Sprayers Work?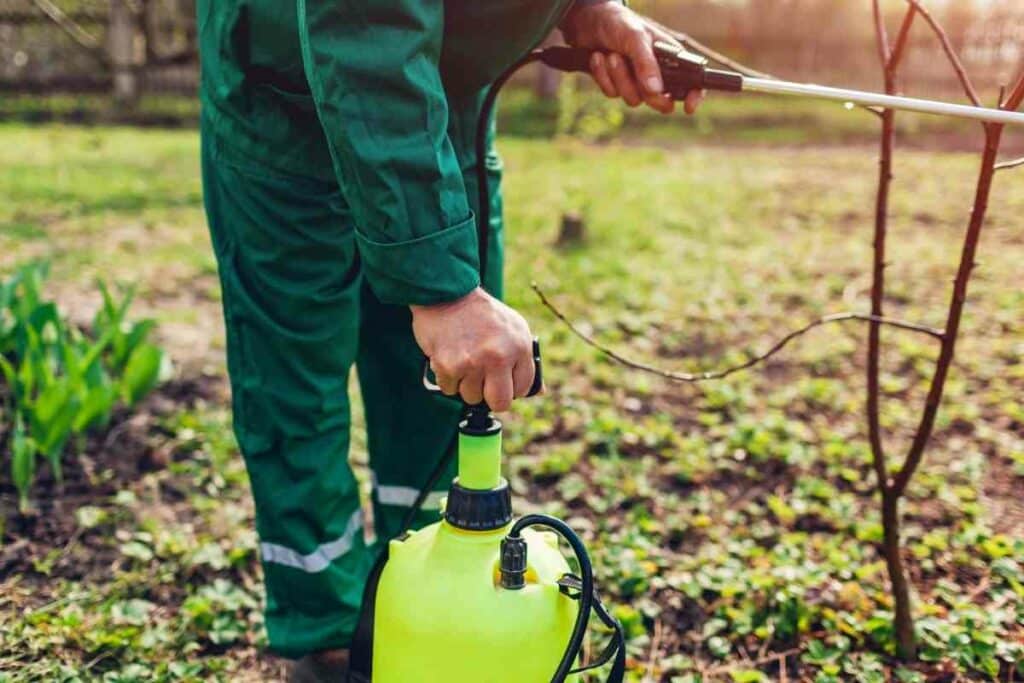 Essentially, pump sprayers are made up of three primary parts: a plastic tank, a pump, and a wand:
The tank, whose capacity can be anywhere between 1 to 6 gallons depending on the size of the tank, holds the liquid being sprayed.
The pump can be manual or mechanical, and it is the part that provides the energy required for the spraying action.
The wand helps with support, and most are between 18 and 22 inches. In addition, pump sprayers have nozzles that are interchangeable to allow users to distribute spray in different patterns.
What Are Garden Pump Sprayers Used For?
Generally, a garden pump sprayer is used to spray different chemicals (or organic liquids) around the garden.
Thus, a garden pump sprayer is used for:
Spraying fertilizers: Fertilizers feed and nourish plants during the growth season.
Spraying pesticides: Pesticides control ants and pathogens, eliminating them and keeping them off the plants.
Spraying herbicides: Herbicides destroy weeds and pre-emergent, which interfere with the growth and the wellbeing of the plants.   
Factors To Consider When Buying a Garden Pump Sprayer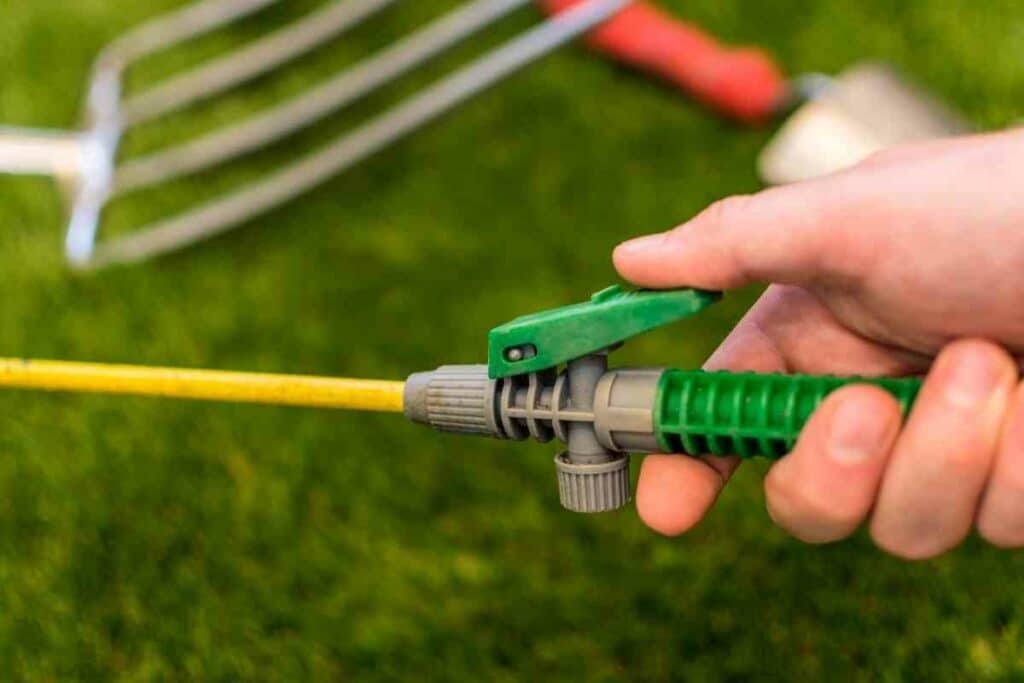 You want to buy a pump sprayer that best suits your personal and gardening needs.
For this to happen, you have to consider several essential factors.
The best garden pump sprayer differs from one individual to another, so you have to be aware of your needs when buying one.
The main factors you ought to consider include the following.
Tank Capacity
A pump sprayer's tack capacity determines how much liquid the tank can hold.
Normally, the bigger the tank, the longer you can go without requiring a refill.
If you have a big garden and are strong enough, then you should consider getting a sprayer with a big tank capacity.
Most sprayers have a tank capacity of between three and six gallons.
Weight
Although the liquids to be used when spraying make up for most of the pump sprayer's weight, the sprayer's weight also needs to be considered.
You will need to move the pump sprayer around the area being sprayed to ensure that its weight is manageable.
---
Essentially: Handheld sprayers are lighter compared to backpack sprayers.
---
Quality
Quality products are durable and also do a good job.
Get a pump sprayer that is made with materials that can withstand carrying chemicals without getting damaged.
Most sprayers are made with heavy-duty plastic materials and fixed with:
brass
aluminum
or stainless-steel nozzles
Sprayer Type
The right type of sprayer will make your work so much easier.
There are different types of sprayers depending on their intended purposes.
They include:
handheld sprayers
backpack sprayers
hose-end sprayers
and wheeled sprayers
Affordability
Different brands of garden pump sprayers have different price tags.
So, the chances that there is one that fits your budget are pretty high.
4 Best Garden Pump Sprayers for Distance
1. SOLO 430-2G Handheld Sprayer
Key Features                           
A professional shut-off valve
4-feet high-pressure hose
It is compatible with all forms of herbicides and insecticides
It also has an automatic pressure release valve
This product is easy to carry and store due to its built-in wand retainer.
This, coupled with the wheeled caddy, makes for easy handling and stability even through unfavorable terrain.
In addition, it features a professional shut-off valve that is very durable with both lock-on and lock-off features.
For someone who needs a sprayer that can be used over a long distance, this product sure will come in handy.
It features a high-pressure hose that is 4 feet long.
With an automatic pressure release valve, you will not have to worry about excess pressure building up within the tank.
Versatility is one of the strengths of this sprayer as it is useful for diverse functions ranging from spraying herbicides to killing insects with insecticides.
What's more, it has a large funnel top that enables you to fill it up easily.
Pros
A built-in wand retainer that makes it easy to carry and store
It features a durable professional shut-off valve
It can also be disassembled without using any tools
Cons
It may leak air, affecting pressure within the tank
A large secondary opening also makes it easy to clean. In addition to this, this product may be disassembled without any tools, which would make cleaning it a walk in the park.
On the downside, this product may leak air in case there is a design flaw, disrupting the pressure within the tank.
2. Flo-Master by Hudson 24101 1 Gallon Lawn and Garden Tank Sprayer
Key Features
Multi-functionality
12-inch-long watering hose
Ergonomic handle
It also features a translucent bottle that is calibrated
This product is not only multi-functional but can also be used both indoors and outdoors.
It is quite easy to fill up as well due to the design of its very wide mouth and funnel. All you have to do is open the lid, fill it up and screw the lid back on tightly.
Since it comes with a translucent bottle, you can easily check the level of the fluids inside.
This is also made easier by the calibrations on the side, enabling you to know when to refill and how much is needed.
An added advantage is the 12-inch-long watering hose which enables you to water areas in your garden that would otherwise be inaccessible.
To greatly enhance your comfort during use, it features a comfort-grip handle.
This enables you to spray for prolonged periods of time without getting fatigued.
Pros
Can be used both indoors and outdoors
A wide mouth and a funnel design for easy filling
A comfort-grip handle
Cons
Leaving it pressurized for a while may cause leakage from the handle
This product also has great stability and durability due to its thickened bottom.
On the downside, leaving this product pressurized for a while may cause leakage from the handle.
In case you are using dangerous chemicals, this may prove quite harmful both to yourself and the surrounding area.
3. Itisll Portable Garden Pump Sprayer Brass Wand Shoulder Strap
Key Features
Multi-purpose
It features an adjustable shoulder strap
Adjustable shoulder strap
Automatic pressure relief valve
If you are looking for a garden sprayer that will get the job done effectively, then this is the product for you.
From cleaning cars to bathing pets or cleaning the house, this product has got you covered.
However, it is not suitable for acidic fluids, so great care should be taken to avoid these.
It features a high-quality brass nozzle that is also adjustable. You could change the force of the spray from direct injection to a very fine mist-like output.
Another added advantage would be the locking trigger mechanism on the handle. This enables for long-time spray while at the same time reducing fatigue.
Pros
A multi-purpose pressure sprayer.
An adjustable high-quality brass nozzle.
It has a handle with a locking trigger mechanism.
It also features an automatic pressure relief valve.
Cons
It may not be used with acidic fluids.
Equally important is the adjustable shoulder strap, making movement easy once the sprayer is hung on the body.
A transparent bottle allows you to closely monitor the liquid level so you can replenish it when need be.
This product also features an automatic pressure relief valve to release excess pressure, so the tank does not explode.
4. TABOR TOOLS 1.3 Gallon Lawn and Garden Pump Pressure with Pressure Relief Valve
Key Features
Wide funnel top
Bottle is translucent with calibrations
It also has a translucent bottle with a printed scale
Has a locking trigger mechanism
Suitable for both outdoor and indoor use, this sprayer provides maximum utility as it can perform a variety of tasks.
Besides the usual garden use, you can use it to clean cars, bathe pets, clean the house, and even irrigate plants.
However, you should be careful not to fill it with acidic fluids to avoid corroding it.
The wide funnel top opening ensures easy filling with a translucent bottle for easy monitoring of the fluids inside.
Furthermore, this bottle comes fitted with a printed scale so you can know when liquid levels run low and refill.
An added advantage would be the sturdy shoulder strap, enabling you to carry the product while spraying.
Pros
This product is suitable for both outdoor and indoor use.
A wide funnel top for easy filling.
It also features a locking trigger mechanism.
Cons
It may not be used with corrosive or acidic fluids.
In addition to the comfort-grip wand, it is fitted with a locking trigger mechanism so you can relieve your hand while maintaining a constant flow.
The sprayer wand is around 50 inches long, which enables you to spray areas that would otherwise be hard to reach.
It also has a nozzle that can be rotated to adjust the water spray intensity.
Frequently Asked Questions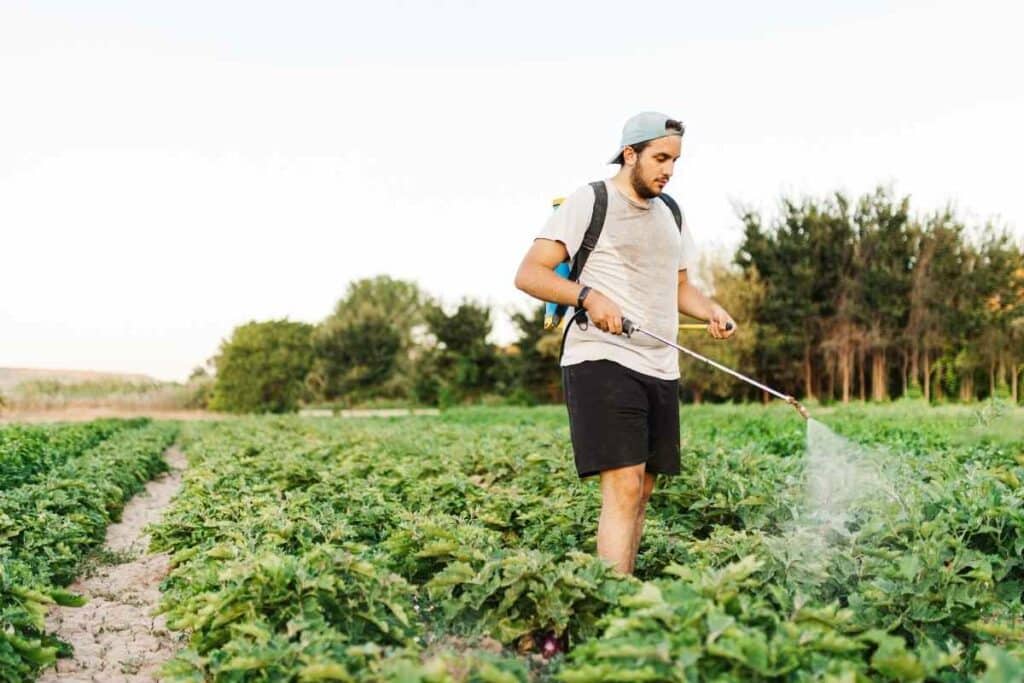 How far do garden pump sprayers throw?
On average, a garden sprayer can reach between 4 to 6 feet. Motorized models run on high pressure and can reach a radius of 90 feet.
Which is the best garden pump sprayer?
The best garden pump sprayer is relative to an individual. What works for one person may not work for the other.
All the same, a good garden pump sprayer depends on factors like the tank capacity, type of sprayer, weight, quality, and affordability.
Final Thoughts
Garden pump sprayers are very important tools to own not only for use in gardens but also for other everyday uses.
As such, it is important to take into consideration the intended purpose of your pump sprayer before buying one.
This article has reviewed 5 of the best garden pump sprayers. Feel free to click on the links provided for more information or if you would like to make a purchase.
Also Useful