Rolling garden seats are designed to help people with limited mobility, pain, or other physical health issues to move around the garden when working.
However, they can be used by anyone and certainly take a lot of the physical strain out of gardening.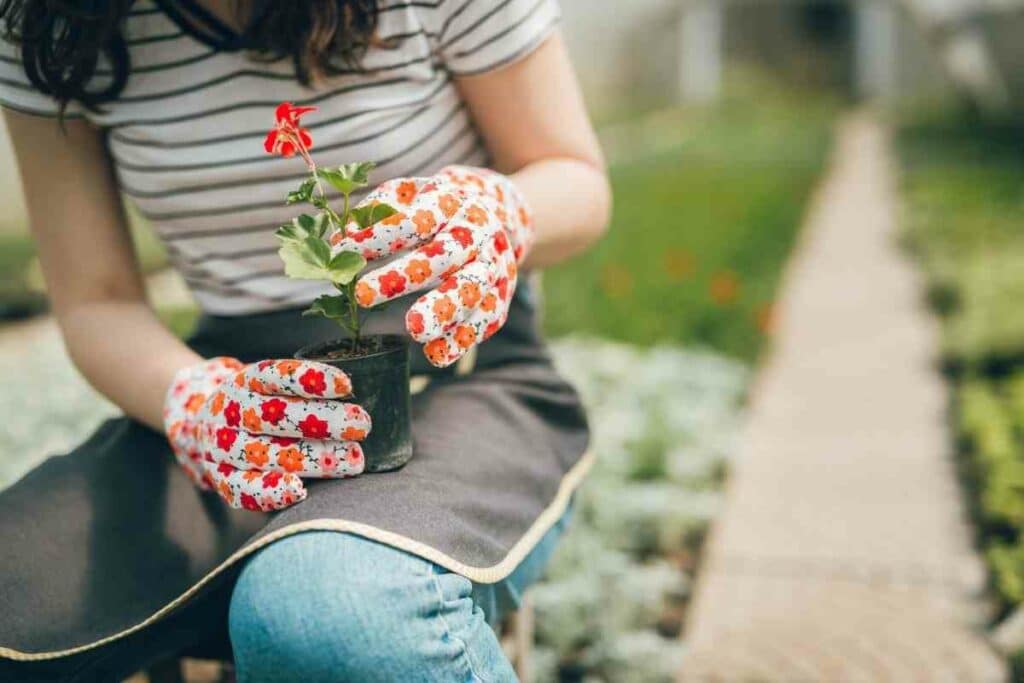 Whether you have an injury, are getting older, or simply want to feel more comfortable when working outdoors, a rolling garden seat might be the right solution for you.
But finding the best product among a seemingly endless sea of rolling garden seats can feel a little overwhelming.
In This Guide – We have curated a list of our favorite rolling seats and have a handy buying guide to help you make the right choice. So, grab a coffee, put those feet up, and relax because we've done the hard work for you!
Rolling Garden Seats – Our Top 7 Picks
There are a lot of rolling garden seats out there to choose from.
If you've been struggling to find the right one or simply want a rundown of the best seats, we've got you covered.
Here are our top picks. 
1. Pure Garden 82-VY021
One of the first things to catch our eye about this rolling garden seat is how well made it is.
While plastic isn't always seen to be the most robust material, this one is made from high quality plastic that will withstand a good amount of use.
The frame is made from stainless steel which really reinforces the structure and is treated to be weatherproof. 
What's more, the solid plastic wheels won't easily damage and have great traction.
The only downside about the wheels is that they aren't designed for uneven ground so they might not be suitable for use around the veggie patch or other more rugged areas. 
Underneath the seat, there is a handy tool tray so you can have your things in easy reach at all times. It's convenience at its best. 
2. Traxion 2-700 ProGear Mobile Rolling Garden Seat
If you're going to be working in a garden where the terrain is anything but smooth, you need a seat that can handle the challenge.
This one is perfect for the job and comes with a set of strong plastic castor wheels that move smoothly and easily. 
What's more, the Traxion rolling garden seat has a racer back so that you get full lower back support.
Excellent if you have pain or weakness in this area. It's also fully cushioned so you can use the seat for longer without feeling uncomfortable. 
This garden seat boasts a weight capacity of up to 400lbs so is ideal for users of all sizes.
But what does let it down slightly is that it's a little heavier than other seats at 21lbs, so those with limited strength may find it a little more difficult to pick up and move. 
3. MiracleGro 4 In 1 Garden Stool
Where versatility is concerned, this garden stool from MiracleGro really does hit the nail on the head.
It sits on a set of sturdy wheels that operate smoothly and consistently.
They're also very durable so there's no need to worry about damage after the first use. 
The stool features a handy tool storage compartment as well as a kneeling pad for when you have to get down on the ground.
It's all beautifully compact and easy to store or carry.
What's more, you get a free pair of gardening gloves when you purchase; it just seems to get better and better. 
The weight capacity for this stool is 220lbs so it's a little lower than we would like to see for such a brilliant product. 
4. WEN 73012 Pneumatic Seat
This rolling seat is designed with mechanics in mind but it can just as easily be used around the home and garden.
What we love about this seat is that it is so durable.
Made from steel, it'll hold its own for much longer and with a 300lb weight limit, it's suited to a much wider range of people.
The seat also features pneumatic height adjustment so you can set it to a level that feels comfortable for you.
The seat itself is fully padded and covered in vinyl for the perfect balance of easy maintenance and comfort. 
There is a storage tray directly underneath the seat so you'll have your tools to hand at all times.
The caster wheels provide smooth movement but they're primarily designed for use on even surfaces so this one might not be ideal on grass.
5. Pure Garden Utility Wagon
Lightweight and compact with a very generous amount of storage, this is a rolling garden seat that is hard to beat.
It's a trunk style seat in which the lid lifts up revealing the storage space and is made entirely from plastic so there's no worry about corrosion or damage from the weather. 
The Pure Garden utility wagon features large six inch wheels that are designed for all terrain use.
Whether you're working on the grass, in dirt, or just rolling down the garden path, their great traction and stability will see you through. 
If there is one thing that slightly lets this garden seat down, it's that the weight capacity is at just 220lbs.
This is OK for average sized adults but anyone who is slightly larger may not be able to safely use this seat. 
6. A.M Leonard Garden Scoot
The first thing that you will notice about this rolling garden stool is that it has a handle.
This isn't a feature that is seen on a lot of products but it's hugely beneficial.
This allows users who have limited mobility to safely get on and off the stool.
It'll also give you something to hold onto when working, if you need it. 
This stool is made from steel which makes it super durable and is ideal for all terrain use thanks to solid polypropylene wheels with excellent traction.
Moreover, it'll hold up to 400lbs so it is suitable for users both large and small.
Do keep in mind that at 39lbs, this is one of the heavier seats on our list so if you have strength problems, you may find it hard to pick up.
There is a small storage basket at the back of the seat but it doesn't have as much room as some other products.
However, the seat does double as a bucket carrier which opens up the versatility of this product beautifully. 
7. OEM TOOLS Heavy Duty Workbench And Creeper Seat
The best thing about this rolling garden seat is how stable it is.
If you're working on slightly uneven terrain or are worried about the seat tipping, you won't need to with this one.
It's designed specifically to reduce the risk of tipping so is incredibly safe. 
Moreover, it has a 300lb weight limit so it's ideal for slightly larger users.
Thanks to the locking castor wheels, you'll also feel much safer when stationary. 
Another great thing about this seat is that it benefits from ample storage.
Underneath, you will find plenty of pull out space for all your most essential tools. 
How To Choose The Best Rolling Garden Seat
After having looked through our top picks, you may still be wondering how to choose between all of these excellent products.
But don't worry, we've got some handy buying tips to help you pick the very best rolling garden seat for your needs. 
What Type of Rolling Garden Seat Do You Need?
One of the first things you should think about when choosing a rolling garden seat is that there are two different types.
There are some seats that feature an enclosed compartment at the bottom and more closely resemble a cart.
These are ideal if you need additional storage but they cannot be adjusted so may not be suitable for very tall or very short individuals. 
On the Other Hand – There are open rolling garden seats which do have the option to adjust the height.
The seat will also typically swivel and you normally get some kind of storage so it's a better all in one option. 
How Easy Is The Seat To Maintain?
You've likely got enough work to do in your garden as it is without having to worry about the maintenance of your rolling garden seat.
If you want something incredibly low maintenance, then we would suggest going for a plastic seat.
These require nothing more than a quick wipe down so are ideal for people with busy lifestyles. 
A metal seat will be more durable but comes with the risk of rusting.
Most products will have been treated prior to purchase but it's likely that you'll need to retreat after some time.
While this isn't a huge headache, it is just that extra little bit of maintenance to think about. 
How Easily Does The Seat Move?
You have purchased a rolling garden seat to allow you to move freely around your garden so if you discover that it doesn't move smoothly, it goes without saying that you'll be disappointed.
The best products to go for will have durable wheels that won't get stuck or become damaged as you move across various terrain types. 
Rolling Garden Seat Dimensions And Weight
Rolling garden seats come in a good number of sizes and it's important to compare this to the size of your yard.
If you have a relatively small garden and will need to get into tighter spaces then you'll want to look for something more compact.
That Said – Don't get something so small that you cannot comfortably sit on it. Moreover, you will need to think about the weight of the seat.
If you have problems with strength, the last thing you want is a seat that's too heavy for you to pick up and move when you need to. 
It's also very important to find a seat that is compatible with your own weight.
You will usually find details of how much weight the seat can safely take.
It is vitally important not to exceed this as it could cause the seat to collapse, putting you at risk of injury.
Metal rolling garden seats will generally be able to take more weight than their plastic counterparts so if you are a larger person, this may be worth considering. 
Does The Seat Adjust?
We're all different heights so a seat that would suit a person over 6ft wouldn't be as good for someone who is 5ft1.
For this reason, it's super important to find an adjustable seat as it will allow you to set it at a height that feels comfortable for you. 
Conclusion
If you've been struggling to get around the garden but don't want to down tools and admit defeat then a rolling garden seat might be just the ticket.
These compact and easy-to-use devices allow you to move around the garden much more easily and are ideal for people of all ages, especially those with pain, injuries, or general difficulty in getting about.
You May Also Read