An expandable garden hose expands when filled with water pressure and contracts when empty.
This is accomplished by pushing pressurized water through the hose. Thus this expandable hose will only grow larger when the appropriate water pressure is applied.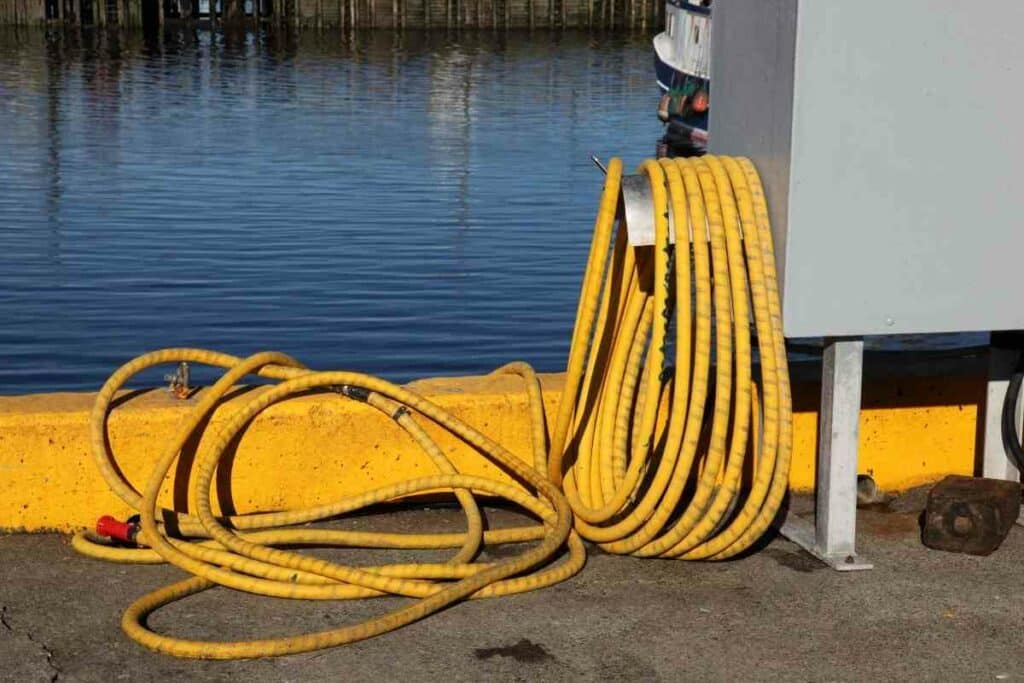 Expandable garden hoses provide the same functions as standard hoses, but they collapse into lightweight, portable tubes for simple storage.
Because of its weight, the hose is able to expand under moderate hydraulic pressure, drain itself, and endure wear and tear.
Why Do We like It? An expanding garden hose has a high degree of elasticity, allowing it to be self-draining while avoiding kinks, twists, and other tangling issues common with regular garden hoses.
Expandable Hoses Pros & Cons
How Expandable Hose Works?
Expandable hoses are a new technology that provides an alternative to the typical rubber or vinyl garden hose.
Instead of one, they feature two fundamental parts:
A thin inner hose made of expandable latex that extends two to three times its length once filled with water.
It also has a protective outer cover that extends and shrinks with the hose and is often made of abrasion-resistant textiles.  
When filled with water, the robust outer layer protects the soft inner layer, which swells like a balloon to three times its unfilled size.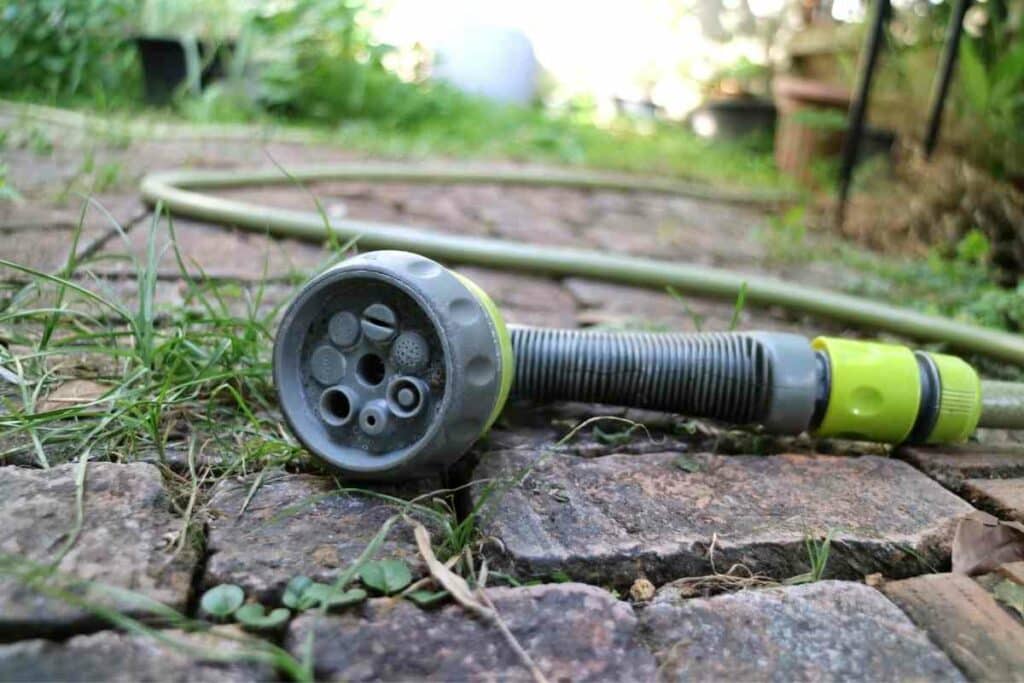 The outside of expandable garden hoses is made of nylon or polyester.
As a Result – They must be stored differently than a normal garden hose made of a more lasting material like vinyl or rubber.
High-pressure connectors are located on both ends of expandable hoses.
This guarantees a tighter fit and makes them less likely to leak than standard hose fittings.
When using a new, expanding hose for the first time, it is critical to read and follow the instructions to get the most out of it:
A new hose must be filled with water and emptied multiple times.
It is also important to note that while expandable hoses are sturdy and resilient, they will last longer if you keep them out of direct sunlight and away from cold temperatures.
Therefore, you should try hanging the hose on a hose hanger and holding it above the ground while not in use extends the hose's life.
Finally, always go for the highest quality material.
For instance, if you get a hose with a material density of 5000D and brass fittings, it will last you a lifetime.
Tips of Choosing the Best Expandable Hose
Nozzle
Some expandable hoses include a dial that enables you to customize the spray pattern.
These nozzles frequently have a variety of other patterns in addition to mist and jet, such as:
Flat: Isdesignedfor delicate plants and also young seedlings.
Shower: Intended for use when watering the garden as well as individual planters.
Temperature Tolerance
Some hoses can withstand high and low temperatures.
This is a useful feature, especially on hot summer and frosty winter days. Every expandable hose has a different temperature tolerance.
---
From Experience: A good hose can function effectively in temperatures ranging from -10°C to 75°C. However, for long-term use, please keep it away from extreme weather.
---
Weight 
The fixtures and nozzles primarily determine how much the hose weighs.
Nozzles and Brass fixtures are heavier and more durable than plastic fixtures and nozzles.
Furthermore, sometimes the low-cost pipes are made very lightweight to reduce the cost per roll.
However, this factor significantly impacts kink resistance and can cause undesirable pipe curling.
Therefore, take care not to choose the lightest option too quickly. More on this in the section on Material Quality.
Diameter
The fittings' diameters can vary. However, the 34-inch size is the most common.
This size is prominent because it allows for high water pressure to pass through it.
Furthermore, many expandable hoses can resist water pressure of up to 12 bar, which is far more than needed.
Water Pressure
The pounds per square inch, or PSI, is the unit of measurement used to describe the rate at which water flows through the hose.
Most home faucet has a PSI of 40-60. However, expandable hoses require much stronger and higher water pressure than this.
As a result, you will have to buy a pump to increase your water pressure.
Most expandable hoses can withstand pressures of up to 175 psi (12 bar), but anything above 115 psi (8 bar) should suffice for your needs.
Length
These hoses are available in lengths ranging from 25 feet to 100 feet.
A 25-foot hose is perfect for small yards. 50-foot or 75-foot hoses are best recommended for the average garden.
If the hose is intended for commercial use or large property, the 100-foot Expandable hose is best.
Flexibility
Choose an expandable hose made of rubber with a reinforced mesh lining to reduce the chances of kinking.
These are flexible as well as strong enough to withstand high water pressure.
Because of this, it can easily move around corners when you are irrigating your lawn.
Furthermore, a flexible hose is much easier to store because it can be folded and rolled.
Exterior/Core Material
The hose's exterior, which protects the core from any damage, should be strong enough to withstand punctures and abrasion.
When under pressure, the core must be extremely resilient and pliable in order to expand to its full length and contract back to the original size.
Expandable hoses are made from a variety of core materials, including:
Latex: Hoses with a latex core usually have two, three, or four layers. A core with more layers will give you more protection, making the hose less flexible.
Thermoplastic copolyester: This Material is heat-resistant and more durable than latex, but it's also more expensive.
Fittings
Brass or plastic hose fittings join the hose to spray nozzle and water supply.
Plastic fittings are not expensive and often long-lasting, but with repeated use, they can become cross-threaded, resulting in leaks.
Solid brass connectors are much more resistant to constant threading and also unthreading to the nozzle and water supply.
Some expandable hoses include a quick-connect fitting, allowing the user to connect the hose to the water supply with no threading.
There are also quick-connect couplers that are available separately.
Warranty
Make sure to select one that comes with a warranty.
This allows you to replace the hose if it becomes damaged while under warranty.
The warranty period should range from 6 to 12 months on average.
5 Best Expandable Garden Hoses
1. Flexi Hose Lightweight Expandable Garden Hose
Key Features
Weight: 2.83 pounds
Sprayer included
Anti-slip sprayer grip
Disconnect able shut-off valve
Brass connectors
Length: 50′, 75′, 100′
Diameter: 3/4″
Material: double latex core
If you do not want to compromise on quality and are willing to spend a few extra bucks, this is the hose for you. The hose comes with a ton of incredible features.
For one, it is made of a 4-layer latex core that protects the inner tube from punctures, thorns, and sharp corners. Additionally, the exterior layer is constructed of a 3750D elastic outer material.
This hose is versatile and is available in three different sizes: 50 feet, 75 feet, and 100 feet. Despite having such an impressive size, this hose weighs one-third the weight of a standard rubber hose. 
The hose has an 8-pattern nozzle and a sturdy on/off valve. The nozzle has a textured rubber handle for a more secure grip.
It can also withstand water pressures of up to 12 bar and also temperatures varying from 41 to 113 degrees Fahrenheit.
Every end has a 34-inch brass copper connector to won't leak. This expandable hose will provide you with easier connectivity and a ready-to-use design.
Furthermore, it is extremely simple to use and collect to convert into a small size for later use. 
2. Gardguard Expandable Garden Hose
Key Features
Length: 50′, 100′
Weight: 3.2 lbs.
Brass fittings
Diameter: 3/4″
Material: 3-layer latex core, 3300D polyester
When it comes to ease of use the Gardguard garden hose is your best bet. The hose is made of high-quality materials, and multiple nozzle functions to not only make it practical but also easy to use.
The hose can withstand water pressure of up to 12 bar and temperatures around 41 to 113C. However, what is even more impressive is that it can also spray 9- pattern nozzles from the safety to suit any desired use be it watering your plants, grass, or washing your car.
It also comes with a hose clamp and the standard on/off valve. Additionally, there are two length options, 50-feet, and 100-feet, to further increase its versatility.
This expandable garden hose uses a rubber outer coating. This outer coating is non-slip and comfortable. Under this rubber coating, there comes a Polyester Fabric cover.
What's more, the hose is made of a 3-layer latex core and a polyester material cover, and a 3300D Polyester Fabric cover to prevent damages and breakage.
The hose diameter is ¾", which allows for great water pressure and flow. As such, no matter your intended use, this hose will certainly do the job.
3. Delxo Expandable Garden Hose
Key Features
Nine function nozzles
Two-way metal splitter
100-Feet hose
Material: 3700D fabric constructed
Weight 3.2 lbs.
There are 6 key features you need to look out for when buying an expandable hose (Size, value for money, easy to install, quality, convenience, and utility).
It is safe to say that this hose from Delxo meets and surpasses all these features.
The hose has a 9-pattern nozzle that prevents leaks and can exert pressures ranging from 4 to 12 bars. It also expands and contracts quickly before returning to its original size.
Due to the different nozzle patterns, the spray range of the hose is approximately 50-1200cm. It is also 100 feet long when empty, but it easily expands to 104 feet when filled with water.
In regards to quality, the tough 3700D fabric for the outer shell makes it a leek and break-free product. Additionally, the exterior fabric casing is also smooth, which aids in preventing tangling.
The brass connectors make it even more durable by preventing rust from accumulating on the object's surface.
To increase practicality and versatility, the hose comes with an on and off valve that controls the flow of water, allowing you to use it efficiently and according to your needs.
Also, since the hose is smooth, it is doesn't snag when being pulled on gravel or around a very rough corner.
Lastly, Delxo's complete kit includes a two-way metal splitter, leak-proof tape, hose clamp, storage bag, and three spare rubber gaskets.
4. TBI Pro Expandable Garden Hose -100ft
Key Features
Expands from 50 to 100 feet.
It weighs 4.4lbs
A color scheme with black and orange
Warranty of five years
If you are looking for a long expandable garden hose, then the TBI pro is the product for you. This flexible expandable hose stretches from 50 ft. to 100 ft. in length in seconds.
Despite it stretching that much, its design and the materials used ensure that it will not twist, kink, tangle, or burst during usage.
It has 4-layer latex which is three times more robust than 2 to 3 layers
TBI Pro Expandable Garden Hose weighs a quarter of a pound, making it lighter than other choices on the market. It has 4-layer latex which is three times more robust than 2 to 3 layers found in other garden hoses.
However, what's more impressive is the 3750D fabric that makes this hose nearly indestructible.
Additionally, it is made with a flexible material that makes it exceptionally simple to use and adapt to your specific needs. Flexibility is important since it enables faster expansion and also makes it easy to maneuver.
The hardware components that come with the hose are also impressive. For example, the strong brass connections keep leaks and corrosion at bay.
Lastly, when you buy the product you'll also receive 9-Way Zink Alloy Sprayer and the 2-Way Splitter. These two will come in handy if you don't have enough faucets in your yard.
A storage bag, hose, hanger, additional washers, and a user handbook are all included in the box.
5. Knoikos Expandable Garden Hose 100ft 
Key Features
Ten watering patterns for a variety of applications.
Hose Nozzle Ergonomic Soft Rubber Grip No Squeeze
Made of polyester and latex, it comes in a blue-black color.
Garden hose includes one 100ft garden hose, one hose hook, three extra sealing rings, one water hose nozzle, and one storage bag.
Our last but definitely not least product is the Knoikos expandable hose. This hose ticks the box when it comes to versatility and you can use it for all kinds of watering jobs.
It is 100ft and has a heavy-duty nozzle that features a simple thumb control mechanism, allowing for a regulated stream ranging from a gentle, gentle rain to a high-velocity stream.
There is a soft rubber covering on the handle of this sprayer, making it very convenient to grasp and preventing sliding.
It is a flexible garden hose that does not kink and has aluminum end ducting; hence, it allows for three times the stretching length while in use, stretching from 33 feet to 100 feet.
The combination of a thickened latex inner hose pipe and a densely knitted outside fabric results in an excellent performance in extending up and enduring pressure, neither leaking nor exploding.
Additionally, the hose has a double-layered latex core of high-density and a strong 3750D polyester material to avoid breakage and leaking.
It can also endure water pressures of 3-12 Bar as well as temperatures ranging from 41°F to 113°F.
If you decide to go for this hose you can be certain that there will be no leaks, tears, or cracks because it is intended for long-term usage.
Care and Maintenance of an Expandable Hose
Always begin by filling the hose with the shut-off valve switched to the 'off' position.
Consider squeezing the nozzle to verify that the extendable garden hose is completely emptied.
Turn the water off at the faucet when you're not using the hose. Avoid applying long durations of pressure to the hose.
Make Sure to keep the hose's water pressure below 80 PSI.
Do not extend the hose unless it is full of water.
Drain the hose fully when not in use as well as during cold/freezing weather. During the winter, if feasible, keep the hose indoors. If the hose is not properly drained and stored in cold conditions, it may explode.
Never use the hose to distribute hot water. The hose might be damaged by hot water.
Do not expose the expandable garden hose to direct sunlight for extended periods.
Final Thoughts
An expandable hose is a terrific purchase that is worth every penny. It makes your watering tasks easier and more enjoyable.
Expandable hoses perform well and may drastically transform any watering experience. They are lightweight, simple to use, portable, and take up little storage space.
However, getting a high-quality extendable garden hose constructed of robust materials is always necessary to avoid any rips and tears typical of inferior models.
Therefore, always choose an expandable hose made of high-quality 3750D polyester with at least a double-lined latex inner tube.
In addition, be certain that the inner fittings are constructed of aluminum or steel.
Brass alone may cause leakage since it has been discovered to have a chemical interaction with latex that leads the rubber to break down.
Lastly, check that the expandable hose you purchase can sustain at least a 10 bar (140 psi) water pressure supply.
Also Read