Your garden is as good as you maintain it. If you want to make your home admirable and welcoming, you need a presentable garden, and the best garden tractor with locking differential is your best bet.
Having a garden tractor makes it easier to trim the grass, making your backyard visually appealing and preventing harboring insects and critters.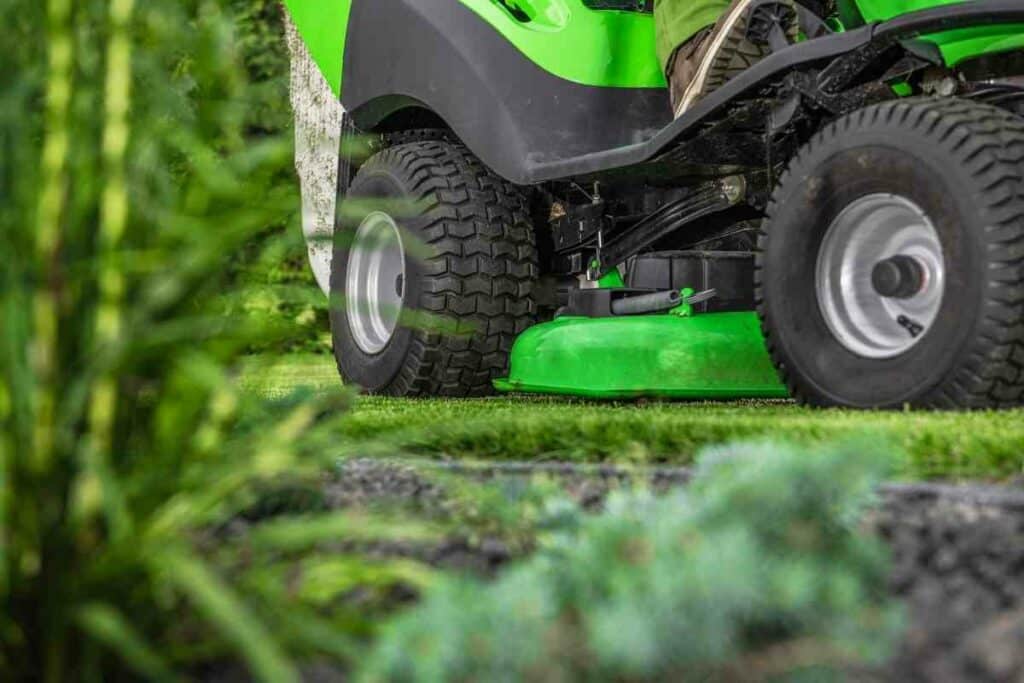 Garden tractors are increasingly replacing lawnmowers as the preferred machinery for backyard maintenance.
What to Expect? They're more affordable, and modern designs suit compact gardens. They have exciting features like locking differentials that improve their effectiveness.
What Is a Locking Differential?
Locking differentials, also called lockers, lock axles together to provide 100% of your tractor's torque to the wheels and improve traction.
The locking differential works like an open differential, allowing the wheels to rotate at variable speeds.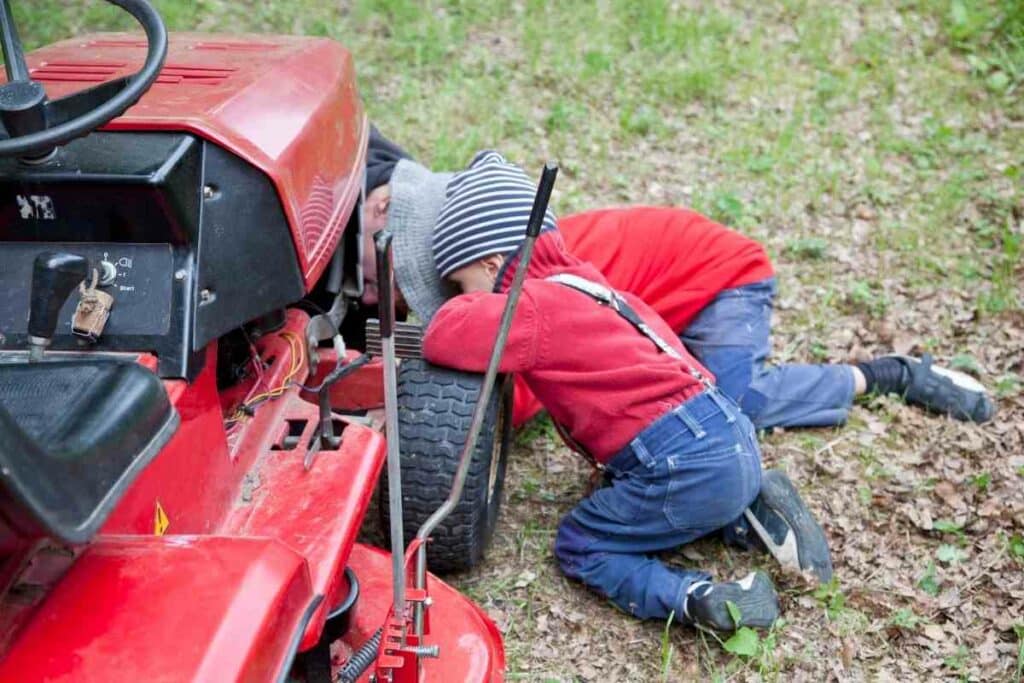 It mechanically locks the axles when you need more traction, forcing the wheels to rotate at a constant speed.
This feature is precious when driving on uneven terrain, where there's low traction or one other wheel moves off the ground. 
As a Result – When you engage the locking differential, the wheel that's off the ground doesn't receive any torque since it doesn't provide traction. On the other hand, the wheels receive all the torque, propelling the tractor forward.
How Do Locking Differentials Work?
The locking differential in your garden tractor determines how it works.
A locking differential can be either automatic or driver-selectable.
Automatic Locking Differentials
Automatic locking differentials lock the axles when you apply torque.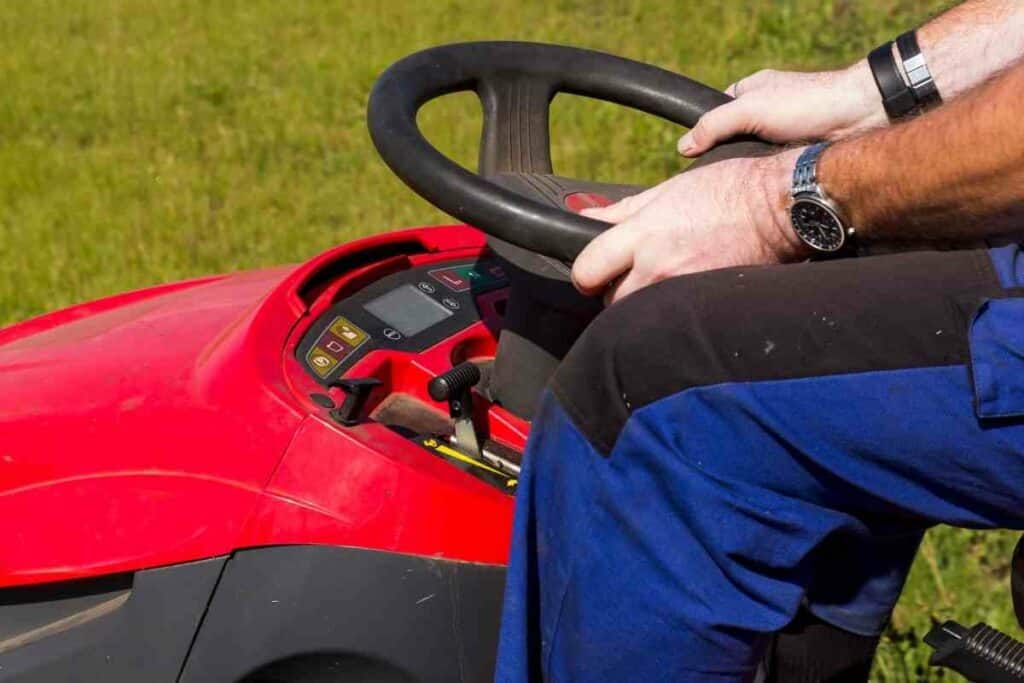 Some operate like open differentials, automatically locking the axles when your tractor loses traction and unlocking when the equipment regains traction.
Others come locked by default and unlock when turning before re-locking.
Driver-selectable Locking Differentials
As the name says, driver-selectable locking differentials are manual – you must press a button or pull a lever to activate the locker.
Most manual lockers use a button and electromagnetic assembly to activate the engagement collar that locks the axles.
Others, called air lockers, use a vacuum diaphragm that activates the clutch and locks the axles.
These are more expensive due to their intricate design, including an air compressor and airline plumbing.
What Are the Disadvantages of Locking Differentials?
Some lockers are noisy and can be unpredictable in wet and snowy conditions.
However, drivers are often willing to overlook these shortcomings because they provide superior locking abilities.
These are mostly used on racing and other high-traction applications.
Garden tractors have lunchbox lockers that are inexpensive and easy to install.
However, their performance relies on the manufacturing company.
They also become less effective if you modify your vehicle by installing power adders or fitting larger wheels.
Best Garden Tractors with Locking Differential 
The following are some of the good garden tractors with locking differential available in the market.
Husqvarna TS 242XD (42″) 21.5 HP Kawasaki Garden Tractor
Despite its small size and fairly modest price, the Husqvarna TS 242XD excels in lawn maintenance.
It features a 21.5hp Kawasaki FR Series OHV engine, guaranteeing top performance throughout the year across all terrains.
When mowing uphill or downhill, this tractor automatically protects you against slipping by automatically engaging its rear locking differential.
The 242XD's chassis is made of robust alloy steel. Below the driver's seat is a 42" fabricated steel cutting blade that works on all grasses.
It also comes with a brush guard and a deck washout port.
Furthermore, the oversized steering wheel makes it easier to maneuver the tractor through corners at high speeds.
The seat is also big enough to accommodate people with large bodies. 
Key Features
21.5hp Kawasaki engine
Alloy steel chassis 
42" fabricated steel  cutting blade
Oversized steering wheel 
Automatic rear locking differential 
Pros
Value for money
Robust design
Easy to operate
Powerful engine
LED headlights for night use
Cons
Some people complain that when you turn up the lock differential, it rips up the grass.
You can turn on the energy-efficient LED headlights when mowing under low-light conditions to increase visibility.
Simplicity Prestige Riding Mower
Simplicity 2691418 Prestige Mower, Riding, Tractor, Orange
The exclusive suspension comfort System, complete with front and rear springs, provides 25% less impact felt than a tractor without suspension, giving you more comfort at faster speeds. Plus, an ergonomic mesh Seat to keep you cool and comfortable. (Note: results of suspension comfort System depend on grass/yard conditions. )

Simplicitys signature Free Floating Mower Deck allows the deck to follow the contours of your lawn giving a scalp-free cut. The full-width rear rollers provide a smooth finish allowing you to create ballpark lawn stripes.

Turns and obstacles are no match for the prestige yard tractor. Steering during lawn maintenance is effortless with full power steering.

The dash mounted hydraulic lift lever for garden tractor attachments makes for easy transport of front-, mid-, and rear-attachments.

The Briggs & Stratton commercial Series v-twin engine features either electronic fuel management (Efm) or electronic fuel injection (EFI) for easy automotive-style starting. Aside from reliable starting, EFI also makes the engine run more smoothly which can save in fuel costs, has a sealed fuel system to keep fuel fresher for longer, and has load sensing for a smoother, more consistent power delivery.
When looking for a garden tractor, you need a machine with an exciting design that guarantees powerful performance, like the Simplicity 2691418 mower.
It has a power steering, a powerful Briggs & Stratton engine and automatic traction control, making it suitable for lawn maintenance throughout the year.
You can easily turn and overcome obstacles when mowing, thanks to the full-power steering system.
The Briggs & Stratton commercial Series v-twin engine has either electronic fuel management (Efm) or electronic fuel injection (EFI), which makes starting the tractor a breeze.
Besides reliable starting, EFI increases the engine's efficiency and improves fuel economy.
It also has a sealed fuel system, ensuring your gas stays fresh for more extended periods and a built-in load sensor that increases power output when lifting bulky items.
The suspension comfort system is arguably this tractor's most impressive feature.
It has front and rear shock absorbers that reduce impact by up to 25% compared to a standard tractor.
As a result, you remain comfortable while giving your lawn a premium cut.
However, it's worth noting that this feature is less effective when moving on uneven terrain or cutting tall grass.
Key Features
Briggs & Stratton v-twin engine with electronic fuel injection or electronic fuel management 
Automatic traction control
Power steering
Suspension comfort system 
Pros
Easy start
Excellent fuel economy
Impressive suspension system
Reliable engine
Versatility 
Cons
It is bulky
Small fuel tank
Additionally, you can use this tractor as a lift. Its dashboard has a mounted hydraulic lever for controlling front and rear tractor attachments. 
Husqvarna MZ61 61 in. 27 HP Briggs & Stratton Hydrostatic Zero Turn Riding Mower
Husqvarna MZ61 61 in. 27 HP Briggs & Stratton Hydrostatic Zero Turn Riding Mower
Husqvarna 61 in. zero-turn lawn mower from the MZ series delivers commercial-grade power and amazing ergonomics

27 HP Briggs Endurance engine provides reliable startups and high ground speeds

Fabricated 11-gauge steel cutting deck offers an excellent 54 in. cut with an ergonomically designed deck lifting system for quick and easy adjustments from the operator's seat

Clippings can be discharged, mulched or bagged with a 9-bushel triple bag collection system (mulching kit and bagger attachment sold separately)

High-back seat with armrests, foam-padded hand grips and vibration dampeners make mowing comfortable for hours on end
If you're a landowner who wants a tractor with a robust design and exciting ergonomics, the Husqvarna MZ61 is your best bet.
It integrates several valuable features into the company's unrivaled ergonomics.
The powertrain has a 27hp V-twin Briggs & Stratton engine that peaks at eight mph when moving forward and 2.1mph when you engage the reverse gear.
It features hydrostatic transmission with electric cutting blade adjustment and an oversized cooling fan. This is why this is among the best garden tractors in the market.
Regarding performance, this model has a robust 52" cutting deck that allows you to cut grass quickly and evenly, regardless of the terrain.
Its rear locking differential and large rear wheels enable you to mow uphill at high speeds without the risk of tipping.
With a zero-degree turn radius, the hydraulic wheel-drive guarantees precise maneuverability.
It lets the mower to turn round on its axis while stationary.
Key Features
27hp V-twin Briggs & Stratton engine
61" fabricated steel mower deck
Electric blade engagement 
Ergonomic steering wheel
Pros
Quiet engine
Durable 52" cutting deck
Chokes start
Robust, heavy-duty front axle
Cruise control
Cons
It doesn't come with washout connectors for a hose. This makes cleaning beneath the mid-blade area quite tricky.
Husqvarna zero-turn mowers provide comfort in various methods. Firstly, rubber isolators disconnect the rider from the chassis, which lessens operator fatigue.
Secondly, the plush seats guarantee comfort while operating this equipment. Moreover, ergonomic adjusters ease steering and on-the-go operations.
Lastly, this tractor has an hour meter that alerts you to service it after extended use.
How to Choose the Best Garden Tractor
Here are the factors you need to consider when choosing a garden tractor with locking differential.
Garden Size
It's essential to purchase a garden tractor that matches the size of your garden.
If you have a large open plan garden, buy equipment with a wide cutting width.
Otherwise, it would help acquire a small cutting width tractor, as these fit better in constrained spaces.
It's also useful to measure the amount of space in your garden and leave enough room for navigating the tractor.
Accessories
Accessories add more functionality to your tractor.
For example, the locking differential mentioned above helps with traction improvement. 
When purchasing an accessory, consider its urgency. Do you need it now, or can it wait for later?
It's unwise to buy something you can do without while overlooking an item required for smooth garden operations.
Transmission 
A garden tractor can have hydrostatic or manual transmission.
You must engage the clutch in manual tractors before shifting gears, similar to a manual car.
On the other hand, hydrostatic transmission works like an automatic transmission. It's more efficient and better at going around obstacles.
Some hydrostatic transmission systems support cruise control, which improves movement in wide spaces and enhances fuel economy.
Cutting Blade Positioning
Tractors with front-cutting blade positioning make it easy to trim underneath trees, bushes, and garden benches.
This saves you the time you would have otherwise used to move the blades when maintaining your garden. 
Other tractors have cutting blades below the driver's seat. These are effective at trimming hedges.
Although front positioning enhances visibility, tractors with this alignment don't collect grass clippings. If managing clippings matters to you, it would be helpful to go for other types of tractors.
Ease of Operation 
Consider your needs when choosing a garden tractor.
While many features add functionality to your garden tractor, it isn't easy to operate such equipment.
You must allocate more time learning how to use the tractor before you can use it optimally.
Contrarily – Tractors with a minimalist design have fewer features.
Is It Rear Collecting?
As the name suggests, rear collecting tractors gather grass clippings as you mow your garden.
It then moves the waste into a collection button that you can empty using a built-in lever, pushing a button, or physically taking the bag and disposing of the trash.
Alternatively, you can use the clippings as mulch or add nutrients to your grass.
Most rear collecting garden tractors come with mulching, but you might have to purchase them separately.
Is It Side Discharging?
Side discharging helps recycle grass clippings.
They're so efficient that you will hardly notice the waste once you use the tractor on your lawn.
They work by cutting and spreading the grass evenly over your lawn, allowing it to wilt naturally.
This equipment saves the time you'd have otherwise used in caring for the clippings. You also save fuel because you don't stop to dispose of the waste.
Additionally – The clippings add nitrogen and potash to your soil. Applying this natural fertilizer to your lawn can improve your grass's health and appearance.
Storage
It's advisable to store your garden tractor in a secure shed.
Leaving it outside compromises durability and performance, even if it's covered.
Even worse, the increased exposure makes it more susceptible to theft. Your storage shed should be easily accessible.
Servicing and Maintenance
Different manufacturers have varying warranty terms. Some require you to take the equipment for servicing to keep the warranty valid.
However, most of them void the warranty if you attempt to repair the tractor yourself or hire an unauthorized person.
It's wise to read the user's manual to understand the manufacturer's warranty terms.
This way, you'll know what to do if the equipment becomes faulty before the covered period elapses.
Wrapping Up
Locking differential could be the difference between riding comfortably and being unable to mow on uneven terrains.
Consider a model with this valuable feature if you want a usable garden tractor across all surfaces.
Our in-depth reviews of the best garden tractor with locking differential should help you pick one that works for your garden.
Also Helpful