If you want to construct wooden outdoor furniture for your home, choosing the best wood for garden benches depends on your budget first.
Wood is priced based on its source and natural conditions. Secondly, consider how long your furniture will last and maintenance requirements.
Best woods choices for garden benches are between softwoods and hardwoods.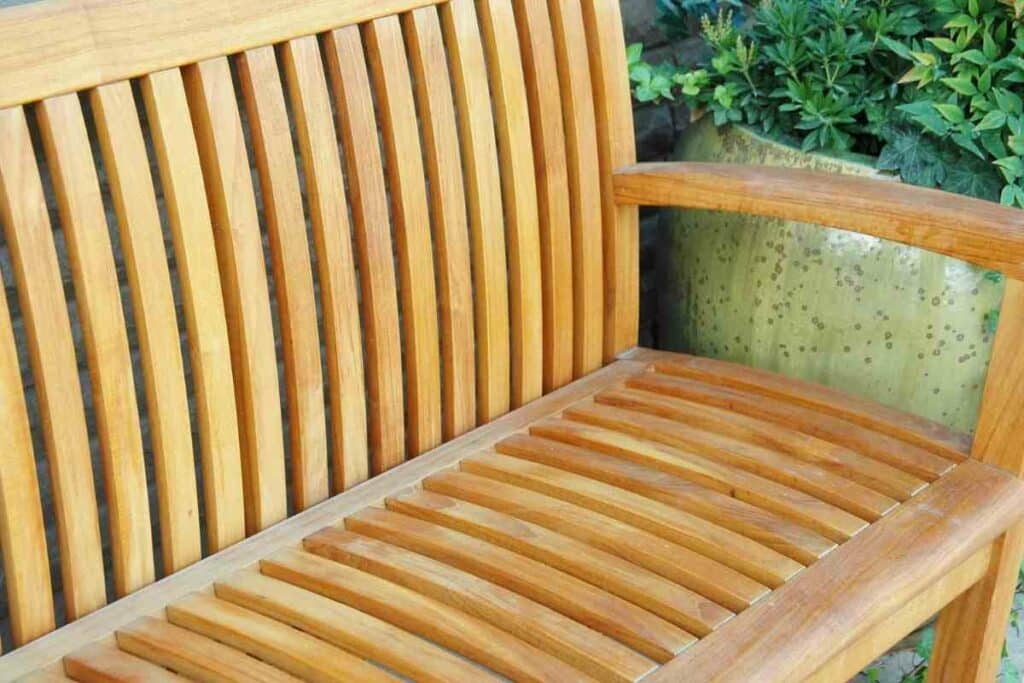 Although they require regular maintenance and waterproofing, softwoods are lightweight and smooth to the touch.
One can consider cedar or pine wood for the best finish, which has undergone pressure treatment. They are also cheaper.
Hardwoods require a lot of work to get a good finish but are long-lasting and do not need much maintenance.
When adequately treated, they can last you several decades.
However, the initial cost of purchasing hardwoods is high as they are tough, take longer to grow, and process into the timber.
Teak and Oak are the most common hardwoods for deck furniture.
List Of The Best Wood To Use For Outdoor Furniture
To pick the best wood for your garden furniture, consider one that is least affected by weather elements such as moisture and direct sunlight.
Here is a list of the most exemplary types of timber to make durable benches.
African Mahogany
Grown in tropical parts of the US for over 100 years, African mahogany makes sturdy garden furniture.
It has a horizontal grain with an excellent finish despite being challenging to work with as it plucks a lot.
It lasts longer as it does not bend and is rot and pest resistant. You can get a foot of the board at about $9 or less.
Plantation Teak
Teak is a high-quality hardwood that smells good while new, has a beautiful finish, and is weather resistant.
Teak grows a lot in plantations in Southern Asia countries.
It is pretty pricey as a foot-long board retails at about $29.
Due to Teak's significant amount of oil, it is durable and is not easily affected by harsh weather and wood pests.
It is thick with a deep and luxurious golden brown color, making it the most popular outdoor furniture wood.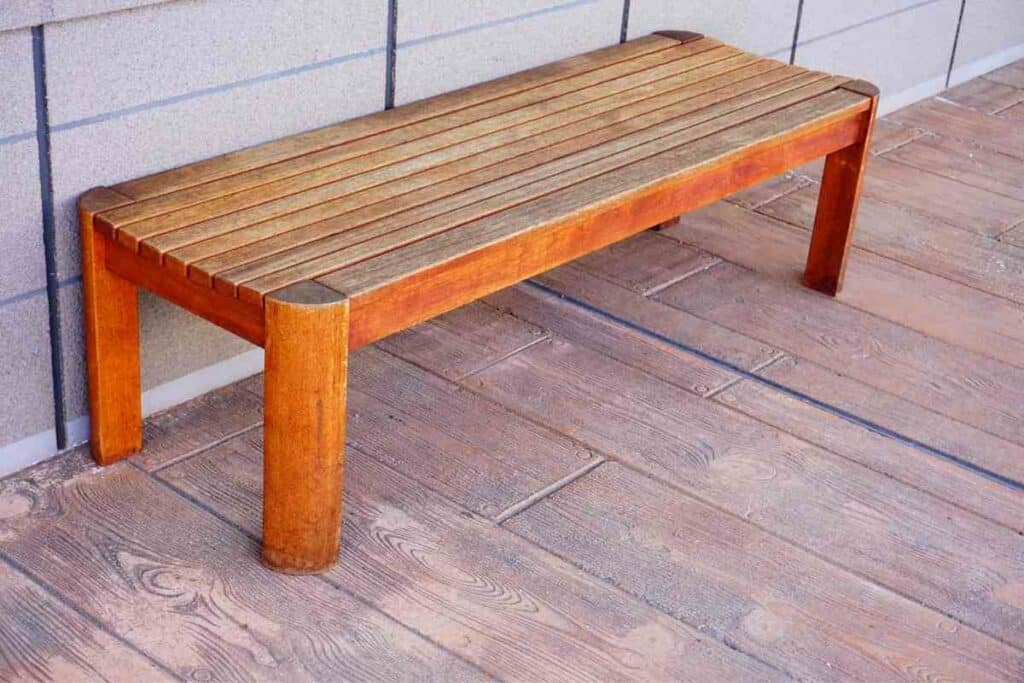 Spanish Cedar
Cedar is simple to work with, especially Spanish Cedar, a flexible and thin hardwood.
Brightly colored, Spanish Cedar is decay and termite resistant and ages well with a good finish or stain.
You can purchase this wood at about $8 a foot.
Western Red Cedar
This red and brown colored timber is rough to the touch but lasts long as it is resistant to rot and insects.
It is soft to work with and requires regular maintenance as it can quickly get scratches.
Western Red Cedar is affordable and goes for about $7 per foot. 
Cypress
Cypress is a beautiful golden-colored wood with a lovely grain pattern excellent for garden benches.
It is durable and decay resistant, perfect for high humid areas.
Moderately soft to work with, staining it gives it a pop of its natural color. You can buy Cypress timber at around $8 per foot.
White Oak
White Oak is highly resistant to moisture and is terrific for outdoor garden furniture.
Its natural greyish color over time and straight grains look good after an oil finish.
You can get Oak boards per foot at below $10 at any timber store.
Acacia
Acacia is affordable and lasts long outdoors.
It requires little to no maintenance if you keep it away from direct heat to avoid warping.
Ensure you oil it properly to give it that good shine and maintain its light brown color. 
Rosewood
A natural hardwood that is more expensive than Teak but lasts as long and has a beautiful grain finish.
It has a floral scent when the timber is fresh and is a mix of red and brown color, giving it a warm look.
It is highly resistant to decay because of its thickness, and it doesn't soak in moisture. 
Eucalyptus
Eucalyptus is excellent for garden benches at it is durable, moisture, and insect resistant.
Compared to Teak, it is affordable and easy to cut.
It can last for more than two decades if you treat the wood correctly and cover it during winter.
Shorea
Brown in color when fresh, polished, and treated, Shorea wood turns greyish if left outdoors and untreated.
This strong hardwood is durable, carves well, and is lovely for garden benches.
It is termite, weather-resistant, and is relatively cheaper than Teak despite being similar in structure.
What Wood Is Most Weather Resistant?
Teak is the most weather-resistant wood, followed closely by Cypress.
A quality that makes them the ideal timber for all outdoor furniture.
For wood to be considered weather-resistant, it must maintain its natural color and form when exposed to harsh weather elements.
Wear and tear especially scratches from regular use, should be minimal over time.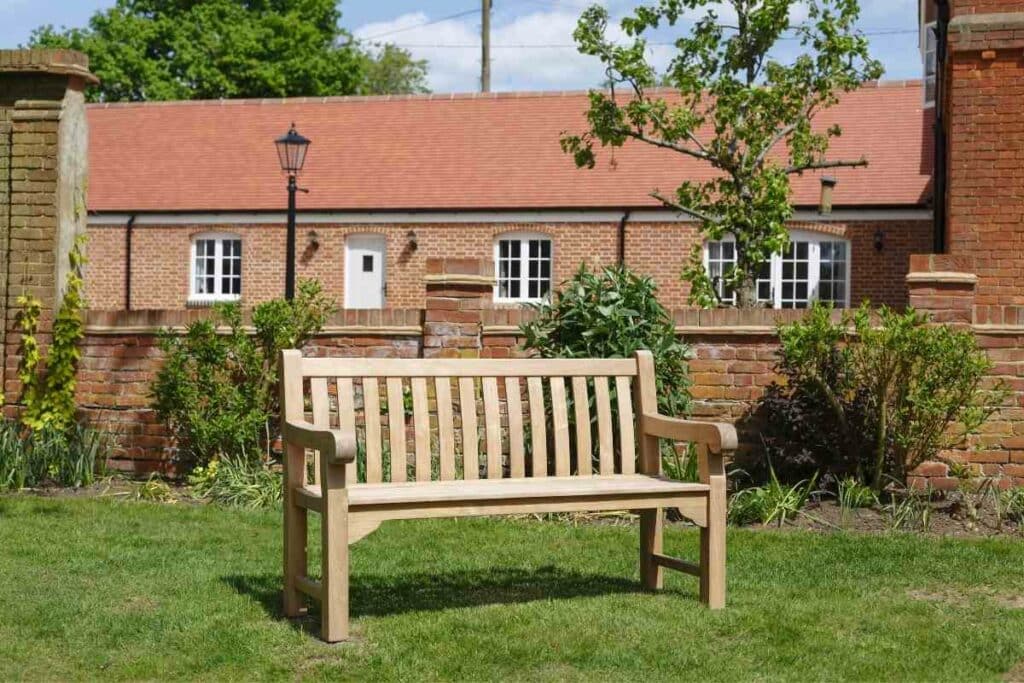 How Thick Should Wood Be For A Bench?
Ideally, about 3 to 4 inches thick.
When measuring the dimensions of outdoor furniture, consider its purpose, location, and longevity.
A wooden bench should be sturdy and resistant to harsh weather conditions.
It should be easy to move around if you need to change the layout of your garden.
Heavier wood lasts longer than the lighter alternatives. The legs should be more than 2 inches wide to accommodate several people's weight when sitting on.
The proper width of the bench to accommodate at least four people should not be less than 80 inches.
The height should also be comfortable to accommodate people of all sizes for regular sitting.
Weatherproofing A Wooden Bench
It is crucial to protect your wooden bench or furniture from the effects of direct sunlight or harsh weather elements.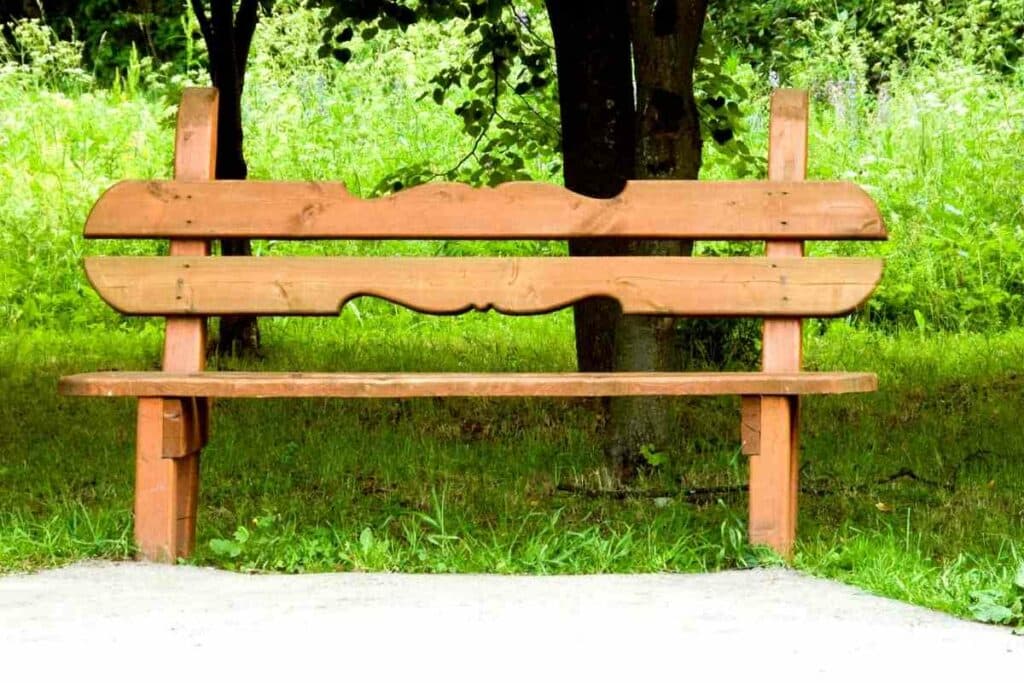 Weatherproofing of timber is necessary when the units are new. You can also regularly coat old outdoor furniture.
The main products used to finish wooden furniture include following.
Linseed or Tung Natural Oils
These oil finishes are plant-based and permeate the wood properly for long-lasting protection.
Tung oil is firmer and moisture-resistant than Linseed. Linseed, however, dries faster than Tung oil. 
Stain and Sealer Combinations
It is a finished product that is easy to apply on outdoor wood furniture, giving it a beautifully polished and protected look.
They are available in different colors, and the polyurethane sealant protects the wood from moisture damage.
Clear Wood Coats
Varnishes outline the beauty and natural color of the wood.
The stronger polyurethane clear coats are excellent for weather-proofing wooden benches.
Lacquer is a good alternative but can quickly get scratches and not last as long.
What Wood Is Waterproof?
No wood is 100% waterproof. However, some species are more water-resistant than others.
Hardwoods like Teak and White Oak, naturally oily, can withstand moisture best.
Sealants and paint make outdoor wood furniture waterproof with regular maintenance and reapplication.
Although used to boost the color and appearance of luxurious wood, stains make it weather resistant.
Is pressure-treated wood suitable for outdoors?
Yes, pressure-treated wood is ideal for the outdoors.
Pressure treatment removes the air from timber and replaces it with preservatives mixed with water to protect it from rotting and termites.
It is safe to use, and besides outdoor furniture, it makes beds and indoor household furniture.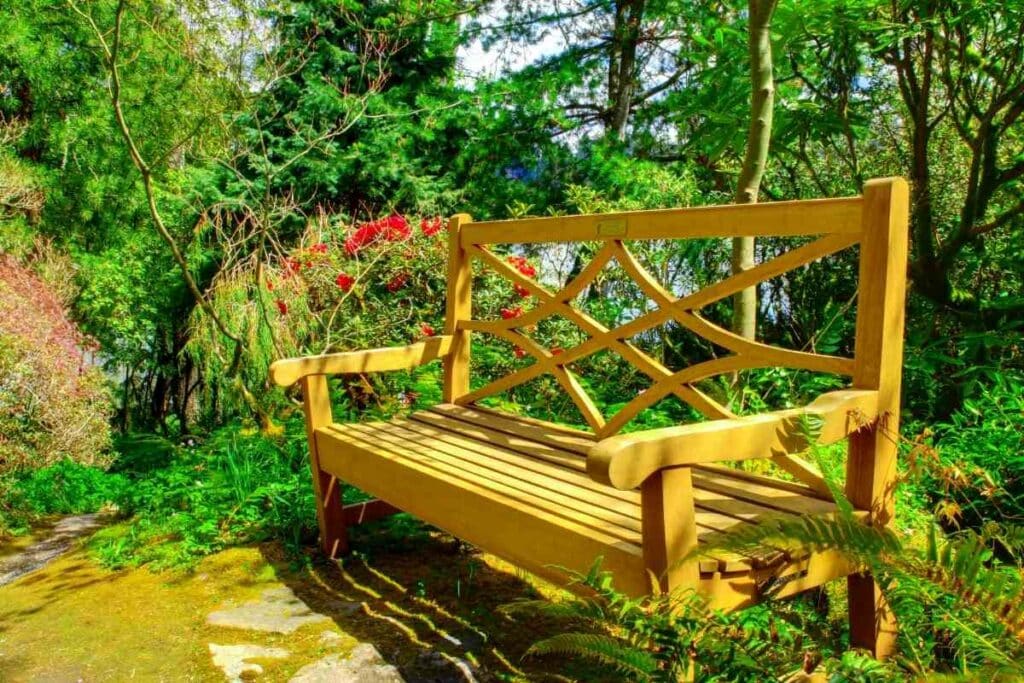 The paint is absorbed well, but you have to wait till the wood is completely dry to apply.
This wood can last for several decades.
For your pressure-treated wood benches to last long, protect them from excess moisture and polish regularly with protective sealants.
Please make sure the wood is clean and thoroughly dry before staining it.
Is Pine Strong Enough For A Bench?
Pinewood makes solid and durable benches for everyday use.
Although Pine is light, it does not shrink or swell quickly when treated.
It is elastic for easy folding and manipulation when building a bench.
Pine has appealing grain choices. However, it scratches and scars easily.
Is Plywood Strong Enough For A Bench?
Plywood is strong for a bench, but only if you laminate many blocks to about four inches thick.
Putting Plywood together in many layers makes it stronger.
Plywood is completely dimensional, therefore, easy to work with when making wooden benches.
It does not break easily and is weather resistant.
Outdoor benches made out of Plywood will last long as the wood is heat-treated during manufacture.
How Long Do Wooden Benches Last?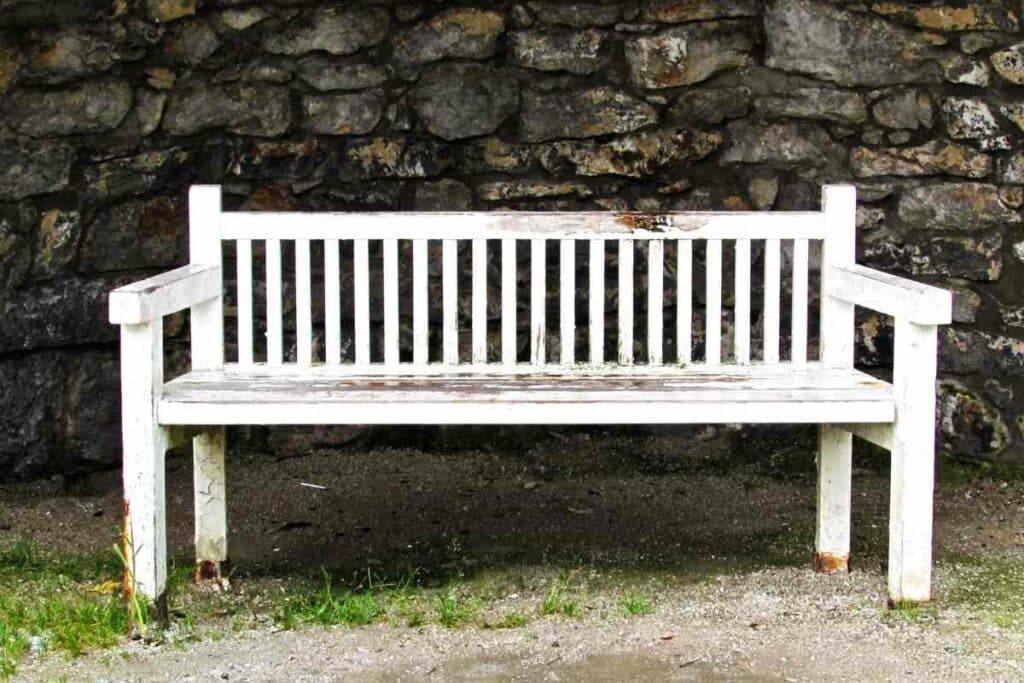 With proper regular maintenance and treatment, wooden benches can last up to 25 years:
Ensure you purchase durable hardwood when making the furniture.
Wash and dry the bars regularly. Coat them with suitable water-resistant and insect-proof products every few months.
Ensure you cover your wooden benches during winter or when not used for long periods.
Final Thoughts
The best wood for garden benches should be durable and survive all weather conditions.
Wooden furniture, however, requires a lot of care to last long.
Therefore, one must dedicate themselves to the task.
Before making your final decision, consider all related costs, the availability of the wood in your area, and the purpose of your outdoor furniture.
Also Helpful