During winter, as is the norm, there is a lot of snow that blocks pathways, driveways, and pavements.
Usually, snow blowers help to clear the way by moving the snow to one side.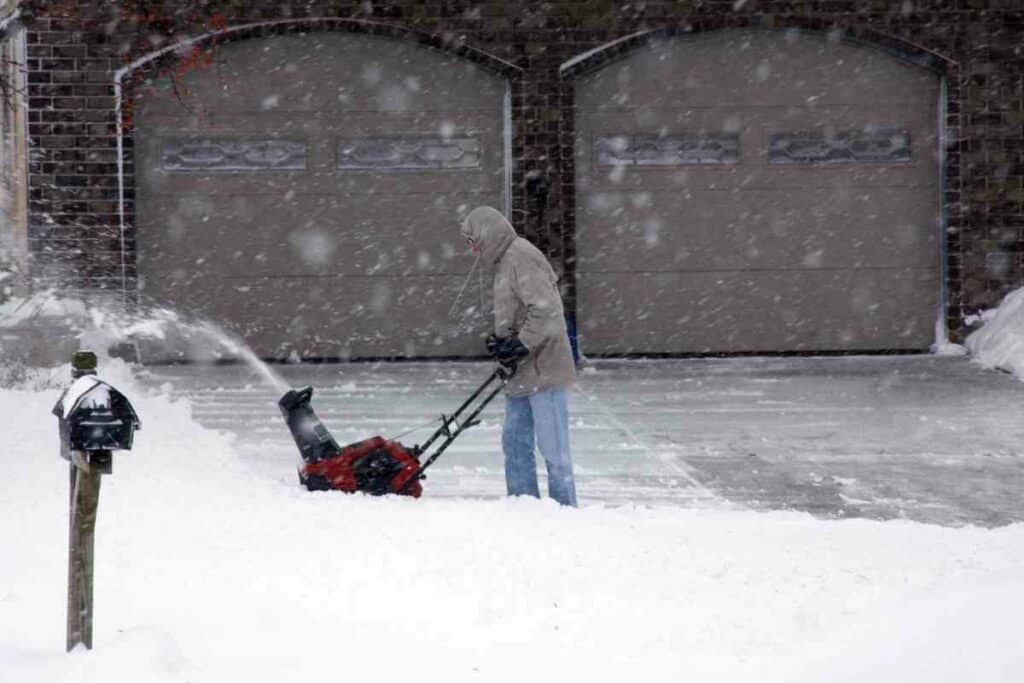 Senior citizens may struggle with the physical work required to handle and control a snow blower.  
The good news is that there are snow blowers designed particularly for the elderly.
They are lightweight, easy to use, and are low maintenance.
What to Expect? This article will review some of the best snow blowers for elderly gardeners in the market, how to choose the best one, and a lot more.
How Does a Snow Blower Work?
Snow blowers operate by scooping snow from the ground using a rotating auger and putting it away using a discharge chute.
The discharging motion may be reinforced by an impeller, depending on the type of the snow blower.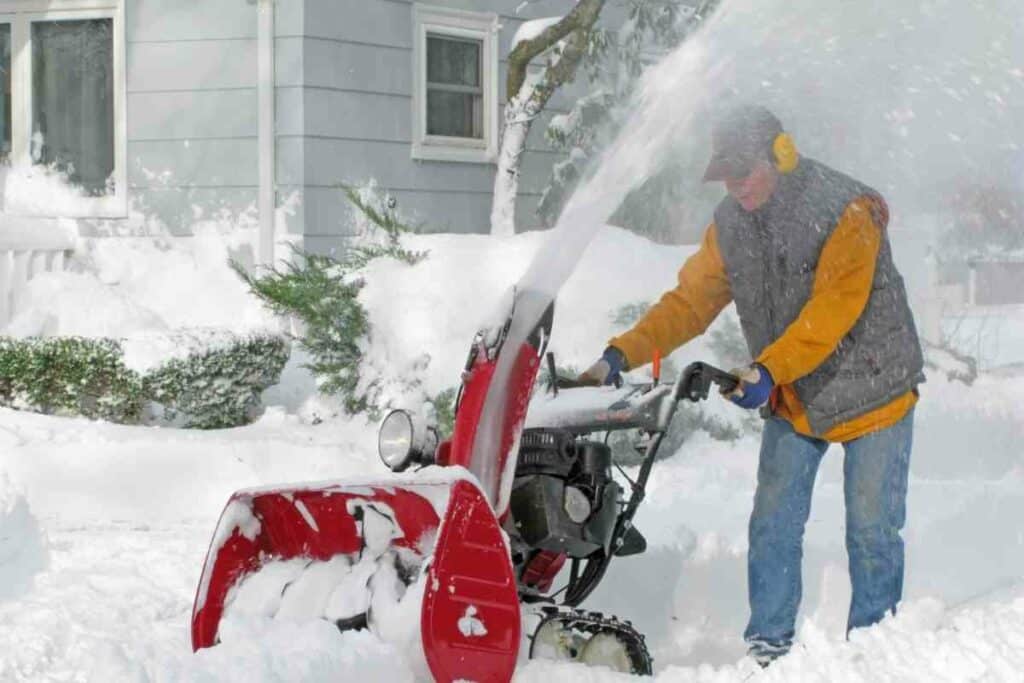 Like many other machines, snow blowers are powered by an engine, which could be either electric or a gas engine.
Depending on the type of engine, you can either start it with a recoil start or a 'push' electric button.
Small snow blowers work with a recoil start, while bigger ones have both the recoil start and an electric push-button.
Types Of Snow Blowers
There are three main types of snow blowers:
the single-stage snow blower
two-stage snow blower
and three-stage snow blower
1. The Single-Stage Snow blower
Single-stage snow blowers process snow in one motion.
They are commonly referred to as snow throwers because they do not blow snow; they just throw it through the snow chute.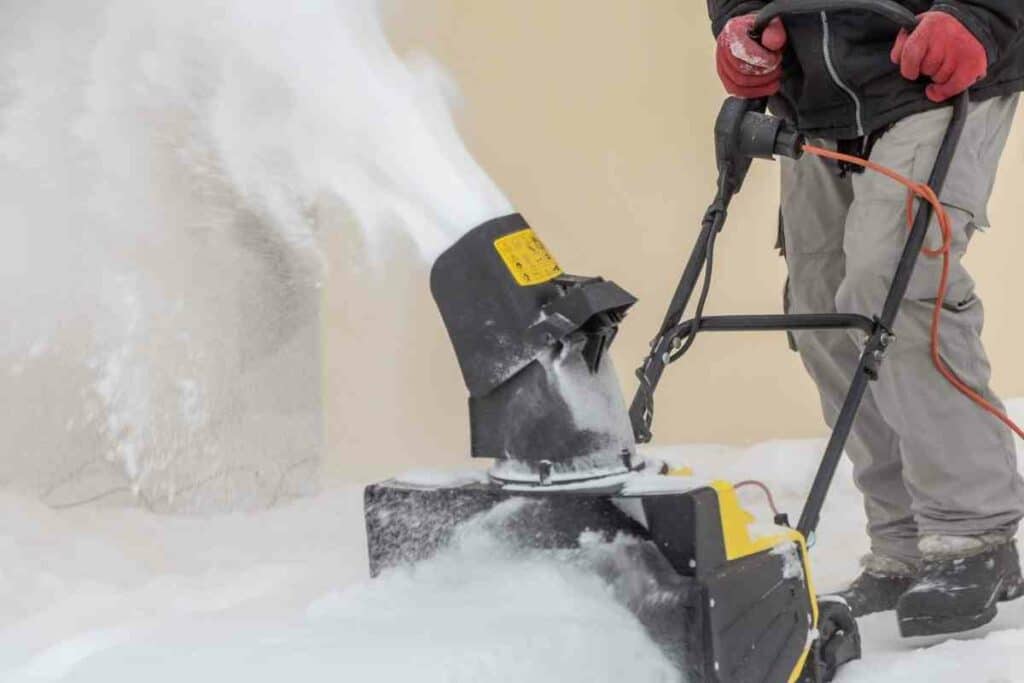 2. The Two-Stage Snow Blower
As per the name, this type of snow blower processes in two motions:
First, it picks up snow
Then breaks it up and feeds it into the impeller
The impeller then blows the snow through the chute.
3. The Three-Stage Snow Blower
This type of snow blower processes snow in three intricate steps.
The first two steps are the same as the two-stage machine.
The third step involves an induction accelerator which basically speeds up the process of breaking up snow and feeding it into the impeller.
Factors To Consider When Buying Snow Blowers for Elderly Gardeners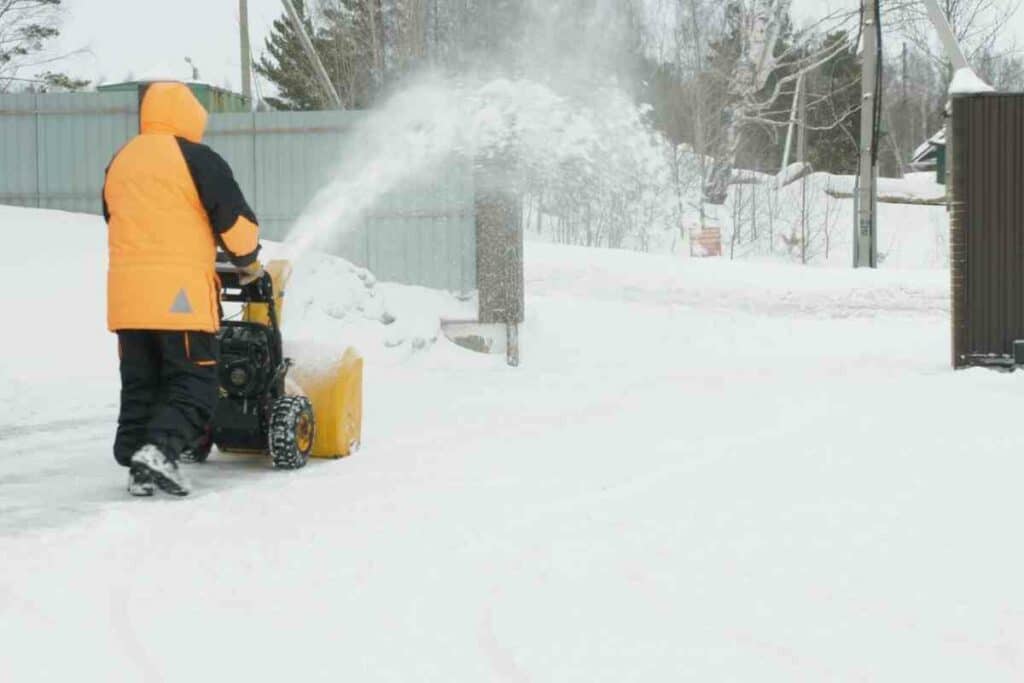 Buying a perfect snow blower for seniors becomes a tad easier when you know the specific factors to look out for.
Below are some of the features you ought to put into consideration when choosing the best snow blower for elderly gardeners.
Quality
One of the vital factors to consider when purchasing any product is its quality.
Normally, you want a snow blower that will stand the test of time and perform optimally still.
You also want one that has value for your money.
Weight
As people grow older, they tend to lose body strength.
Therefore, a bulky and heavy snow blower will quickly drain an elderly gardener's energy.
Luckily, there are many lightweight machines in the market that are still effective and have perfect traction.
These would be perfect for the older folks.
Maintenance
The less maintenance a snow blower requires, the more suitable it is for elderly gardeners.
It will be a nuisance if a user has to keep switching parts, changing oil, and draining the system every time they need to use the machine.
A cordless snow blower is arguably the least demanding in maintenance, making it perfect for the grandparents and their mates.
Storage
Do you have enough space in your garage or storeroom to keep a snow blower when it is not in use?
Ensure you get a machine that can fit the available space.
Some snow blowers have folding handles to make them more compact and portable.
Affordability
Different brands, types, and sizes of snow blowers come with varying price tags.
The good thing about this is that you are very likely to find one that will fit your budget.
If you have the means, don't shy away from splurging your way into the best machines in the market.
In Most Cases – Costly products have the best quality. However, this does not mean that the more affordable ones won't get the job done satisfactorily.
Noise Production
Snow blowers may be quite noisy, which may be a nuisance both to yourself and your neighbors.
Typically, fuel-run blowers are noisier than electric ones.
If you don't mind the noise, then, by all means, get yourself a fuel-run blower.
If you prefer peace and quiet, then an electric blower would be a perfect choice.
Warranty
The warranty says a lot about the confidence of a manufacturer in their product.
So, it is imperative to check it out before you settle for a product.
Typically, the longer the warranty period, the better.
Best Snow Blowers For Elderly Gardeners
1. Cordless Leaf Blower
Key Features
Easy to carry around and use
2000mAh capacity battery
Produces 93 decibels of sound
If you are looking for a snow blower for your grandparents or loved ones that are quite advanced in age, then the cordless leaf blower is perfect.
This machine is lightweight and, thus, pretty appropriate for use by the elderly.
Also, it is straightforward and easy to use. You don't need a manual or a spare pair of hands to help with operating it.
This machine can easily clear away light snow as it contains a motor that can reach up to 130 miles per hour and 130000 rpm.
Additionally, it has a fast charger and a 2000mAh capacity battery, which can sustain the machine for up to 20 minutes when fully charged.
It may not seem like much, but this is enough time to get the job done.
Pros
Lightweight
It has a high-speed motor
It has a fast charger
Easy to use
Cons
Not suitable for clearing heavy snow
What's more, you won't have to worry about disturbing the neighbors or getting irritated yourself, as it is a relatively quiet machine.
At 93 decibels, it produces significantly lower noise compared to older blowers.
2. WORX WG471 Power Share 20" Cordless Snow Blower
Key Features
Single-stage blower
Brushless motor
Fully collapsible handle
It has two power share batteries to ensure high performance
It has a 180° rotating snow chute
This single-stage snow blower is quite efficient for its size.
It has two power share batteries that enhance high performance. The power gives its auger enough force to cut through snow that's compacted.
At the same time, its 180° rotating chute will enable you to throw the snow in whatever direction you choose for up to 20 feet.
The motor in this machine is brushless and quite efficient. Even though it uses less battery than motors based on a brush design, it generates significantly more power.
The machine also comes packed with Dual LED Headlights to enable you to clear snow even when it is dark outside.
Pros
Dual LED Headlights
A fully collapsible handle
It has an ergonomic handle
Cons
It may not be suitable for clearing snow over a large area since it is a single-stage machine
As an added feature, it has a fully collapsible handle that makes storage easy as it occupies less space.
This handle also comes with an ergonomic handle, making it both comfortable and easy to use and carry around.
3. Snow Joe SJ625E Electric Walk-Behind Single Stage Snow Thrower
Key Features
15-amp motor
180⁰ rotating chute
It also comes with a 3 W LED light, making clearing snow at night safe
It has a 180° rotating chute
The Snow Joe was explicitly made for clearing heavier snowfall on mid-sized driveways and walkways while still being economical and easy to use.
It comes packed with a 15-amp motor, giving it enough power to clear up to 800 pounds of snow per minute.
Also, it has a 180° rotating chute, enabling you to throw snow in any direction you please.
Being an electric snow blower, it produces less noise compared to fuel-powered blowers.
This also makes it easy to maintain as it requires no oil, fuel, or tune-ups.
Pros
Affordable
It can easily clear heavy snow, moving up to 800 pounds per minute
Less noise since it's electric
Cons
You have to be on the lookout for the electric cord
An additional feature would be the 3 W LED light, which will allow you to safely clear your driveway of snow even in the dark.
Since it comes with an electric cord, you have to be on the constant lookout for it to ensure you do not run over it and possibly destroy it.
Some Frequently Asked Questions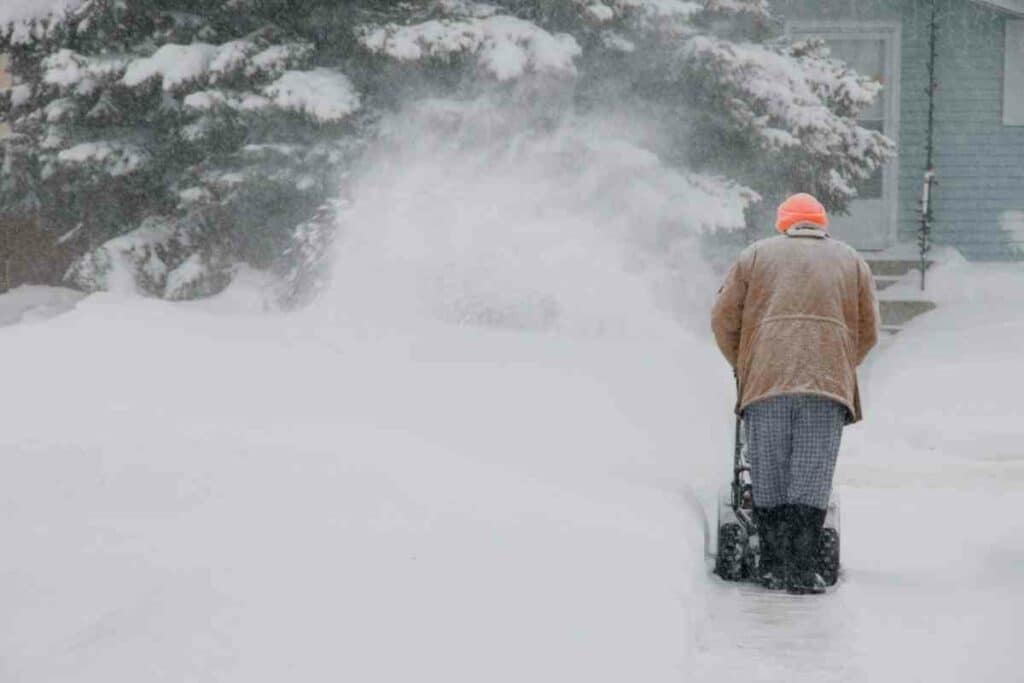 Which type of snow blower is the best?
When it comes to power and efficiency, 3 stage snow blowers are much better than the others. However, if you require a machine that is lighter and cheaper, then a single-stage blower may be the one for you.
Overall, this largely depends on your individual needs and what the snow blower will be used for.
How long do snow blowers last?
Typically, single-stage snow blowers may last for up to 10 years. Two-stage and three-stage snow blowers tend to last longer and could serve you for 15 to 25 years.
However, the machines will only last this long if proper care and maintenance are accorded.
Is it worth getting a snow blower?
This depends. How often do you get snowfall, and how much is it?
If it is a considerable amount that covers large areas, then you should consider getting yourself a snow blower.
Final Thoughts
If you're an elderly gardener looking to get a snow blower, or if you would like to get a snow blower for an elderly person, then you have hopefully found this article helpful.
If you wish to find out more about the products reviewed, or want to make a purchase, then please click on the links provided.
Also Read