It doesn't matter whether you are an experienced gardener or a beginner, a wheelbarrow is a must-have tool.
They come in all shapes and sizes depending on the intended use.
While all wheelbarrows may seem to have the same look, they are designed to accomplish different tasks.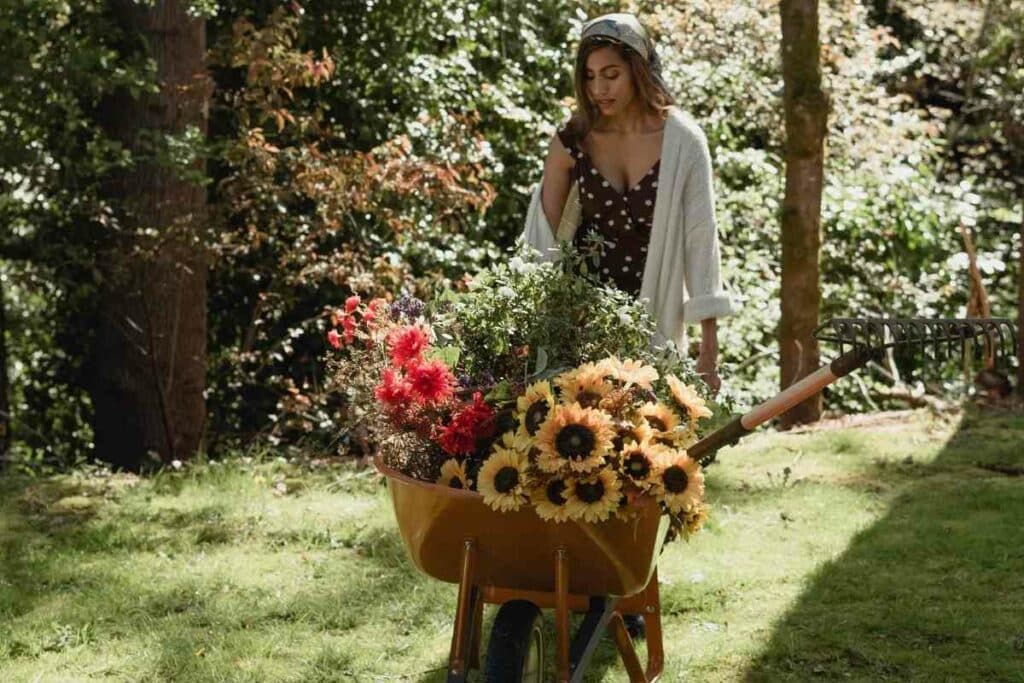 A wheelbarrow set out to carry lightweight materials may not achieve the same results as a heavy-duty wheelbarrow.
However, with so many options available in the market, it is very hard to settle for one particular product.
So, before purchasing a wheelbarrow, always consider your work needs, property needs, and storage options.
Features To Consider When Purchasing a Wheelbarrow
Wheelbarrows are designed to work differently, and several features affect how they function.
We will look at some of the essential qualities to look out for when buying a wheelbarrow.
1. Tires
Tires are one of the most important considerations you should keep in mind.
Consider the terrain of your backyard space before you buy a wheelbarrow.
If your backyard space is flat and small, a wheelbarrow with small wheels will get the job done.
A backyard that is uneven may need a wheelbarrow with large wheels to move around.
The tires' material is also an important aspect.
Wheelbarrow tires can be made from:
plastic
rubber
or inflatable material
Inflatable tires offer a smooth experience and are the best for uneven terrain or carrying heavy loads.
On the other hand, a wheelbarrow with plastic tires is suitable for smooth even ground and carrying light loads.
Solid rubber tires filled with foam, do not require air. Solid tires are a good choice for rocky backyards because they won't be at risk of puncturing.
They are a good choice if you fancy a maintenance-free tire model. However, they are expensive, and they get weighed down when carrying heavy loads.
2. Type of wheelbarrow
Every kind of wheelbarrow has its perks, and some may work better for a particular job compare to others.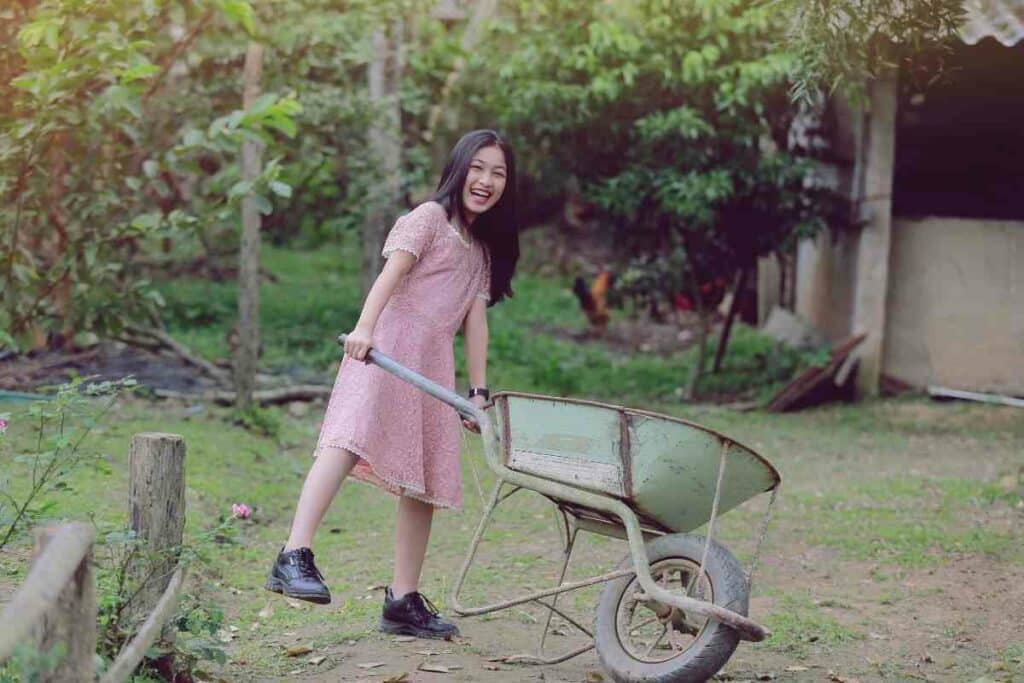 There are four main types of wheelbarrows.
Type #1 – raditional single-wheel design
The traditional wheelbarrow has one wheel and two steel legs on the back for support.
This type is best for operating lightweight loads. The only setback is that it can tip over when carrying a bulky load.
Type #2 – Motor-powered wheelbarrow
Wheelbarrows of this type use either electric power or battery power to push or pull items.
They help reduce the energy required to move them around. They have features like speed functions to increase or lower the speed and multiple wheels.
Type #3 – Two-wheeled design
Wheelbarrows of this design have two wheels, one on the front of each side.
They offer excellent balance when carrying heavy loads and cannot easily tip over.
The only disadvantage of this model is that it can be hard to push them down a winding pathway.
Type #4 – Foldable wheelbarrow
Unlike the other wheelbarrows with tubs made of either plastic or steel, the foldable has a tub made of fabric.
This foldable fabric makes them light and easy to push around. You can fold them up and place them in a garage or hang them in a shed.
3. Tub capacity
You might want to consider the tub's capacity when purchasing a wheelbarrow—the tub capacity range between 2.5 and 10 cubic feet.
Having a large tub makes it possible to carry heavy loads, but it may be hard to push.
Purchase a wheelbarrow with a tub capacity that accommodates your needs.
4. Load and weight capacity
Load and weight capacity differ depending on the sort of wheelbarrow you select.
An empty wheelbarrow with a weight of 40 pounds offers a maximum carry capacity of about 90 to 150 pounds.
An electric wheelbarrow can carry about 600 pounds, while a foldable wheelbarrow can carry a weight of about 50 pounds.
Keep In Mind – When buying a wheelbarrow, you should consider the type of task it will perform and the weight it will carry.
5. Handles
The standard handle on the majority of the wheelbarrows is made of steel or hardwood and is excellent for most pushing tasks.
Single-arm handles (like those of shopping carts) allow users to pull or push the two-wheel model without straining. 
Some handles have cushioned grips that prevent your hands from getting blisters.
6. Plastic or steel tubs
The tubs on the wheelbarrow's structure are either made of plastic or steel frame.
The steel structures are more robust than the plastic ones.
Steel tubs can carry heavy loads such as rocks, but the only downside is that they are more expensive than those made with plastic material.
The only setback with the steel tub is that it can be hard and heavy to push.
If you plan to use it for lightweights, go for plastic tubs.
On the other hand, consider steel tubs if you intend to do a task involving mixing concrete or moving heavy materials.
7. Other Supplementary Qualities
Some wheelbarrow designs may have different qualities that may provide support and make it easy for you to perform tasks.
This includes:
Hoisted tires. These tires enable the users to maneuver through hard and rocky terrain.
A tray that provides additional space for carrying gardening tools.
A bottle holder allows users to carry a favourite beverage or water bottle to keep them hydrated while working.
LED lights. These are available in motorised wheelbarrows that help light the way when working in dark places.
6 Best Wheelbarrows For Backyards
1. Glitzhome GH10017 Steel Framed Plastic Garden Wheelbarrow
Key Features                
It is made with alloy steel and plastic
14-inch pneumatic tires
It weighs 2.65 pounds
A carrying capacity of 220 pounds
The tray is 4.7 Cu' ft deep
It is black
If you are looking for a quality, steel-framed garden wheelbarrow that can easily handle most terrains, Glitzhome GH10017 is your perfect solution.
It is made with high-quality metal and plastic materials, so it is pretty durable.
Its sturdiness can withstand up to 220 pounds of load, so you would not need many trips to transport garden items.
The wheelbarrow is versatile enough to carry a variety of items in your backyard. It can carry grass, tools, manure, flower seedlings, plants, and other gardening stuff.
The Tray – Which is made of plastic, is enhanced by a powder-coated steel frame, so you know it will not let up during your rounds.
Additionally, it has an ergonomic design, so you will not need to expend excessive energy when pushing it around.
The handles are foam-coated to provide comfort when pushing the tool around. Also, you will not run a high risk of getting callouses or blisters on your hand when you use the wheelbarrow the entire day. Better yet, it is safer if you use protective gear such as gloves.
The 14-inch wheel is pneumatic, meaning that it will provide much-needed stability. Thus, you can use it on different types of terrains without much trouble.
Don't Forget – Its inflation limit is 30 psi, and inflating it further may lead to a popping incident.
On top of being rust-proof, the wheelbarrow is also pretty classy. Its black color is elegant and attractive.
Since it has a plastic base, it will not give you a hard time with cleaning. Therefore, maintaining it will not be an issue. Also, the better you maintain it, the longer the wheelbarrow will serve you.
While it comes unassembled, the installation process is quite easy and straightforward.
Furthermore, there is a very clear guide with instructions in case you get stuck. At most, the assembling process should not take you more than fifteen minutes.
Pros
Its heavy-duty construction makes it sturdy and durable
A stable pneumatic tire
It is easy to maneuver
Ergonomic design
The assembling process is straightforward
Cons
You have to assemble it yourself
The manufacturer provides amazing after-sale services, and they respond promptly if anything goes wrong.
With all these amazing features, the wheelbarrow has an affordable price tag that will not require you to break the bank.
The manufacturer, Glitzhome, really put the user's needs into consideration when designing this product.
2. Marathon Dual-Wheel Residential Yard Rover Wheelbarrow
Key Features
It is green and gray
Two wheels
It weighs 24.9 pounds
A carrying capacity of 300 pounds
It has a loop handle
Two wheels are better than one when it comes to stability, balance, and maneuverability.
That said, the marathon residential rover wheelbarrow, which has two air-filled wheels, is more stable and has more balance than wheelbarrows with a single wheel.
Additionally, the wheelbarrow features a loop handle with which you can pull, push and empty its contents with minimal effort.
At 24.9 pounds, it is lightweight and about 25% lighter than the standard wheelbarrow.
The plastic tray, which is 5 cubic feet deep, can accommodate up to 300 pounds of load, which is more than many standard wheelbarrows.
Thus, the wheelbarrow enables you to carry loads that would be too heavy to carry on your own:
It is completely perfect for the backyard.
Since it is made of plastic, the wheelbarrow is rust-proof. So, you can use and store it outdoors without major repercussions on the material.
Still, it is imperative to keep it away when the conditions are too extreme, such as a hailstorm or intense sun.
Even though this product comes unassembled, its assembly is easy so that even newbies can do it with ease. Also, it is pretty popular in the market as it is perfect for users of all ages and strengths.
Pros
Easy to move, lift and maneuver
It is easy to assemble
Durable as it is made with sturdy materials
It has two wheels instead of one
It weighs 25% less than traditional wheelbarrows
Cons
You have to assemble it yourself, which can always go wrong
The Marathon yard Rover Wheelbarrow is a very popular and beneficial wheelbarrow in the market.
A great wheelbarrow for use in your home, on the patio, on the deck, or in the backyard for strolling or gardening activities.
It is also perfect for renters who need to transport their things from one place to another.
3. True Temper R6STSP25 Never Flat Tire Steel Wheelbarrow
Key Features
A single wheel
It is made with alloy steel
It weighs 6.98 pounds
True Temper is known for producing excellent quality tools, and this wheelbarrow lives up to its reputation.
The frame and handles are made with alloy steel of outstanding quality, which is bound to serve you for many years, especially if you maintain the tool well.
Unlike the marathon wheelbarrow above, this one has one wheel. Still, it is stable and quite easy to maneuver and push around.
Also, the tire is flat-free, meaning there are minimal chances of it succumbing to sharp items in the backyard.
Even so, it is important to keep it off sharp objects as much as possible since it is not immune to wear and tear.
Its 6 cubic foot steel tray can carry different types of loads that you may need to transport around your backyard.
At Only 6.98 Pounds – The wheelbarrow is relatively light and will not strain you as you use it around your home.
Also, the handles are ergonomic, meaning that they are comfortable and easy to grip, reducing the likelihood of fatigue.
Like many other wheelbarrows, the product comes unassembled, so you have to do the job yourself.
Fortunately, it does not require you to have a degree in mechanical engineering to pull it off. It is a straightforward process that takes only a few minutes.
Pros
Easy to assemble
It has a flat-free tire
Easy to maneuver
It is sturdy and durable
Affordable
Cons
You have to assemble it yourself
Besides, if you encounter difficulties assembling or using the product, you can count on the manufacturers to provide guidance. Customer service and after-sale services are commendable.
The features of this True Temper wheelbarrow make it versatile and ideal for almost any job.
Besides, its durability will provide you with multiple years of service. This wheelbarrow has an absolute value for money.
4. 6 cu ft. Steel Tray Contractor Wheelbarrow
Key Features
Made of metal and wood
It weighs 36.5 pounds
A single wheel
It has a handle of length 60″
It is black
This black metallic wheelbarrow may not be as popular as others in this review, but it is definitely worth a chance.
First off, the black color gives it a unique look that makes it stand out as classy. So, it will look good sitting in your backyard.
Also, the tray is made with heavy-duty steel that provides the strength and support required to push heavy loads. Its steel tray braces provide additional strength when emptying the wheelbarrow.
While the tray is made of metal, the 60″ handles are wooden. They are also ergonomic to ensure a firm, comfortable grip such that the user does not tire easily.
The wheelbarrow will enable you to carry stuff around your yard without expending too much energy.
Thus, you can conveniently carry:
soil
seedlings
flowers
even dirt
Compared to other wheelbarrows in this review, this is the heaviest. It weighs a whopping 36.5 pounds, so you have to be strong to use it.
This automatically eliminates children, older people, and those with conditions like asthma or arthritis.
The positive bit about this wheelbarrow's weight is that it can withstand heavy loads for more years than lighter wheelbarrows.
Another feature that makes this wheelbarrow stand out is the glide-ring design on its trays.
The design ensures that the wheelbarrow does not catch shovels or hoes while pushing it around.
Also, it has one wheel, which is knobby to provide additional traction and longer wear.
Pros
A flat-free tire
It is corrosion-proof
A narrow-tray design
It has a glide-ring design
Ergonomic handles
Besides having excellent maneuverability power, the tray's design is narrow such that the wheelbarrow can easily fit small paths and doorways.
It is a perfect investment for your backyard without necessarily digging too deep into your pocket.
5. Stanley Jr – Wheelbarrow
Key Features
It comes in yellow and black
Made with plastic and wood
It weighs 7.32 pounds
If you have kids and want to keep them involved when working in the backyard, look no further.
Stanley Jr makes tools suitable for kids, including little wheelbarrows. The Stanley Jr wheelbarrow is excellent for when you want your kids to work with you.
It is made with durable wood and plastic parts that are lightweight enough for the kids to handle without straining.
The wheelbarrow only weighs 7.32 pounds, making it one of the lightest wheelbarrows in this review.
As with the rest of the wheelbarrows, this also requires you to assemble it as it comes in parts.
If you are going to involve children during the assembling process, ensure there is adequate supervision.
This is because some of the parts are small enough to qualify as choking hazards. According to the manufacturer, the recommended age for this wheelbarrow is five years and above.
Pros
Encourages children to play
It is sturdy and durable
Ergonomic
It is easy to assemble
Cons
It presents a choking hazard if children are unsupervised
The wooden handles are ergonomic to provide comfort for the child's soft hands when they are using the wheelbarrow.
This wheelbarrow will not only encourage your kids to get out there and be productive, but it is also perfect for family bonding.
6.  Makita LXT Brushless Power-Assisted Wheelbarrow
Key Features
It runs on 18V LXT batteries
Operates on a BL Brushless Motor
It has a 3 cu. Ft. capacity
It has a carrying capacity of 290 pounds
It can hold two batteries
LED lights
There are several brands of motorized wheelbarrows in the market, but the Makita wheelbarrow stands out.
It is efficient, convenient, and innovative, making it a perfect gardening partner.
The wheelbarrow is powered by 18V LXT 5.0Ah batteries. Even though it can hold two batteries at a time, it operates using only one.
The charging time for one 5.0Ah battery is 45 minutes, for which it produces 60 minutes of running time.
To increase the running time, insert two batteries at once, and the wheelbarrow will run for 100 minutes before you are required to charge it again.
Double Check – The batteries do not come in the package, so you will have to buy them separately.
The wheelbarrow operates using a BL brushless motor built by Makita for optimal performance.
The motor enables you to use the wheelbarrow without necessarily expending too much physical strength.
At a weight of 116 pounds, the wheelbarrow is pretty heavy and so it would be exhausting if it was operated manually.
With a capacity of 3 Cu. Ft, the wheelbarrow's steel bucket can carry 290 pounds of load, which is impressive.
The design of the frame and barrow facilitate easy dumping of load.
The frame and barrow are hinged such that whenever you need to dump your load, the barrow dumps forward from the frame hinge.
Pros
Easy to assemble
Sturdy
It is innovative
It has LED lights for when you want to work in the dark
Additionally, the motor has two speed settings – normal speed and maximum speed.
As such, it reaches 2.5 mph when inclined at 12 degrees. At that speed, you can get huge loads of work done within a short time.
Furthermore, the wheelbarrow has LED lights on each side of the frame to illuminate your path when working in the dark.
While it is significantly costlier than the other wheelbarrows in this review, it is worth every penny.
Frequently Asked Questions
What should you look out for when buying a wheelbarrow for your backyard?
A good measure is the size and weight capacity of your chosen product.
These specifications will be found in extremely large numbers on all listings. Other factors to consider include the number of wheels, materials used, and the price.
What factors will determine the size and weight of my wheelbarrow?
It is essential to select a wheelbarrow based on the size and weight of your intended contents. This will prevent your wheelbarrow from tipping over or breaking.
Are wheelbarrows difficult to use?
Generally, wheelbarrows are not difficult to use.
Even so, it is imperative to request a manual for an extra special wheelbarrow that will include all necessary information and directions. You can utilize this tool to ensure that you get everything right on your first attempt.
Final Thoughts
Wheelbarrows are essential tools to have as they ease your workload and increase productivity.
However, before purchasing a wheelbarrow, consider its intended use and features.
You can find all types of wheelbarrows online, ranging from the traditional push or pull models to rolling versions.
Most websites offer helpful information, reviews, and pictures so you can select a model that is perfect for your needs. Amazon is one of the best websites to shop for wheelbarrows.
Also Useful