Working in the yard can leave you with a sore back and hurt your knees, especially if you work for long hours or are elderly.
That is why it is worth investing in a garden scooter.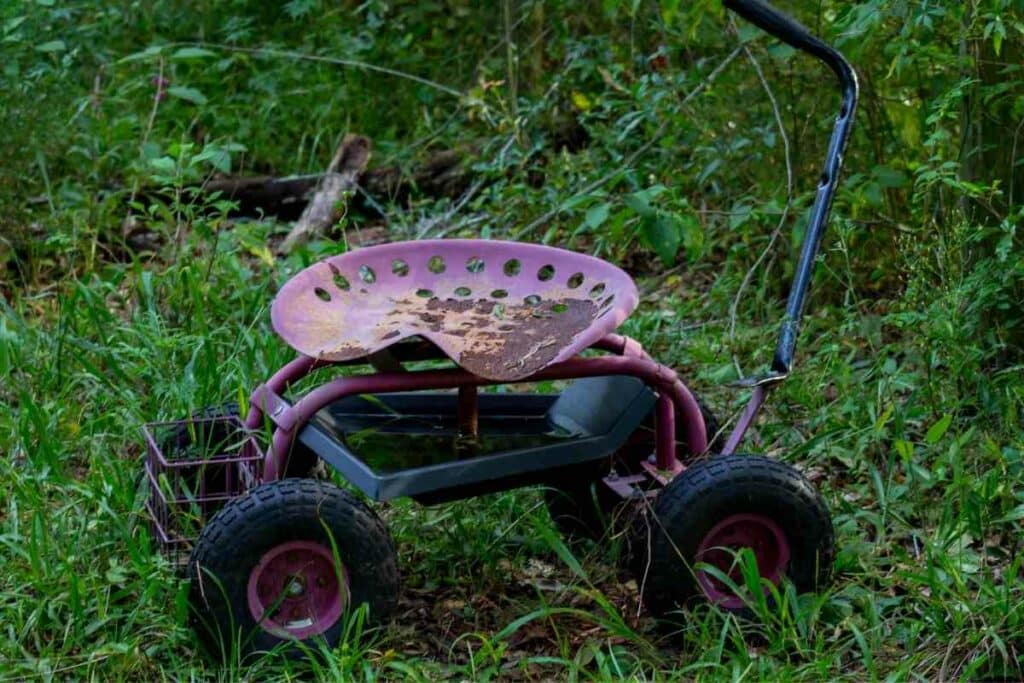 However, finding the best garden scooter can be cumbersome, especially with today's diversified market.
These scooters enable you to complete your tasks without straining your back or knees.
Think of them as personalized garden assistants where you can carry:
your tools
seeds
fertilizers
even snacks
However, they vary depending on the weight, capacity, price, and material.
Features To Consider When Purchasing a Garden Scooter?
Although all garden scooters may look the same, they have different features that set them apart.
Tires
The main aim of using a garden scooter is to enable you to move around with ease.
The type of terrain you have on your lawn or garden should dictate the type of tires you choose.
For Instance – Air-filled (pneumatic) tires can easily navigate uneven ground. The standard size for most air-filled tires is 10-inches, but you can find other larger sizes that offer more maneuverability on rocky soils.
The main disadvantage of air-filled tires is that they get punctured and have to be patched or refilled with air.
The other type is molded plastic or resin tires.
They tend to be smaller and are likely to get stuck on rocky terrain. However, they require little to no maintenance and are very durable.
Material
Your garden scooter's durability and longevity will depend on the material used to make its frame.
Most garden scooters available are of two materials.
#1 Plastic
Plastic scooters are made of heavy-duty plastic that is resilient and durable.
One of the perks of plastic scooters is that they do not rust. But some may have steel parts, and these are susceptible to rusting.
Another advantage of plastic scooters is that they are light and more affordable than steel ones.
The only disadvantage of plastic scooters is that they may become fragile when exposed to sunlight for a long.
#2 Steel
Are you looking for a more durable garden scooter?
Then, steel garden scooters are the best option for you. Steel scooters have solid frames that are durable and can serve you for years.
Additionally – They have a top powder coat to protect them from rusting.
However, on the flip side, they are heavy and cost more than plastic scooters. Also, steel scooters are more susceptible to rust when exposed to water.
Weight capacity of the scooter
Garden scooters have different weight capacity capabilities.
Check for the model you want to purchase the upper weight limit.
Steel scooters have a high weight limit that can support up to 300 pounds compared to plastic scooters that can hold 225 pounds.
Seat structure
You probably want to stay comfortable while working in the garden.
An excellent investment is a comfy seat with a 360-degree pivot, contoured design, and an adjustable height to reach high places.
7 Amazing Garden Scooters
1. Peach Tree Garden Cart Rolling Work Seat
Key Features
It has a carrying capacity of 300 pounds
Its height is adjustable
The wheels have a maximum pressure of 30 psi
It has a 360-degree swivel seat
The handle is extendable
Pneumatic tires
Working in the garden for long hours can be strenuous on the back and knees.
It is even harder for people advanced in age or those with conditions that affect joints, such as arthritis.
The peach tree garden cart rolling work seat makes sit easier to work around the garden as you will not have to keep bending or squatting.
Made with quality materials, this scooter is durable and sturdy enough to serve you for years. The frame is a product of heavy-duty steel and boasts a powder-coated finish.
Furthermore, it is both waterproof and rust-proof. Even so, it is wise to store it away safely when the weather is too harsh.
With a weight capacity of 300 pounds, the scooter can comfortably withstand an adult's weight.
For persons heavier than the weight limit, finding a more suitable scooter for the mass would be wise.
Mobility is a breeze with this rolling work seat as it can rotate 360 degrees. Thus, you can plant or weed around the same spot of the garden without moving the whole scooter around.
Another great thing about this product is the pneumatic wheels that drastically improve maneuverability.
The wheels are sturdy and move smoothly over different terrains- grass, gravel, or dirt. Also, it comes with an extended steer handle for changing directions.
The seat's height is adjustable: you can set it high or low, depending on what you are doing in your garden.
This is an essential feature since it will minimize bending, thus protecting your back and knees.
Lastly, besides being a garden accessory, the scooter can be used to store items in the kitchen or as a seat during barbeque hangouts.
2. CASTLECREEK Deluxe Rolling Gardening Seat
Key Features
Telescopic handle that extends from 4.5″ to 24″
It has a weight capacity of 400 pounds
It has pneumatic tires
It rotates 360 degrees
Made with heavy-duty steel
Comfort and self-care are important, especially when you spend hours working in your garden.
Too much bending and squatting may strain your muscles to a point where you develop back pains.
Luckily for you, this gardening scooter will enable you to tend to your garden comfortably for hours.
The scooter has a comfortable seat that is thick and cozy, such that you can sit on it for long hours without getting tired.
Like the peach tree garden seat above, this scooter also swivels and can rotate for 360 degrees, meaning you can work in any direction at a spot without moving the scooter.
Durability is guaranteed as it is constructed using heavy-duty steel. Also, the tires are pneumatic and have a diameter of 10 inches.
The sturdiness of this scooter puts its weight capacity at 400 pounds, which is more than most garden scooters can handle.
Even though the scooter comes unassembled, putting it together is straightforward.
It is pretty much a one-person job, which should only take a few minutes if the steps are followed correctly.
Furthermore, it comes with a detachable storage basket to keep your gardening tools as you work around the garden.
3. Easy Up Deluxe Seat and Scoot Gardening Scooter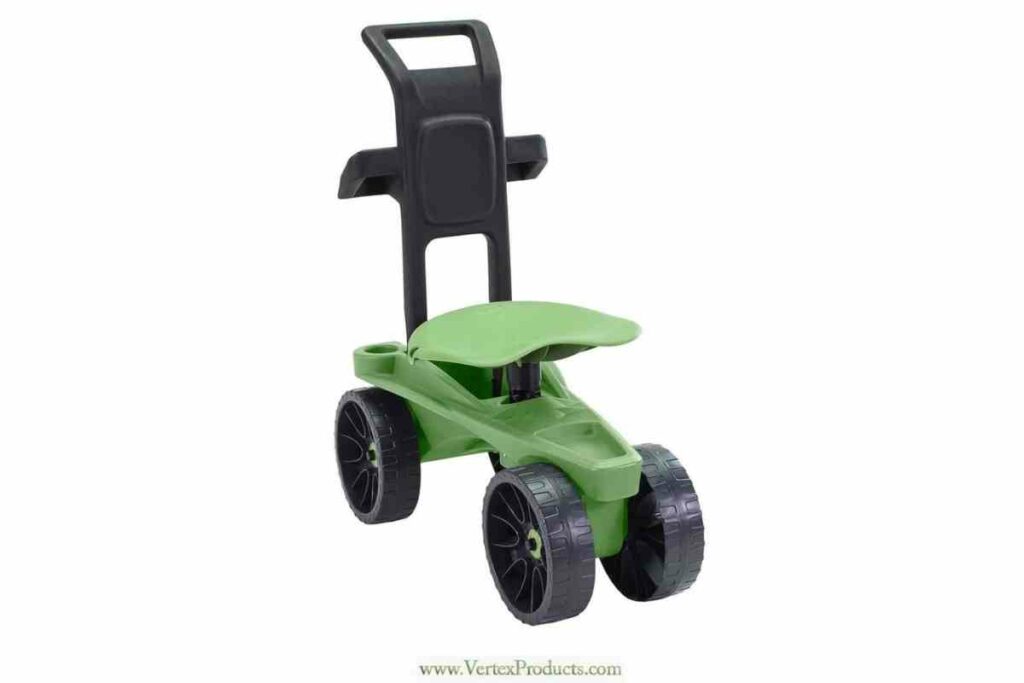 Key Features
Weather-resistant
It has three flat-free tires
Height-adjustable seat
The seat swivels between 15″ to 19″
It has a weight capacity of 220 pounds
At times in the garden, you have to bend, especially if you are planting or weeding.
Working like this can be exhausting, and your back will not feel so good afterwards.
This scooter by Vertex is exactly what you need to have a comfortable working day in your garden.
As with products made in the USA, this scooter is of excellent quality and is bound to serve you for many years.
Also, it is weather-resistant and does not easily get rusty.
So, you can use it when the sun is too hot or when there are showers. Since it is easy to clean, maintaining the scooter is not a heavy task.
The seat is comfortable and adjustable, such that you can adjust the height to maximize comfort and convenience.
It also swivels between 15″ to 19″, enhancing mobility.
The handle has a push/pull feature, and its position means that you can also use it as a backrest when taking a break.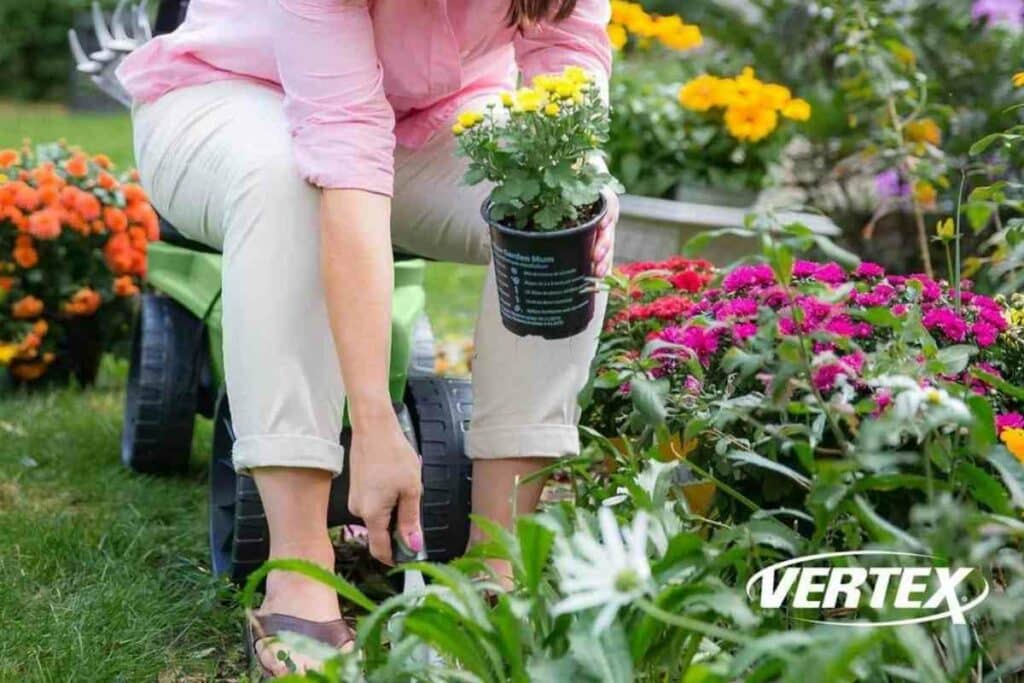 The material used to construct this scooter is a strong plastic; hence it is durable.
Also, it moves using flat-free tires that can easily go over uneven grounds. This scooter is perfect for older gardeners who enjoy being productive in the garden.
4. Deluxe Garden Rocker Rolling Work Seat
Key Features
The seat height of 14 inches
It has a weight capacity of 220 pounds
It has contoured wheels
The seat is adjustable between 11″ and 14″
Ergonomic design
This garden scooter stands out for many reasons.
For one, it has a beautiful ergonomic design that rocks with you as you bend and stretch while working in the garden.
Ultimately, this reduces fatigue by a whole lot. The seat is also pretty comfortable as it has a foam pad to cushion you as you go about your business.
Also, it has unique contoured wheels that provide a full range of motion. Thus, you can move anywhere in the garden without spending too much energy.
Furthermore, the round-shaped seat is adjustable on wheels, and you can set it anywhere between 11″ and 14″ to provide maximum comfort and relief on your neck, back, and knees.
Additionally, just like the garden scooters mentioned above, the seat swivels.
Besides gardening, this scooter can be used for a myriad of other activities, especially where you would be required to bend, squat, or bend low, for instance, painting.
It is a perfect investment for someone who spends most of their day in the garden.
5. GMLSD Carts, Garden Cart Rolling Scooter with Seat
Key Features
It has a 360-degree swivel motion for the seat
It has pneumatic tires
It has steel axles
It has a weight capacity of 330 pounds
At only 6.6 pounds, the GMLSD scooter is the lightest in this review, making it the most portable.
Thus, you can easily carry it from one place to another. Despite its lightweight, it can accommodate people who weigh up to 330 pounds, which is pretty impressive.
The scooter's seat is comfortable and adjustable such that you can change its height as per convenience.
This is important in alleviating back pain or knee pain when out doing garden work. Also, you can rotate as you work as the seat can swivel in a 360-degree motion.
Thus, you would not have to move the entire scooter if you want to change direction in the same spot.
Durability is one of the best features of this scooter. It is made with excellent quality materials- steel, rubber, and iron.
The wheels are pneumatic and are constructed to move smoothly over different types of terrains. So, you can move on grass, gravel, and dirt without breaking a sweat.
Besides doing gardening work, you can use the scooter for other activities like painting.
The manufacturers offer excellent after-sale services, and you can always reach out in case of any issue.
6. Best Choice Products 4-Wheel Garden Cart
Key Features
It weighs 33 pounds
Weight limit of 300 pounds
It is made with alloy steel
Built-in basket for storage
It has 4 treaded, 10-inch rubber wheels
True to its name, this scooter is one of the best choices you can make for your gardening life. For one, you will not have to slouch or keep bending while taking care of your garden. Your back and knees will be grateful for this.
This scooter is made to last as it features a heavy-duty metal seat, a powder-coated steel frame, and steel axles.
Thus, it is sturdy enough to comfortably carry a person weighing 300 pounds. It is also durable and will serve you for a long time.
Additionally, the scooter is good for way more than just gardening. It comes in handy in different home projects like painting or home renovations.
Also, it features a height-adjustable swivel seat design which enhances convenience when out working in the garden.
The front turn-bar can swing a whole 90 degrees, making the scooter easy to maneuver. Thus, you will be able to steer from one station to another without breaking a sweat.
Also, the scooter features a basket that will provide you with storage space for your tools and snacks when working.
Its 10-inch rubber wheels are fit for different types of terrains.
7. Garden Cart Rolling Stool with Wheels
Keys Features
Made of plastic
It is black
It has plastic wheels that are 3″ in diameter
It weighs 5.95 pounds
Weight limit of 200 pounds
This is the lightest scooter in this review at only 5.95 pounds. It also has the smallest weight limit of 200 pounds.
Therefore, it is not suitable for heavier people as it would wear down quickly.
Despite its lightweight nature, the scooter is pretty sturdy as it is constructed with stainless steel of excellent quality.
Besides planting and weeding, you can use this scooter for other activities around the house.
You can use it as an extra seat during hangouts with friends, and it could even act as a table at times. Essentially, it is versatile in its uses.
It has plastic wheels that are 3″ in diameter.
The advantage that plastic wheels have over pneumatic or rubber ones is that they do not pop when punctured or under too much pressure.
The wheels can roll forward and backward on all terrains.
The scooter is weather-proof and can withstand different types of weather conditions. It will not succumb to extreme heat or cold.
Also, it does not rust easily. Even so, keep in mind that the longevity of your scooter largely depends on how well you maintain it.
Frequently Asked Questions
Can I use my garden scooter for other purposes?
These machines are designed for all of your gardening needs, so you can take care of your lawn and keep it looking beautiful.
If you want to use your machine for any other purpose, please consult a physician before doing so. Even so, most can be used for other activities around the house, such as painting.
Can I use a scooter on an uneven surface?
Yes, any type of surface can be used by these scooters. The best way to use them is on grass or hard ground.
Essentially, any kind of landscaping should not have a problem with these products. Mostly, though, it depends on the type of wheels.
Are garden scooters durable?
This depends on the materials used and how well you maintain your scooter.
The better the quality of the material, the longer it will last. Products made in the USA are known to have outstanding quality.
Final Words
Scooters save you from backaches and knee pain, especially if you spend a lot of time in the garden.
They are perfect for the elderly and people with conditions that affect the joints and muscles.
Furthermore, most scooters are versatile and can be used for more than just garden work.
However, finding the right scooter is not always easy. The ideal product varies from one person to another according to individual needs.
Generally, though, a good scooter should be durable, comfortable, affordable, adjustable, and easy to maneuver.
Posts You Might Like