Roses are some of the most popular flowers in the world and they have deep symbolic meanings surrounding love and romance.
However, while they may be beautiful, many roses have a dark side and those prickly thorns can cause a nasty pinch.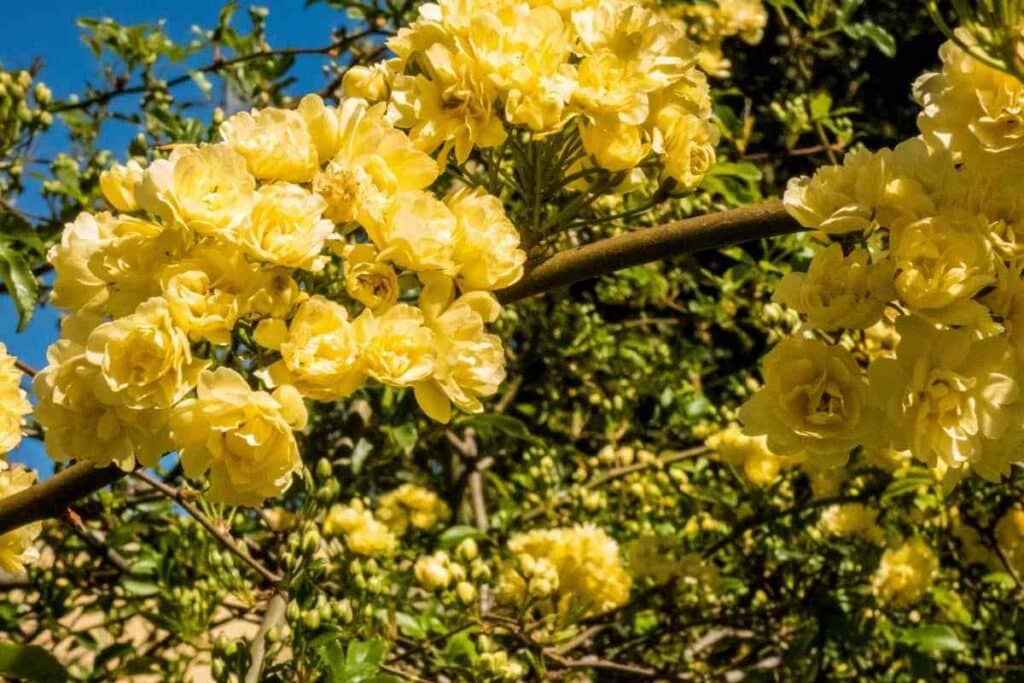 If you have children or pets you might want to include roses in your garden but are worried about safety then the good news is that there are lots of species of thornless roses to choose from.
In this guide, we will introduce you to some of the most beautiful.
1 – Amadis Rambler
There are a lot of rambling roses that are thornless and the Amadis is one of the most beautiful.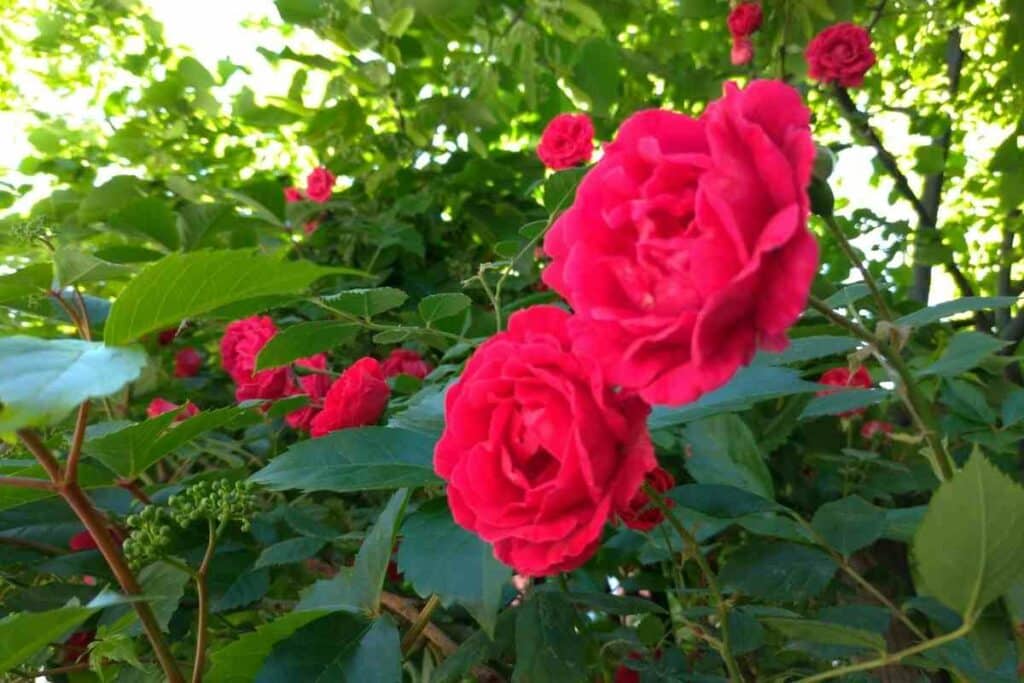 These stunning flowers are perfect if you're looking for something to decorate a pergola in your backyard. 
The downside of this type of rose is that it doesn't have a particularly long blooming period.
Moreover, the fragrance is not as strong as some other species of thornless rose. 
2 – Cinderella Miniature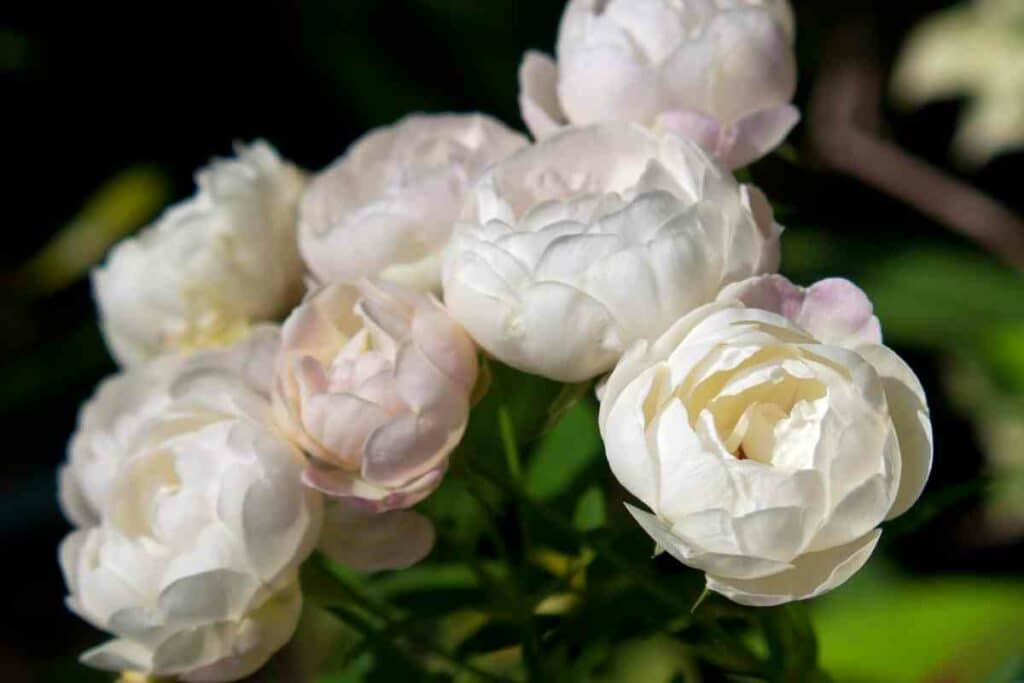 When you think of roses, you will often think of large flowers but the amazing thing about the Cinderella is that the blooms are much smaller.
What's More – They come in a  stunning range of colors that are anywhere between white and pink. Therefore, this flower gives off a heavy romantic vibe. 
The Cinderella miniature works very well when used as a hedge rose as it will grow up to three feet in height.
They're very hardy so will survive periods of dryness but you should make sure that they are placed in full sun. 
3 – Shropshire Lad
The rose is the national flower of England and there couldn't be a more English sounding name than the Shropshire lad.
This is a rose cultivated by David Austin and is actually a climber. 
The color of these roses is very distinct and so they are often used as a decorative flower with a gentle peach hue.
They're also a very fragrant type of rose and work excellently as a border plant. However, you may need to offer support to this flower so keep that in mind when creating your borders.
When well looked after, the Shropshire lad can grow up to eight feet in height so it;s a great choice for security and privacy borders. 
4 – Tausendschön
If you want a fragrant rose that won't overwhelm the senses then the tausendschon is one of the best options.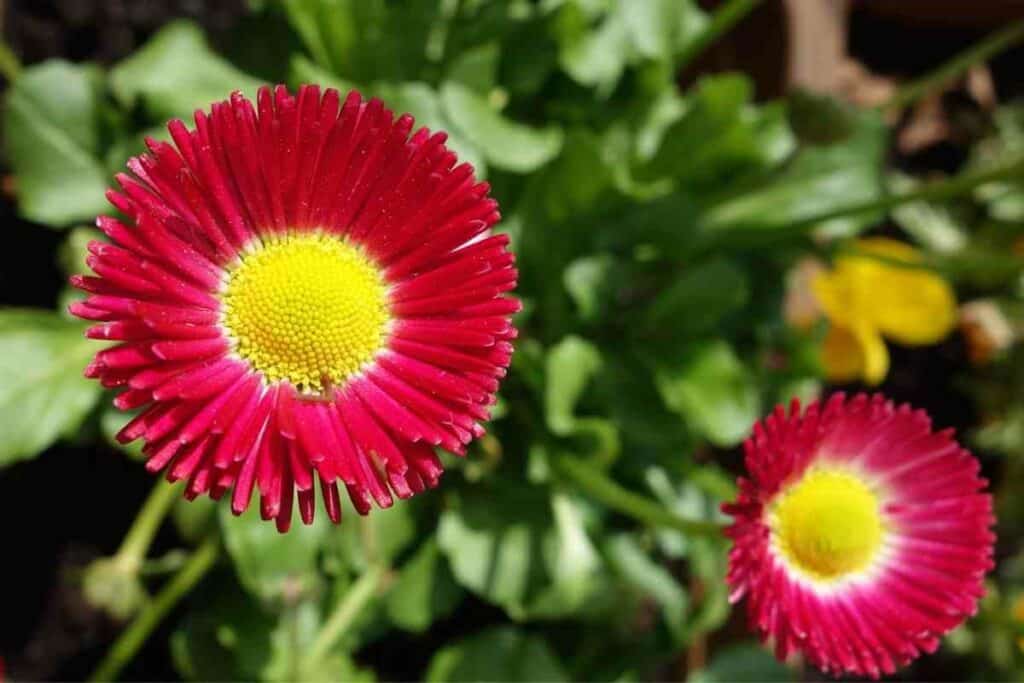 It has a delicate yet noticeable fragrance and rewards gardeners with stunning pink flowers that bloom in clusters. 
While we would class this as a thornless rose, there are some slight prickles but since they have now thrived for more than a century, it's safe to say that they're a favorite.
And if you are looking to create a border, the maximum twelve foot height of these roses will certainly do the job!
5 – Lady Banks
Another rose that is classed as nearly thornless is the lady banks which is ideal for adorning arbors and pergolas.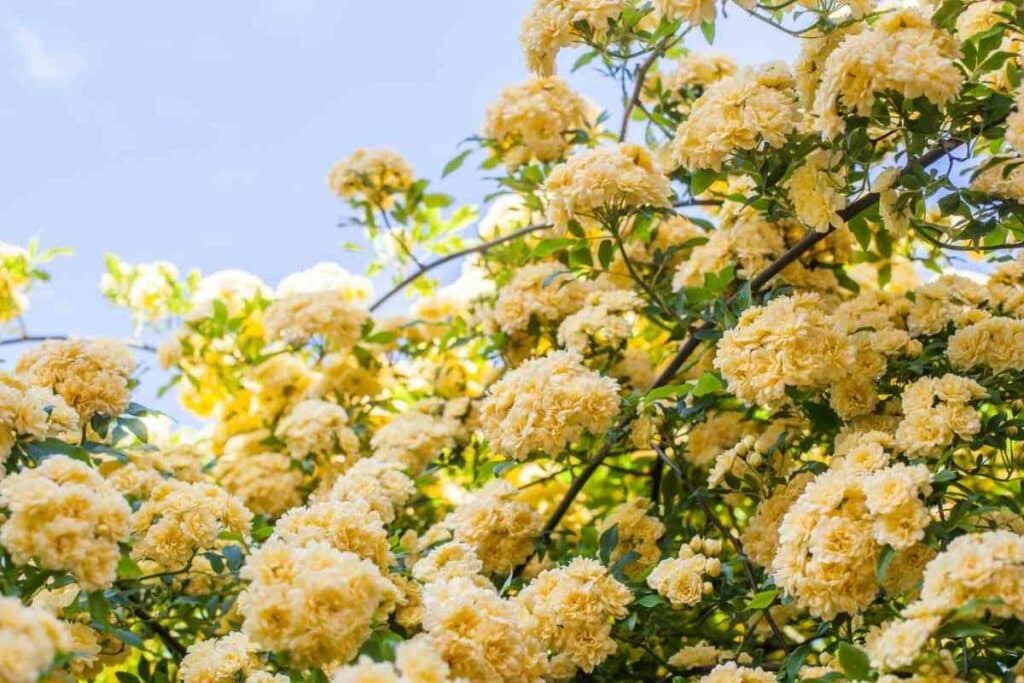 This type of rose does very well in cooler environments so it's much easier to take care of even when the weather doesn't agree. 
However, the lady banks rose does like to be in full sun so you should make sure that you can provide these conditions.
The stunning yellow flowers are a sight to behold and will certainly brighten up your outdoor space. 
6 – Reine Des Violettes
As you might imagine from the name, this type of thornless rose yields incredibly violet flowers and will continue to bloom time and time again.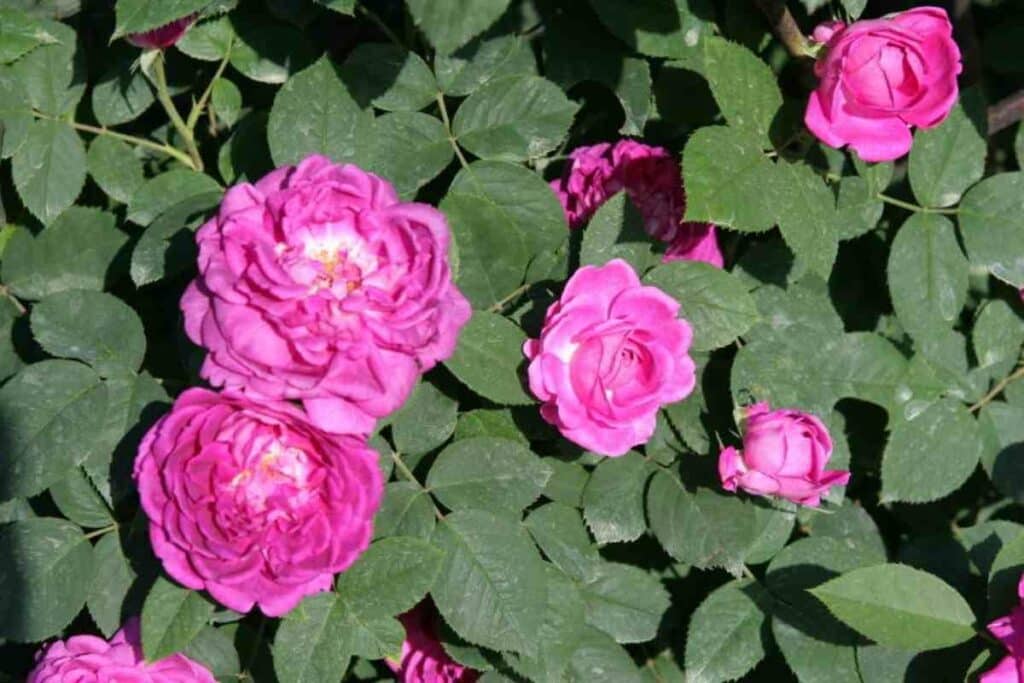 What's great about this type of rose is that it will grow to staggering heights of up to ten feet which makes it perfect for borders where more privacy is needed. 
---
That Said: The reine des violettes also does very well as a climbing plant and as the summer approaches, those beautiful blooms will really open up. 
---
7 – Lykkefund
If you are looking for a type of thornless rose that will give off a stunning fragrance then there is nothing quite like the lykkefund.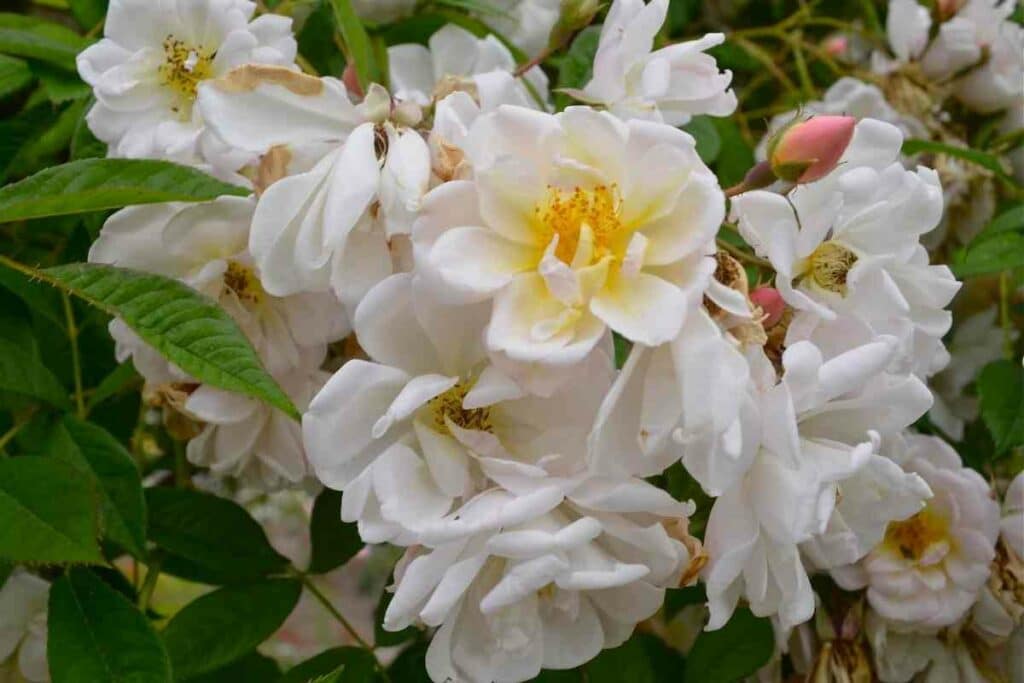 Not only does it have a beautiful aroma but it's also an incredibly nice looking species of thornless rose and has cream colored blooms that are elegant and classic. 
You will find that the flowers will come through in the spring but will continue to blossom through until summer.
However, don't be fooled into thinking that these roses are for a smaller garden as they will grow up to fifteen feet so you must make sure that your yard has the right amount of space for them. 
8 – Outta The Blue Shrub Rose
Many roses have a pink or white hue but if you are looking for something a little different and unique then the outta the blue shrub rose might be right up your street.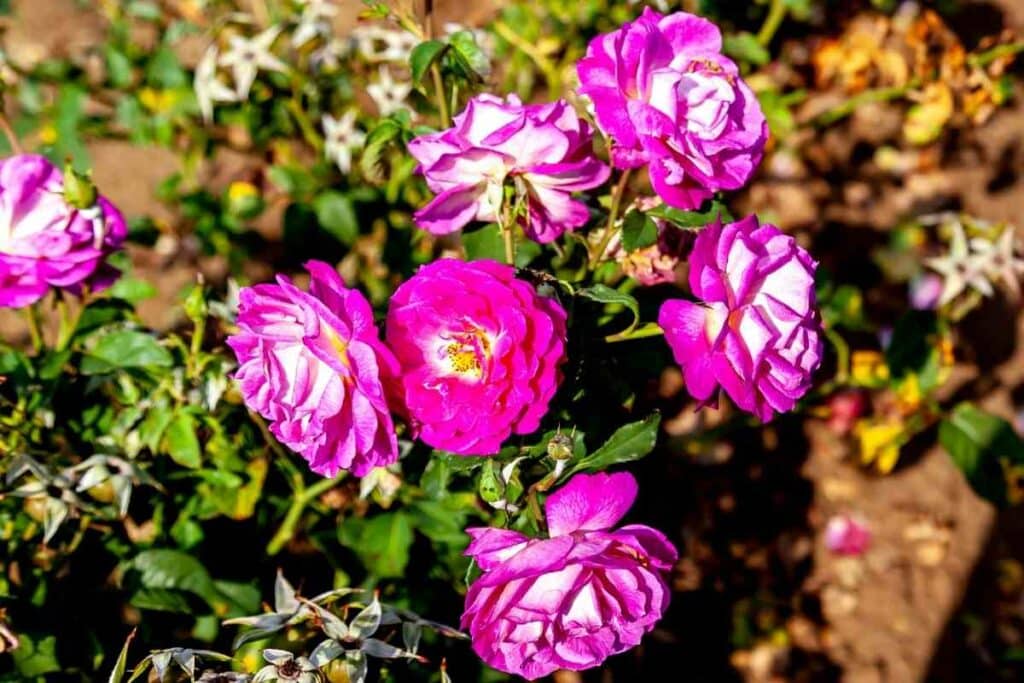 These stunning flowers have a shade that falls somewhere between blue and purple and also boast a strong fragrance. 
What we love about this type of thornless rose is that it is so hardy.
No matter what the soil type or conditions, you will find that outta the blue roses can survive variable conditions.
However, it's not the tallest and will probably give up growing at around six feet. 
9 – Kathleen Harrop
If you love the zephirine drouhin rose then this version of it will more than likely take your fancy.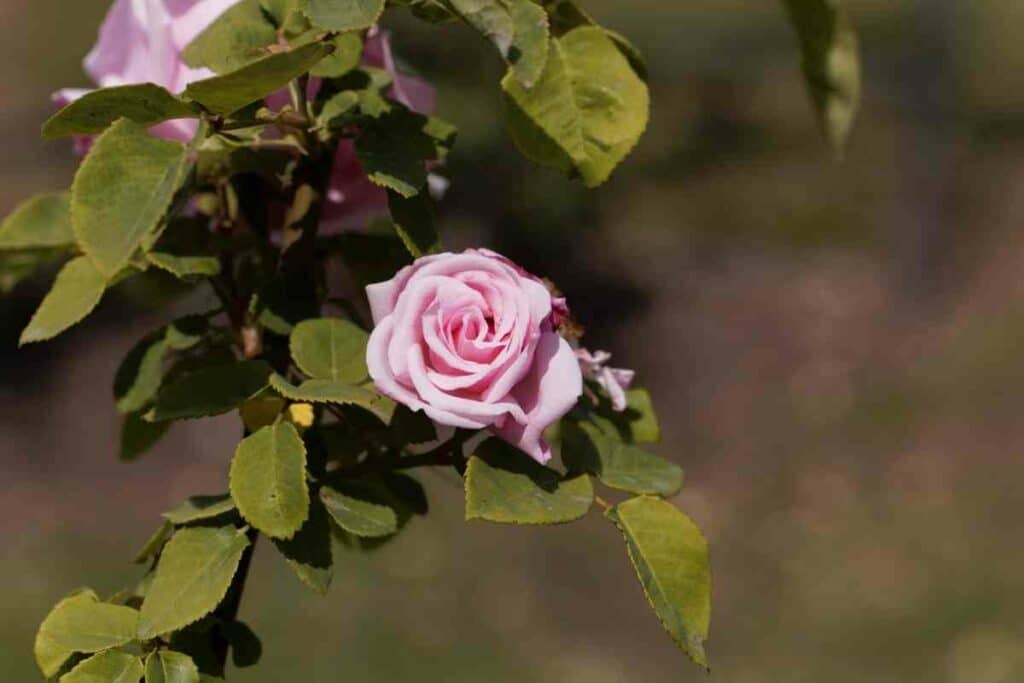 It's also an amazing choice for people that are looking for a climbing plant and will do very well as such.
When It Is Fully Grown – You can expect the kathleen harrop to reach heights of ten feet which make it great if you're trying to improve privacy. 
What's also amazing about this type of thornless rose is that it will keep flowering far more often than other types and there will be constant displays throughout spring and summer.
10 – Smooth Prince Hybrid Tea Rose
There are several different types of smooth hybrid tea rose and these were all made back in the 80s.
However, if you are looking for something thornless and bright then the smooth prince is going to really appeal to you.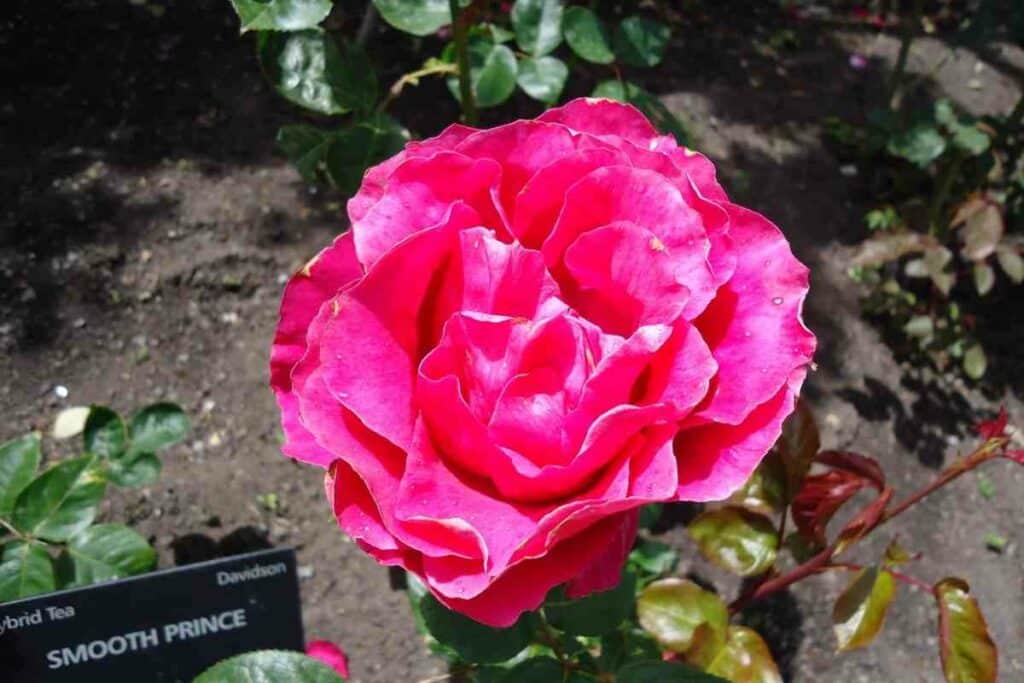 Not only does it have some amazing colors but this is also a very fragrant rose.
The flower is incredibly safe and experts suggest that it can be safely grown around children and elderly adults.
The flowers are very vigorous and will grow continuously giving your yard a constant splash of color. 
11 – Leander Hybrid Tea Rose
If you want a type of thornless rose that will be rewarding then we would highly suggest the leander hybrid tea rose.
However, you will also need to keep in mind that this is one of the more demanding species and you will need to give it very special care.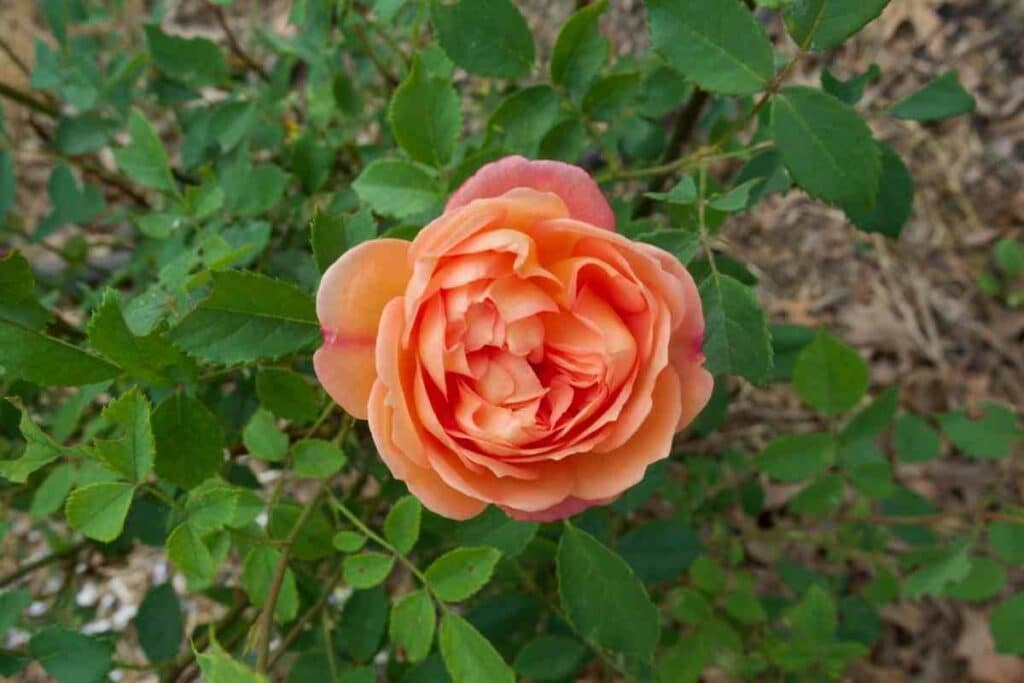 But if it is well looked after, the leander will yield stunning large flowers that range in color from pink to yellow to peach.
What's more, this is an incredibly fragrant rose which is something that appeals to a lot of people.
---
Good News: As long as the conditions are right, the Leander hybrid tea rose will continue to flower throughout the year.
---
Conclusion
If you are in love with the idea of having a beautiful rose garden but aren't so keen on those prickly thorns then we totally understand.
But there is some good news. Not all roses have thorns, or at least some have very few. 
If you're looking for thornless roses then this guide will show you some of the most beautiful and prickle free varieties there are.
Posts You Might Like