As the Covid-19 pandemic pushed people into spending more time than ever before in their own homes, it's no surprise that there has been an increase in interest in sunroom constructions.
What's more, home improvements, especially home additions, are a way of increasing the value of a home.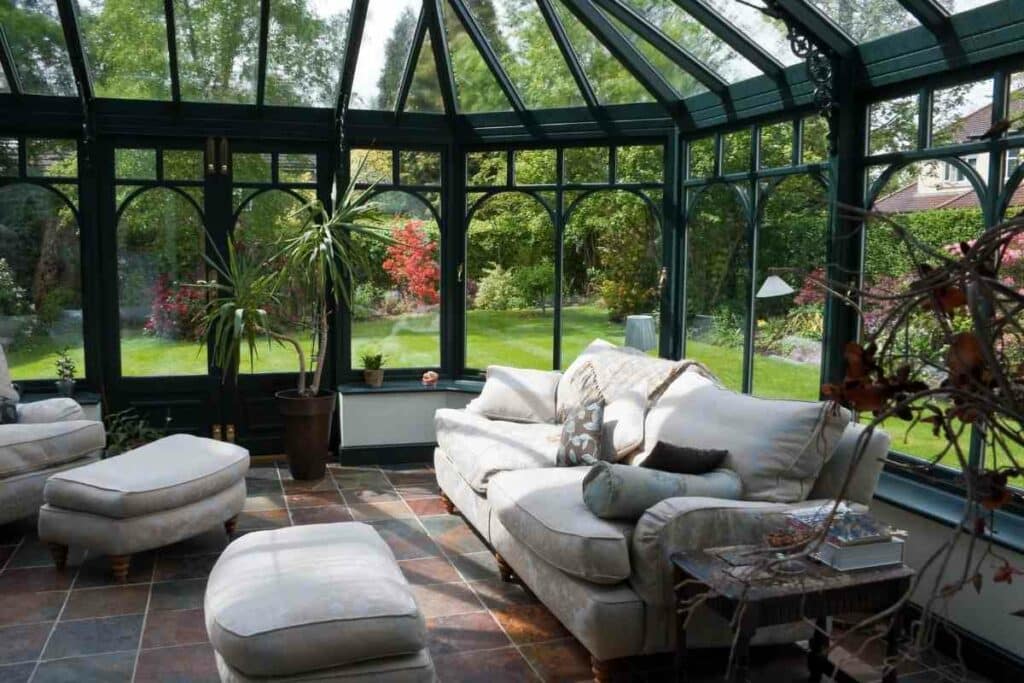 Both sunrooms and solariums can provide extra square footage to a home, and each has its own benefits.
If you are considering getting a sunroom or solarium, you might be confused between the two.
In This Article – We'll discuss the differences between solariums and sunrooms so that you are ready to decide what's best for your space. Read on to find out more solarium vs sunroom information.
Solarium Vs Sunroom – What's the Difference?
Though the terms are often used interchangeably, there are notable differences between solariums and sunrooms.
Architects and builders often refer to all rooms that have large windows as sunrooms, but this isn't accurate enough when you're looking at what type of space you want to create.
Essentially – A sunroom has a traditional roof much like the room it is attached to. The windows will usually stretch across side-by-side but won't be floor-to-ceiling height.
The idea behind a sunroom is that it's a space to enjoy the sunshine without actually being outside.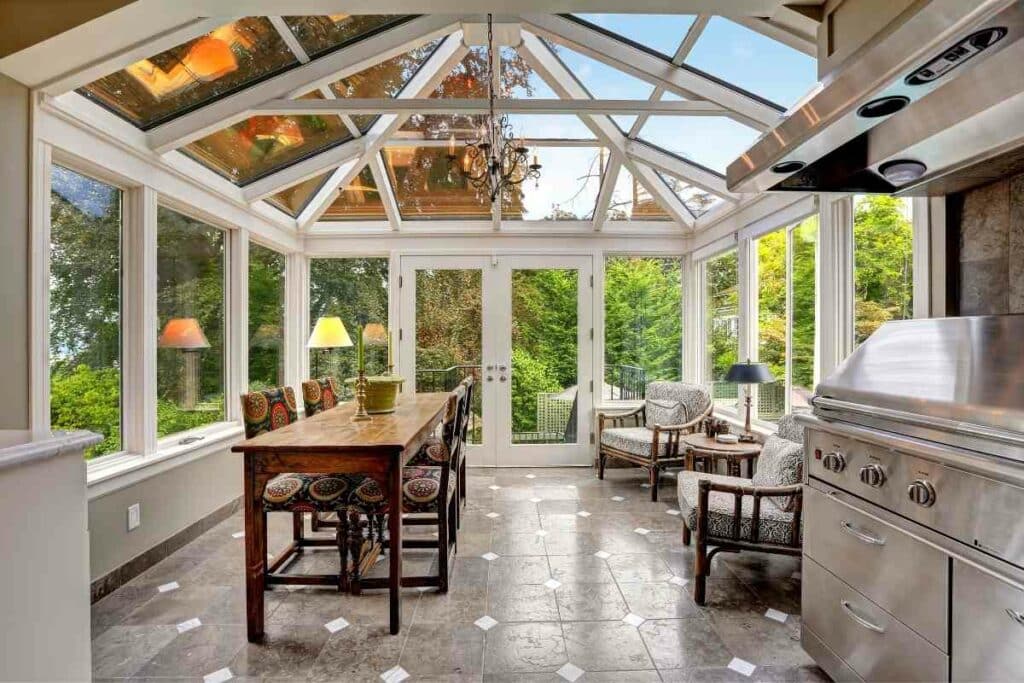 Conversely, a solarium tends to have more modern architecture. This space will usually have glass walls and a glass roof.
A solarium might also be freestanding and can be away from the rest of the home.
The idea behind a solarium is that it captures as much light as possible.
Some solariums are built with tracks or window openings so you can put sunshades that help to insulate the room and regulate the interior temperature.
They're also used for growing plants, flowers, herbs, and vegetables.
Solarium Vs Sunroom – the Pros and Cons of Both
There are both advantages and disadvantages to solariums and sunrooms.
When deciding which feature to go for, you'll need to weigh up the pros and cons of both so that you find something that suits your lifestyle and home.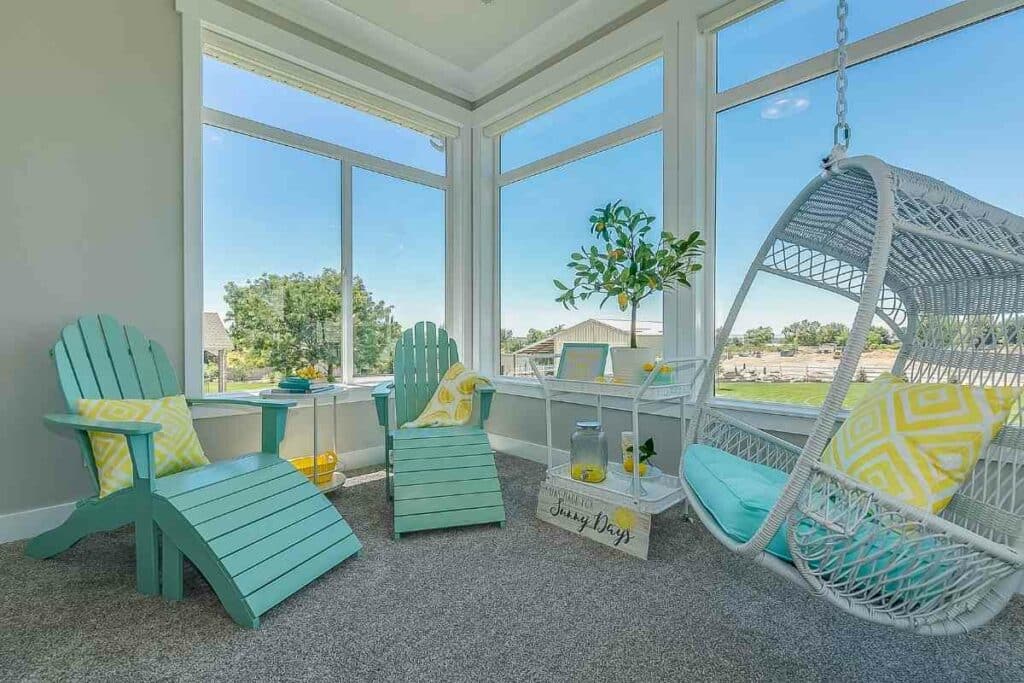 When you have a sunroom, it can be used the whole year-round.
A solarium, on the other hand, might not be comfortable when it's really cold or even when it's really hot.
Solariums are best for use during spring and autumn for this reason.
Keep in Mind – Unlike solariums, sunrooms are much more energy efficient. They tend to have insulated roofs and often have heating for winter use too. Since these structures are attached to your home, they often blend in with your existing property and interior and require very little in the way of maintenance.
So far, it sounds as if sunrooms are the best option for homeowners. However, there are disadvantages.
If you really love unobstructed views of the sky, you'll prefer a solarium as these have full glass walls and roofs.
If you have a private backyard and an attractive view, a solarium is an excellent space to soak up the rays and enjoy the warmth of the sun.
You will have to clean all the class though and it might mean using a professional solarium cleaning service.
Solarium Vs Sunroom – Resale Value
If you're considering selling your home at some point in the future, you might be wondering whether a solarium or a sunroom adds more value to your home.
No matter which structure you build, you will certainly increase your home's value.
Both types of structures add square footage and are attractive additions.
Your ROI (return on investment) might vary, however, depending on the option you go for.
Typically, a sunroom will offer a better return on investment compared to a solarium.
A sunroom isn't as expensive to build as a single-story extension but it still adds a lot of space that can be enjoyed all year round.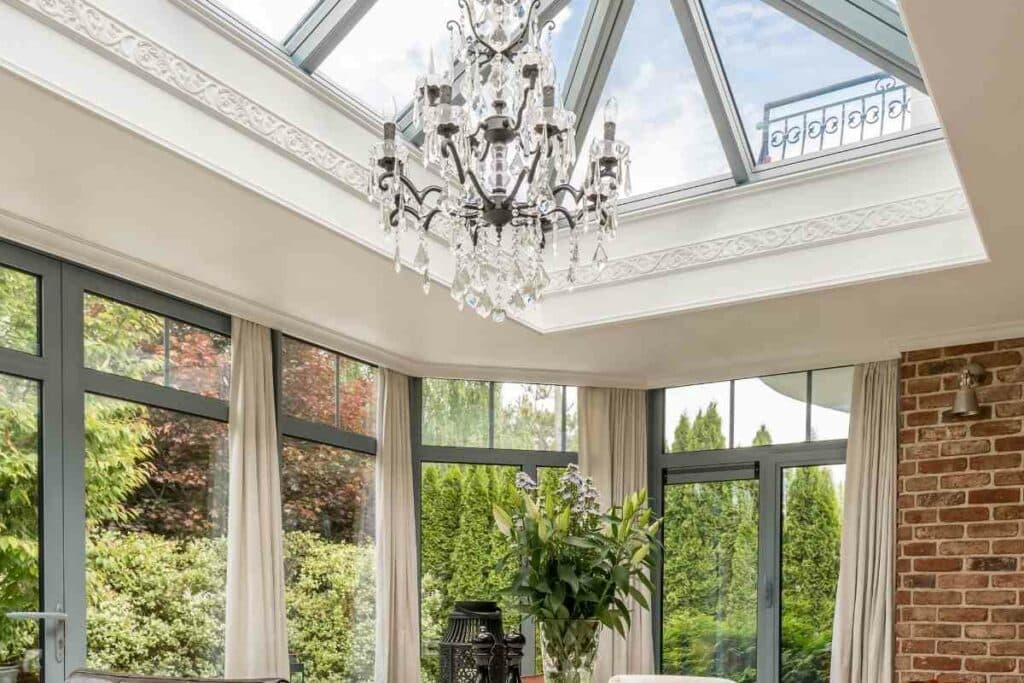 Many homeowners say that their sunroom is the most popular room they have.
When constructed by a reputable company, a sunroom should come with a valuable long-term warranty.
You might even find a company offering lifetime transferable warranties that any future owners could benefit from too.
Solariums are great additions because they have a certain "wow" factor that sunrooms don't have. They're certainly aesthetically pleasing and attractive to potential buyers.
However, you pay for this during installation as they can cost as much as double the cost of a similar-sized sunroom.
---
Warranty-wise: You can't often find them to be as good as sunroom warranties and they're typically non-transferable. Before deciding, it's also a good idea to research how much it would cost to maintain the roof and replace glass panels when necessary.
---
Solarium Vs Sunroom – Lifestyle and Needs
So far, we've discussed the structures in terms of their cost, aesthetics, and value.
However, the most important thing, which we haven't yet touched upon, is how you are going to use the space.
This is arguably the key to your decision-making when deciding solarium vs sunroom.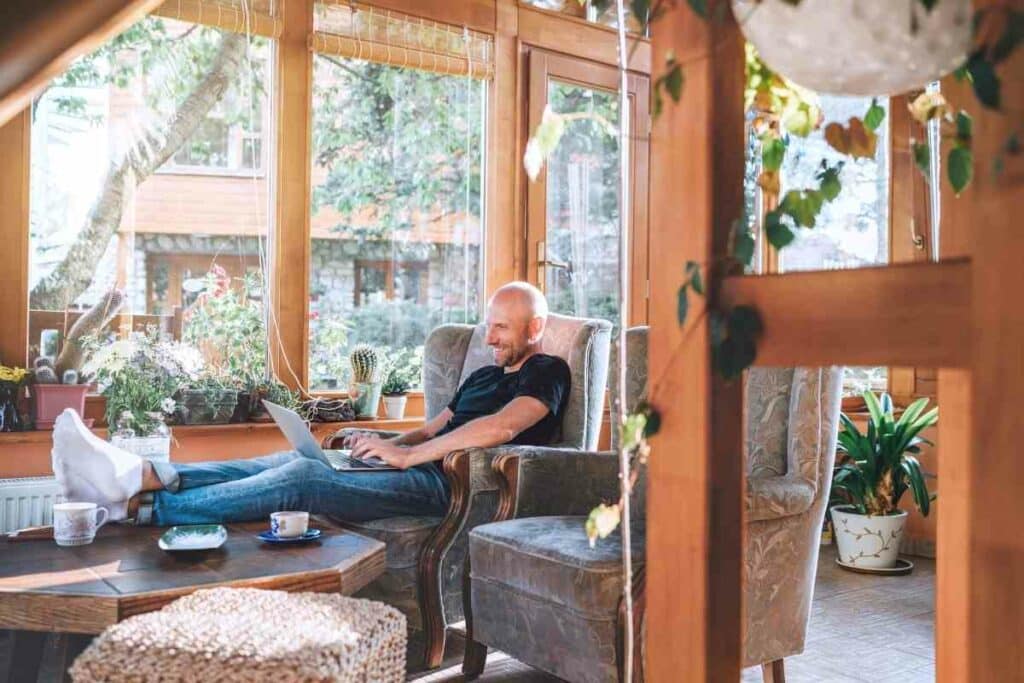 First of all, you need to consider the practical element. A sunroom requires more substantial work to your existing property.
You'll need to have exterior walls altered and it will create more impact on your interior.
In Terms of Its Use – If you're wanting to create a stunning feature, a solarium offers a unique element to your home.
However, if you want to have a sunlit space that you can access comfortably the whole year round, a sunroom is probably best.
Pros of Adding a Sunroom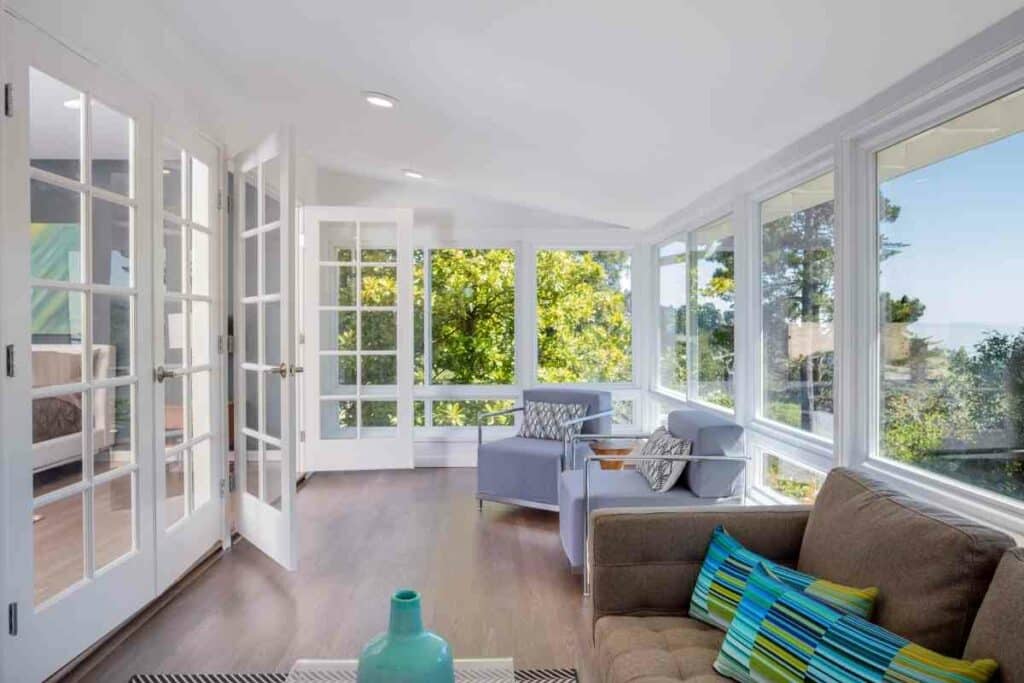 You can use the space all year round and don't need to go outside to access it.
There is less maintenance involved.
They are usually better insulated.
They have a solid roof.
You can install heating and cooling in them.
They are usually cheaper to install than a solarium.
Cons of Adding a Sunroom
It is messier during construction and requires alterations to your existing home.
It doesn't have a glass roof or wall-to-wall glass and so feels less 'outdoors' than a solarium.
Pros of Adding a Solarium
You get unobstructed views of the outdoors.
You can enjoy being outdoors while being protected from the wind or rain.
You can use it for many things like growing plants, exercising, or relaxing.
Cons of Adding a Solarium
It is more expensive than a sunroom.
Repairs are more expensive.
Cleaning the glass often requires professional services.
They can get very hot in the summer months and very cold during the winter months due to a lack of insulation. This means you can't use them as often as a sunroom.
Solarium Vs Sunroom – Which Should You Choose?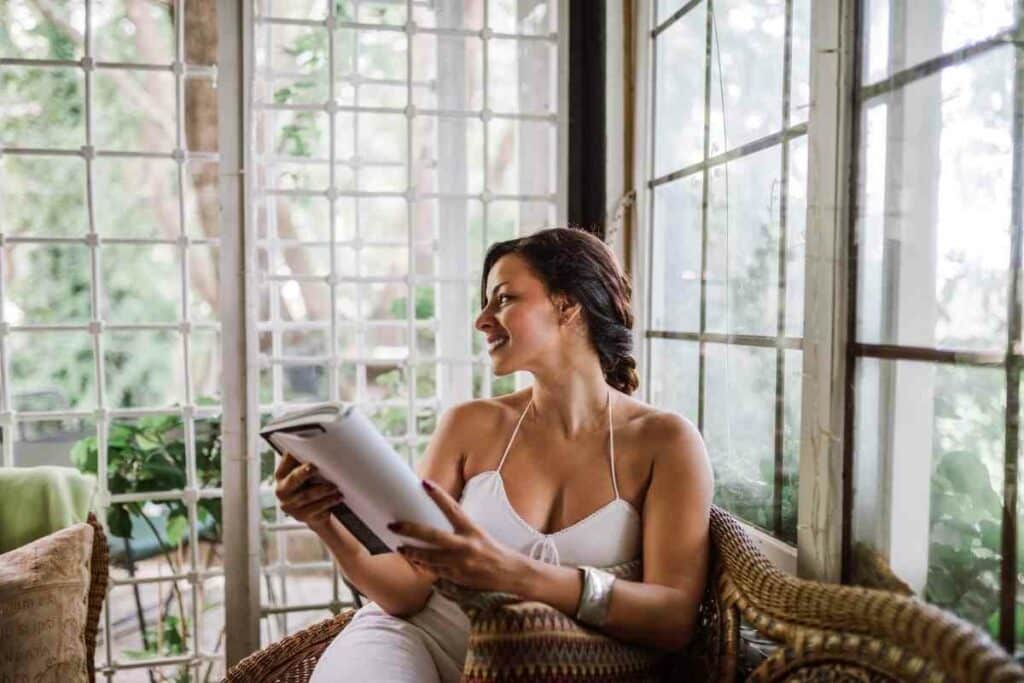 Whenever you take on a home improvement project, you have to consider all aspects of the construction.
No matter your final choice, it has to fit with your lifestyle. A sunroom provides access to the outdoors all year round without you having to set foot outdoors.
A solarium is an exceptional piece of architecture that will add significant value to your home.
As we've seen, there are pros and cons to each type of structure. Only you can decide what fits your lifestyle and budget best.
Read Next