A wheelbarrow is an essential tool when moving things from one place to another.
However, the type of wheelbarrow you go for largely affects its functionality. Different wheelbarrows are ideal for different tasks.
For instance, a concrete wheelbarrow is better for hauling mortar, bricks, and concrete around a construction site.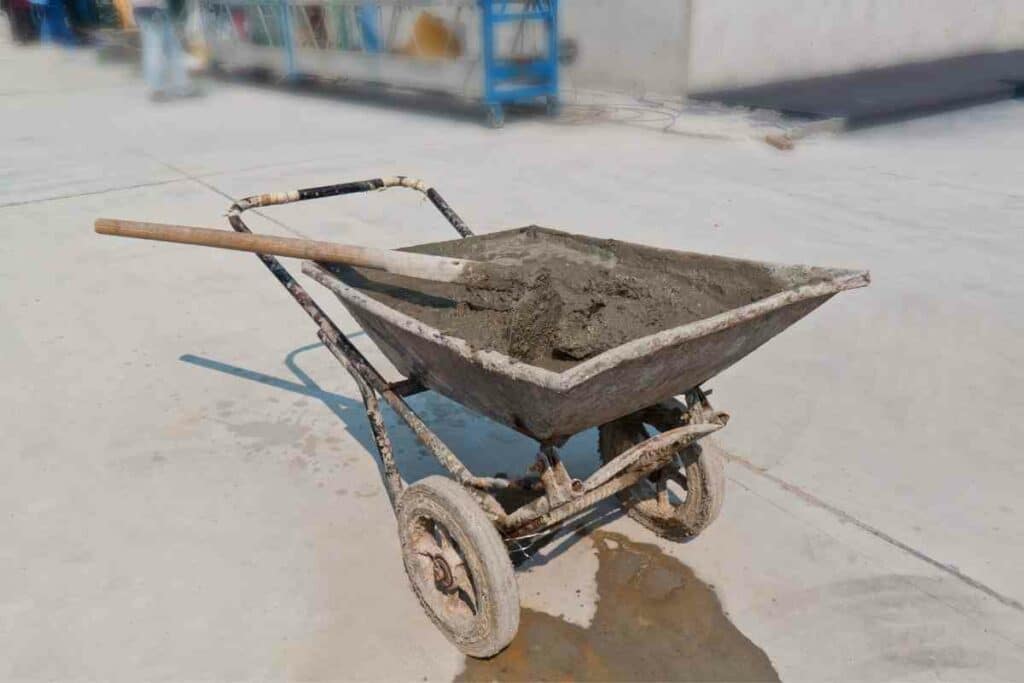 You can get wheelbarrows for concrete with a single wheel or two or even four wheels. You can also get manual or motorized wheelbarrows.
What to Expect? If you want to get the best wheelbarrow for concrete, this guide lists the top customer-recommended wheelbarrows in the market today.
What Makes A Wheelbarrow Good For Moving Concrete?
Although it appears as though all wheelbarrows perform the same, several factors differentiate the best wheelbarrows for concrete from ordinary wheelbarrows.
Now, what makes a wheelbarrow suitable for moving concrete?
1. Material
Concrete is a tough material.
Likewise, you would need a tough wheelbarrow to deliver on its purpose.
In particular, it would help if you checked the wheelbarrow's material as it determines its longevity and robustness.
When choosing wheelbarrows for concrete, you can either go with steel or plastic.
Although some wheelbarrows comprise thick molded plastic, steel-made tubs are more robust and can handle heavier loads.
Without damaging it, you can carry bricks, stones, cement, and ballast on the tub.
2. Weight of the wheelbarrow
Nobody wants to push unnecessary weight on a construction site.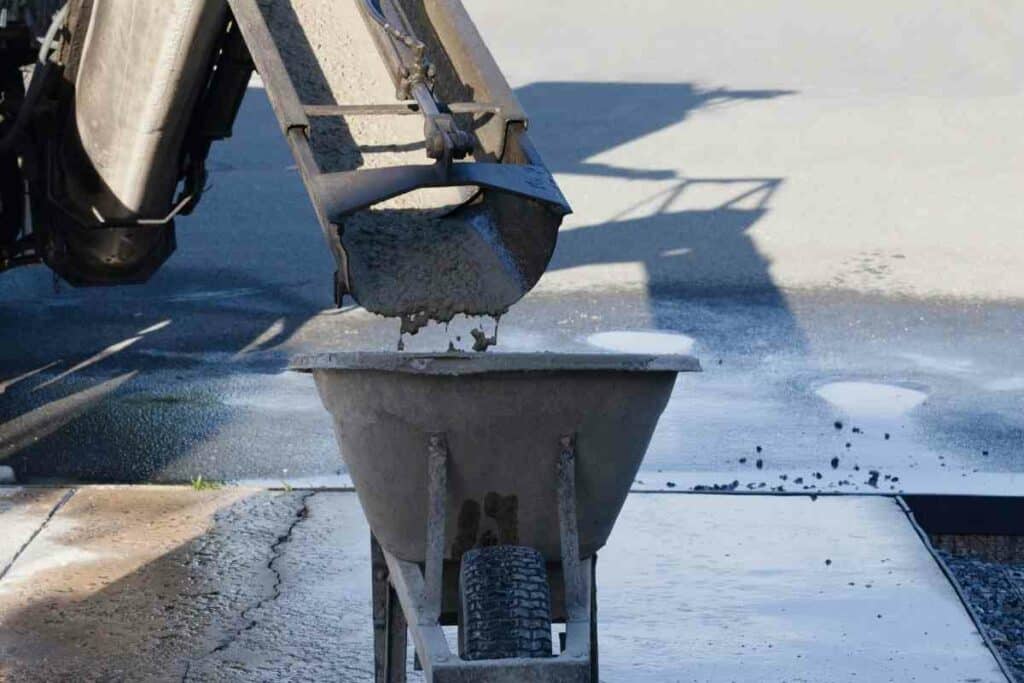 So, even when buying a heavy-duty wheelbarrow, you should consider the maximum weight that is convenient for you.
A lightweight but durable wheelbarrow is ideal in such cases.
However, if you will be handling heavy concrete, you might have to compromise a few additional pounds.
3. Stability and loading capacity
A good wheelbarrow will be stable, even when carrying its maximum capacity.
This capacity is mainly influenced by the wheelbarrow's dimensions.
If you want to haul more items, you should go for a wheelbarrow with a larger cart size.
Additionally – Larger wheelbarrows are more versatile. You can use them for basic gardening, mixing concrete, and moving stuff. However, the larger the wheelbarrow, the costlier and heavier it gets.
That said, you should always ensure that the wheelbarrow you get matches your body size.
It isn't worthwhile to get a large wheelbarrow that you can't handle or leaves you very tired since it is too difficult to lift or push.
4. How many wheels does the wheelbarrow have?
Most wheelbarrows come in two options: Single or dual wheeled.
A single-wheeled wheelbarrow is stable on uneven terrain and is ideal for working in hilly areas.
On the other hand, a dual-wheeled wheelbarrow is more stable and can haul heavier loads. This makes it ideal for construction sites.
But unlike the single-wheel tools that are easy to load and dump, the dual-wheeled wheelbarrows present challenges when turning or moving in small spaces.
5. Shape handles and supports of the wheelbarrow
Although most wheelbarrows have two straight steel/hardwood handles, you can opt to go with bent-arm handles, which are easier to handle.
With these handles, it becomes easier to lift and steer the wheelbarrow.
Finally – The supports on your wheelbarrow should allow free leg movement as you push or pull the wheelbarrow.
6. Handling of the wheelbarrow
Construction wheelbarrows are massive, with designs meant for heavy loads.
You can carry mortar, bricks, and concrete on them.
So, with loads of up to 500 pounds, you should be able to handle the wheelbarrow without a hassle.
7. Durability and weather-resistance
Wheelbarrows for concrete come into contact with many constructions and gardening chemicals.
They have to handle water and sometimes cement when used for mixing. Therefore, a good wheelbarrow should last long.
You can countercheck the durability of your wheelbarrow by considering the level of rust protection.  A wheelbarrow with galvanized metal parts is the best.
Also, check if the manufacturer has coated the wheelbarrow with powder to prevent corrosion.
6 Best Wheelbarrows For Concrete
1. Gorilla Cart Heavy-Duty Poly Wheelbarrow
Top Features
Quick-release dump for quick unloading
Rustproof poly bed
13-inch pneumatic tires
6 cubic ft capacity
Convertible handlebar for pulling and towing with a vehicle
The Gorilla Carts poly dump cart is one of a kind.
The rigid steel frame supports a maintenance-free poly bed with a  hauling capacity of 1200 pounds.
Additionally, the heavy-duty body sets it apart in that it allows you to carry maximum weight without worrying about damage.
It also offers additional support and strength, unlike regular metal frames.
This wheelbarrow has 4, 13-inch pneumatic tires.
These tires, which comprise synthetic & natural rubber, wires, and fabrics, use air to maintain their round shape.
Compared to other tires, pneumatic tires provide better traction and have better-rolling friction, which means more stability while using the wheelbarrow to carry concrete.
Pros
Tight-turning steering, making it easy to maneuver
Pneumatic wheels for all-terrain application
Quick and easy assemble
Easy to clean
Another amazing feature is the convertible towable handle. This makes it easier to pull by hand or attach to a vehicle for towing.
Moreover, you will enjoy the quick-release feature on the wheelbarrow. So, instead of screwing the lid of the wheelbarrow on, you can save time by engaging this quick release feature.
2. WORX Aerocart 8-in-1 Wheelbarrow
Top Features
Turbo lift design for larger carrying capacities
8 different function capabilities
Rugged tires that do not need inflation
Metal body
When it comes to versatility, the WORX wheelbarrow delivers extraordinarily.
It can fulfill 8 functions, among them hauling up to 350 lbs. of construction material.
It can also function as a cart, a tub organizer, a garden trowel, a cultivator, a pole saw, a leaf blower, and a snowplow, among other functions.
The wheelbarrow features a Turbo Lift design, which provides the user with much-needed leverage when hauling heavy material.
Like the one found in large cargo carriers, the design offers seamless horizontal and vertical transportation.
Even Better – The wheelbarrow has all-terrain tires that do not need inflation. These rugged tires make the wheelbarrow suitable for rough terrains that would otherwise destroy the standard tires.
Moreover, their placement ensures that the center of gravity is always optimally located.
This way, the wheelbarrow is stable on all terrains.
More importantly, the tires include open treads that can efficiently navigate through mud and water.
You never lose grip on the surface, making the wheelbarrow more stable and easy to maneuver.
Pros
A durable build
Versatility-8 different cart functions
Strong, rugged tires suitable for all-terrain
A large tub size
Even weight distribution
A compactible design
Cons
It may be uncomfortable for tall people
Heavy
It is huge, making its storage quite difficult
The cart itself is easy to assemble.
It is also sturdy and very versatile, making it popular among homeowners. If you want it in a small compact size, you can fold the wheels and remove the handles.
3. A.M. Leonard Poly Wheelbarrow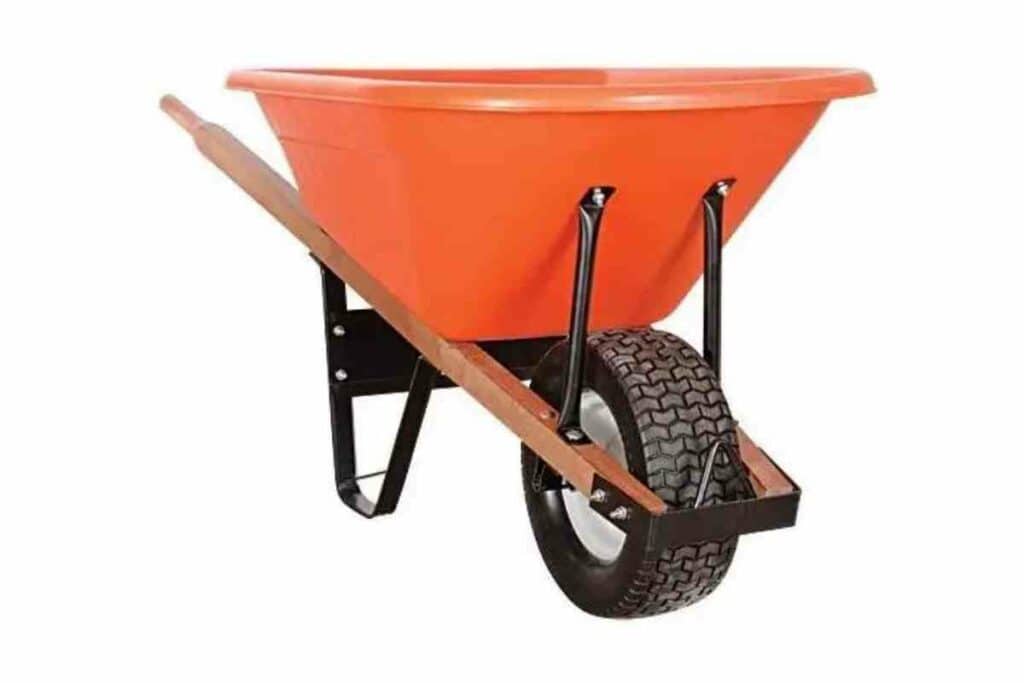 Top Features
Durable ABS plastic tray
Extra-thick hardwood handles
Pneumatic, flat-free, or narrow flat-free tires with diamond treads
500 pounds carrying capacity
6 cubic foot poly tub capacity
The A.M Leonard Poly wheelbarrow makes it to the list as the best single-wheeled cart.
Since it is single-wheeled, it is easier to make turns and navigate small spaces.
The wheelbarrow also offers exceptional sturdiness and impeccable stability when hauling heavy loads.
The frame has a welded, angled steel tray and strong hardwood handles. These handles are comfortable and sturdy allowing for enhanced maneuverability.
Therefore, it is easy to move and dump the contents of the wheelbarrow's tub.
Keep In Mind – The wheelbarrow also uses ABS material on its body. ABS stands out because it provides exceptional impact resistance and can resist heat and corrosion. Therefore, your wheelbarrow will last longer than a regular wheelbarrow.
Another cool feature is that the manufacturer gives you the freedom to choose the type of tires you want.
For instance, you can select flat-free narrow wheels with a microcellular polyurethane foam, which is dense, lightweight, and regains shape quickly after deformation.
These wheels last longer than pneumatic tires when in water or chemical-infused environments.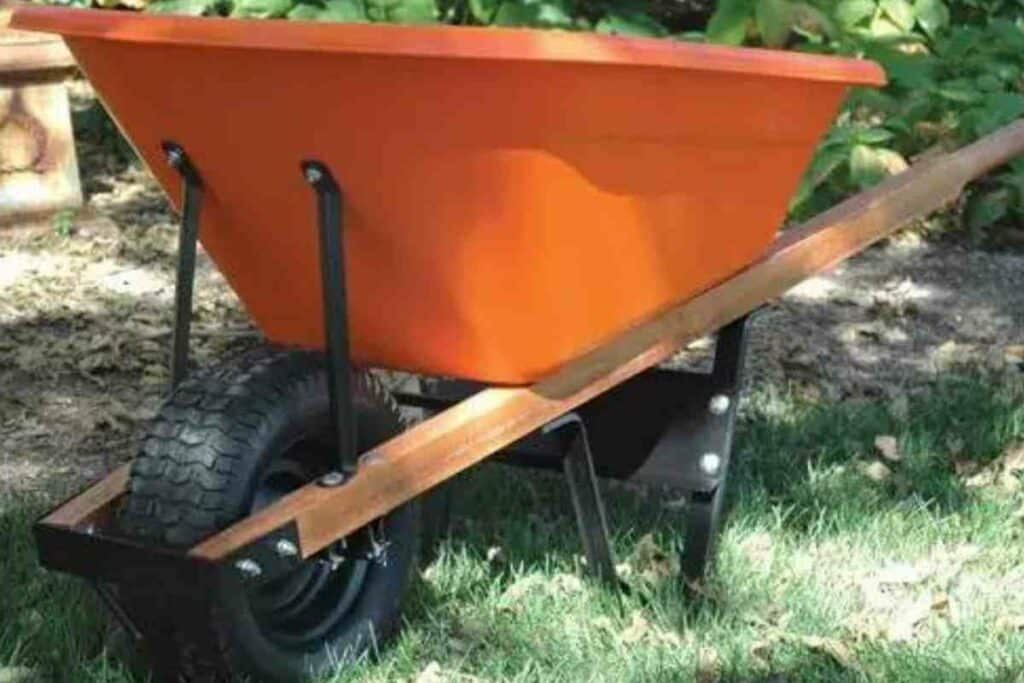 Pros
Ergonomic handles make it easy to use
High-quality designs for longevity
Easy to maneuver
A heavy-duty undercarriage for added support
Cons
It takes a lot of storage space
You can also choose to have your wheels with a diamond tread pattern.
This unique tread pattern enhances the grip on the wheelbarrow, making it suitable for different terrains.
The wheelbarrow also has a low-profile design, making it incredibly stable and easy to maneuver.
4. Best Choice Products Dual Wheelbarrow
Top Features
A multi-purpose garden cart
5 cubic feet capacity tub
A versatile handlebar
Heavy-duty plastic bin and powder-coated steel frame
2, 13-inch inflatable rubber wheels
This dual-wheeled wheelbarrow is another product that is very versatile.
The tool can carry wood, mulch, gravel, and soil. Thanks to its versatility, you can alternate between construction works and landscaping without any problem.
Additionally, the wheelbarrow has a reusable plastic bin suitable for use in all weather.
It is resistant to snow, dust, and rain and can last long, even when exposed to harsh chemicals like concrete.
It also has a 330 lbs weight capacity, with two rubber wheels for more effortless movement.
The extended handle makes it easy to push, tilt or pull the wheelbarrow.
Also, the thick padded handles are comfortable for the hand. They also double as a handle and a stand when the wheelbarrow is idle.
Pros
Easy to maneuver
Compact size, hence easy to store
The plastic bin is tough, does not rust, and is easy to clean
The wheelbarrow is light
Easy assembly
Cons
The plastic tub limits its applications on a construction site
To ensure durability, the body of the wheelbarrow's tub comprises powder-coated steel.
Therefore, you can be certain that your wheelbarrow will not only last longer, but will also have a uniform color, and be more economical than a plated or painted wheelbarrow.
5. Landworks Wheelbarrow Utility Cart
Top Features
24V, ¼ HP, 180W brushless motor
330 lbs. load capacity
13-inch pneumatic, all-terrain inflatable wheels
2-5 hours run time at the full battery charge
Eco-friendly
Forward and reverse switch with battery indicators on the handle for easier controls
This Landworks wheelbarrow is not only easy to assemble, handle, and sturdy but also gives you value for your money.
It comes with 13″ all-terrain pneumatic wheels alongside a 180W powerful electric motor.
The motor draws its power from the 2, 12V rechargeable batteries that can run for 5 hours at 3.5 mph.
Thanks to its accessible and ergonomic control features, you can reduce the chances of having an accident while using the wheelbarrow.
Also, with the electric motor, you no longer have to worry about straining your back, pushing 300 pounds of concrete around.
Pros
The motor operation lightens heavy loads
Easy to maneuver
Sturdy steel body and frame                   
The rechargeable batteries make the wheelbarrow economical
Powerful enough to go uphill
Cons
Expensive
No braking system, thus hard to control when going downhill
Landworks wheelbarrows consist of an alloy steel body. Compared to iron, the material is more corrosion-resistant and cheaper.
So, you can use the Landworks wheelbarrow for concrete, even near the sea, where the climate is the harshest on metals.
6. Makita Powered Wheelbarrow
Top Features
Up to 100 minutes runtime on the 18V batteries on a full charge
Brushless motor for optimal performance
290 lbs. maximum load capacity
3 cubic ft. tub capacity
Steel bucket
Control levers on the handles for easier access
The Makita electric wheelbarrow completes the list of the best wheelbarrows for concrete.
The battery-powered wheelbarrow packs up to 100 minutes of run time at full speed of 2.5 mph.
It holds 2, 18 volts, rechargeable batteries, and a brushless motor for optimal performance.
The brushless motor is a particularly attractive feature because it means less maintenance, produces less noise, and lasts longer.
More Importantly – The motor enhances your battery's life since it is more efficient in power consumption. The wheelbarrow is also lighter since the motor itself is smaller.
The wheelbarrow has a steel bucket, which is sturdy and interchangeable.
Compared to regular wheelbarrows, the steel bucket is rust-resistant, hence easy to clean.
Also, the wheelbarrow is highly versatile, which means you can switch from a wheelbarrow to a flatbed carrier in minutes.
Pros
Water-resistant coating for rust protection
Large carrying capacity
Power-assisted maneuvering
Rechargeable battery
Brushless motor that delivers impressive performance
Cons
Expensive
Battery not included in the package
The ergonomics of this wheelbarrow are also very impressive.
For instance, the motor controls are on the handles, making it easy to start, stop, reverse or change the speed of the wheelbarrow.
Also, the three wheels on the wheelbarrow frame make it easy to operate, maneuver, and be impeccably stable.
Frequently Asked Questions
Why do you need a wheelbarrow for your construction work?
Constructions works are sensitive, and you should do them correctly right by them from the start.
Having the proper tools to move materials or mix concrete should be the first step.
However, ensure you go for a product that is functional and can help you navigate terrains and move gravel, cement, and concrete from one place to another.
How do you clean your wheelbarrow?
Before storing your wheelbarrow, clean it with a stiff-bristle brush. Finish off by flushing the tub's contents with water. Make sure you remove the concrete before it hardens.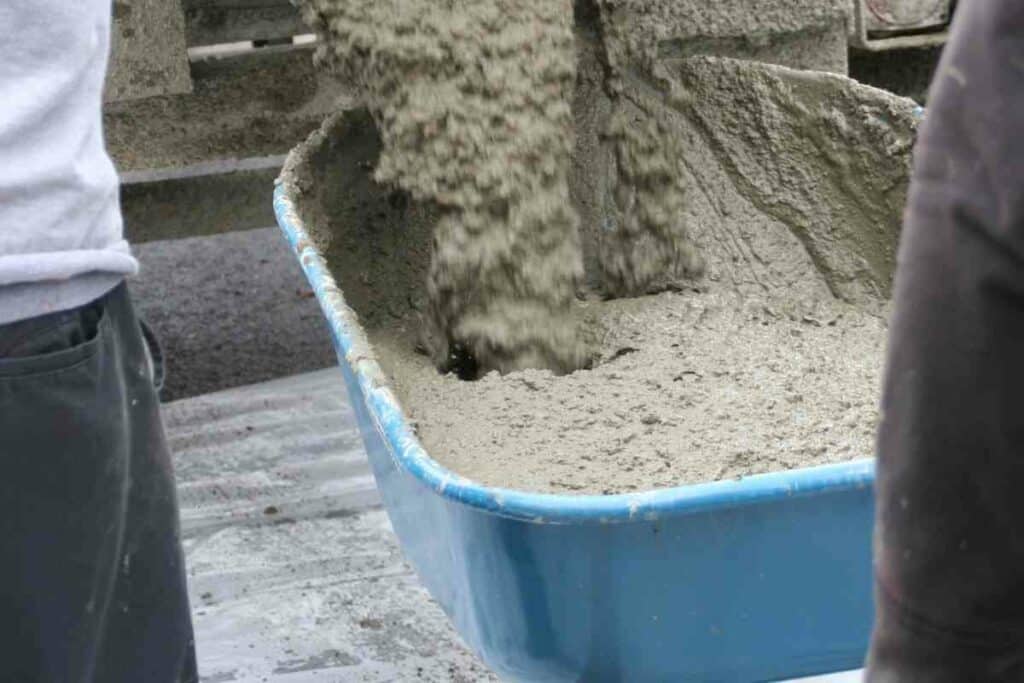 Remember, cleaning your wheelbarrow increases its lifespan. However, be careful not to scratch the top coating. This layer protects your wheelbarrow from rusting.
How should I store my wheelbarrow?
If you do not have a wheelbarrow rack in your garage, you can tilt the wheelbarrow against the wall.
Alternatively, you can drill some screws on the wall. Also, you can leave it standing, especially if your wheelbarrow has batteries that could spill when left hanging.
Bottom line
Sturdiness is the main feature to watch out for when buying a wheelbarrow for concrete. However, the wheelbarrow should also be stable, easy to handle, and have sufficient hauling capacity.
Most importantly, the size of the wheelbarrow should match your stature to avoid overstrains or frequent stops as you pull or push materials around your construction site.
A single wheel cart is easier to maneuver, but a 2, 3, or 4-wheeled wheelbarrow offer more support, hence better stability.
Regardless of what you want, you can choose from the assortment of the best wheelbarrows for concrete we have provided.
Also Useful