While having a garden or a big backyard is great, it can get messy, muddy, and even a bit chaotic at times.
Seeing patches of dirt might make you start wondering if there are solutions to cover up all the dirt spots in your backyard and create a lovely landscape but still remaining on budget.
This is why we've prepared a quick list for you covering the most budget-friendly ideas to make your backyard both attractive and dirt-free.
So, without further ado, let's delve into the list!
The best cheap ways to cover dirt in your backyard are with shingles, organic mulch, recycled bricks, gravel, wood or composite decks, by building a water pond, by using natural grass, or by using artificial grass.
8 Ways to Cover Dirt in Your Backyard
Isn't it time to have a neat, dirt-free backyard?
Here are some creative, efficient, and inexpensive ways that would cause an interesting transformation to your backyard!
1. Shingles
Even though we're used to seeing shingles as a roof cover, they can be a practical solution as a yard walkway.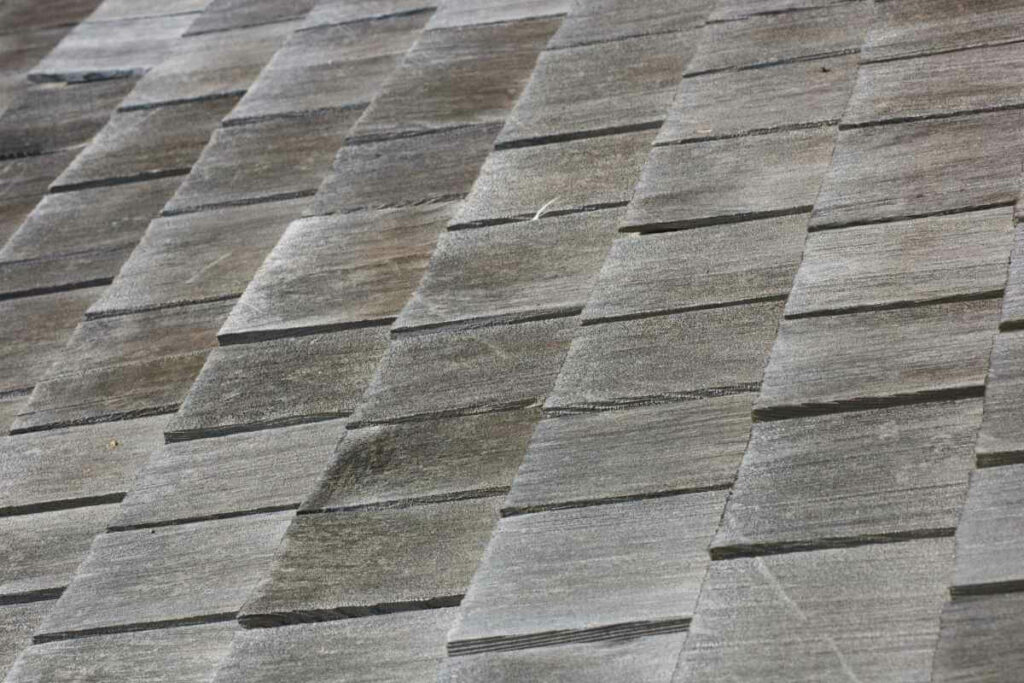 You can find them in different sizes and materials, and they're perfect as a parking spot, a driving track, or even a sideway for pedestrians.
However, they should be carefully installed so that their edges won't split.
We also advise that you choose quality materials if you're going to use shingles.
---
Aesthetically Speaking: Their neutral color can offer you the possibility to decorate your garden any way that you'd like.
---
2. Organic Mulch
Here you have a natural method to cover up the soil, which will benefit you in several ways.
This is because mulch:
prevents weeds from developing
increases pest resistance
reduces water needs
improves soil quality
protects roots from extreme temperatures
You can use wood chips, hay, straw, shredded leaves, or pine needles as organic mulch.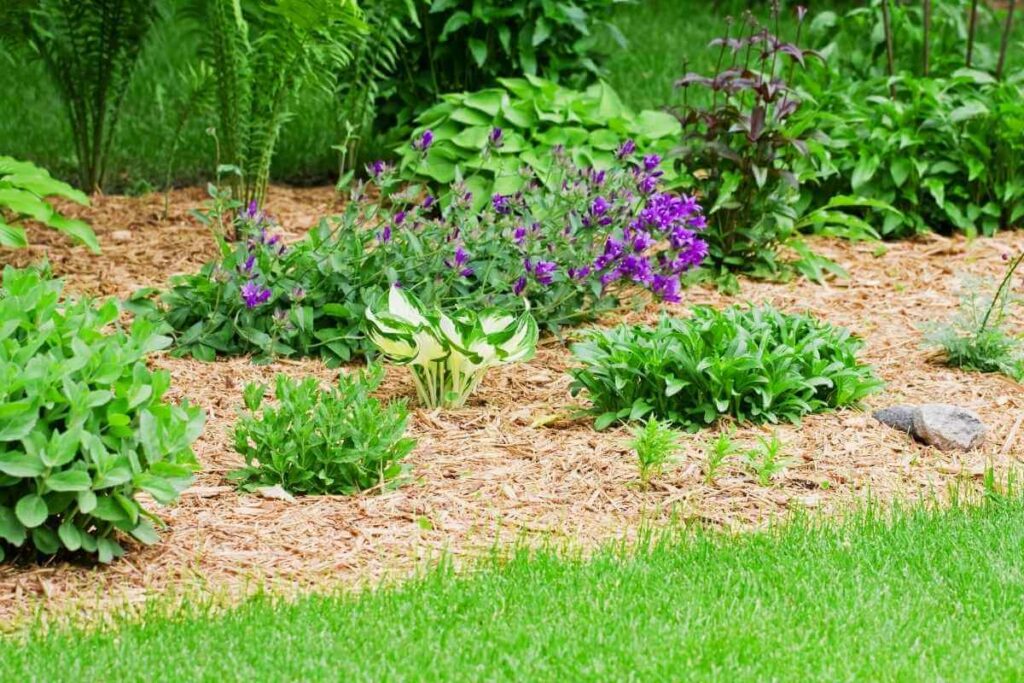 Let's have a look at some types:
Wood chips. They're the most popular type of mulch since they are inexpensive and decorative. Wood chips are usually dyed black, brown, or red to go with the garden décor.
Straw. Besides covering the dirt, straw is an ideal option to grow plants and vegetables in your garden. It decomposes relatively slowly, can be easily cleaned, and is great for overall moisture retention.
Shredded leaves. It's a type of mulch you can get for free by collecting leaves around your yard. You can even use un-shredded leaves, but they may look a bit messier. However, shredded leaves don't last as long as the other mulching options, but because of how easily you can gather more you can renew them as often as you wish.
3. Recycled Bricks and Pavers
Instead of buying a great deal of new material, you could try recycling bricks or pavers from old sidewalks and driveways, which will make your yard an eco-friendly space for your friends and family.
On top of that, you could spice it up with some potted plants, a table, chairs, or a patio umbrella.
4. Gravel
Gravel paths can be easily constructed since they don't need to be set deep.
However, you'll need to build a steel edge all around because it can be movable.
After constructing your chosen gravel path, you could install a fountain or put in the patio furniture of your liking.
One of the perks that we like about gravel is that it doesn't contain any nutritional value, so it won't attract any insects that may harm your plants.
5. Wood or Composite Decks
If you go with this method, you'll add a warm feeling to your outdoors.
In addition, your yard will seem more lively and organized as you could build an entire wooden plateau.
Also, when picking out wood for your deck, you can choose from a whole range of colors and patterns to match your house décor.
Plus, you could use the wooden area in the summer days for parties, dinners, or just to enjoy a quiet afternoon in an appealing setting.
6. Build a Water Pond
Have you always wanted a mini-lake in your backyard but never got around to building one?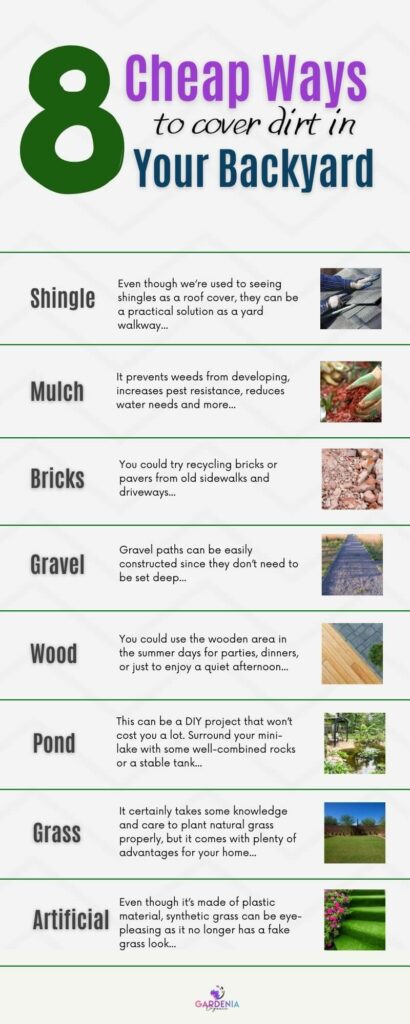 Well, you may as well make your dream come true!
This can be a DIY project that won't cost you a lot:
First, you need to put in a base, fill the ground with water, and build up across its perimeter.
Then, surround your mini-lake with some well-combined rocks or a stable tank and add colorful flowering plants.
Finally, enjoy the paradise you just created in your garden!
7. Natural Grass
It certainly takes some knowledge and care to plant natural grass properly, but it comes with plenty of advantages for your home.
It's one of the healthier options for your family and the environment since it produces an incredible amount of oxygen.
It's also highly hygienic since it filters dust from the air and purifies water. Its fresh smell can please the senses, and a short barefoot walk on it can reduce stress.
---
Even Better: With the proper maintenance, the natural grass will entirely upgrade the quality of your landscape.
---
8. Artificial Grass
Even though it's made of plastic material, synthetic grass can be eye-pleasing as it no longer has a fake grass look.
One great advantage is that you won't need to water it or worry about pesticides or fertilizers. It can also be easily installed throughout all your outside space.
And let's not forget that you could get an evergreen garden. On the other hand, its installation can be costly, and it will require regular maintenance.
Furthermore, the chemicals it contains can be harmful to people and the environment.
It can also diminish or kill off the life underneath, making it rough to switch to natural grass.
Final Thoughts
Maybe you've been putting off dealing with your yard because of your busy schedule or your concern about the expenses.
However, as you can see, there are a lot of options and ideas that won't either consume your time or wallet.
Taking care of your backyard can be an enjoyable hobby that would pay off later; just imagine how relaxed you'll be while sitting in your organized, attractive garden.
So, find out which way does it for you, and start making that backyard transformation.
Useful to Read