If your conventional lawnmower is becoming covered with overgrown grass in some shady and forgotten portion of your garden, an automated lawnmower could be just the solution.
These ingenious robots can automatically mower your lawn, keeping it healthy and carpet soft at a height. 
For the amount of work they do, these bots can look rather small and do not have an onboard receptacle for grass clippings.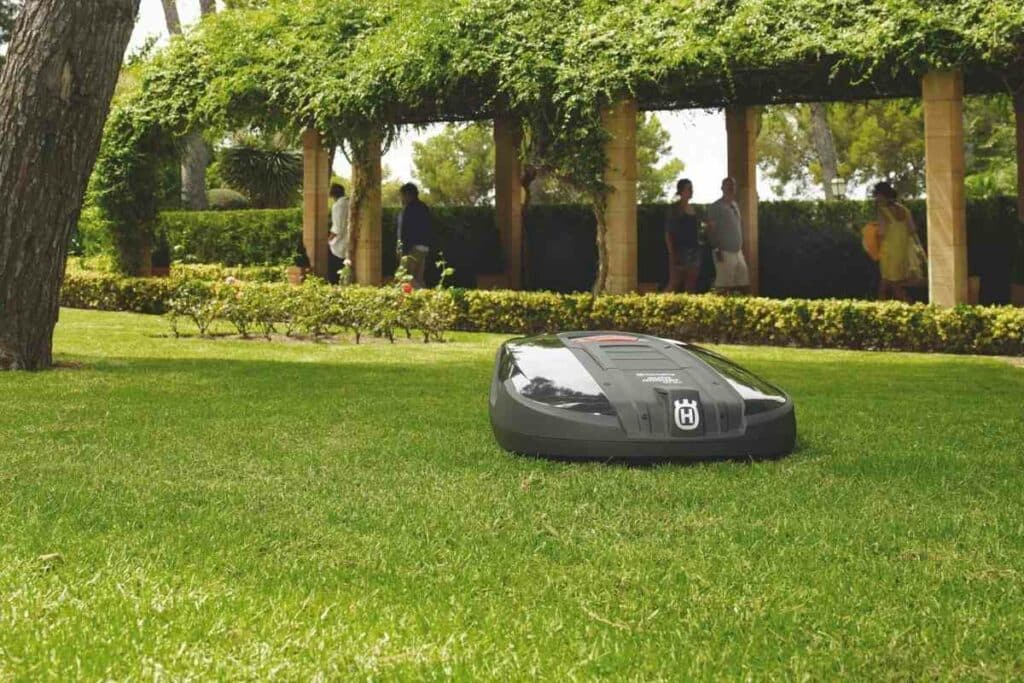 If you have a large lawn, you may be sceptical that these little bots are up to the job. 
But in this article, well reassure you that robotic mowers are capable of covering gardens of any size.
We will outline how much area robot mowers cover, providing examples of some great mowers for gardens of every size and tips for selecting the ideal robotic mower.
Robotic mowers can cover all sizes of backyard
Robotic mowers are designed to automatically cut the grass they encounter, irrespective of the size of the lawn. They have powerful motors and ultra-sharp cutting decks that cut a specific width of grass as they roll around your garden. 
Once programmed they will continue to progressively cut until they reach the lawn boundary and change direction to cut another area. This zig-zag process continues until the total lawn area is covered.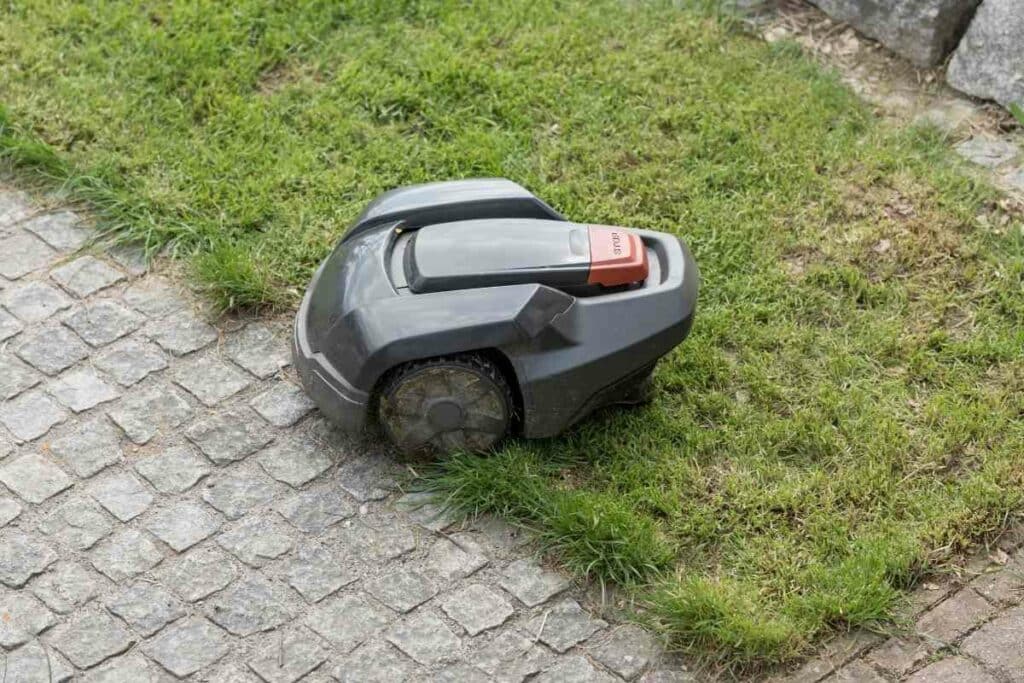 You can select a robotic lawnmower for a specific size of the lawn as manufacturers specify the maximum lawn area that can be mowed.
With the average lawn size in the US being 10,871 square feet (or just over 1000 square meters), your backyard can be readily mowed by a standard domestic lawnmower. 
Were confident that robotic mowers can cover any of the 40 million-plus backyards in the United States with ease!
This is because robotic lawnmowers come in a vast range of models that can handle everything from a small front garden to expansive grounds of multiple acres in size areas up to 5,000m².
These can also achieve full coverage of complex lawns that have remote, narrow passages using advanced technology and a range of high-specification features. 
Great examples of robotic mowers for small, medium and large garden lawns
Tackle a small lawn with:
RoboMow RX20
Technical specifications
Cutting width/height: 7 in (17.8 cm) adjustable cutting height 
Maximum lawn area mowed: 180 square feet (16.7 square meters)
Maximum gradient: 8.5 degrees
Battery: Lithium-ion
Weight: 27.9 pounds (13.5 kilograms)
Warranty: 1-year warranty
Description
The RX20 is a great example of a compact mower that is the perfect match for a small back garden. This cheery green beetle-like robotic mower even has a large cutting diameter for its size meaning that a compact lawn can be mowed quickly.
It is designed with convenient features that tackle lawn edges and narrow passages. 
---
For a medium-sized lawn this is a great pick:
WORX WR 165 S
Technical specifications
Cutting width/height: 8 in/ 1.5 in to 3 in (20.32 cm/ 3.8 cm to 7.6 cm) 
Maximum lawn area mowed: 5445 square feet (506 square meters)
Maximum gradient: 20 degrees
Battery: Lithium-ion
Working time: 3.5 hours
Weight: 49.9 pounds (9.07 kilograms)
Warranty: 3-year limited warranty
Description
This rugged mowing bot can tackle a medium-sized garden with ease giving it a maximum lawn area of over 500 square meters.
It also has reliable edge mowing, adjustable blade height and rugged wheels that can tack uneven ground and gradients. Onboard Wi-Fi connectivity means that this mower can be remotely controlled from the comfort of your home. 
---
This big bot is specifically designed for mowing expansive grounds: 
RoboMow RS630
Technical specifications
Cutting width: 22 in (55 cm) 
Maximum lawn area mowed: 21,780 square feet (2023 square meters)
Maximum gradient: 20 degrees
Battery: Lithium-ion
Working time: 80 – 100 minutes
Weight: 86.8 pounds (39 kilograms)
Warranty: 1-year warranty
Description
Robomow's robot mower for large gardens is one of the largest on the market with a cutting width of just under two feet! This hard-wearing robotic mower is the ideal choice for an expansive garden with varied terrain.
It can keep the grass growth of up to half an acre of lawns under control on a scheduled basis using alternating cutting and charging cycles of 100 minutes in length. Remotely control this juggernaut robotic mower using its proprietary app.
---
…and if you need it, these professional robotic mowers can mow a football pitch with ease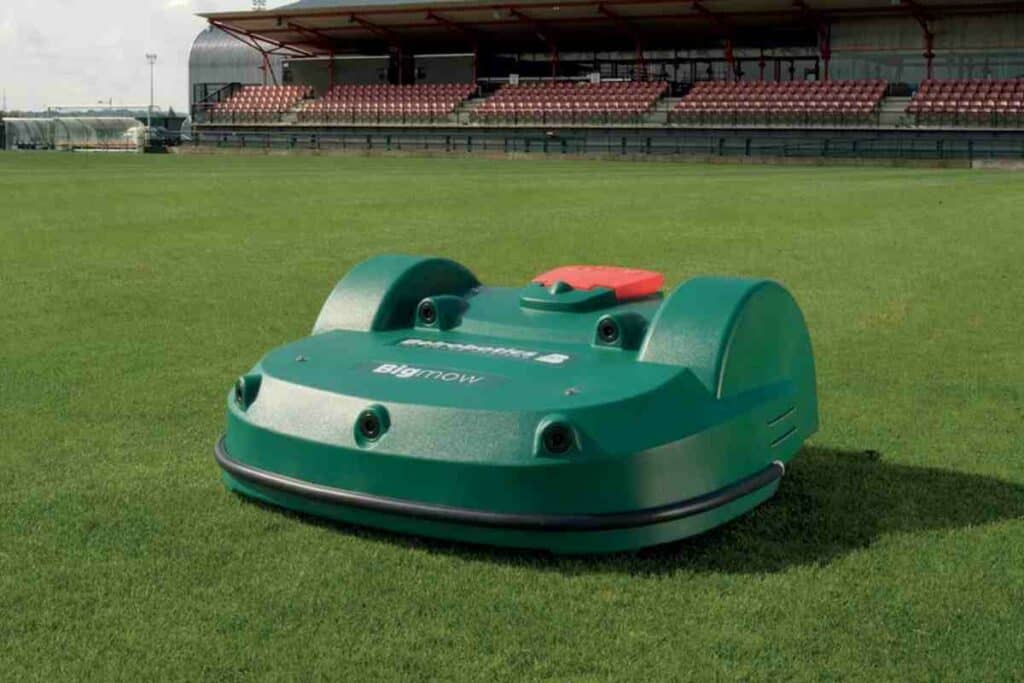 Technical specifications
Cutting width: 3. 37 feet (1.03 meters)
Maximum lawn area mowed: up to 24,000 square meters (12 acres)
Maximum gradient: 30 %
Battery: Lithium iron phosphate
Weight: 156.5 pounds (71 kilograms)
Description
The Bigmow by Belrobotics is the world-leading professional mower that is used to mow professional sports pitches, golf courses and large parks and gardens.
With a mowing capacity of up to 240 acres, the Bigmow exceeds its competitors with a cutting width of over 1 meter distributed across 5 independent mowing heads with 15 stainless-steel blades.
---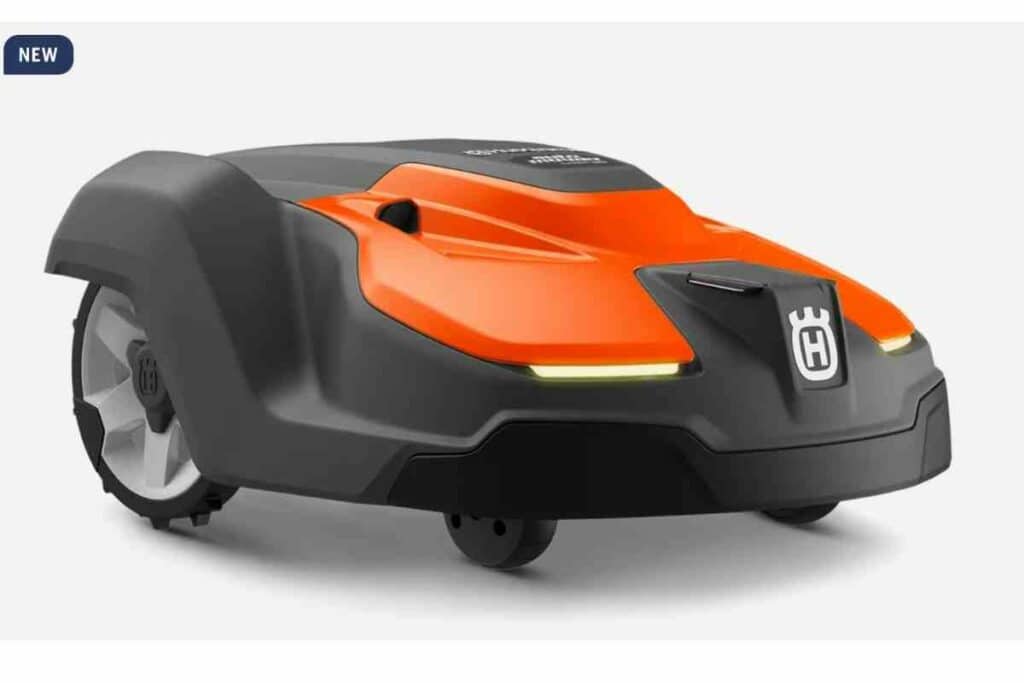 Technical specifications
Cutting width: 9.44 inches (24 cm)
Maximum lawn area mowed: up to 5000 square meters (1.23 acres)
Maximum gradient: 45 %
Battery: Lithium-ion
Weight: 31.7 pounds (14.4 kilograms)
Description
The Husqvarna Automower® professional range of mowers are designed to be operated as part of a fleet, that can be deployed to make short work of large grounds.
These professional robotic mowers have onboard virtual boundaries so that groundskeepers can set out specific work areas that the robot is to mow. This bot has an exemplary standard of cut that produces a consistent finish to the lawns even in wet conditions. 
---
While you are evaluating robotic mowers for their working area capacity also check for these essential features
The size of your lawn is not the only factor to consider when evaluating a robotic mower to buy. Also, look out for these three features that can make all the difference to the performance of a robotic mower on your lawn:
Gradients
Slopes, inclines and hills can be a major challenge for some models of robotic mower, which will simply give up and stop cutting your lawn.
If you have uneven or hilly grassed terrain, check the maximum gradient of any robotic mower you opt for. Most mowers have a maximum gradient of at least 8.5% and some as much as 40% which is ideal if your lawn is sloped. 
Mowing time
Getting the lawn mowed by a robot is a far more laid back affair than using a regular push-mower or ride-on.
These mowers can take ten hours or more to complete mowing their maximum lawn area. Check the amount of time, the mower will mow before requiring recharging and its speed to get an idea of how quickly it will get your lawn done. 
Rounding up
Robotic mowers deliver exemplary grass-cutting performance on lawns of almost any size. They are an extremely useful invention that will save you hours of yard work and provide you with a carpet soft lawn.