Of course robotic lawn mowers are designed for professional use, including on golf courses.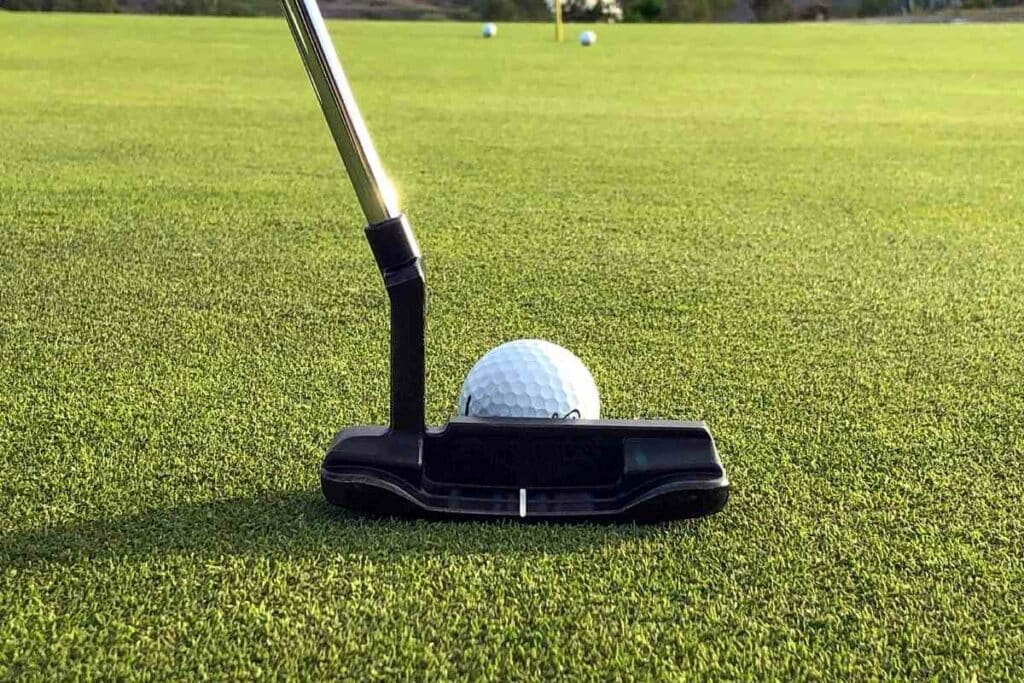 Leading manufacturers like Husqvarna, John Deere and Turflynx developed much of the core technology of automatic lawnmowers for commercial applications including:
Golf courses
Sports clubs
Football pitches
Cricket grounds
Parks and municipal gardens
Professional landscaping
In this article, we will look at the quiet revolution of robotic mowers working on golf courses across the world, including their benefits and what greenskeepers and golfers think of them.
All about Robotic Lawn Mowers for Professional Golf Course Use
To prove the point, take a look at these John Deere Fairwaymower 8900 A, an autonomous golf course mower tackle this pristine fairway:
Using pro robotic lawnmowers has transformed groundskeeping and landscaping, increasing the efficiency and productivity of the teams that take care of some of the world's leading golf courses. 
They provide an easy, cost-effective, and manpower-free solution for keeping lawns in perfect condition.
Automatic lawn mowers take over an arduous task with consistent results, leaving groundskeepers free to handle other responsibilities.
So it's no surprise that golf courses are keen to keep their semi roughs and fairways pristine with healthy, tidy grass a robot has mowed.
These Autonomous Golf Course Mowers Result from an Extensive Body of Research and Continuous Innovation
For example, Swedish company Husqvarna works closely with The University of Pisa in Italy to investigate their use in maintaining world-class sports turf.
They have found through extensive field testing that robotic mowers are well-suited to cutting golf tees and roughs, and confirm that they provide greenkeepers with valuable extra time for technical work.
Is a Robotic Mower the Best Solution for a Golf Course?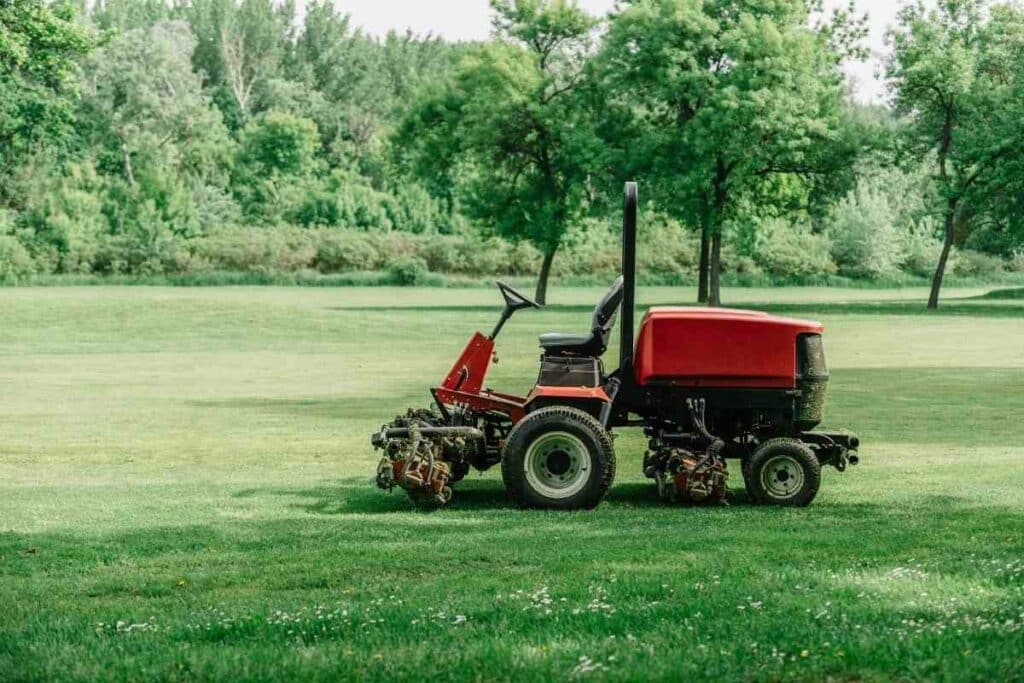 Automatic mowers for golf courses compare favorably with manual mowing options like:
Key considerations for robotic mowers for golf courses include:
The overall area in square meters
Slope
Energy costs
Benefits of Mowing Golf Courses with a Robotic Lawnmower
Robotic lawnmowers are an attractive option for golf courses because they deliver a wide range of benefits that can assist the golf course in its commercial operation.
Here are some of the leading benefits.
1. Using Automatic Mowers Can Be an Environmentally Sustainable Alternative to the Conventional Petrol Mower
As electrically charged, battery-operated devices, their operation is completely fume-free, with significantly lower energy consumption for the area mowed.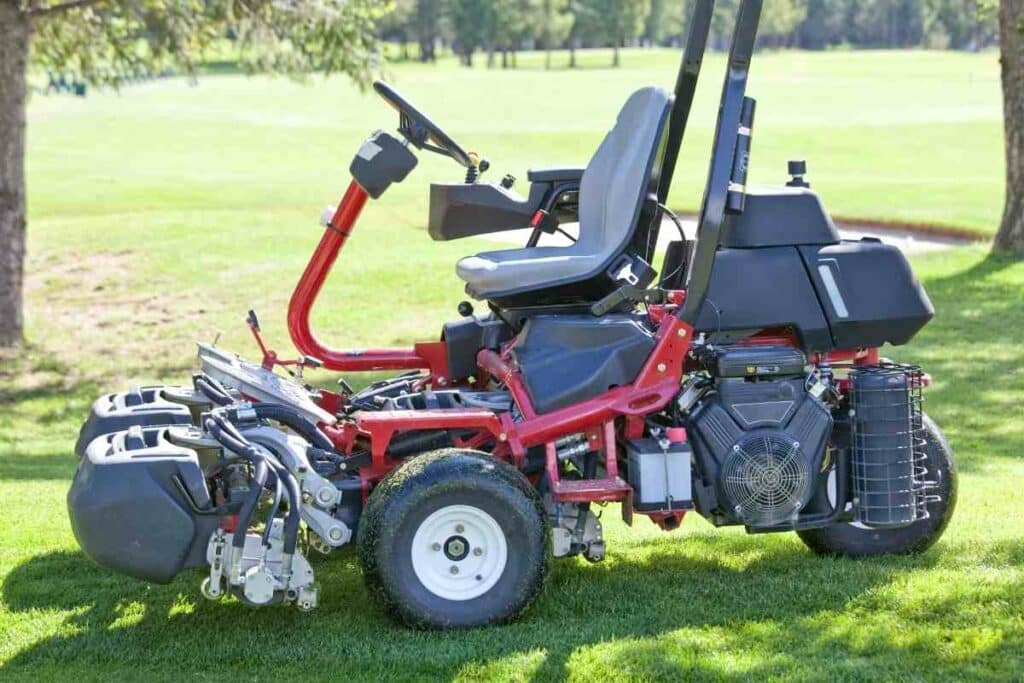 The mulching action of robotic lawnmowers is also great for the environment.
The powerful rotating blades of these mowers cut grass up into a fine mulch that is readily absorbed.
The water in these clippings reduces the requirements of the grass and also contributes to fertilizing the grass. 
2. Costs for Using These Professional Robot Mowers Are Also Greatly Reduced Compared to Conventional Mowing Alternatives
Robotic mowers have been in development since the 1990s.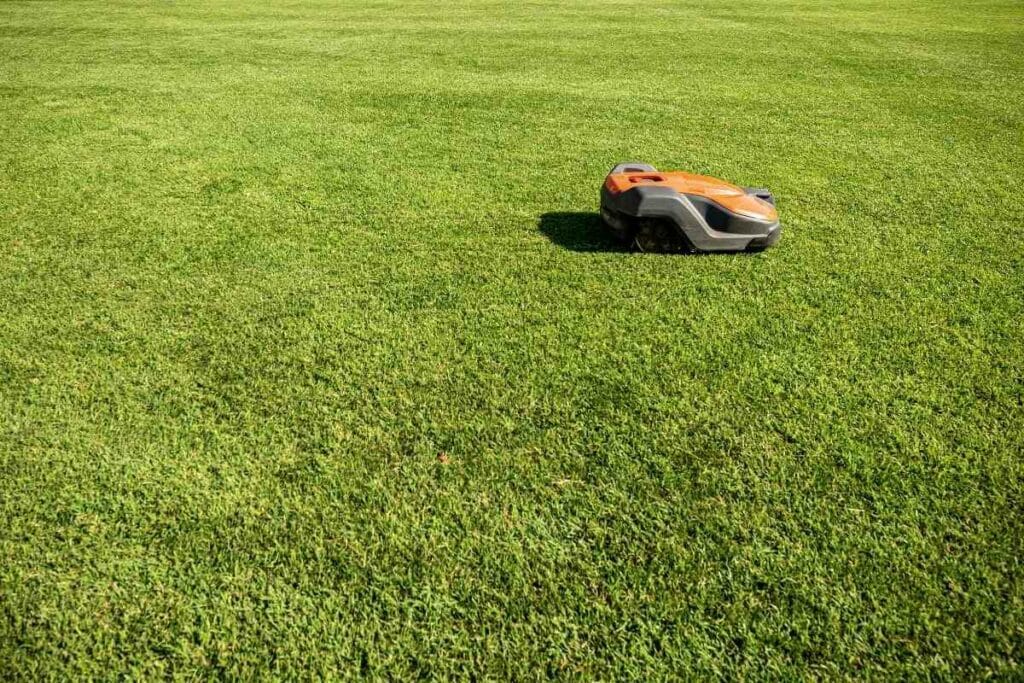 That golf courses are willing to use automatic lawnmowers, demonstrates their efficiency and professional level of service.
Fleets of these mowers can cover entire golf courses, working tirelessly to produce lawns that have been precision-cut. 
3. Professional Robotic Mowing Uses Advanced Technologies to Achieve Superb Lawn Care Conveniently
The specifications of professional robot mowers are far more advanced and powerful than domestic robot mowers.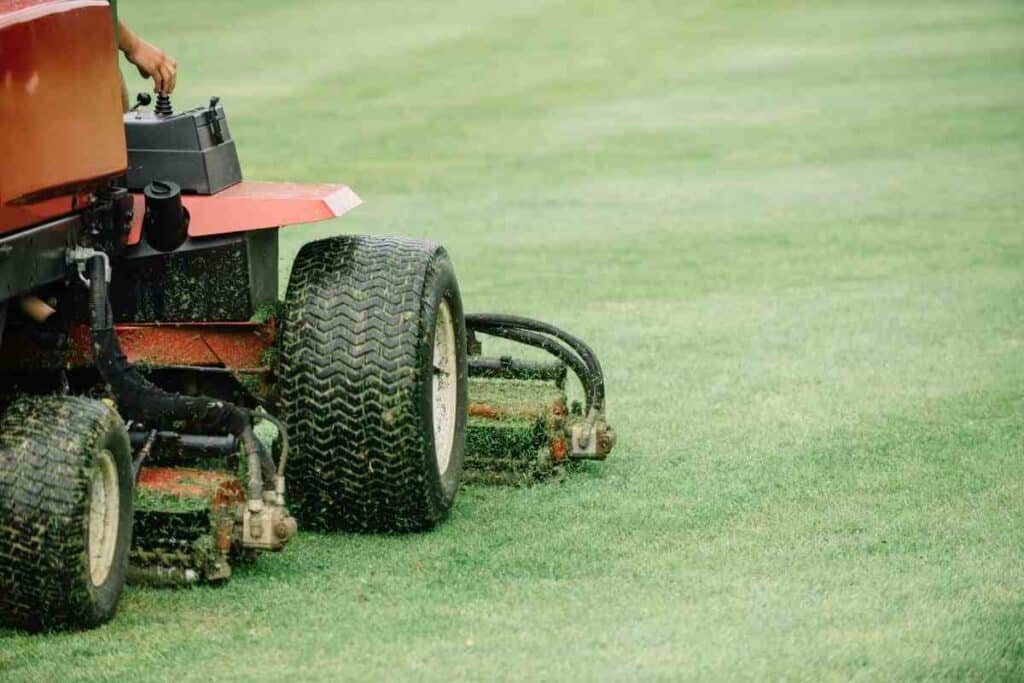 Most home robotic mowers are reliant on an installed boundary wire that the mower can detect.
For a large territory like a golf course, satellite-guided professional robot mowers, work within programmed virtual boundaries. 
GPS-guided Mowing Is the Most Advanced Robotic Mowing Technology
These GPS-guided mowers can be programmed remotely using a map-based software application that tells the mower where to mow, and where it should not with centimeter accuracy.
GPS depends on the mower being able to achieve full exposure to the open sky so it can receive its instructions.
A 4G smartphone and cellular or WiFi connection enables groundskeepers to designate mowing areas, plan the mowing schedule, and monitor the performance of the robot.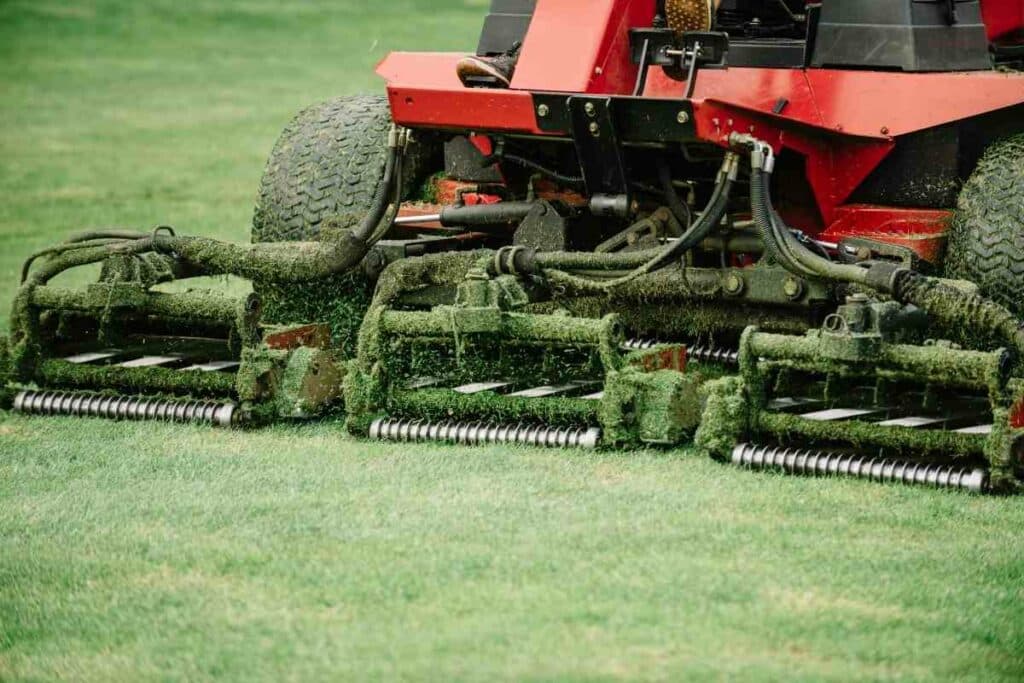 Automatic golf course mowers can mow grassed areas of all sizes without the effort of demarcating a physical boundary.
The wire-free function of pro robotic lawnmowers adds significant flexibility to their deployments and makes managing greenspaces of any size and dimension very simple.
The absence of a boundary wire means that you can aerate, scarify and repair turf without concern for breaking wires.
Hands-free Monitoring and Maintenance
The leading manufacturers of professional lawn mowers come with digital management tools and remote troubleshooting rather than heavy manuals.
Personnel can remotely review battery capacity, service history, and settings from a phone, tablet, or computer, with automated notifications of upcoming service requirements.
4. Golf Courses Can Run Fleets of These Robots to Keep Their Grounds Pristine 24/7
Golf courses run fleets of robot mowers that automatically cover the entire golf course according to their programmed schedule.
Groundspersons and greenkeepers can manage a fleet of these mowers from their smartphones activating and deactivating the grassed areas that need a mower's attention.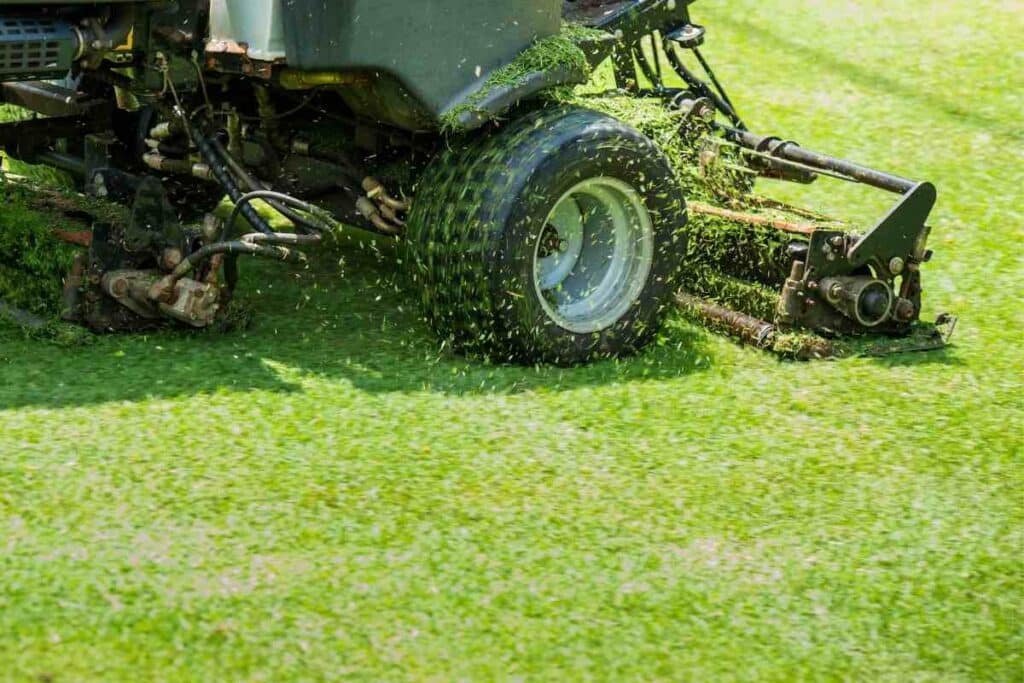 This flexibility means these robots can be discreetly at work even while the golf course is in use with a temporary stay-out zone. 
Data on the condition and performance of a professional robot mower is also readily available using a range of proprietary digital management tools and platforms.
The mower can alert the greenkeeper if it has specific faults or if servicing is due.
These features enable golf courses to stay as productive and profitable as possible. 
5. Professional Robotic Mowers Can Handle a Wide Range of Terrain and Conditions
These rugged automatic lawnmowers can move over a variety of surfaces including asphalt, and gravel to get to the lawned areas that require attention.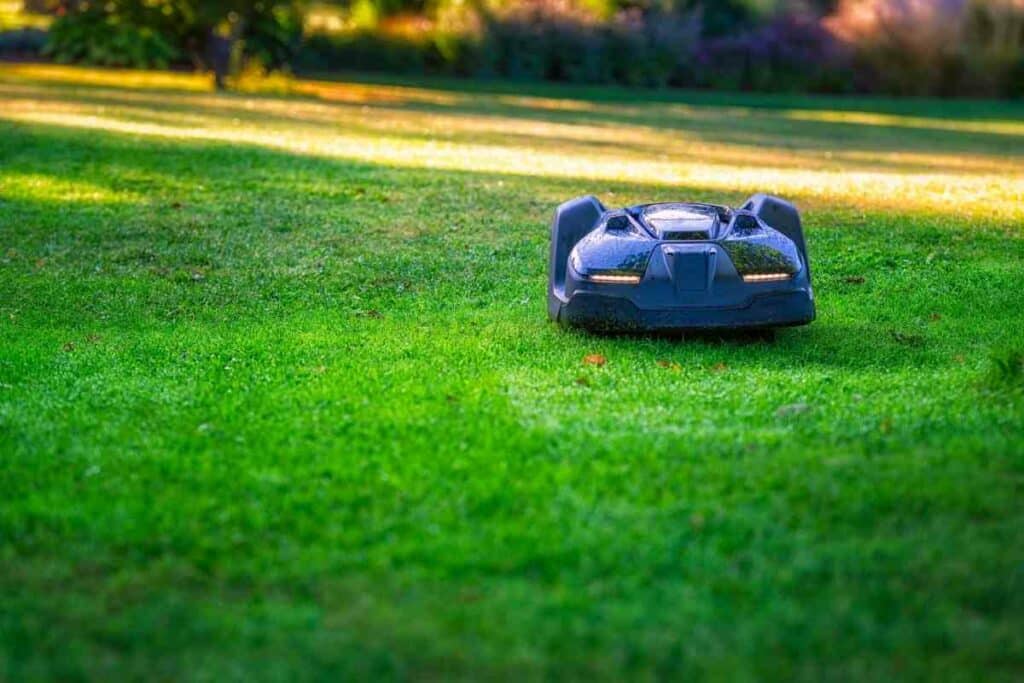 Robots also provide excellent function mowing throughout the day and night and even during rain.
If obstacles or hazards are encountered a constellation of onboard sensors is activated to stop or change the direction of the mower. 
Safety First
Sophisticated security features also prevent unauthorized handling of the mower, with most units immediately becoming locked if stolen.
For such an expensive piece of equipment, GPS tracking is also a valuable safeguard as the onboard antenna will transmit the mower's position.
The Best Greens in the World Now Use Robotic Mowers
Golf courses are now undertaking their turfgrass management with automatic mowers because of their reduced environmental impact from using electricity.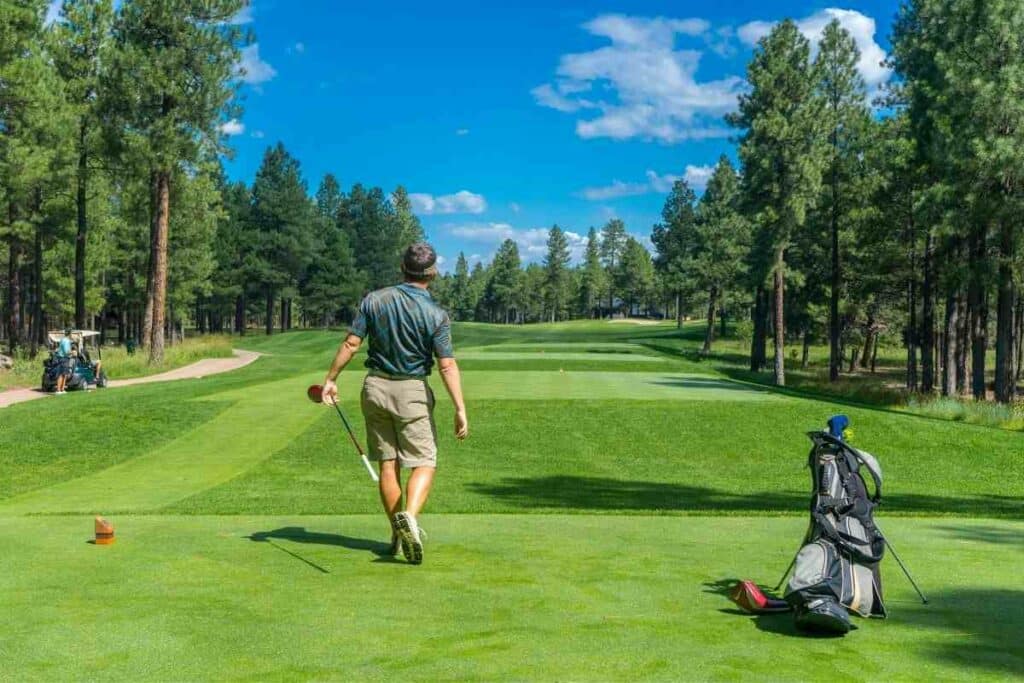 These mowers are ultra-quiet and cut precisely with sharp pivoting blades.
Low noise from the mower is also desirable as they can work without affecting the ambiance of the course. 
Autonomous Golf Course Mowers Can Meet the Exacting Standards of the Golf Course Greenkeeper
Pro robotic mowers are designed and engineered to deliver outstanding results.
With only 3 razor-sharp blades and an adjustable mowing deck, the quality of cut they can achieve exceeds conventional mowing options.
The mulching action breaks down the grass clippings into an imperceptible mulch that nourishes the carpet-like finish achieved.
Golfers appreciate the velvet carpet finish created by these mowers, that feels great underfoot.
The relatively low weight of the mower means that the finish is perfect, with no tracks left behind. 
Golf Courses Use Robotic Mowers Because They Free up Valuable Time
The return on investment in the form of recouped man-hours is significant.
Groundsmen and greenkeepers can focus on areas of grounds management that make a significant difference to the golfers.
The Maintenance Needs of These Mowers Are Massively Reduced Compared to Ride-on or Push Mowers
They can automatically return to their charging point, charge their batteries, then resume their mowing schedule.
Their hardy functioning and long-lasting electric motors give them a long service life meaning personnel do not need to service them regularly, saving more money and time.
Golf Courses Are Even Using Robotic Mowers to Mow Their Fairways
The fairway has to be kept meticulously, which requires continual attention from specialist groundskeepers.
Autonomous golf course mowers were first used in the golfing industry for cutting semi-roughs, which did not have the same demand for precision as fairways.
But modern mowers are achieving a quality of the cut that not only impresses greenkeepers but players too.
Some mowers are specially designed or adapted to mow fairways with an ultra-low cutting height of 10 millimeters that can be continuously maintained.
Quality Mowing Consistently
Many groundsmen get frustrated by the tracks and clumps that cylinder mowers can create, especially when it is wet.
So the compaction-free mowing of these robots is greatly appreciated.
And as they can be programmed and left to keep fairways and roughs looking their best and ready for golfers at all times.
What Do Golf Courses Think about Automatic Lawn Mowers?
Here is the feedback of a golf course in Germany on the robotic mowers they use:
The golf course is using seven Automower® robotic mowers on the practice range. Everyone is fully satisfied with the result. From the greenkeeper to the Management and – not to mention – the golfers. "The practice range is always of top quality", says Lars Lammich, Marketing Director Golfrange, München – Brunnthal, Germany

Husqvarna professional robotic lawn mowers
Rounding Up
The cost of robotic lawnmowers had been a significant deterrent to businesses like golf courses that could not make the initial outlay. 
But over time this outstanding technology has become more affordable, making their value proposition to even smaller golf clubs hard to ignore.
However, with time and improvements in technology, autonomous golf course mowers have become more widely used, with costs falling dramatically.
A professional golf course mower can cost upwards of $4000, but the investment can prove to be a profitable one because they reduce labor costs and can help solve the shortage of workers in commercial lawn and turf maintenance.
You Might Also Like