If you live in a snowy region, news of the next blizzard means getting ready to clear your driveway.
There are different snow removal equipment you can consider. Getting a snow plough attachment is an easy way out for those with a lawn tractor.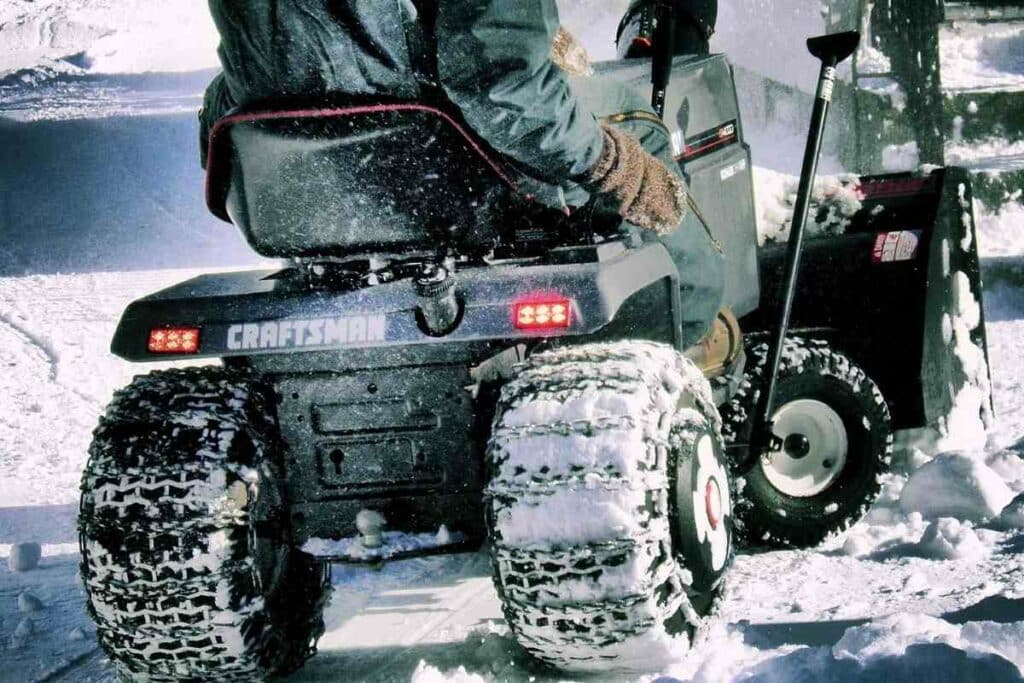 That way, you don't have to buy a snowblower, which would cost you much more.
You permanently save yourself the hard work of shoveling and the time spent to do it.
If you're looking to buy a snow plough for your lawn tractor, here are 7 of the best you can get.
Some are specific to the brands or tractors, while others can be used on different tractor brands.
This is an excellent plough to consider if you have a zero-turn mower.
While it's a perfect fit for the Cub Cadet, it's designed for a universal fit on zero-turn mowers.
Its mounting system is also easy to use.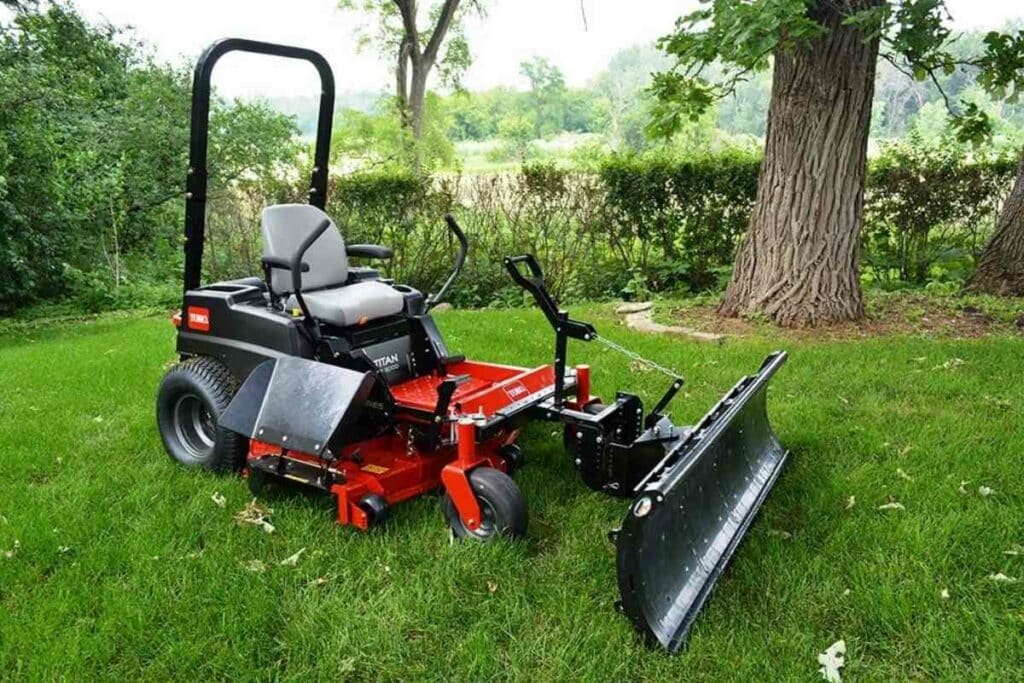 This lightweight blade is available in 49" and 64" blade width options. Due to its rounded edge, this plough can glide over rugged surfaces.
This includes cracks in the sidewalk, paver bricks, uneven stone walkways, gravel, and soft turf and grass.
And it doesn't just plough snow; you can also use it around the year to clear other materials such as yard waste and sand. The blade is also reversible, a factor that increases its life span.
As you operate this plough, you may be uncertain about how much weight it can carry.
For this reason, the plough features a spring reflex action that springs forward to warn you of excessive weight.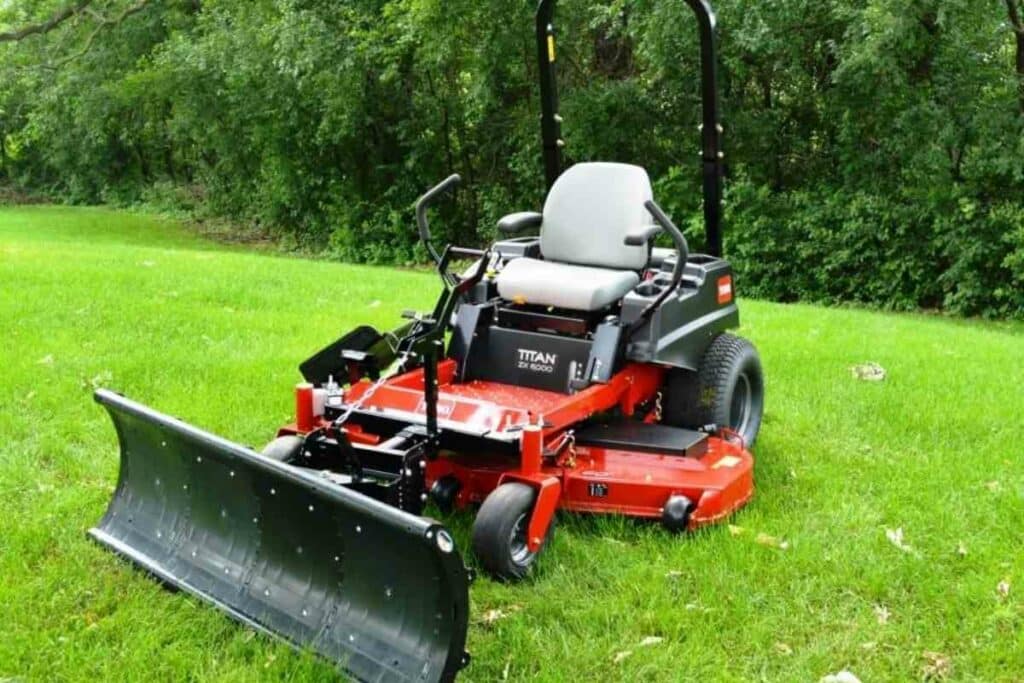 That way, both the plough and your lawn tractor are protected from damage.
The Nordic plough has a floor-mounted foot pedal to operate it.
You can raise, lower, or pivot the plough to five adjustable positions.
The Nordic zero-turn mower plough is made in the USA and is very durable. It also comes with a 1-year limited warranty as an assurance.
2. WARN 78954 ProVantage 54 Inch Straight Plow Blade
While this blade is built for ATV use, you can also use it on your lawn tractor.
It's essential to note that this package only includes the blade.
You need to buy a tractor-specific mount and push tubes separately to have a complete plough system.
With 12-gauge steel, the blade quality is superior, meaning it will serve you longer.
The metal is ribbed, which increases the blade friction, reducing the chances of slipping on ice.
Additionally, the blade has a special powder coating that prevents substances from sticking to it. 
The blade also stays in place with low chances of bending with the help of a cross member placed at the middle.
In addition, the blade rotates smoothly while running due to its specially made pivot assemblies. They have a large diameter and are made to last long. 
This WARN blade has extra-large plow skids with a specific interest in high ground clearance.
You can also raise the blade to exceptionally high heights to clear the snow.
The blade will slide forward as a protective measure if you bump into a stationary object while ploughing. 
You can adjust the angle at which the blade pushes to snow as needed.
Also, depending on your terrain, you can increase or decrease the spring tension to get better results.
The blade is available in different sizes, from 50 to 66 inches. It is best to confirm the right size for your tractor before purchase.
3. Craftsman CMXGZBF7124441 42-Inch Snowblade
This USA-made snow blade is compatible with the Craftsman T200 and T300 series riding mowers. 
The blade is 14" high and can clear up to 8 inches of snow in sidewalks, paths, and driveways.
You can turn the blade left, right, or center when ploughing the snow.
Additionally, the snow blade can be turned using the blade lift that is easily accessible from the seat, thus saving you time.
The Craftsman blade has a single adjustable trip spring on its rear end, which helps with obstacles.
Due to the trip spring, the blade can ride over the block, hence protecting it. It also has a replaceable scraper head and skid shoes to protect the blade head further.
Attaching the blade to your mower is pretty straightforward, and you require no tools.
You only need tools in the initial installation of the mounting bracket.
After that, both attaching and removing the blade is a tool-free process.
Due to its 14" by 42" dimensions, this craftsman blade is easy to store.
The blade is also high-quality and durable as it's made of 13 gauge steel.
To further assure you of its quality, the blade has a 3-year limited warranty.
4. Husqvarna 48" Snow Blade
If your Husqvarna tractor was built in 2007 or after, this would be the right snow blade for you.
It's ideal for residential snow removal activities.
One of the best things about this snow blade is that it's 50% pre-assembled, therefore, easy to set up.
In fact, after installing the mounting bracket, you will not need to use tools.
To operate the blade, use its self-supported lift control shaft, which you can reach from your tractor seat.
Using the lift, you can raise or pull down the blade and turn it left or right up to an angle of 30 degrees.
This Husqvarna snow blade comes with movable skid shoes plus a replaceable scrapper bar.
These are pre-fitted on the snow blade reducing your work.
This blade is durable and is coated with yellow dichromate making it rust-resistant.
This is one of the snow ploughs that perfectly fits different tractor brands. It's compatible with the following lawn tractors:
John Deere 100 series
Cub Cadet XT1 and XT2
Husqvarna
Most garden tractors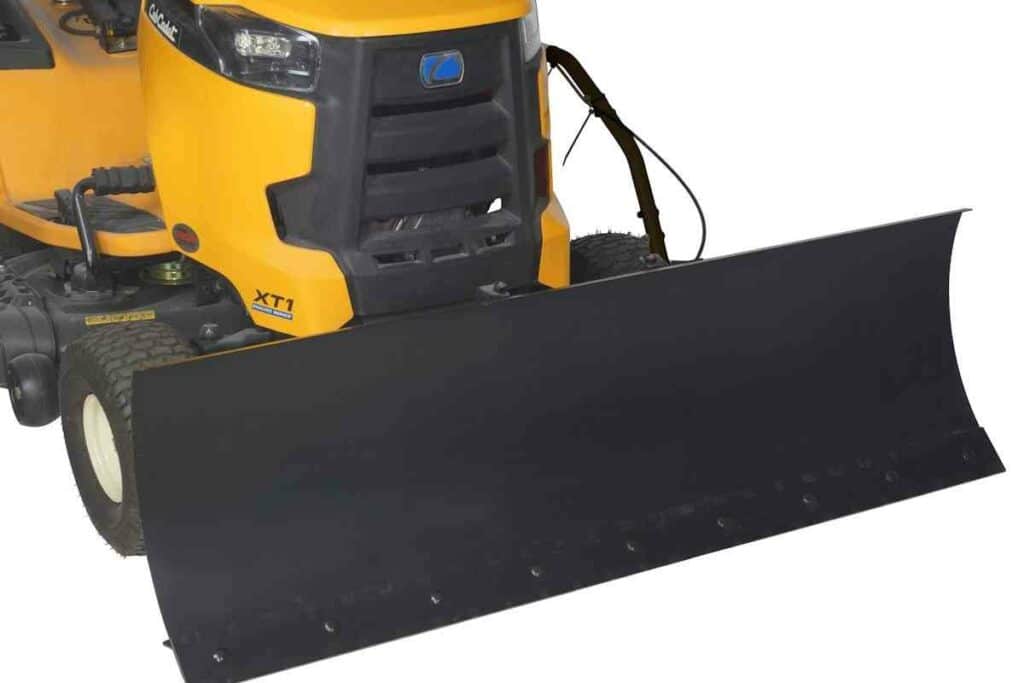 The blade is 46 inches and is made of 11-gauge steel. You can use it throughout the year to push snow, ice, sand, and dust.
This is possible due to the two steel bars available in the kit, one for snow ploughing and the other to level dirt or landscape.
You can easily attach and detach the plough from your tractor using four bolts.
You operate the plough using the adjustable hand lift. The lift adjusts the blade to three different angles depending on your ploughing direction.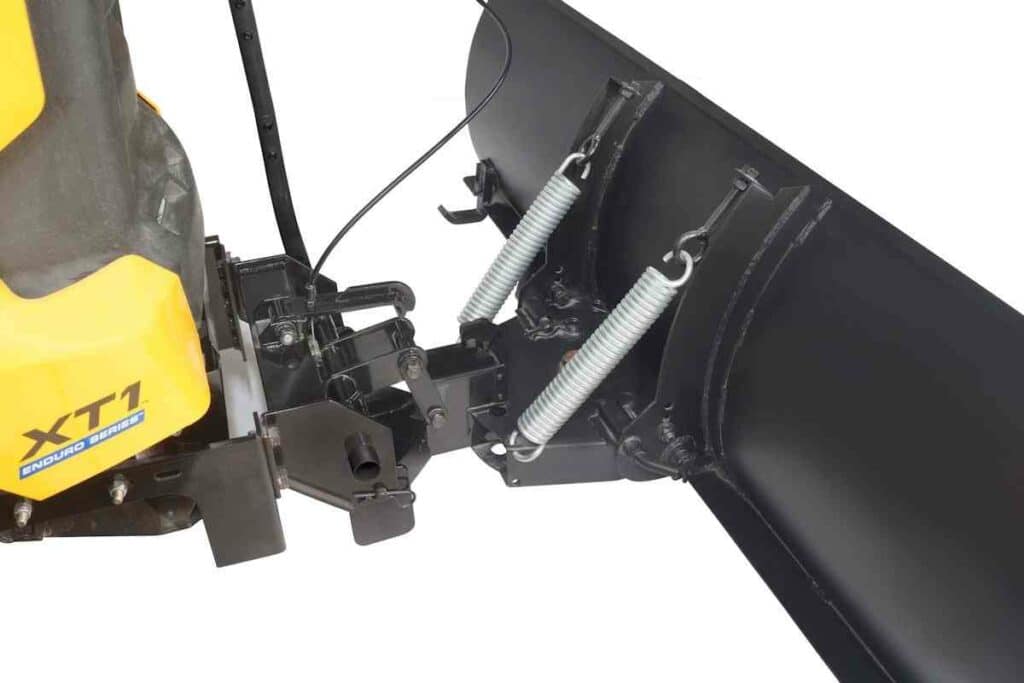 There is low tripping risk when ploughing dirt as the plough has heavy-duty adjustable trip springs and a lockout blade.
The blade also has height-adjustable skid feet. This is a good quality plough, and it comes with a 2-year warranty.
6. Ohio Steel SP5A 60 Inch Zero Turn Snow Blade
You should consider this snow blade if you have a zero-turn mower whose mount position is in the middle.
It is 60 inches wide and is best for light plowing tasks.
Controlling it is simple as it has a foot pedal that you can use to steer it up, down, straight, left, or right.
For protective purposes in rough terrain, the blade has some skid shoes whose height you can change as needed.
Once the shoes wear out, it is best to get new ones to keep your blade and tractor safe. Another critical part you need to replace if required is the cutting edge.
The blade doesn't have a fixed life cycle as it depends on how often you use it and the types of surfaces ploughed.
Therefore, you replace it when you notice wearing signs.
It is advisable to change both the edge and shoes simultaneously to increase effectiveness.
For setting up, the blade package includes brackets and bolts. You get a two-year assurance on limited terms on purchase.
7. Cub Cadet 46-inch Snow Plow Blade Attachment
This snow blade is compatible with the following Cub Cadet equipment:
Cub Cadet XT-1 and XT-2 Enduro Series Tractors 
Cub Cadet Series 1000 and 1500 LT lawn tractors
Cub Cadet GT lawn tractors
Cub Cadet LTX lawn tractors
The blade is 46 inches wide, making it ideal for ploughing a large area at once.
You can turn the blade to the left or right at an angle of 25 degrees.
The spring-loaded blade return protects the blade and your tractor from damage if the blade hits an obstacle.
Additionally, you can use this blade on a gravel driveway with adjustable skid shoes.
Assembling the blade and installing it on your lawn tractor is also straightforward.
What You Need To Know About Attaching a Snow Plough to Your Lawn Tractor
In preparation to turn your lawn tractor into snow removing equipment, here are a few things to note.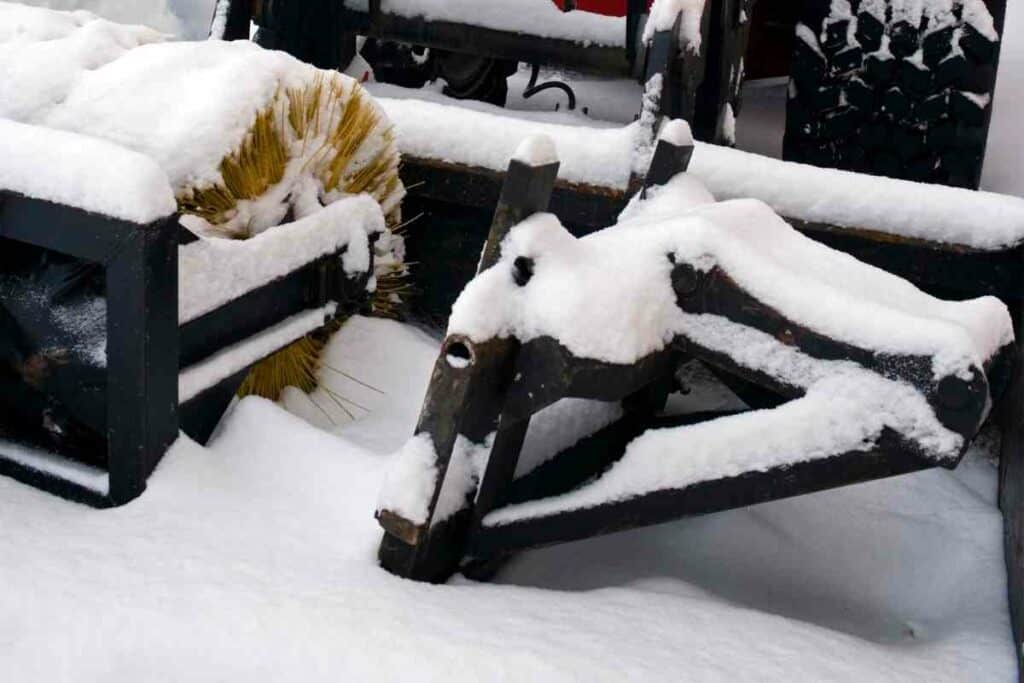 Removing the Blade Deck
First, remove the blade deck to create space to attach your blade.
You need space for both the bracket and the attachment. Removing the blade deck also gives you extra ground clearance.
Once the blade deck is removed, it is best to store it inside to prevent any damage by the elements.
Add Some Chains to the Back Tires
A snow removal job is not an easy task for your lawn tractor, and it may need some help.
Adding the chains to the back tires makes it heavier, thus enabling it to perform this difficult task.
The extra chains are significant if your tractor is non-4WD. 
Additionally, apart from adding extra weight, the chains give the tractor better traction.
This is critical if the area you're ploughing is narrow, steep, or has sharp turns.
Mount the Bracket First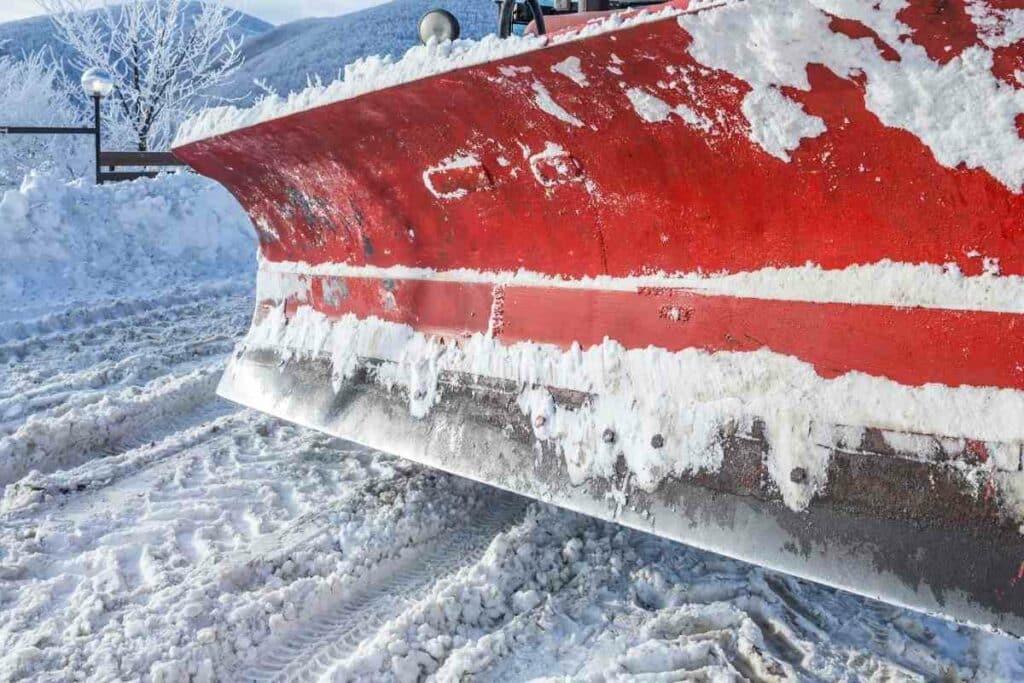 The plough blades usually come with brackets placed between the tractor and blade.
While installing the attachment, first start with the bracket. Ensure that it is well attached.
Then proceed to add the attachment. Usually, you may or may not need tools for that step.
Attach Other Rear Weights
To further eliminate the risk of slipping in the ice, you can add a weighted bracket to the rear of your tractor.
Also, add some extra weights to the bracket.
---
Alternatively: You can add wheel weights directly to the rear tires.
---
What to Look for When Buying a Snow Plough for Your Lawn Tractor
Here are some things to consider when buying the snow plough.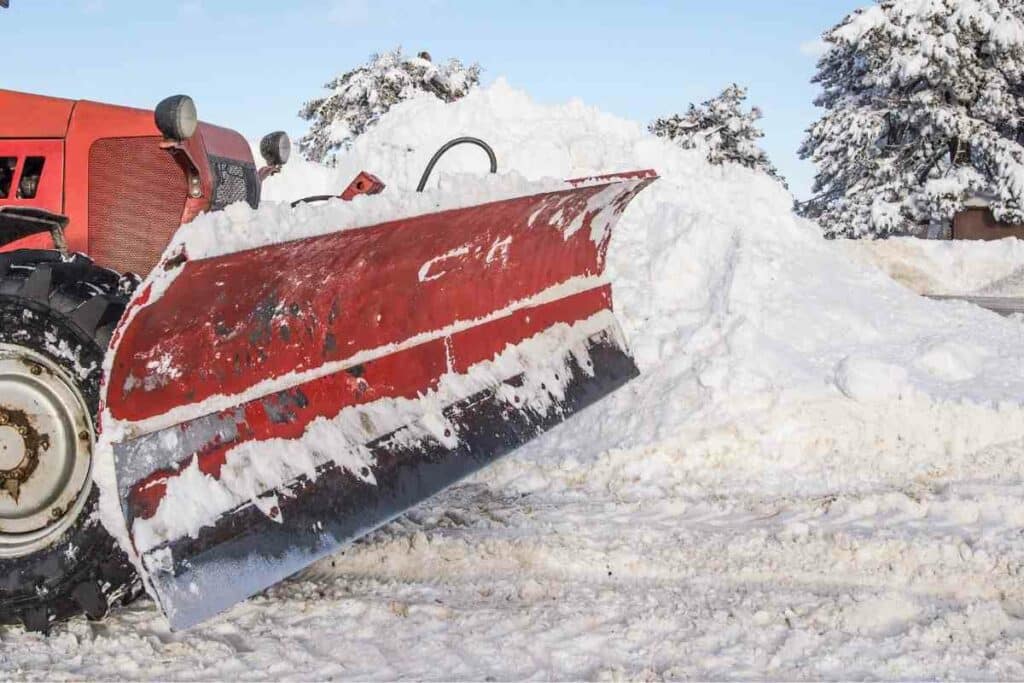 Consider Your Ploughing Area
If you are ploughing on a long driveway, pick a plough with a shorter width. A smaller plough allows you to maneuver easily.
On the other hand, if you are ploughing a road or a parking lot, a plough with a more extended width works best.
Compatibility
Ensure that the plough that you buy is compatible with your lawn tractor.
This is critical if you choose a different brand from your tractors'.
Plough Operation Preference
If you have different ploughs compatible with your lawn tractor, choose the one with the best specifications.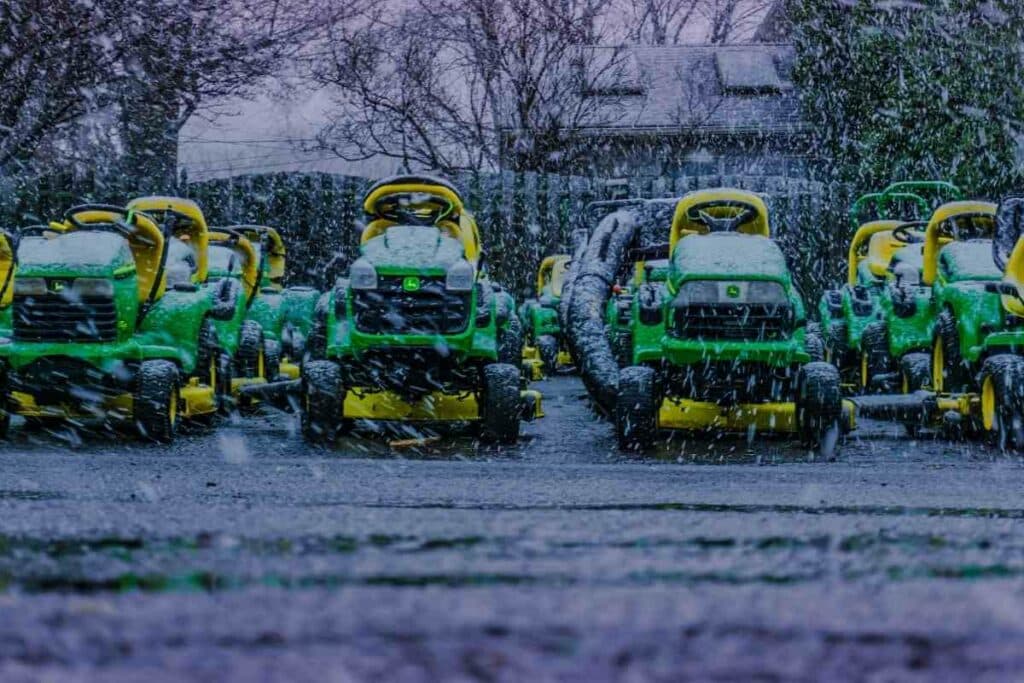 Check for details such as the number of adjustable positions available and whether you can operate it while seated.
This gives you an easier time when ploughing.
Ease of Installation
It is also best to pick the model that is easiest to install.
This saves you a lot of time. It also lowers the possibility of destroying parts while struggling to install them.
Quality
While you may be tempted to get the cheapest snow plough you can, it's best to go for quality although it might be expensive.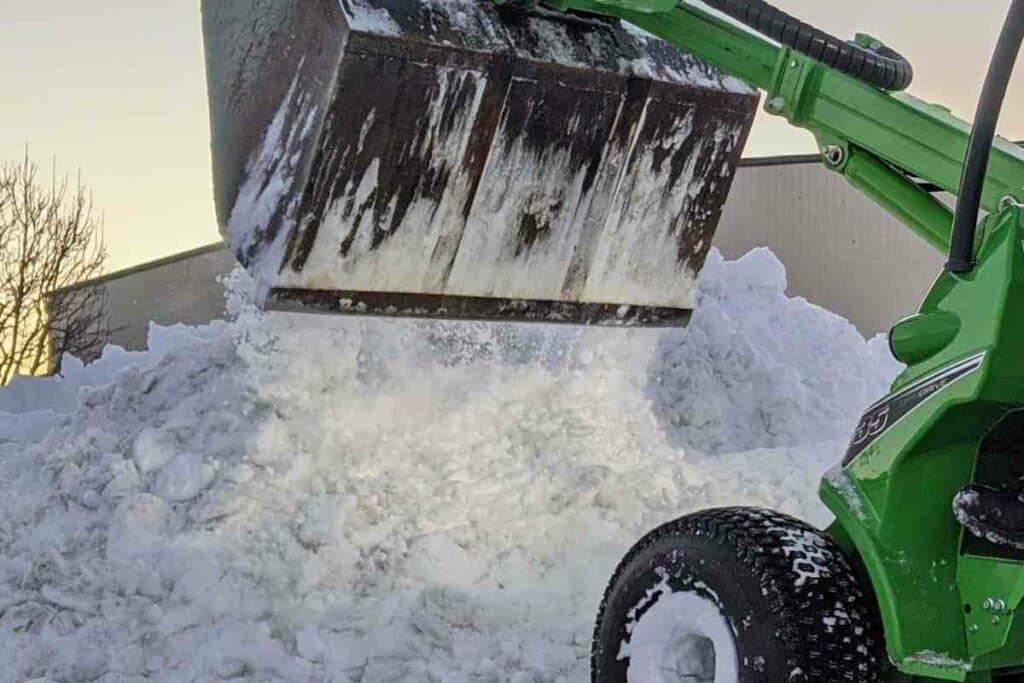 A good quality plough will serve you for a longer duration. It will also withstand challenging environments without breaking or denting.
A blade made with poor quality materials may also get corroded easily.
---
Eventually: You might find yourself buying another snowplough, which costs more in the long run.
---
Maintenance Tips for Your Snow Plough
Like all things, your snow plough also needs to be well maintained to serve you well.
Here are some plough maintenance tips to remember.
Do an Inspection
It is essential to inspect your plough parts to ensure good condition.
It is advisable to do so even before winter begins as this gives you time to fix any problems in good time.
That way, you will not encounter difficulties while ploughing.
Check Your Plough Shoes
If ploughing on complex surfaces, you also need to check your plough shoes and replace them when necessary.
Worn out plough shoes won't lift your snow blade off the ground.
Check all the Fasteners in your Plough
It is essential to check all the fasteners in your plough and fasten them if loose.
This will prevent the plough from breaking down when in use.
Grease the Moving Parts
Greasing the moving contact points ensures that the machine runs more effectively and minimizes wear and tear.
Greasing also prevents corrosion.
Drain and Replace Your Hydraulic Fluid
You should always flush and replace hydraulic fluid at the beginning of the season.
Make sure to check regularly to confirm that it's filled up to the required level.
Check Your Plough's Trip and Return Springs
Ensure that your plough's springs are tightened to the manufacturer's specifications.
Poor spring tension may cause your tractor to experience vibration and shock damage.
Apply Dielectric Grease to Your Plough's Electrical Connections
Dielectric grease acts as a protective layer to the electrical connections from water, dirt, and corrosion.
The electrical components remain in good working order and last longer.
Prepare an Emergency Kit
Even with proper plough maintenance, you may encounter some unexpected occurrences.
To be safe in such circumstances, it is best to have an emergency kit with the following necessary items:
Spare trip and return springs
Spare bolts
Extra hydraulic fluid
A tow strap
A sturdy shovel
Safety strobe
Hoses
Ice melt
Sand or kitty litter to help with traction in slippery areas
Clean the Plough Before Storing It
By the end of the season, a snowplough handles a significant amount of salt and grime.
Storing it while dirty increases the chances of corrosion.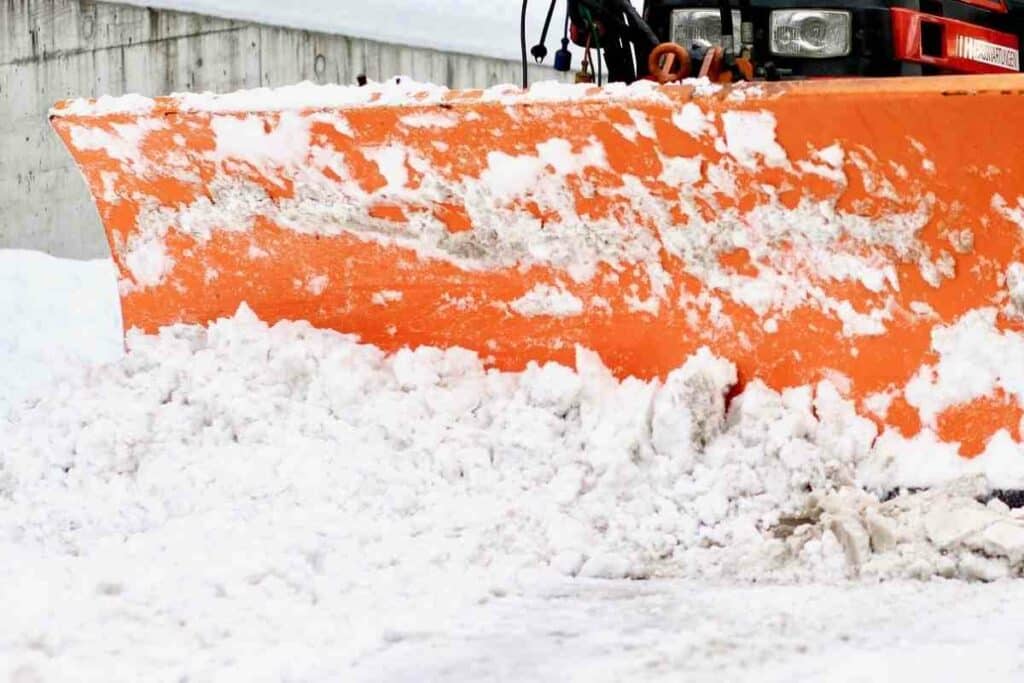 It's important that you clean the plough properly to eliminate all the accumulated salt and sand.
You can also give the plough some extra protection by spraying a layer of vehicle wax on it.
---
Key Takeaway: It is also advisable to store your plough inside the garage or storage room. This prevents corrosion that would otherwise be highly likely if you keep it outside.
---
Wrapping Up
The idea of getting rid of the snow on your driveway doesn't have to worry you.
If you already have a lawn tractor, you're a blade attachment away from ploughing the snow.
There's no need to spend hours using a shovel. It's also a great alternative to a snowblower which is more expensive.
Besides, you get to use your tractor in all seasons. You may also use the snow blades to clear other debris past the winter season.
Consider all the features of the snowploughs and choose one that works best with your tractor.
Once you get it, ensure that you follow the usage and maintenance tips.
Also, if you are spending a lot of time in your new snow remover, you can get yourself a snow cab. It will keep you safe from all the cold and wind.
Read Next