Nobody particularly enjoys cleaning the gutter of their house – admittedly, it is not a fun chore to do.
However, it is necessary to clean the gutter because the accumulation of leaves and debris can have detrimental effects on the house, not to mention it is unsightly.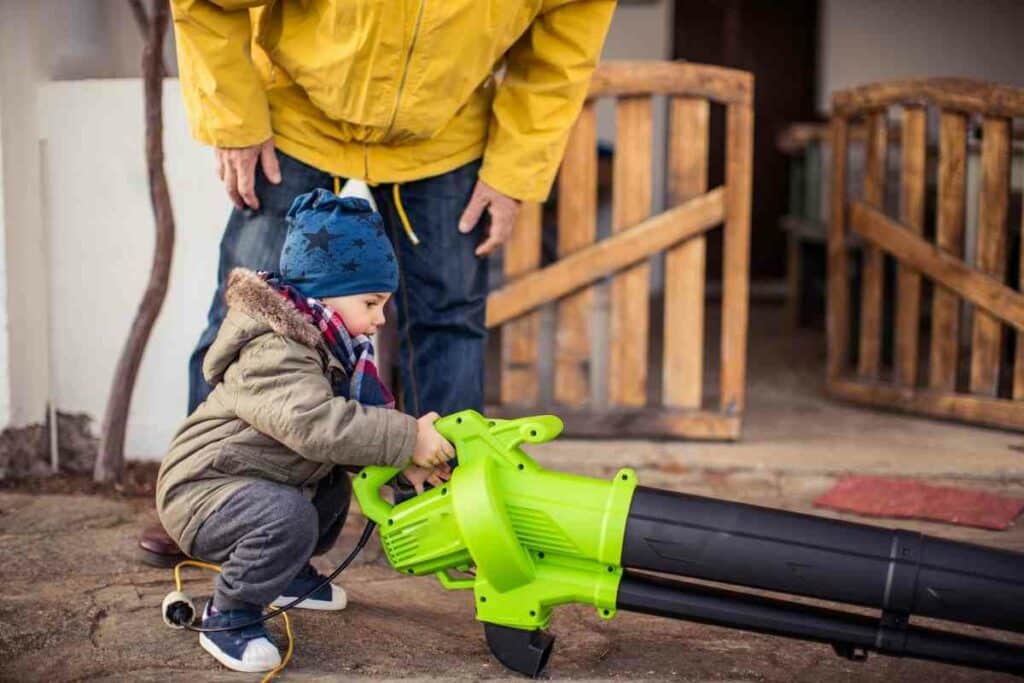 Fortunately, there is a solution to this problem: leaf blowers.
Leaf blowers are efficient in cleaning gutters within a few minutes without expending too much of your energy.
This article will review the best leaf blowers for gutter cleaning that are available on the market today.
How To Clean Gutters Using Leaf Blowers?
Essentially, there are three ways you can clean your gutter using a leaf blower:
The first way is climbing onto the roof and cleaning from there. While this method is effective, there are risks involved. For instance, it is possible to fall off the roof, so you ought to be very careful.
The other way to get leaves and other debris off your gutter is using a ladder. Set the ladder against the wall of the house and ensure it is stable enough for you to lurch on there as you clear the roof. This is not always safe as accidents can happen anytime. Also, you would have to keep moving the ladder around the house, which can be quite strenuous.
Thirdly, you can clean your gutter from the ground. This is achievable when the blower is long enough or when you use lengthening attachments on your leaf blower that are specially designed for this purpose. This method is the safest, but it is imperative to put on protective gear, especially on the face, for maximum protection.
Factors To Consider When Buying Leaf Blowers for Gutter Cleaning
When looking for the best leaf blower to clean your gutter, you ought to consider the following factors.
Brand
There are different brands of leaf blowers in the market.
Different brands offer different things to consumers.
So, you ought to conduct your due diligence and go for a brand that best fulfills your needs.
Speed
The velocity of the leaf blower determines how efficient it is with cleaning your gutter.
The higher the speed, the more efficient the machine is. However, it would be best if you kept in mind that high velocity consumes a lot of power.
Price to Value Ratio
You want a product that offers value for your money.
Therefore, before you spend money on a leaf blower, see to it that it provides value equivalent to the amount you are spending, if not more.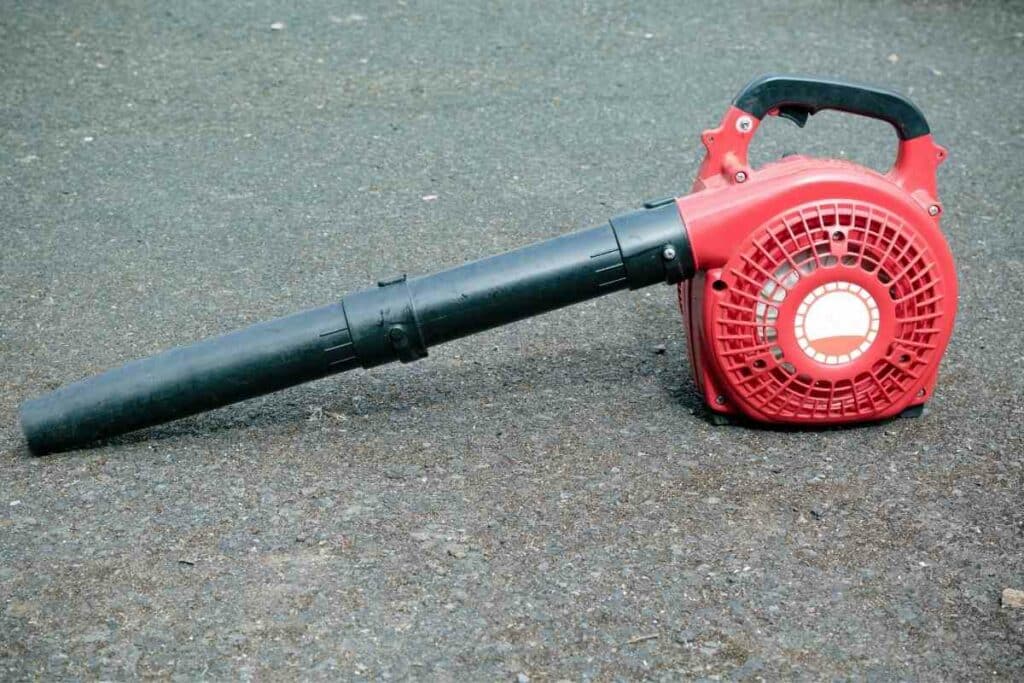 Air Flow Capacity
How much air does the leaf blower move in a given time?
The more the volume of air moved by a leaf blower, the higher its airflow capacity.
Naturally – You want a leaf blower with a high airflow capacity so that you can get the job done faster.
Size
The size of your gutter and the intensity of the debris should determine what size of leaf blower you ought to get.
The bigger the gutter, the bigger the leaf blower should be. Still, remember that the bigger the leaf blower, the heavier it becomes.
Power Source
Leaf blowers are powered by two primary sources – batteries and fuel.
Batteries are convenient as you can always charge them whenever they run out of power.
Also, they do not emit fumes that are harmful to the environment.
Fuel-powered leaf blowers may be loud, but at least you will not worry about battery life.
5 Best Leaf Blowers for Gutter Cleaning
1. Leaf Blower Cordless SOYUS
Key Features
It weighs 16.76 pounds
It has an airflow capacity of 530 CFM
It has a speed of 135 MPH
It is battery-powered
With an 11-foot reach, you would not necessarily need a ladder to use this blower to clear your gutter.
The tube measures 7.5 feet, which, combined with the length of a stretched adult arm, gets to 11 feet.
You can comfortably get the work done from the ground, which guarantees you more safety than balancing on a ladder.
This cordless leaf blower from SOYUS is powered by two batteries, each of them carrying 4.0 Ah.
When fully charged, these batteries can provide an airflow capacity of 530 cubic feet per minute (CFM) and a maximum speed of 135 MPH.
You can clear your gutter effectively within a few minutes at this speed and airflow capacity.
It takes 3 hours to fully charge the battery, out of which you can acquire 25 minutes of operational time at high speed or 100 minutes at low speed.
This leaf blower has five speed modes, enabling the user to choose the most appropriate according to the intensity of the cleaning required.
To switch between the different speeds, you ought to press a button on the control panel. The maximum speed requires you to press the TURBO button.
At This Speed – The blower only runs for 15 seconds per round.
Anyone can use this leaf blower as it is fairly uncomplicated.
While it comes unassembled, the assembling process is pretty straightforward and is made even easier by the user manual that comes with the package.
Other things included in the package include a charger, cleaning kit, 2 batteries, and 2 nozzles.
Pros
It has value for money
You can switch between 5 different speeds
It is easy to maintain
You can use it from the ground
Cons
It is pretty heavy compared to other leaf blowers in this review
To maximize the life span of this leaf blower, ensure that you remove the batteries every time you want to clean it.
Also, it helps to clean it every time you use it to remove the dirt it may have accumulated. The main downside to this leaf blower is that it is relatively heavy.
At 16.76 pounds, it is bound to wear you down pretty fast.
2. Greenworks Pro 80V Cordless Axial Leaf Blower
Key Features
It has an airflow capacity of 580 CFM
It has a speed of 145 MPH
Powered by a 2.5 Ah battery
Uses an 80V charger
It weighs 10 pounds
Unlike fuel-powered leaf blowers, battery-powered ones operate quietly.
Therefore, if you have neighbors around and want to maintain a good rapport with them, this blower would be perfect – it is not noisy.
The leaf blower is powered by a 2.5 Ah battery, which charges rapidly using an 80V charger that comes in the package.
The battery provides an airflow capacity of 580 CFM and a speed of 145 MPH. While the blower is smaller than the cordless SOYUS 40V above, it is more powerful.
At Only 10 Pounds – This leaf blower is relatively lightweight and will not tire you easily. Compared to other leaf blowers with the same airflow capacity and speed, it is lighter by about 20%.
With its airflow capacity, you can use it to blow dry and wet leaves, which is more than what can be said about other leaf blowers in this review.
Still, it is advisable to avoid wet conditions as much as possible because of electrical dangers.
This leaf blower is easy to use. It comes with an operator's manual if someone needs to refer at any point.
Pros
Very easy to use
It is lightweight yet powerful
Quiet during operation
It is easy to maneuver
It is environmental-friendly because it does not emit fuels
The battery is fast-charging
Cons
It only runs for 19 minutes
It is also low maintenance – you only need to keep it clean and store it in a safe place.
Also, you will hardly incur expenses, such as fuel costs, since it uses a battery. The battery charges in 40 minutes and rubs for up to 19 minutes.
3. Expansion Wellness Leaf Blower
Key Features
It weighs 6 pounds
It has a speed of 150 MPH
It has an airflow capacity of 320 CFM
A 21V, 4.0Ah battery powers it
Weighing a measly 6 pounds, the expansion wellness leaf blower is among the lightest in this review.
It is, therefore, portable and easy to maneuver around. You can use it for hours without suffering fatigue. Furthermore, it is cordless, making it all the more convenient to use.
Despite the weight, it is quite powerful.
This leaf blower boasts an airspeed of 150 MPH, which is enough to blow all the leaf debris in your gutter.
Even Better – It comes with several speed triggers with which to adjust the speed according to the amount of waste to be cleared from the gutter.
The leaf blower has an airflow capacity of 320 CFM, powered by a 21V, 4.0 Ah battery.
While the capacity is relatively low, the blower is still as efficient as it can be and gets the job done. The battery charges in just 3 hours and runs for 15 to 25 minutes according to the speed.
This tool is low maintenance, and as long as you follow the manufacturer's guidelines, it will serve you for a long time.
Pros
Lightweight and, thus, portable
It has varying speeds
Quiet during operation
It does not pollute the environment like fuel-powered leaf blowers
Easy to maintain
It has an auto-lock trigger, so you would not have to keep the power down while working
Cons
Its airflow capacity is relatively low
Before you use it for the first time, you should completely discharge the battery before fully recharging it.
The indicator turns green once the battery is fully charged, which is a cue for you to remove the battery completely.
4. Hitachi Gas Powered Leaf Blower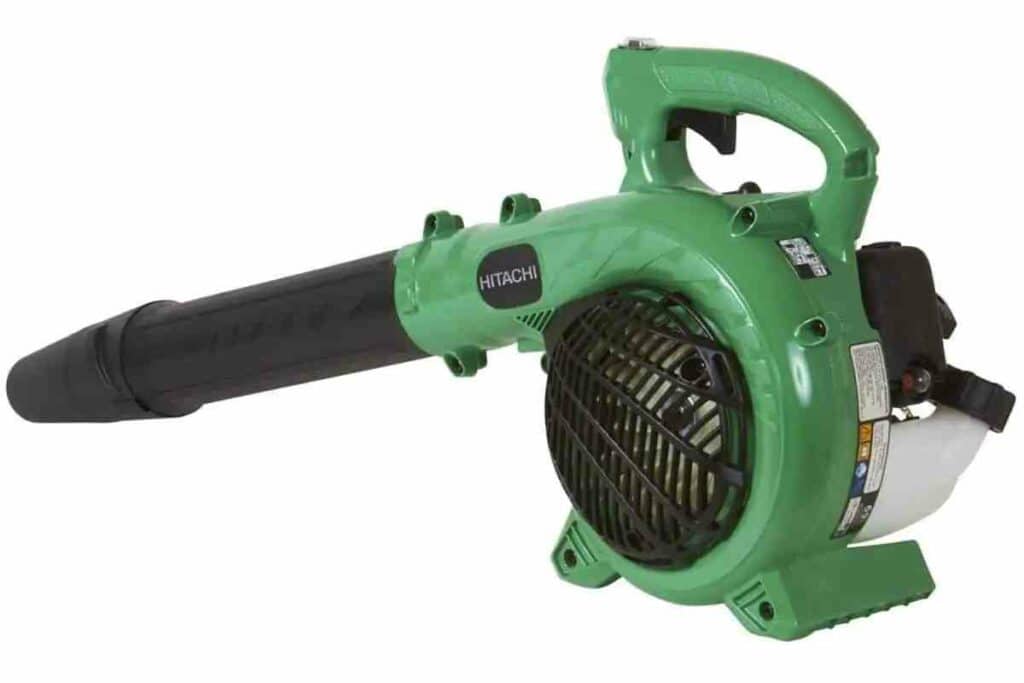 Key Features
It is fuel-powered
It has an airflow capacity of 441 CFM
It has a speed of 170 MPH
It weighs 8.6 pounds
If you don't mind fuel-powered tools, this leaf blower would be perfect.
The Hitachi RB24EAP runs on fuel and has a capacity of 17.6 fl. Oz.
One major upside over a battery-powered leaf blower is that you will not have to worry about battery life.
However, you will have to put up with noise and the probability of disturbing neighbors whenever you are operating the machine.
With an airflow capacity of 441 CFM, it is suitable for hefty jobs.
Thus, it is capable of clearing your gutter effectively in a short time. It has an air velocity of 170 MPH, which is conveniently fast.
The tool is made with commercial-grade quality products and a strong engine that is bound to stand the test of time.
At 8.6 pounds, this leaf blower is relatively light and easy to maneuver around.
It is created to be handheld and has a 2-finger throttle lever to make it easier to hold during operations. Thus, you can use it for long minutes without getting super tired.
If you are worried about environmental pollution due to emissions caused by the fuel, then you don't need to worry.
The blower is installed with a low emission stroke engine technology to minimize the emissions as much as possible.
Pros
Lightweight and, therefore, portable
Easy to use
It has a 2-finger throttle level to enhance maneuverability
It has an attractive warranty policy
Cons
Not very environment friendly
It is louder than battery-powered leaf blowers
One of the most attractive things about this leaf blower is the warranty policy.
The warranty depends on the blower's purpose, that is, if it is consumer, commercial, or rental.
Lastly, as a consumer you get 7 years warranty, commercial clients get 3, and rental customers get 1.
5. LAZYBOI Cordless Leaf Blower
Key Features
A 2.0 Ah battery powers it
It weighs 3.38 pounds
It has a speed of 150 MPH
It has a dual-speed mechanism
At 150 MPH, the LAYBOI is pretty fast and will clear the leaf debris from your gutter in no time.
It operates on a 2.0 Ah battery that gets fully charged in just an hour.
The battery can run for half an hour, which is enough time to complete a task, given the speed of the machine.
Since it has a dual-speed mechanism, this leaf blower can operate at two different speeds.
It runs for 25 minutes at low speed on a fully-charged battery and for 19 minutes at high velocity.
Unlike fuel-powered ones, this blower does not make noise during operation. So, you can use it at any time without disturbing the people around you.
Also, the machine is lightweight as it only weighs 3.38 pounds. Therefore, you can hold it and use it without straining.
There is no limitation of cord as it is cordless, so it is also very easy to maneuver it around.
Its ergonomic design with a non-slip, rubber grip offers enough support and comfort.
Pros
Perfect for small jobs
It is powerful despite its size
Lightweight
It is easy to maintain
Quiet during operation
Cons
You can't use it for heavy jobs as it is too small
For its size and non-complexity, the tool is really easy to maintain.
According to the manufacturer, you should not charge it as soon as it discharges. Instead, you should let it sit for 5 to 10 minutes before recharging it.
When not used for an extended period, it is advisable to keep it fully charged.
Final Thoughts
There are many leaf blowers in the market, each with unique features.
Finding the best leaf blower to fit your needs is not always easy.
As per this article, you should consider factors like price, brand, airspeed, value, power source, and airflow capacity when buying a leaf blower.
We have reviewed the best leaf blowers for gutter cleaning in this article, so we hope it is helpful.
Feel free to click on the links provided to gather further information.
Also Useful