Spending hot nights on your porch while enjoying the cool breeze is exciting, but you often have to deal with bugs.
Porch lighting makes it worse, as it attracts pesky insects like moths, mosquitoes, and flies that dampen what should be a relaxing experience.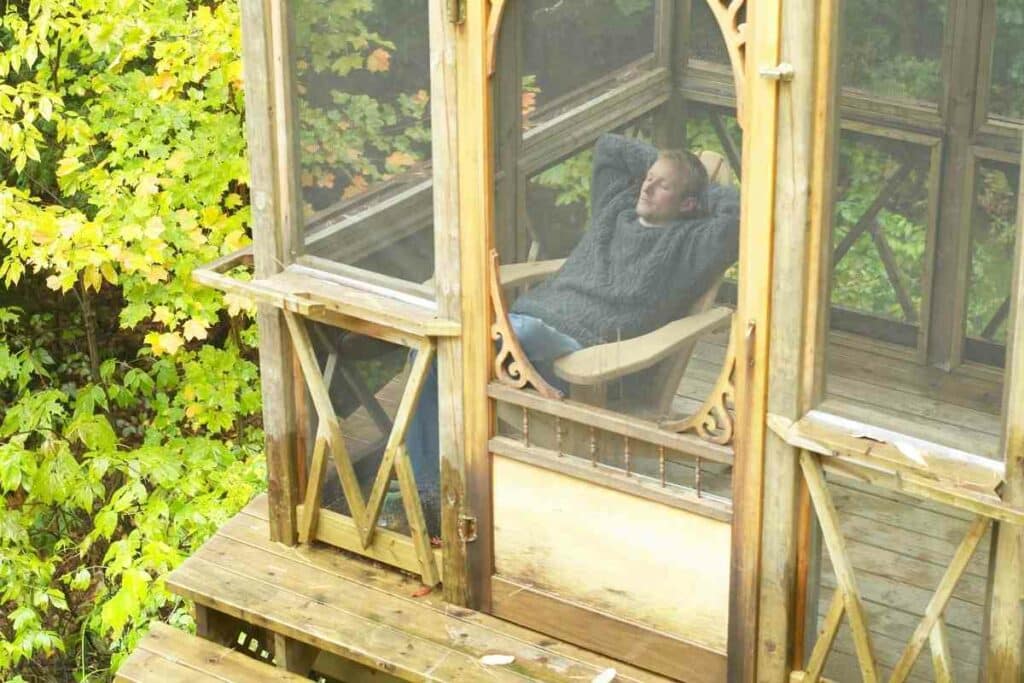 The solution to this problem is screening in your porch.
However, the pandemic and other global issues have interrupted the supply chains, and everything's price is rising.
That said, the cost of screening in your porch depends on location, materials, size, and installation method.
Location and Taxes
Different local authorities have varying regulations concerning the construction of outdoor structures.
Although it's an extension of your house, local laws might have a specific code for porches. 
If your area requires licensing and permits for porches, you will spend more on screening.
This is because you'll need to pay engineers and architects to draw the plan and cover the cost of obtaining the required paperwork.
Additionally – Living in a remote area will incur higher costs. Remember that it's expensive to transport materials to rural areas since they are farther from suppliers.
Materials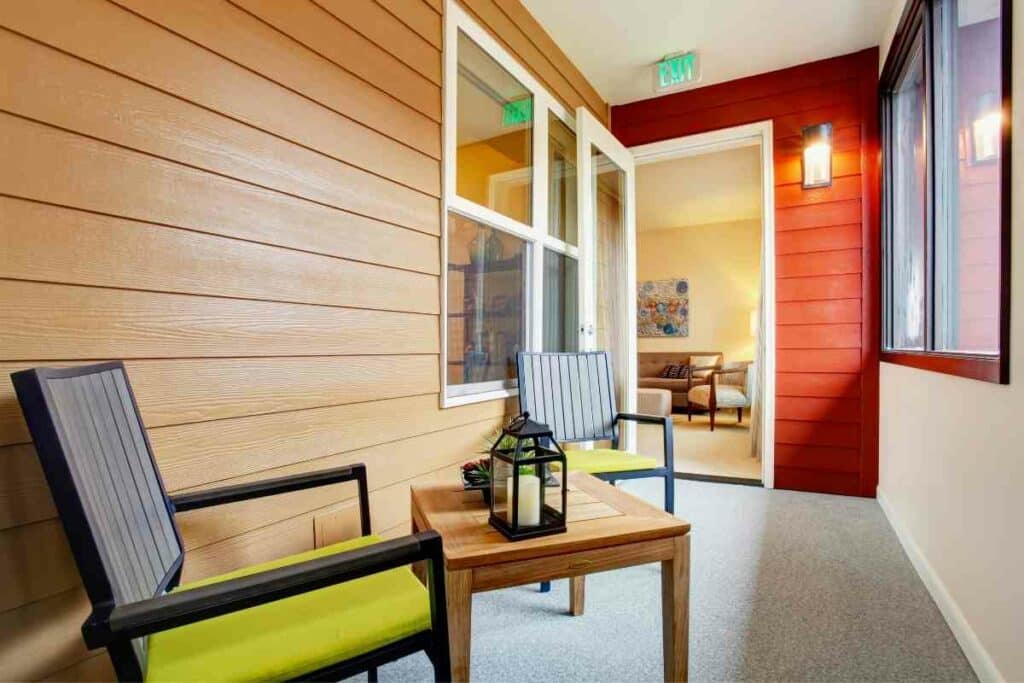 Materials are the most significant factor in determining the cost of screening your porch.
Your choices determine how much you spend.
Screen Type
Here are some common materials used for porch screening.
Aluminum
Aluminum is a popular choice for porch screening because it's robust, durable, and reasonably attractive.
It's also lightweight and malleable than other metals.
On the Downside – This material gets dents quickly. Please avoid hitting it with blunt objects to maintain its shape. The price of aluminum ranges between $5.00 and $6.50 per square foot.
Copper
If you have extra bucks, you might consider using copper to screen your porch.
Depending on your taste, you can brush the copper to maintain its color or let it form a patina.
If you like patinas, you might want to install them in humid environments because it speeds up oxidation. 
In most cases, copper porch screens are meshed rather than solid panels. Copper is costly, with a square foot going for more than $7.50.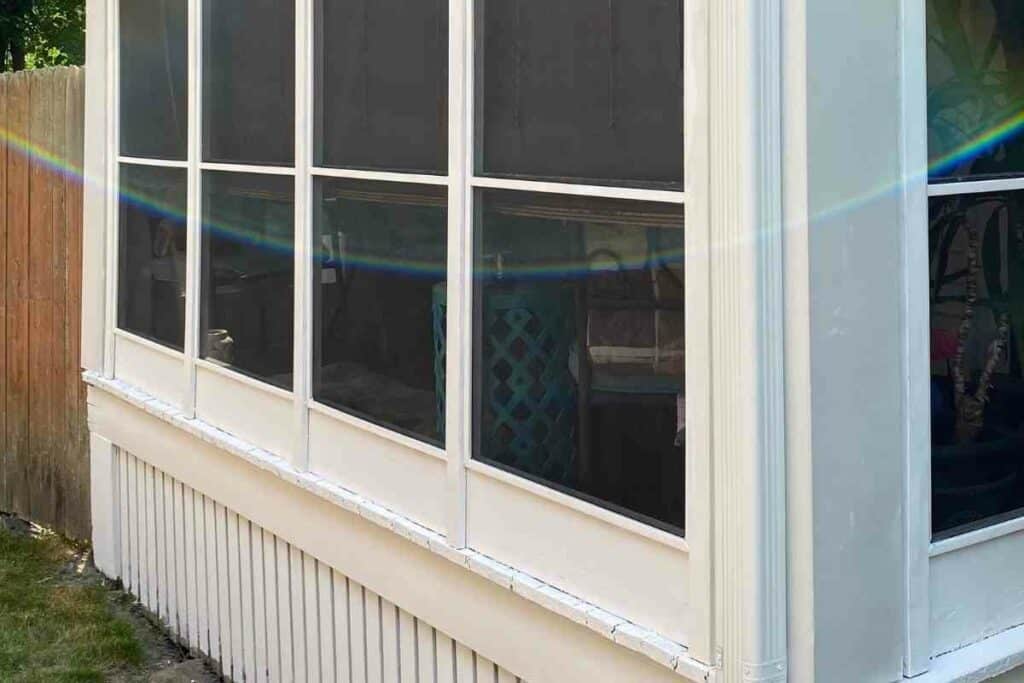 Brass
Brass is sturdier and more durable than copper, as it's an alloy of copper and zinc.
It's also cheaper than copper.
However, brass is susceptible to damage when exposed to high temperatures, excess humidity, and saltwater. This makes them unsuitable for people living near beaches. 
Brass is as expensive as aluminum, with a square foot costing $5.00 to $6.00.
Fiberglass
Fiberglass is the most popular porch screening material, and rightly so.
It's inexpensive, easy to install, rust-resistant, and available in many colors.
You can choose a design that matches your existing décor with ease.
The most significant disadvantage of fiberglass is fragility. You need to handle the material with care to avoid breakage. 
The average price of fiberglass is $4.50 to $5.50 per square foot.
Stainless Steel
Stainless steel boasts unrivaled robustness and longevity.
Besides withstanding the harshest weather conditions, these porch screens are rust-resistant and require little maintenance.
Heads Up! The only problem with stainless steel is its bland appearance, which you can correct by painting. Each square foot costs $8.50, but the durability justifies it.
Solar Porch Screens
The world is moving towards green energy sources to combat the effects of climate change.
You can join this movement by installing solar panels as your porch screens.
Solar porch screens are versatile – they harness sunlight to produce electricity and absorb heat, leaving your porch cooler and more comfortable on sunny days.
Solar screens are more expensive than other options because they require a special mesh to protect the photovoltaic cells—a square foot of the material costs at least $16.
Vinyl-Coated Polyester
Vinyl-coated polyester is another practical option for people living in hot areas.
Although it's plastic, it can withstand high temperatures and also has absorbent properties.
The material is pretty expensive, with a square foot going for $9.00.
Screen Frame
After choosing the screen type, the next step is selecting the frame.
Metals cost more than plastic, but they compensate with durability.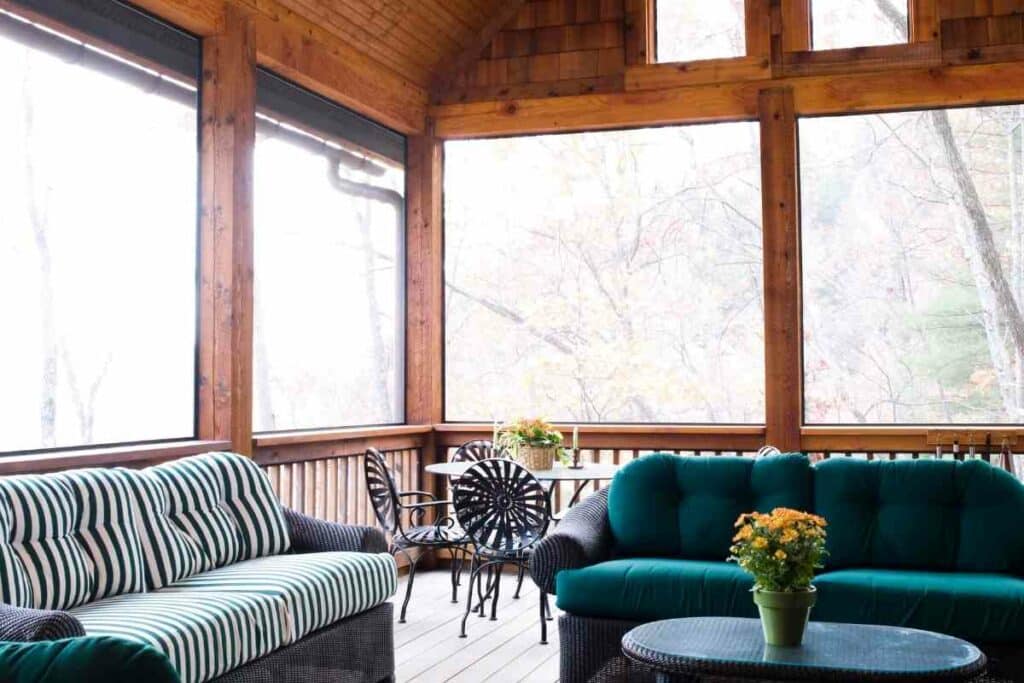 On the other hand, wood is classy and stylish, but it needs treatment and proper care to resist rot, warping, and termite attacks.
Decking
Decking materials are mainly similar to framing materials.
However, you have the option of concrete, which is durable and robust.
Its only drawback is that it needs finishing to complement the existing décor.
Your screen frame and decking materials should cost between $100 and $500, depending on your choices.
It's worth noting that the prices are higher than they were before the pandemic. 
Roof Type
A screened porch is incomplete without a roof.
The roof mustn't drain rainwater into the sitting area when installing one.
Here are the three roof types for screened porches.
Gable Roof
Gable designs feature a triangular shape with varying pitch levels.
It slopes on both sides with a pointed top. This design requires long gutters for draining rainwater.
Due to their height, gable roofs make porches feel bigger and more spacious. They're also easy to construct and don't require many roofing sheets.
On the Downside – They're susceptible to strong winds, especially if it approaches from the shorter, exposed sides.
Hip Roof
Hip roofs look like pyramids.
This design offers excellent protection against the elements and guarantees proper rainwater drainage.
However, it requires more trusses and roofing sheets because it has many joints.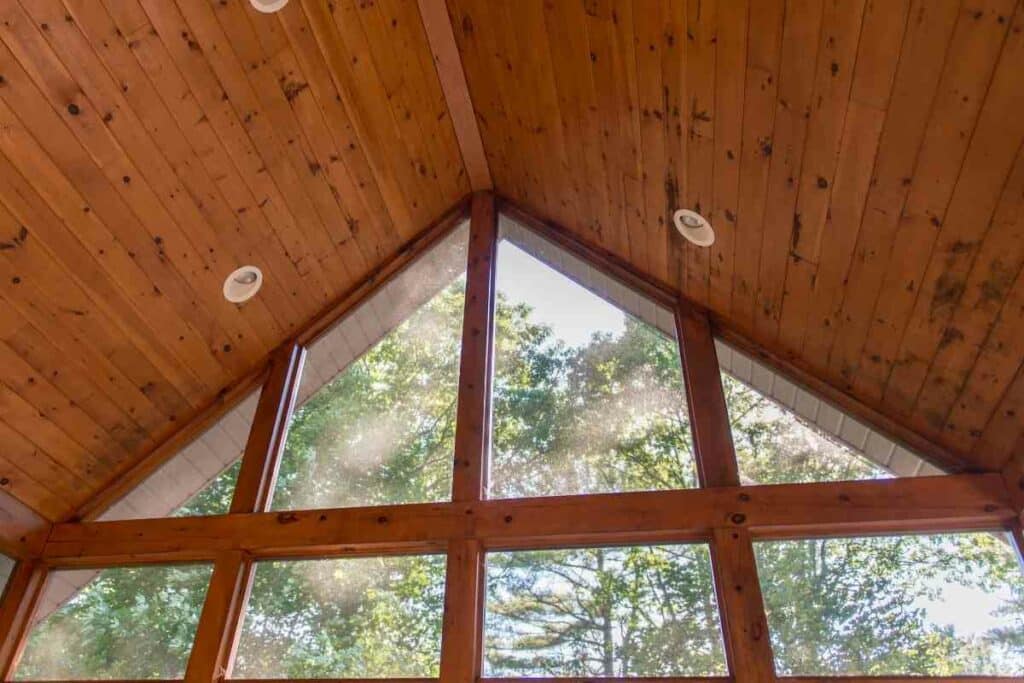 Shed Roof
Shed roofs are the cheapest and have the simplest outlook.
They have a flat design with a subtle pitch to allow rainwater drainage. 
The problem with shed roofs is blocking sunlight. If positioned improperly, these roofs can obstruct sunlight from penetrating your porch, making it appear tiny and cramped.
The budget for roofing your porch costs between $3,000 and $6,500, depending on square footage, materials, and labor costs.
The best flooring material for your porch is weather-resistant ipe wood. However, it doesn't come cheap.
Tiles are an excellent alternative, but they require extensive care and aren't so pocket-friendly.
If you love natural wood's rustic appearance but don't have money, consider choosing composite flooring boards. Other cheap options are concrete and bricks.
Size (Square Footage)
Like most home makeovers, the size of your porch affects your budget.
More enormous porches are costlier because they are more labor-intensive and require more material and vice versa.
Method of Installation
When screening in a porch, you can hire a professional or choose the DIY approach.
Hiring a Professional
The cost of hiring a pro varies by region and experience.
If you live in an urban area, you'll pay more than a person in a sparsely populated region. Likewise, a seasoned installer is likely to charge more than a novice.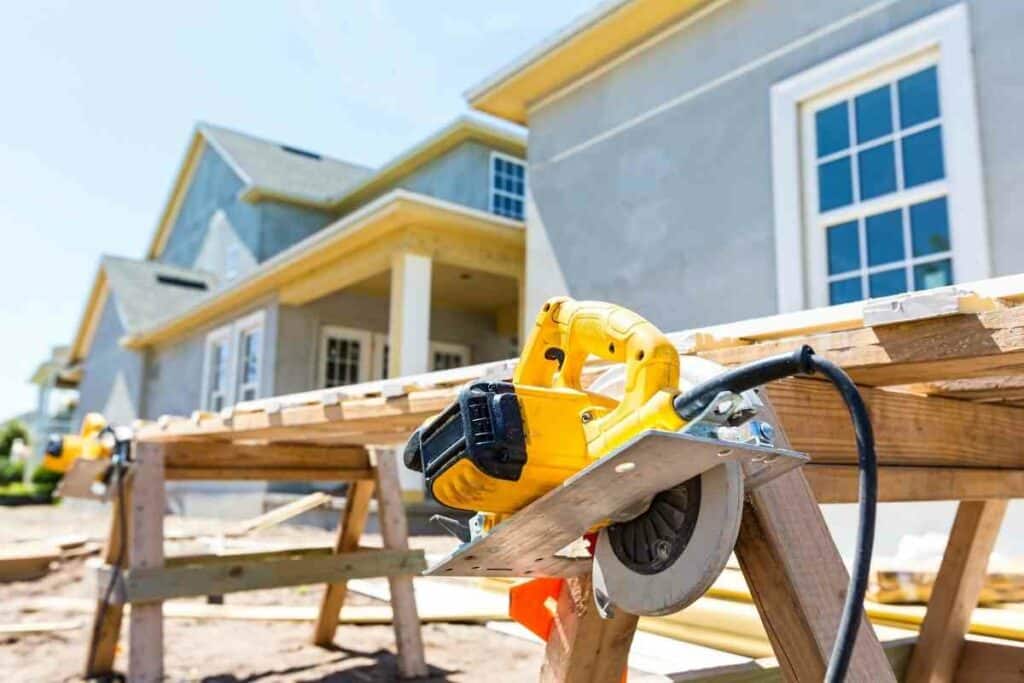 The average cost of screening in a porch is $5 per square foot for new porches and $2 for existing structures.
Hiring a pro includes quick turnaround time, long-lasting results, and guarantees on labor.
DIY Installation
DIY is the way to go if you want to save some money.
You should complete the task in less than a day with the right equipment.
Nothing beats the excitement of completing such a job to the required level.
However, staying off porch repairs is wise if you don't have the knowledge or equipment. You might end up worsening the structure, resulting in higher expenses.
Additional Consideration Factors
The abovementioned costs are only enough to complete the basic screened-in porch structure.
You will incur further expenses to transform it into a functional outdoor space.
Here are some additional consideration factors when screening in a porch.
Electrical Wiring
Besides lights, you'll need other electrical appliances to make your porch cozier and more stylish.
For Instance – Heaters and ACs for temperature regulation, TVs and music for entertainment, an outlet for charging your mobile devices, etc. 
These require electrical wiring, which will add a few hundred dollars to your budget.
Luxurious Finishes
Nobody wants a bare-bones porch in front or at the back of their house, as it can affect the home's visual appeal.
Remember that you'll pay more for a decorative ceiling, fancy artwork, shiny tiles, and other features that make your porch more attractive.
Some homeowners prefer retro fireplaces to heaters.
If you're one of them, be prepared to spend at least $500 on a wood-fired fireplace. It could cost more if you prefer gas or electric units.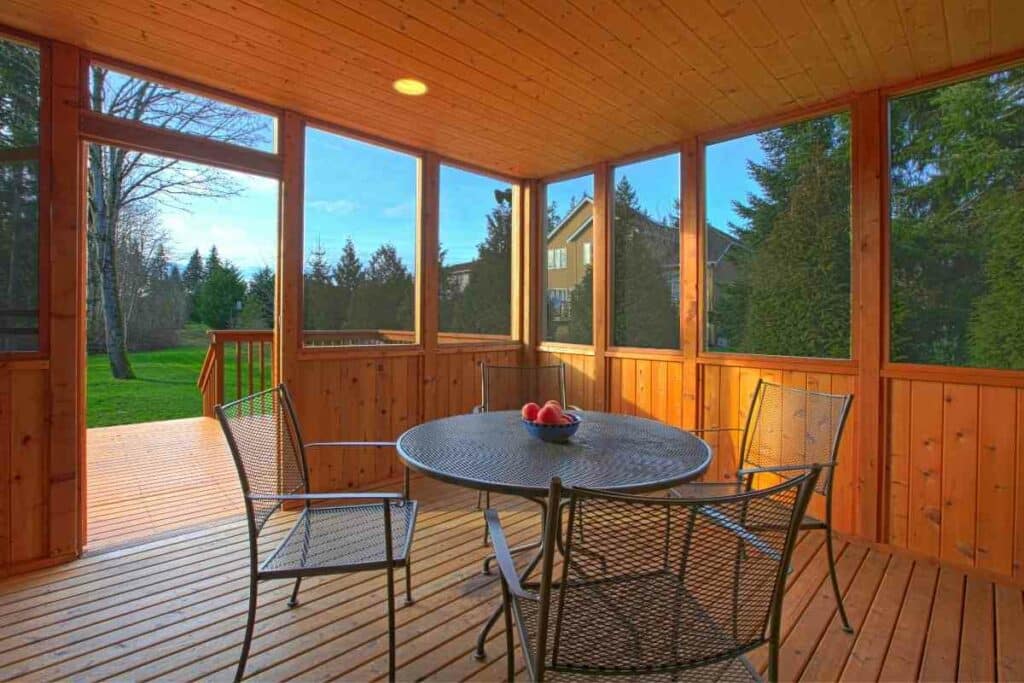 If you have a back porch, it might be tempting to install an outdoor kitchen.
It isn't cheap, as the complete setup with grills, equipment, and a seating area costs at least $5,000.
Retractable (Motorized) Porch Screens
Retractable screens are popular because you only cover your porch when needed.
Otherwise, you can retract them. These screens use a motor and cost between $2,000 and $5,000 per unit.
Timeline
Like most construction projects, porch screening takes time to work.
You might wait for more than a month to get the required permits. It also takes time to find an available contractor. 
Having realistic expectations on how fast the project can start is advisable.
After booking, you might wait for three months to one year for its actualization.
Unexpected Incidents
During construction, some things might not go according to plan.
For instance, you might discover that your existing porch structure has termite damage, deliveries can be late, natural hazards, etc.
For These Reasons – It helps to have an extra amount in your budget (10% to 25%) to cater to miscellaneous expenses. That way, you'll be ready for any inconveniences.
Have a few minutes? Look at the process…
Cost-effective Porch Screening in Ideas
If you're moving into a new property, screening in your porch might be a secondary concern.
This is especially true if you spent a fortune on acquiring the house.
Luckily, you don't always have to use the conventional options above – there are many less expensive alternatives.
Here are clever ways to screen in your porch on a shoestring budget.
Outdoor Curtain Panels
Do you know that screening in your porch can be as simple as hanging curtains?
Outdoor curtains enhance privacy and protection against the elements.
They are waterproof, ensuring they don't get damaged under the rain.
More Importantly – Curtains are available in many colors, and you can find one that suits your style.
Evergreen Plants
If you have a green thumb, try growing evergreen plants around your porch.
They take time, but once developed, they transform your outdoor space into an extension of the forest. The lush green is adorable, aerating, and soothing.
Alternatively, you can purchase grown plants, which cost a bit more.
Bamboo Shades
Bamboo shades are suitable for homeowners who desire a mini tropical paradise with little maintenance.
After purchasing the shades, attach them one by one from the roof until they cover the porch entirely. 
Like green plants, bamboo adds a natural feel to your porch. However, it's easier to take care of due to its hardy nature.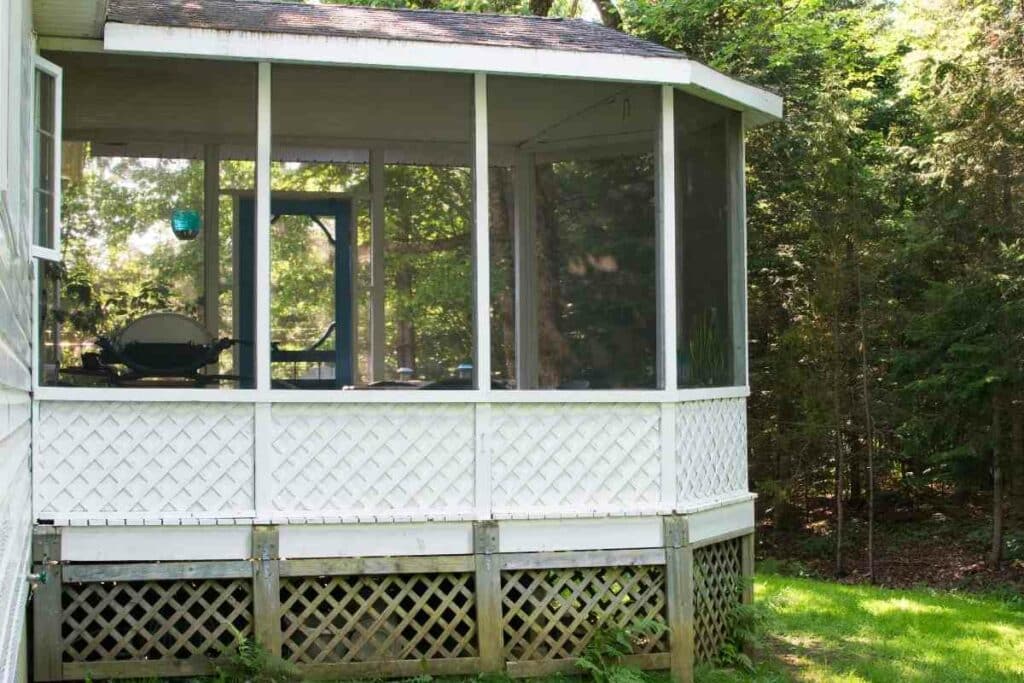 Prefabricated Canvas with Metal Frames
Consider using prefabricated canvas and metal frames if you have an uncovered porch without side screens and a roof.
The materials are affordable; even better, you can install the structure yourself.
Wrapping Up
With people spending more time at home since the pandemic, homeowners are looking for ways to make their houses more liveable.
Screening in your porch extends your home and lets you enjoy the outdoors.
Unlike other outdoor structures, such as decks, patios, and pergolas, which have open designs, screened-in porches are enclosed.
This allows you to enjoy the sun and cool breezes without concerns over sudden weather changes and pesky insects. 
However, screening in your porch is a costly investment that can run into thousands of dollars.
It's wise to choose materials that will stand the test of time. Also, ensure that you conduct a routine inspection for any defects.
All said, screening in your porch allows you to enjoy the best of outdoor spaces while you're indoors. It's an addition you can overlook if you're keen on living a comfortable life!
Also Read