If you've ever been lucky enough to live in a climate that's warm and sunny year-round, you'll have loved being able to enjoy your backyard and patio throughout the year.
Most people, however, can only enjoy their patio for part of the year. That was until patio enclosures came about!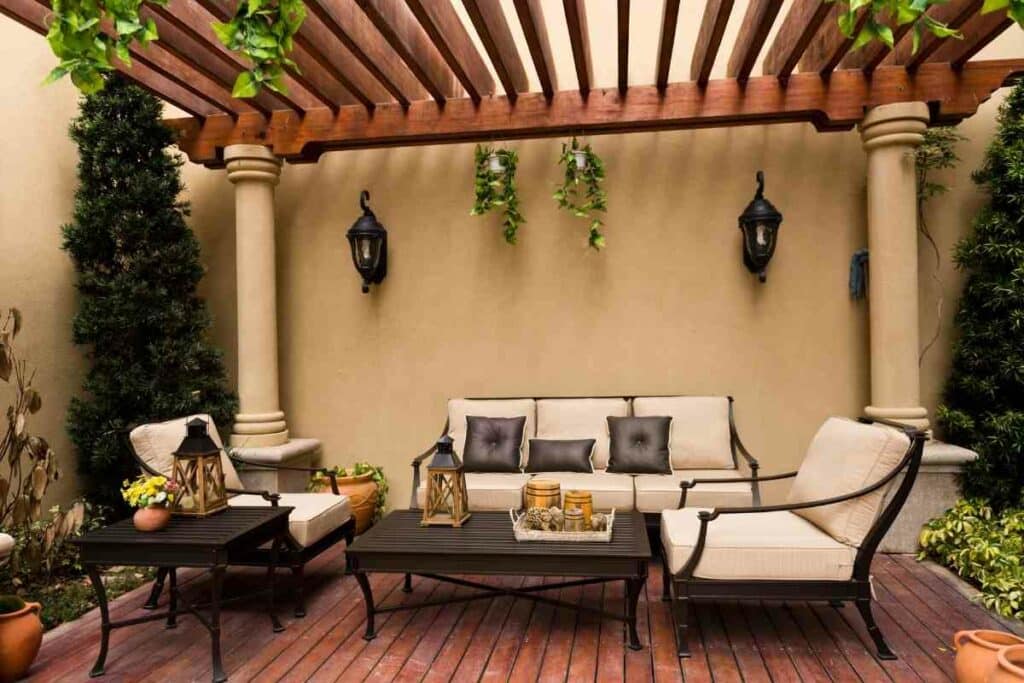 Nowadays, you can enjoy your patio no matter the time of day.
If you decide to get a patio enclosure, you have lots of different choices available to you and it all depends on what you want as well as the style of your home, its construction, size, and the size of your yard.
Enclosing an already-built patio will mean decisions need to be made on how the space should be used, including during which seasons and weather.
All In All – Having a patio enclosure will create a relaxing and functional outdoor space that can be enjoyed more often than a patio otherwise would. In this article, we'll show you 9 types of patio enclosures you should know about. Let's go!
1 – Patio Enclosure Screens
If you go to seaside beach homes and cottages, you'll often see large screen enclosures around patios.
The idea behind these is that they don't stop the air from flowing but they do prevent bugs and annoying insects from getting inside.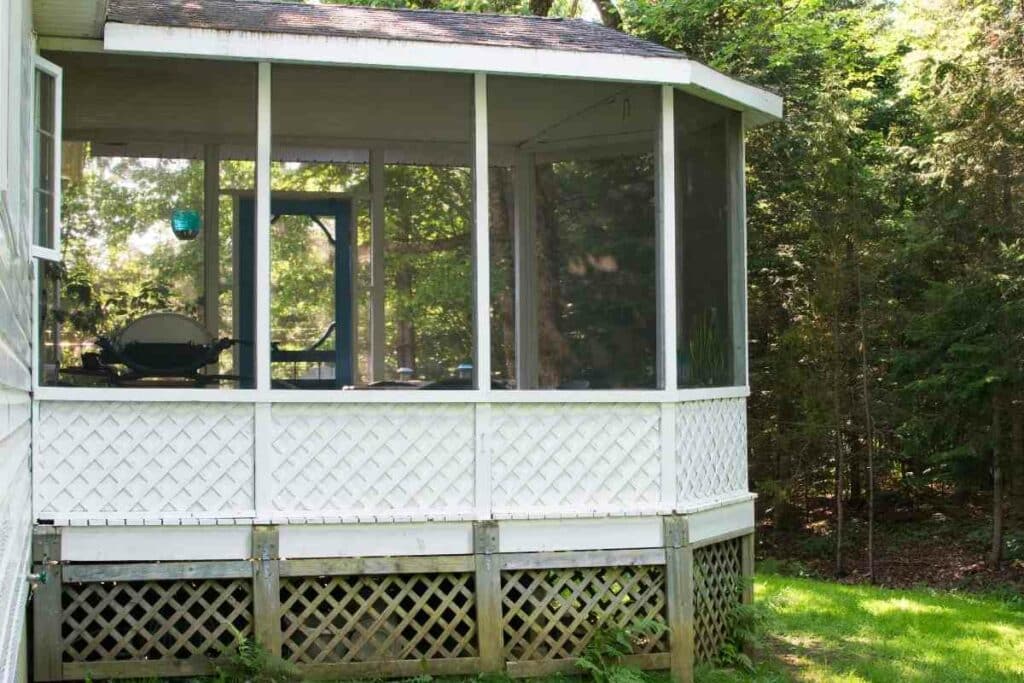 These screen enclosures also mean you can be outside even when it is raining.
Many patio enclosure screen setups come with an almost-invisible aluminum screen mesh.
This is very durable, much more so than fiberglass. Typically, they'll have an engineered frame around the screen.
Keep In Mind – This type of patio enclosure can be adapted at a later date into a glass enclosure, thus creating a patio that can be used more often.
2 – Glass enclosures
These enclosures are more commonly called sunrooms given that they provide lots of natural light and can be used all year round.
They can be customized in many different ways, including the style of roof, the door type, and the finish.
If you live somewhere with a patio or deck that is already under your home's roofline, it is possible to frame it and fit it with glass to create an enclosure.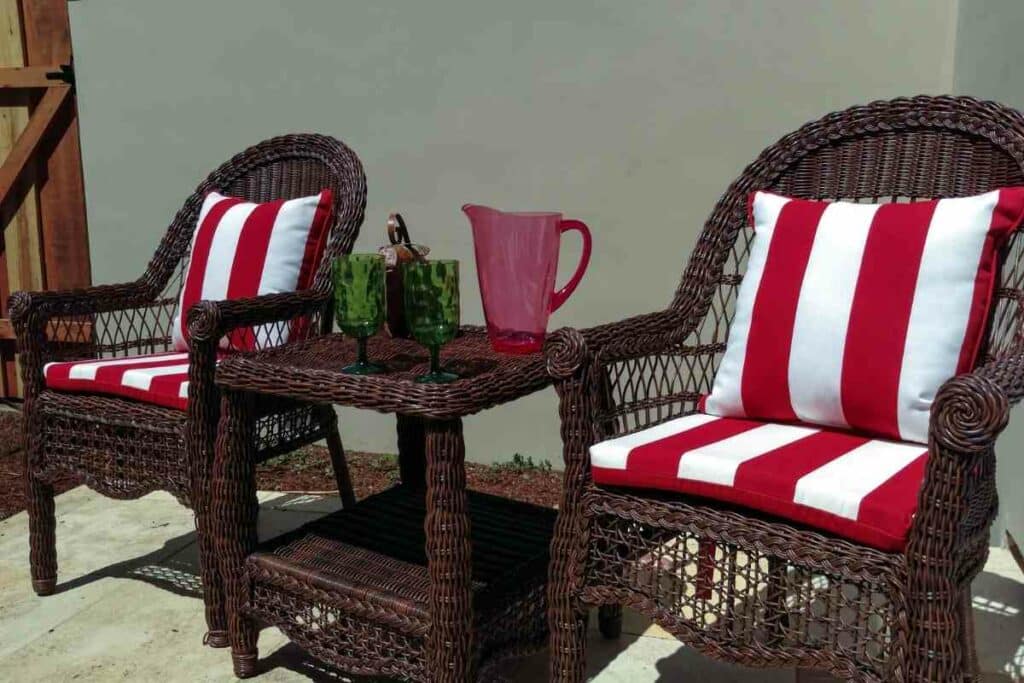 This means you can keep the enclosure climate-controlled in terms of cooling and heating.
When a patio doesn't flow with the home's roofline, it can be constructed with a glass roof added on top to create a solarium.
With these glass walls and roof, you've got a perfect environment for growing special plants and you can also use it for stargazing late at night.
3 – Vinyl enclosures
If you enclose a patio or porch with vinyl, you get a dry, protect and warm space where you can spend time 'outdoors' with the comfort of indoors.
This is also a great way of creating an extra living space in your home.
With vinyl enclosures, you can even get DIY projects if you feel inclined.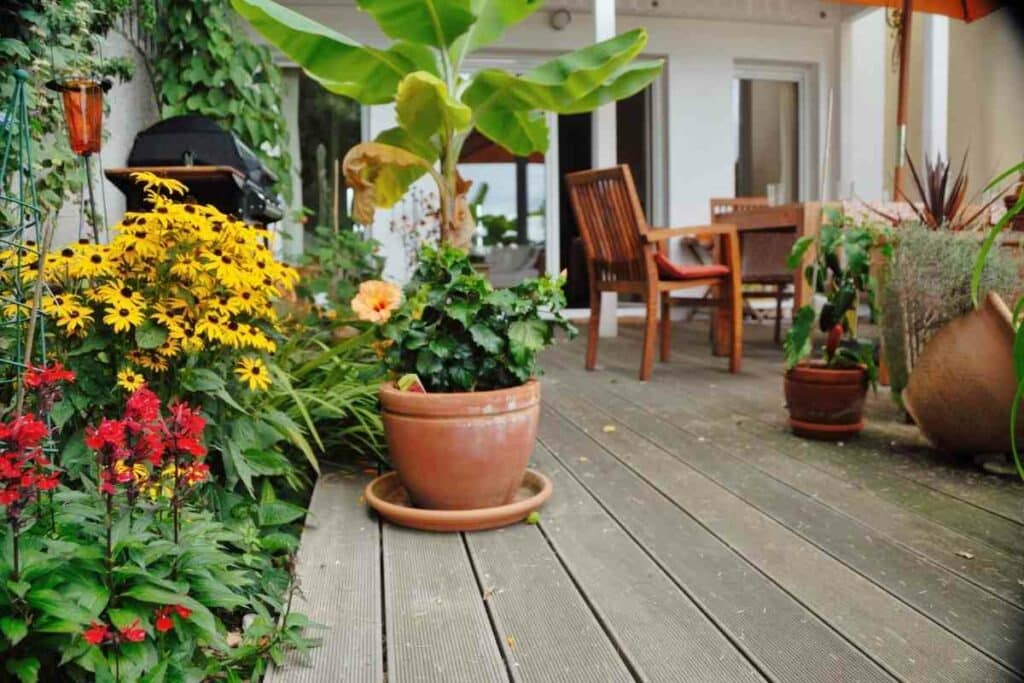 Alternatively, there are many companies who will do a custom-designed vinyl enclosure and they'll usually install it too.
There are a couple of ways in which vinyl enclosures work. They can be attached to a patio frame or come already mounted on a frame.
Works Well – You can also get panels that run on tracks like curtains. These are great for windy days but not so great for heavy rain.
4 – Clear vinyl
If you're looking for a more temporary (or a cheaper) option, you can enclose your patio with clear vinyl.
This is a good way of enjoying your views while keeping warm and dry.
You can get clear vinyl in different thicknesses, and it can be fitted in lots of different ways.
5 – Aluminum enclosures
If you're looking for a robust patio enclosure that won't cost the earth, aluminum might just be what you're looking for.
Depending on your needs, you can get aluminum-framed walls, or you can include a roof too.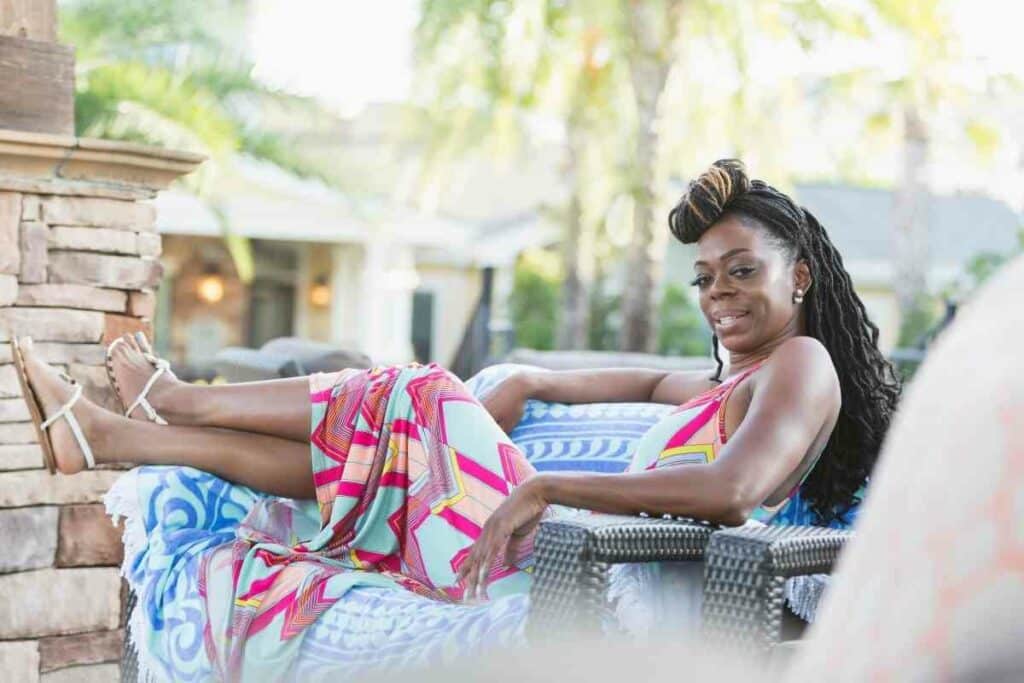 Aluminum roofs are made of interlocking panels, which make them weather-resistant and strong.
These enclosures typically have 3-inch aluminum walls with recessed doors. The doors and windows are either glass or screen.
This type of patio enclosure requires very little in the way of maintenance and you don't need to paint it.
6 – Acrylic patio enclosures
If you think glass is too expensive (or likely to break with kids playing ball games!), acrylic is a good in-between option.
These patio enclosures are resilient and safe. Even if they do break, they will never shatter like glass.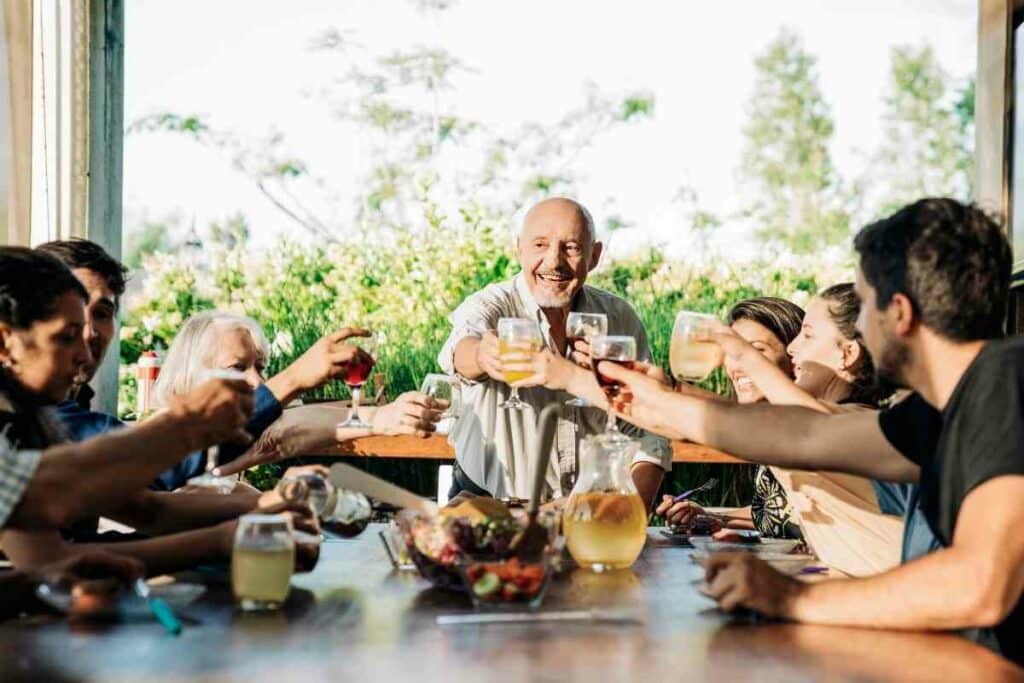 The downside to an acrylic enclosure is that it can get a yellow tinge from being exposed to UV.
What's More – The panels can bow with different humidity and temperature changes, and they can also scratch easily.
Finally, acrylic needs a special cleaner otherwise it looks streaky.
7 – Retractable enclosures
When you've got a glass patio enclosure, you keep out the cold and the inclement weather.
When it's warm, the enclosure is too warm!
For people who want the best of both worlds, a retractable enclosure for your patio is a great idea.
These enclosures mean you can be warm in winter but not stuck inside in summer.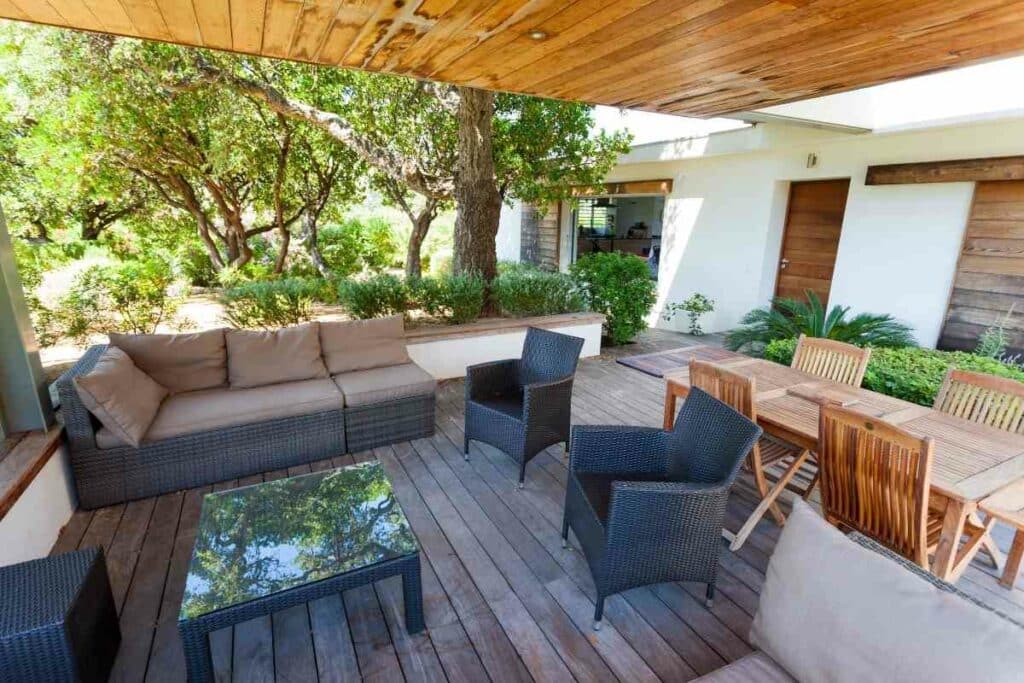 There are lots of options to these enclosures. Some have frameless panels that side on tracks.
This type are easier as they don't need power to move. Most will have a rail on the ground and one on the house.
As You Might Imagine – This type of patio enclosure is the most expensive option. The price you pay will depend on many features, including the size, design, and mechanism.
8 – Temporary Patio Enclosures
If you want somewhere warm in winter but you want to remove it for the summer, you should look into a temporary patio enclosure.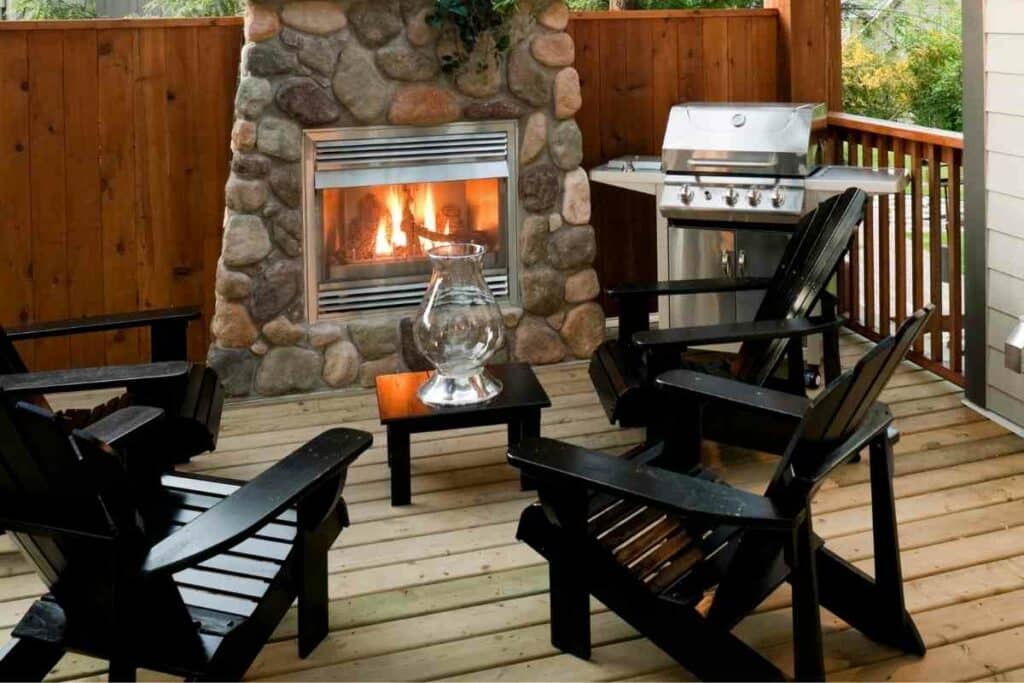 These ensure you're warm and dry when needed without being too warm in summer!
Here are some common temporary enclosures:
9 – Patio enclosures for all year round
If you want something that isn't cold in winter and isn't too hot in summer, you need a four-season enclosure.
This is designed to accommodate both cooling and heating.
These are a perfect transition to bring the outside in no matter what's going on outdoors.
They provide excellent views and natural light and are a permanent feature of the home.
Usually, these will be built in line with the home's existing exterior.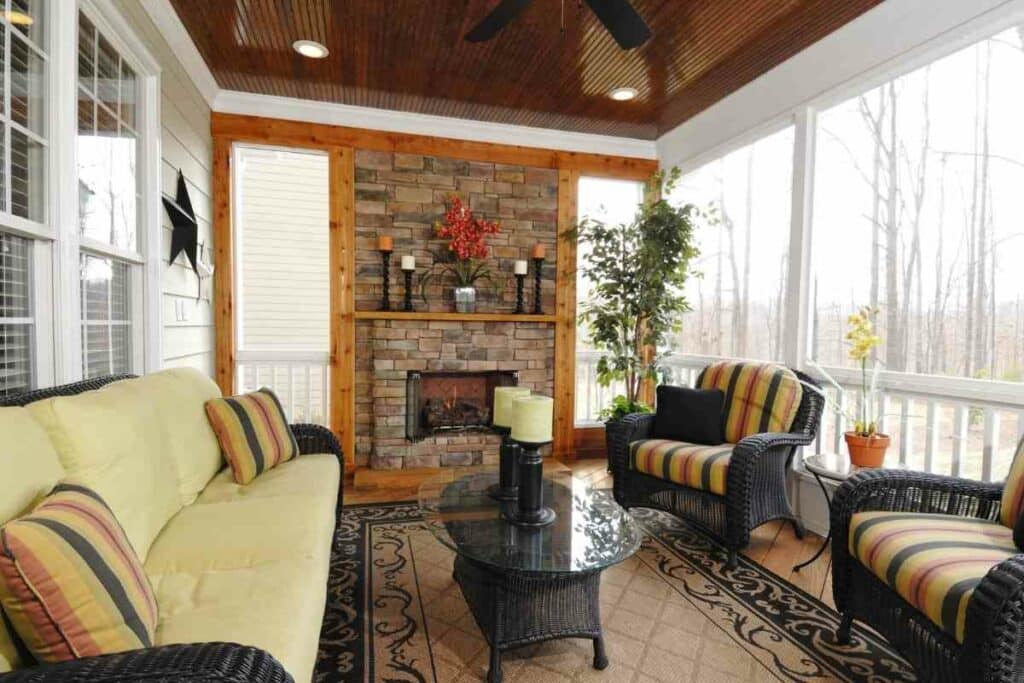 The walls will usually be double-glazed insulated glass like windows and will often incorporate ventilation in them.
Frames are usually made from vinyl or aluminum.
You can get doors to the outside with these enclosures to and they'll almost always have cooling, heating, and electricity.
You can even request plumbing if you want a bar or sink!
The costs of patio enclosures
How much you pay will entirely depend on the design and installation.
As you've seen in this article, there are so many different options ranging from temporary, budget enclosures to permanent plumbed-in mini-extensions.
The average cost (for something in the middle) is around $70 per square foot.
But since there are so many options, you might pay $200 for a temporary vinyl enclosure or $45,000 for an enclosed high-end, four-season patio enclosure.
Types of Patio Enclosures FAQs
Can a sunroom be used all year round?
It depends on where you are but typically, these rooms can be used all year round as many have heating and cooling systems built in.
Why build a patio enclosure?
A patio enclosure helps you build a connection between your backyard and your home.
If it has a direct doorway between the rest of the house and your backyard, it helps create a transition to the outside.
With screens or large windows, your enclosure will feel more like a sheltered space outdoors rather than another room indoors.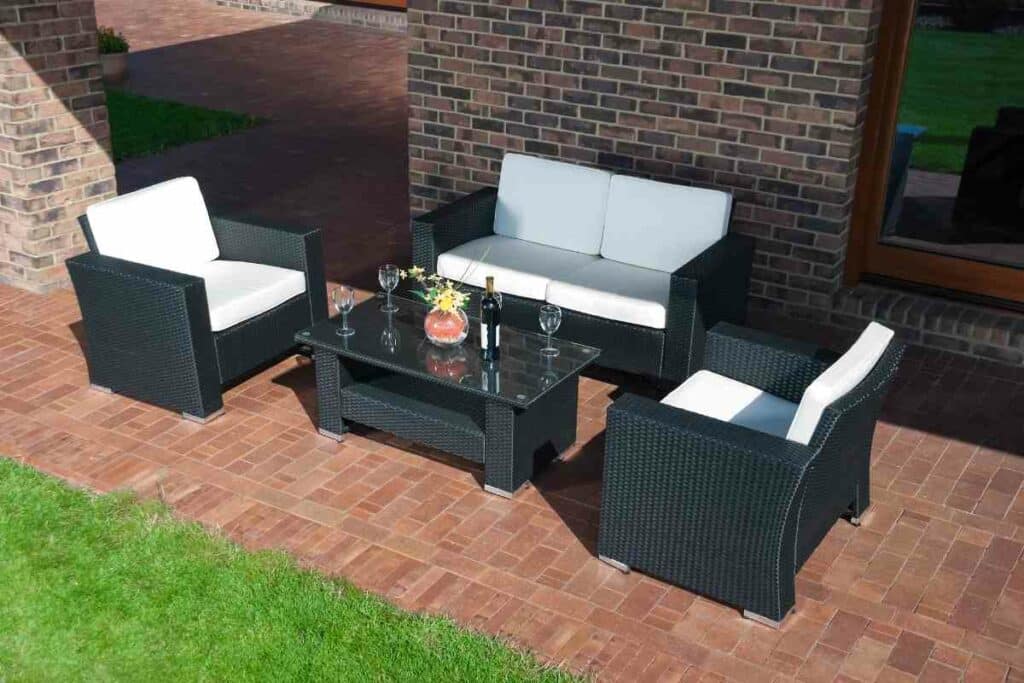 How do you make an enclosed patio feel like an outdoor space?
If you install large screens or windows with minimal frames, you'll feel like you're in a sheltered, outside space.
If you can open up the screens when the weather is nice, this will make you feel like you're outdoors a lot too.
Can you use a glass enclosure when it rains?
Absolutely! Temperature allowing, glass patio enclosures are just as great in the rain as they are in sunshine.
There's something nice about hearing raindrops above your head and being dry inside!
Final thoughts on patio enclosure types
If you've decided you would like a patio enclosure, the first thing you probably need to decide is how much you're willing to spend on it.
Once you have a rough idea of a budget, you'll then be able to narrow down your options.
If money's no object, an all-weather, fully-fitted four-season enclosure is the top choice – but not everyone wants something that big or adventurous.
Read Next