It's critical always to consider the terrain when building a pond.
As many know, having a level site gives a much better opportunity to make a pond.
However, many people's properties or homes are not level, and the only space available for the pond is on a slope.
Pond installation may be complicated and daunting, especially in a sloped property. Fortunately, a slope in no way prevents one from being able to construct a pond. Several methods can help turn a sloped yard into the ideal canvas for a pond.
Though it may present some additional challenges, you can put up a beautiful, functional, and safe pond with the proper knowledge and planning.
Essential Things to Consider When Building a Pond On a Slope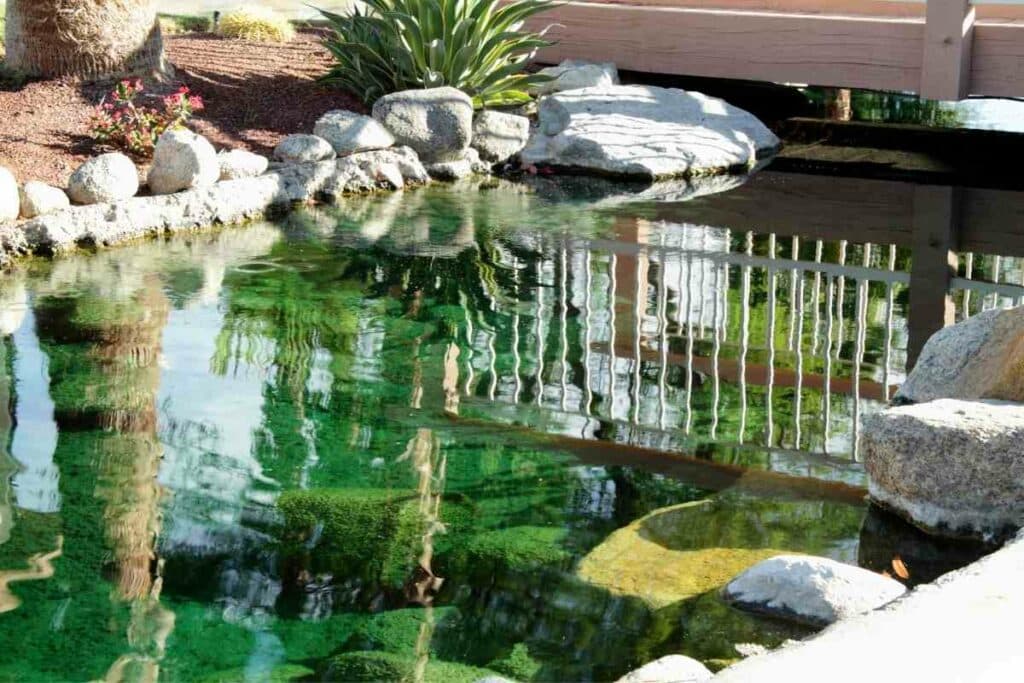 Budget
It's critical to set a budget for pond construction early on to determine how the project will progress.
It will assist you in narrowing down your options and making the process go more smoothly and quickly.
Ponds built on steep slopes are not uncommon; however, as the risks increase and the work becomes more complex, the cost skyrockets.
These sites typically necessitate varying degrees of cutting or even blasting and the transportation and disposal of rocks and soil.
Sloped sites also require more excavation with specialized equipment for excavation, terraces, retaining walls, and highly specialized drainage solutions—the extra labor and materials needed to ensure that the pond is code-compliant and safe means higher costs.
Soil Storage and Staging Areas
If you are dealing with large pond construction, the extra soil will need to be moved or stored nearby for filling.
Additionally, you'll need a staging area for equipment, vehicles, and deliveries.
Safety and Regulations
One of the most important aspects of having a pond is the safety of people around the site.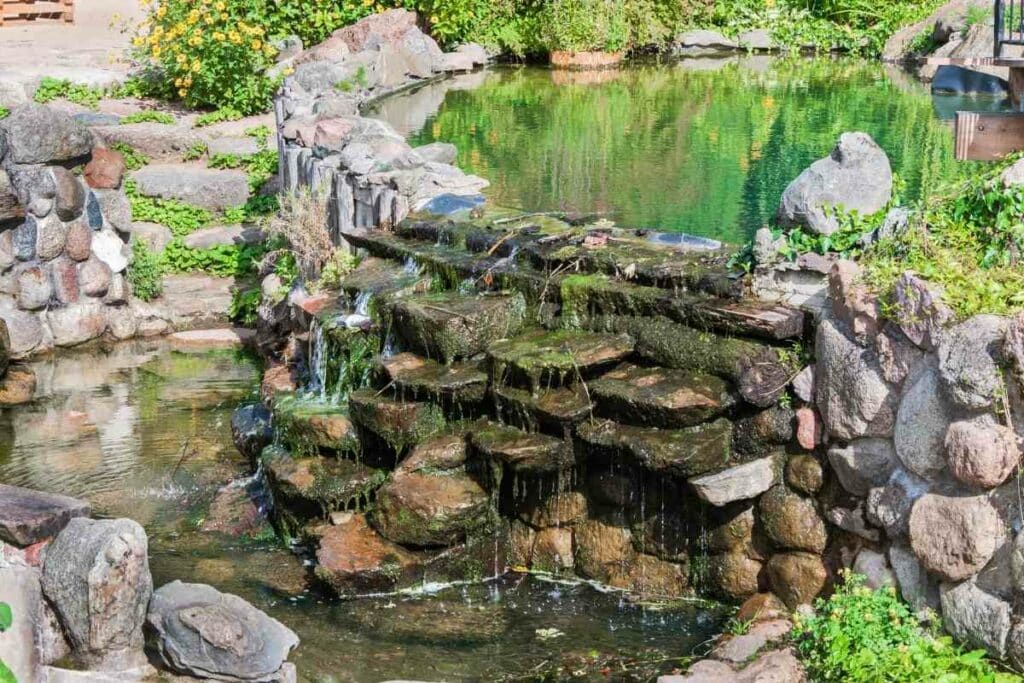 When constructing your pond, it is also critical to have a permit. Your landscape and pond must all be per local government regulations to ensure safety.
Therefore, before breaking ground and changing your landscape, contact your local building department to learn about permit requirements and all local regulations.
Terrain
Another consideration to ponder is the terrain of your pond's location.
Not all slopes are easy to work with. If your property contains heavy rocks or gravel, it will be more expensive.
---
From Experience: It would be best if you also considered how steep the slope is. Gradual slopes are much easier to work with than very steep.
---
Water Management
If you live in an area prone to heavy rains, you should pay close attention.
Steeply sloping sites increase stormwater runoff above and below the surface. As a result, understanding the effects of water on your site is critical.
If not managed properly, it can cause excessive erosion, among other issues.
To ensure proper drainage of ponds on slopes, many constructors build a retaining wall or dam surrounding the pond.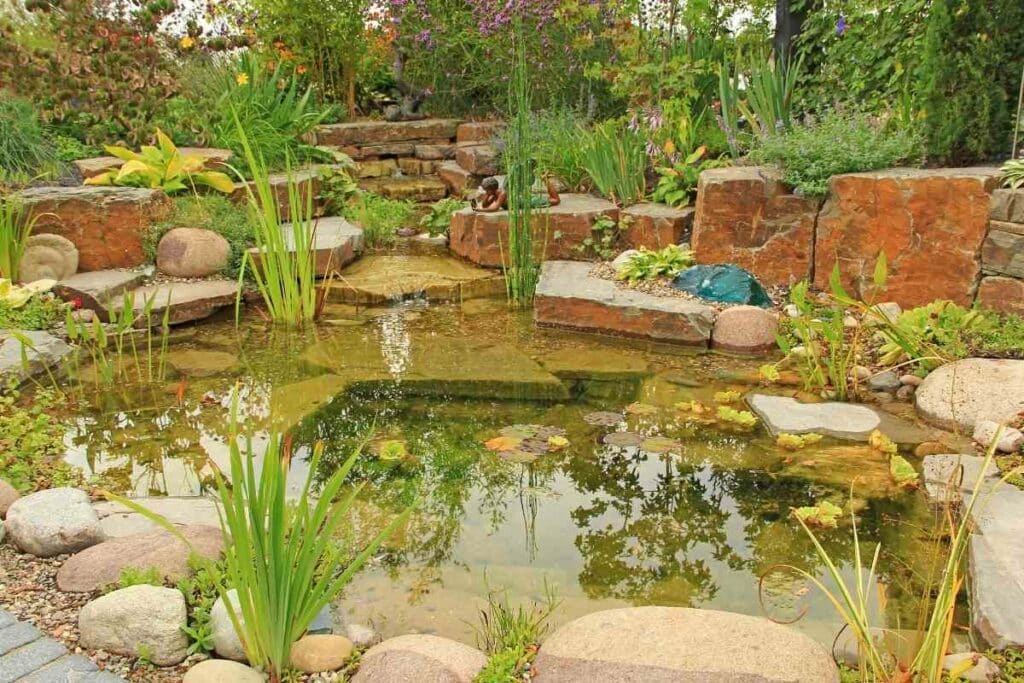 Retaining walls, built on either the slope's high end or low end, are designed to help hold back any potential erosion.
Analysis should also consider ways to redirect the water, like spillways.
Design of the Pond
The design of the pond would frequently determine its aesthetic appeal.
A sloping plot is ideal for cascading ponds and will look more natural.
Size and Depth
Before you excavate your area and dig out your pond, you'll need to assess how deep you'll want your pond to be.
The minimum depth for a small pond should be about 25 inches to ensure enough water volume.
Dealing with a Gentle Slope
For those not dealing with a significant slope, leveling the slope may be the most straightforward course of action before beginning the construction of the pond.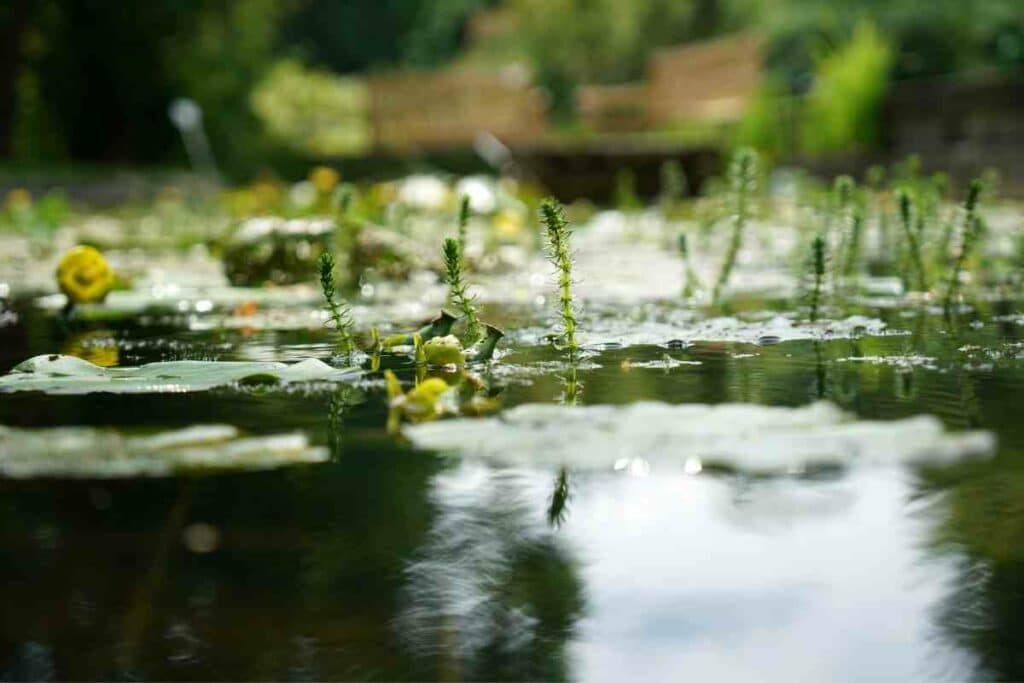 It can pretty easily be fixed with construction equipment and grading. Leveling the slope involves adding soil, removing soil, or both.
Take some of the soil from the upper side of the slope and pile it into the downward side until the two sides are roughly equal and the water is level.
---
This Way: You will prevent any spillage due to the gravity of the slope. It should be hard to tell that there was ever any sloping at all when finished.
---
Dealing with a Steep Slope
It would be best to consider other options for those dealing with a steep slopethat is too extreme for the traditional leveling solution.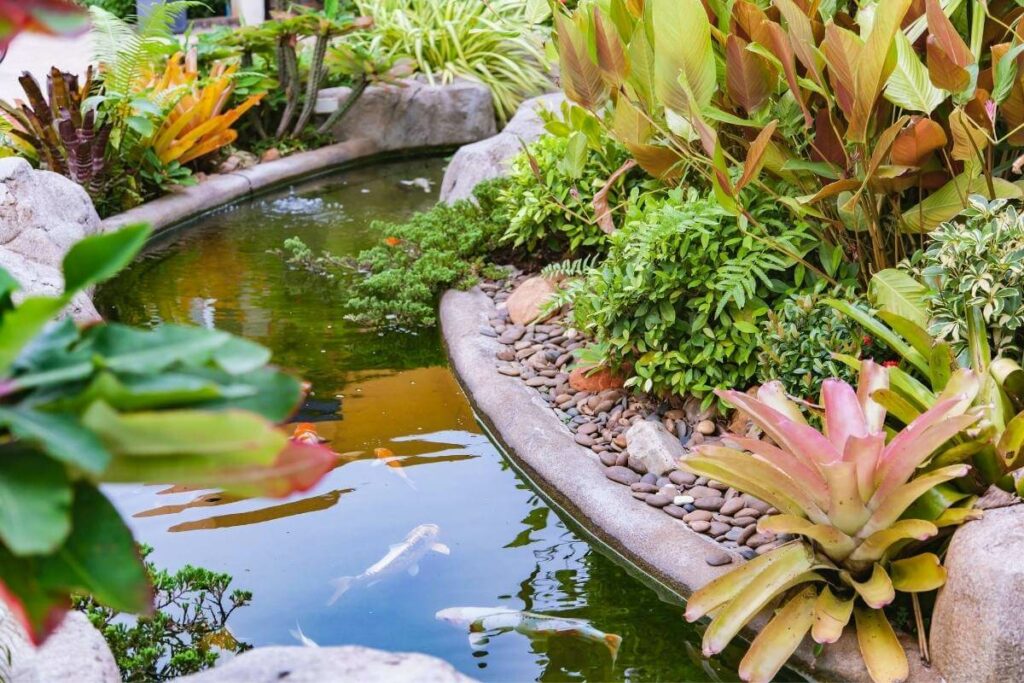 It's critical to remember that any solution you use to should address three major concerns: erosion, runoff, and pond collapsing. 
Water flows downhill. So, this isn't always an issue if you're installing your pond at the top of a slope.
However, if the pond is at the bottom of the slope, the last thing you want is for the slope you've built your pond into to slide unceremoniously into the water. 
Building either a dam, embankment, or retaining wall on the downward side of the slope is one of the first things you can do to make a slope-side pond work for you.
They will help hold the remaining slope from backsliding into your new pond.
Whether you've added a dam, a barrier, or a large retaining wall, you should also address the issue of storm runoff before construction.
An undirected runoff will flow into your pond. Not only will this promote erosion, but it will carry debris and dirt into your water.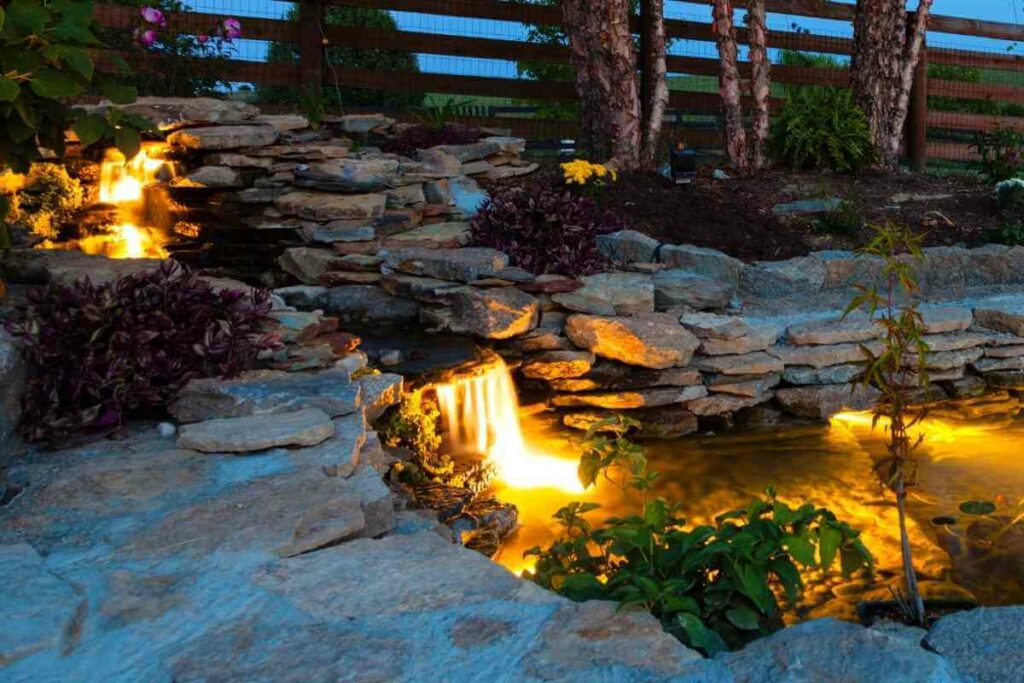 You, therefore, need to make plans to deal with water running down the slope and overflowing your pond.
The overflow should be directed to an existing drainage channel, a sump drain, or an underground drainage pipe.
This will help carry excess water out of a pond to keep the water level stable and prevent the dam from overflowing or eroding during heavy rains.
An additional emergency spillway can be constructed to protect the dam or the embankment from submerging underwater in more severe flooding.
---
Keep In Mind: Both spillways will direct excess water around the dam and into a drain. To avoid erosion or damage to your pond, the water should be channeled so that it flows slowly.
---
How to Use The Slope to Your Advantage When Building a Pond?
Though many people think of a slope as a disadvantage, hills can provide many creative opportunities you may not have otherwise.
You will have the option of including natural-looking waterfalls and hearing the sound of running water while relaxing in your outdoor space.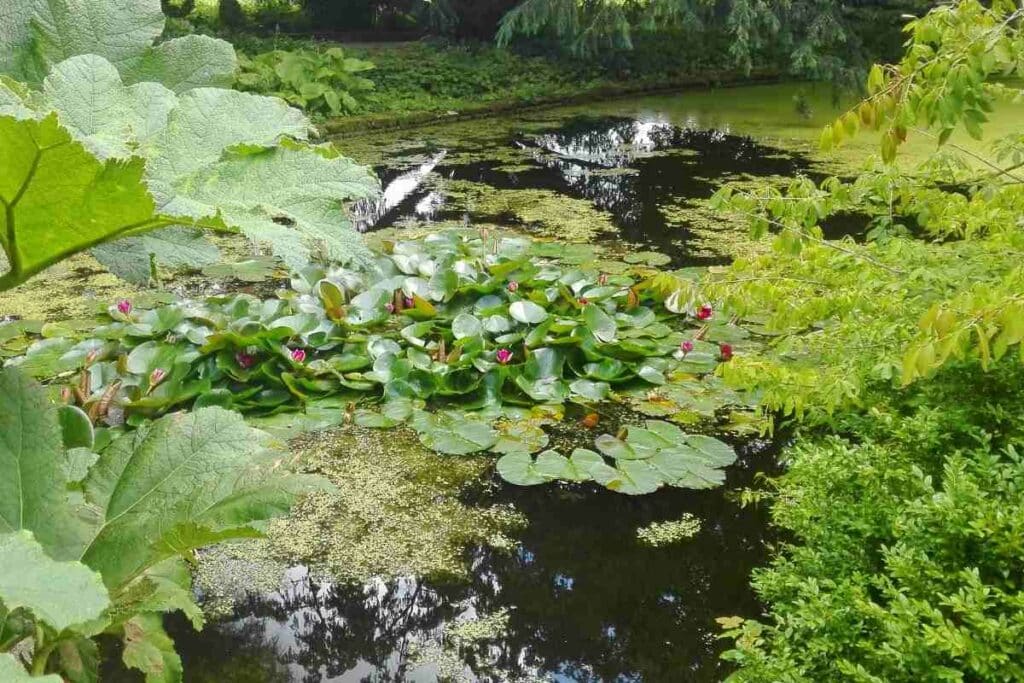 A backyard garden pond with your waterfall, floating plants, and darting fish can make a plain space breathtaking.
However, to achieve this, you must collaborate with a team that can see the opportunity your space provides.
A good contractor will know how to turn the challenge into an exciting design.
In the end, you should be left not only with a functional pond but a beautiful backyard space you can use for years to come.
Final Thoughts
Installing a pond in a sloped yard can be difficult.
However, working on a slope is an opportunity. Numerous methods can assist you in transforming your slope into a beautiful and functional space for a pond.
With the extra engineering and ingenuity involved with working on a slope, you must choose the right pond builders who are indeed up to the task.
In Case You Missed It