Robotic lawnmowers are another device that has joined the constellation of appliances that make life incredibly easy in the smart home.
Modern consumer expectations demand connectivity and convenience, so it is not surprising that robot mower manufacturers are including a range of features on their robotic mowers that you can manage via a smartphone.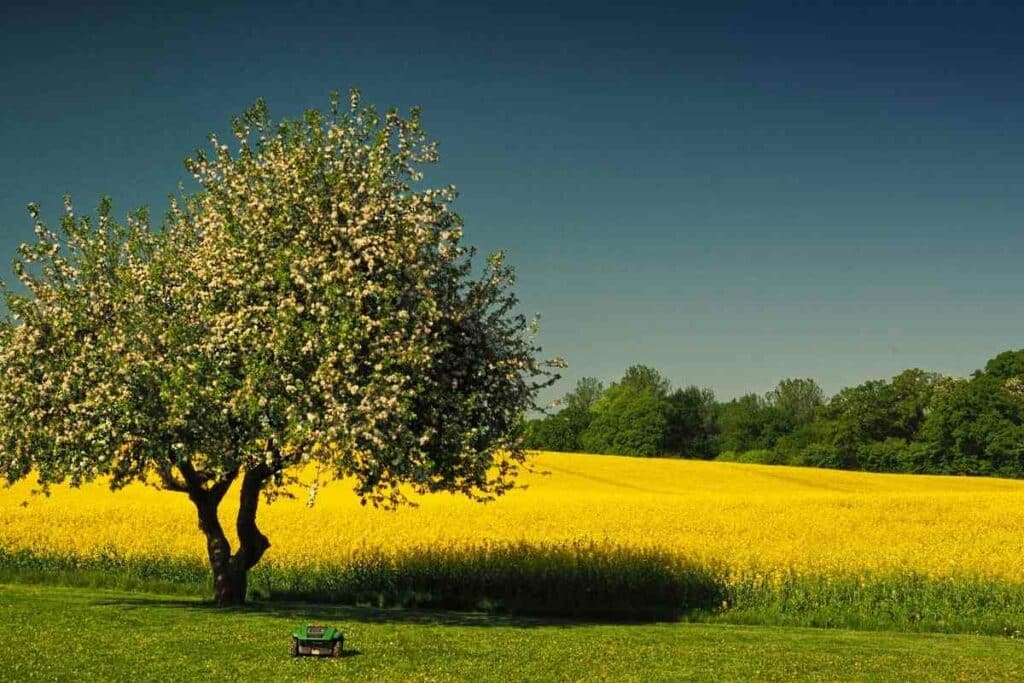 With Wi-Fi connectivity being ubiquitous, this type of wireless connection proves very handy for getting a robotic mower up and running from the comfort of indoors.
However, Wi-Fi does have some limitations that may mean you and your robotic mower can get by without it.
In This Article – We will share the features that make Wi-Fi connectivity hasgreat for robotic mowers and some of its limitations. 
Wi-fi Enables Your Robotic Mower to Join the Internet of Things
Wi-Fi, more formally known as IEEE 802.11 has become indispensable in modern living with over half the worlds population using this wireless networking technology for internet access and a whole host of helpful applications.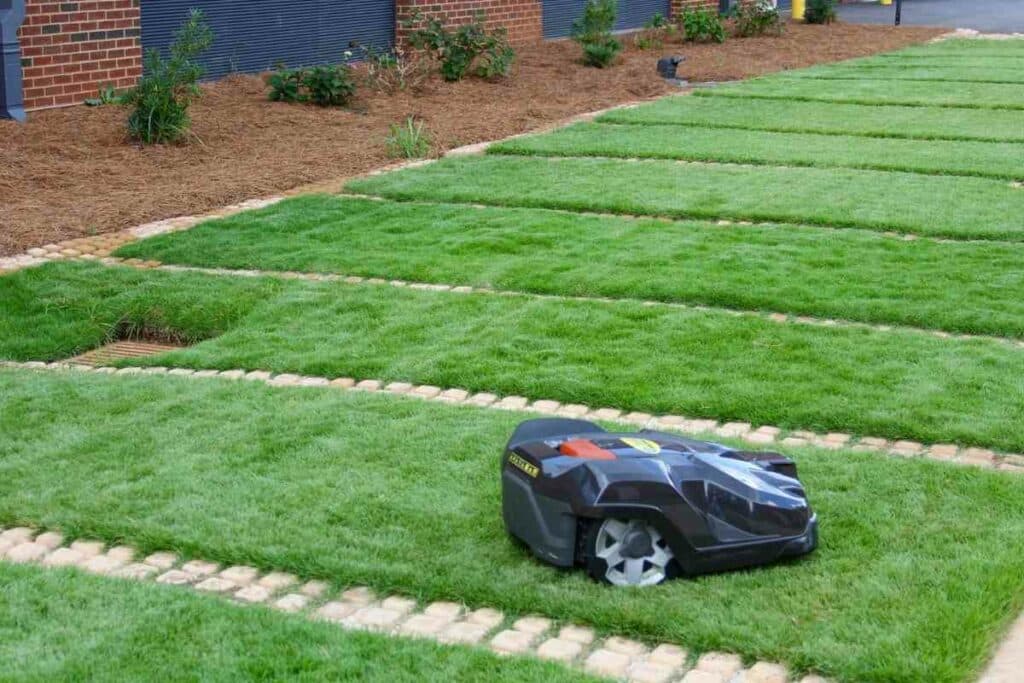 It is successful because of its simplicity and low cost, using license-free (non-cellular) frequency bands that a wide range of devices can use.
With 90% of North American households having Wi-Fi, it is understandable that a robotic mower with Wi-Fi will be a shoo-in for the average household.
Wi-Fi connectivity is a feature of many smart home devices enabling remote monitoring and control of the domestic environment using a smartphone. 
How Does Wi-fi Connectivity Work on a Robotic Mower?
Robotic mowers that are Wi-Fi-enabled have an onboard Wi-Fi radio module and an internal antenna.
This enables the robotic mower to exchange data with Cloud-based applications designed by the manufacturer of the robot that can be used to remotely control the mower.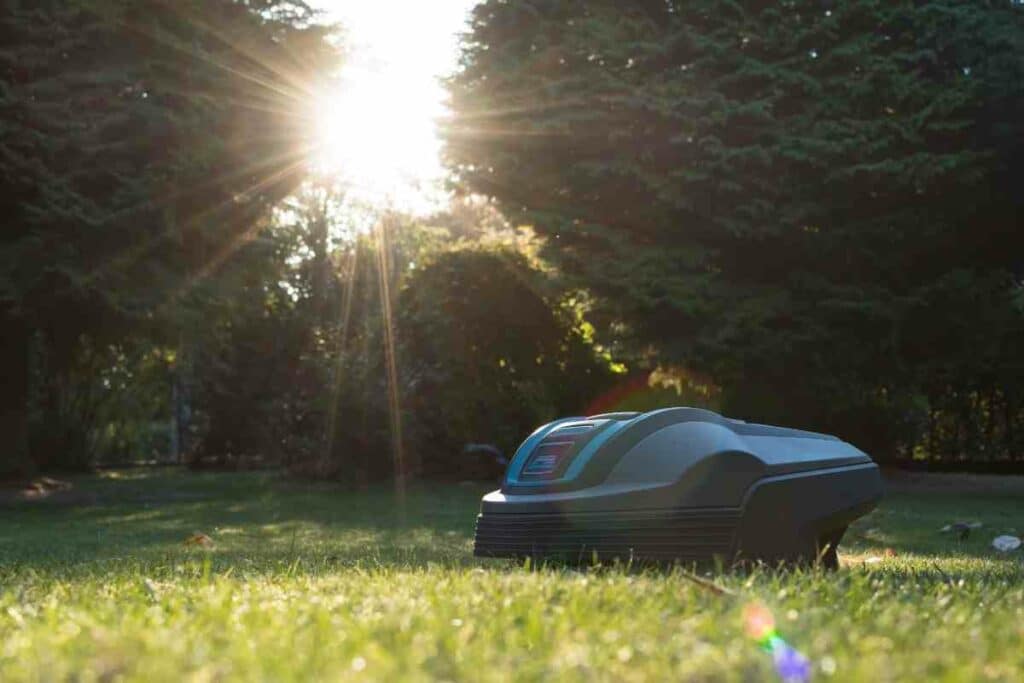 The robotic lawnmower needs to be connected to the domestic Wi-Fi router, access point or smartphone using a password for a secure connection.
Once Paired – Bi-directional data exchange can take place between the robot and a smartphone app using the original 2.4 GHz frequency of Wi-Fi. 
Using this wireless connection owners can monitor and control their robotic mower and receive real-time status updates if they are within the vicinity of the mower.
As we will see, it is a smart system but does have its limitations. 
Advantages of Wi-Fi Controlled Robotic Mowers
Aside from Wi-Fi being in most homes, there are some real advantages for buying a robotic lawnmower with Wi-Fi onboard.
Here are some of the key reasons.
A Fast, Reliable Connection
The speed of Wi-Fi delivers the greatest convenience.
It is simply a more reliable and speedy connection with greater coverage than Bluetooth. 
Instant Remote Control of Your Robotic Lawnmower
Wi-Fi enabled mowers don't have to be controlled via their onboard control panel.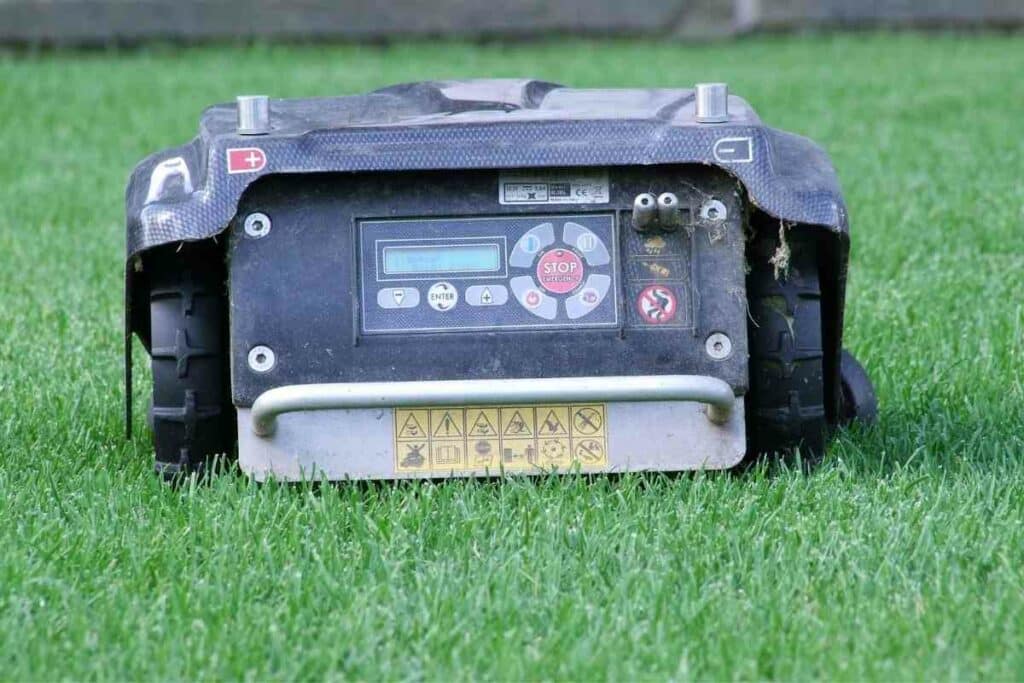 You can use your smartphone for a wide range of commands for your robotic mower including:
Switching the robotic mower on and off
Controlling individual sensors
Monitoring battery life
Conveniently Create a Schedule for Your Robotic Mower
Programming your mower via its control panel can mean endless, scrolling and button-pushing.
Smartphone apps provide an intuitive interface that makes it easy to create and change your robotic mowers schedule.
Receive Status Updates and Instant Alerts
Your robotic lawn mower can use its Wi-Fi connection to deliver updates on its progress and alert you to problems wherever you are in your home.
Integrate Your Robotic Mower Into Your Smart Home Ecosystem 
Wi-Fi connectivity makes it easy to integrate your robot mower into your smart home network.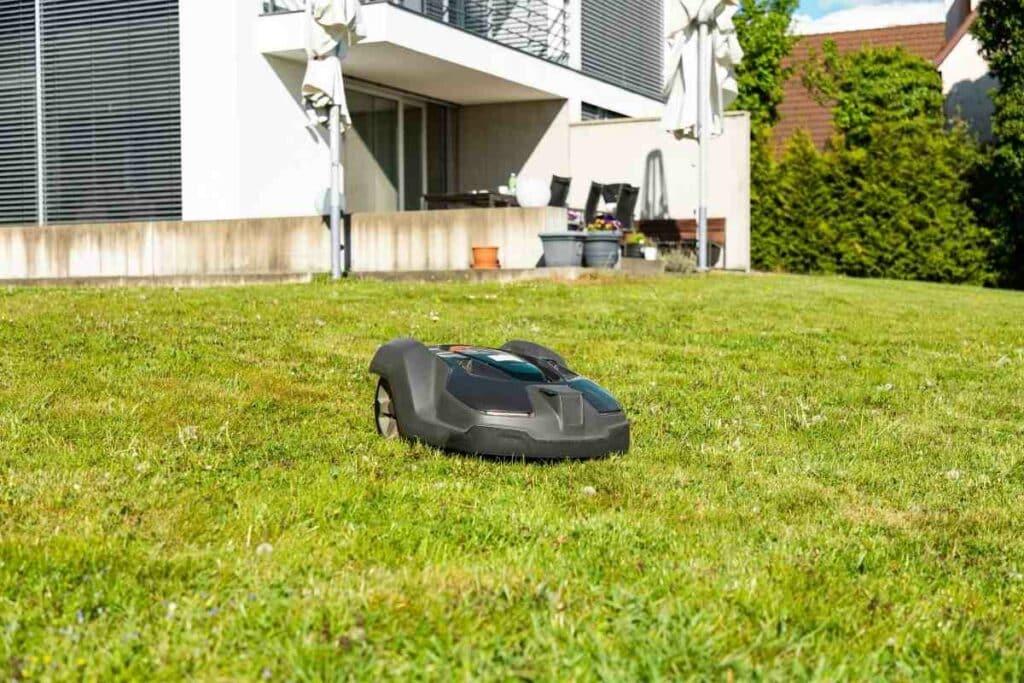 You can even configure some robotic mowers to be voice-controlled via a Wi-Fi connection (e.g. "Hey Siri, start the robotic mower with edge setting").
Potentially, you can integrate an autonomous mower with Wi-Fi on board with:
Amazon Alexa
Apple HomeKit 
Google Personal Assistant
But Wi-Fi Has Its Limitations
Here are some of the disadvantages of Wi-Fi connectivity, especially versus a robotic mower with cellular connectivity.
Wi-fi Range Means You Still Need to Be Relatively near the Robotic Mower
Bluetooth is a Personal Area Networking (PAN) technology meaning you have to be within ten meters or so of the robot mower to program it wirelessly.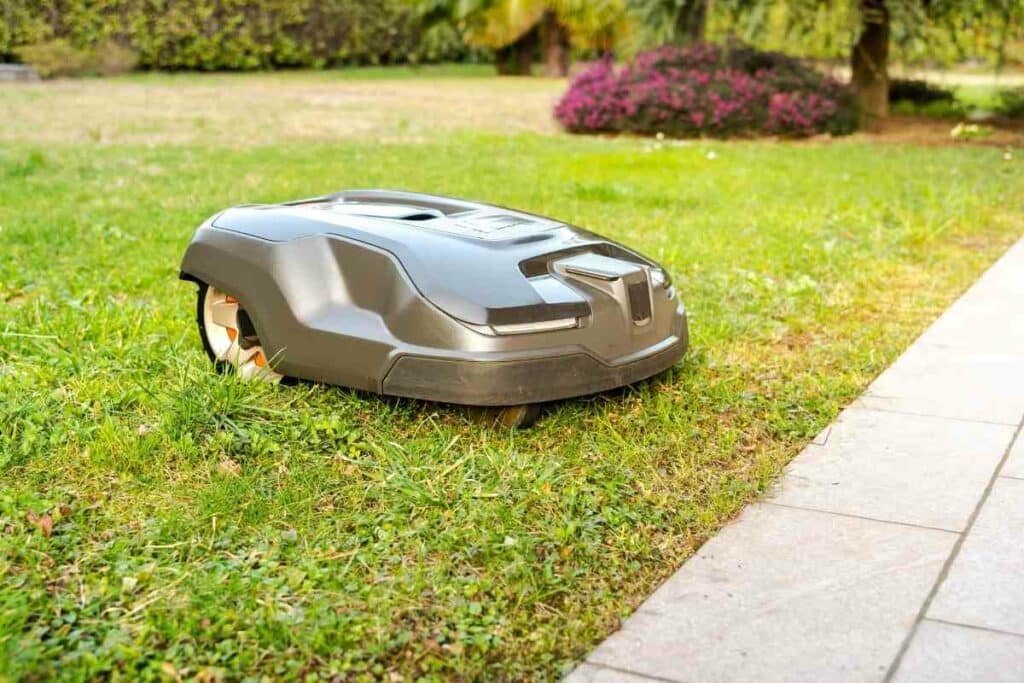 Though Wi-Fi is a wireless Local Area Networking (LAN) technology and has a range that is ten times that of Bluetooth, you still can only be 100 meters away from the bot, meaning you cannot control your robotic mower if you are away from home.
Wi-Fi Has the Potential Interference
The main frequency band used by Wi-Fi (2.4 GHz) is used by just about every other wireless device on the market, including Bluetooth-connected devices, cordless phones and even microwave ovens.
This means that domestic Wi-Fi can become congested with interference affecting your ability to control your robotic mower wirelessly.
Robotic Mowers with Wi-Fi 
There are some great robotic mowers with Wi-Fi on the market that can deal with lawns of all sizes.
Here are a couple of examples to give you an idea of the features and specifications of a Wi-Fi-enabled robotic mower.
1. WORX WR165 Landroid S Robotic Lawn Mower
Technical Specifications
Cutting width/height: 8 in/ 1.5 in to 3 in (20.32 cm/ 3.8 cm to 7.6 cm) 
Maximum lawn area mowed: 5445 square feet (506 square meters)
Maximum gradient: 20 degrees
Battery: Lithium-ion
Working time: 3.5 hours
Weight: 49.9 pounds (9.07 kilograms)
Warranty: 3-year limited warranty
Description
This rugged, high-specification lawnmower has the engineering and features to mow medium-sized to large lawns effectively.
Alongside clear benefits that include a high capacity battery and wide cutting diameter is the Wi-Fi connectivity that enables quick and simple setup and configuration of the mower using the Landroid smartphone app.
Bluetooth and GPS connectivity are also available and you can track the mower using the Find my Landroid GPS function if it moves from its designated mowing area.
2. GARDENA SILENO Minimo robotic lawnmower
Technical Specifications
Cutting width/height: 6.29 in/ 0.78 – 1.77 in (16 cm/ 2 cm to 5 cm) 
Maximum lawn area mowed: 2700 square feet (250 square meters)
Battery: Lithium-ion
Working time: 65 minutes
Weight: 13.44 pounds (6.1 kilograms)
Warranty: 2-year warranty
Descriptions 
This stylish robotic mower from German garden tools manufacturer Gardena is 100% app-controlled via any Wi-Fi connection.
Simply open the smartphone app on your phone, enter your lawn size and mowing schedule using the intuitive Gardena app. 
The Gardena Sileno Minimo mower is perfect for small gardens and uses sensor-based controls to cut and mulch your lawn perfectly. 
Remember, You Have Other Wireless Connectivity Options for a Robotic Mower
There are many models of robotic mower that have app-based control via a smartphone app using wireless technologies other than Wi-Fi.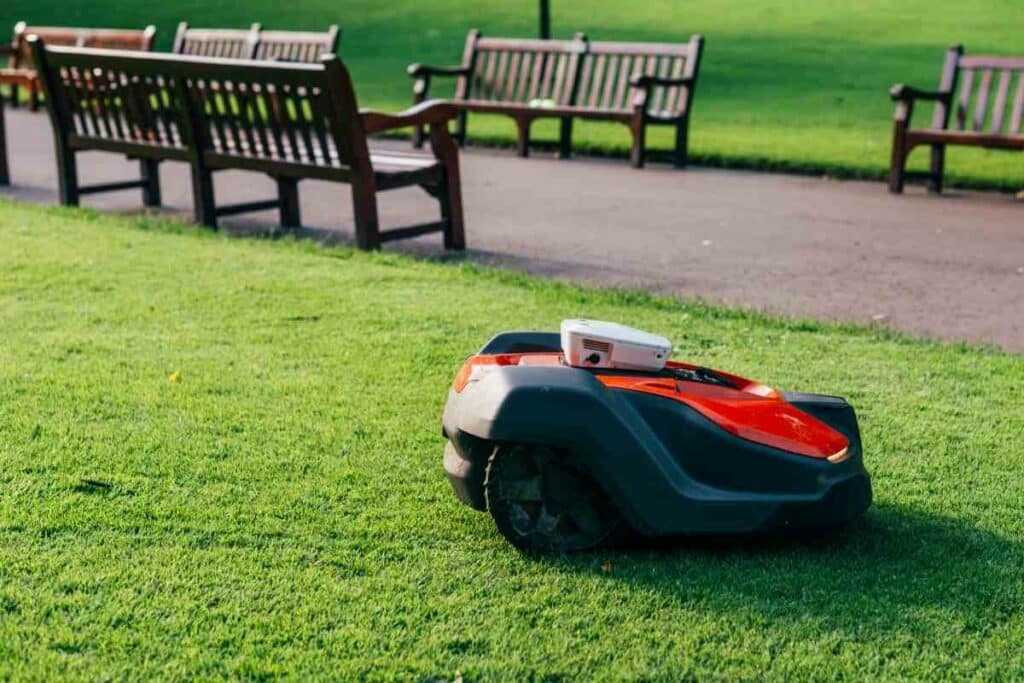 Here are the main alternatives:
Bluetooth, as mentioned above, is a common alternative to Wi-Fi, but rerquires you to be in sight of the mower to use it. It may not be effective if you have an extremely large garden and the mower goes out of range, as it is more effective when used with devices that are in a fixed position. 
 4G/LTE uses a mobile phone connection to transfer data between you smartphone app and the robotic mower for truly remote control. With cellular connectivity you can control your robotic mower from any location with ease.
Wi-fi Boosters Can Also Help You Increase Wi-fi Coverage in Your Home and Garden
If you are using the robotic mower to mow a large lawn or expansive grounds, it may be worthwhile extending your Wi-Fi signal using a Wi-Fi booster or Wi-Fi repeater.
This equipment includes external Wi-Fi antennas that can achieve greater coverage, keeping your robotic mower in range for remote control. 
Rounding Up
Remote control is a useful feature of robotic lawnmowers and adds to their convenience.
Wi-Fi is one of the best ways of integrating your robot mower in your smart home as it has suitable coverage and speed for easy remote control.
However, if you are going to be over 100 meters away from your bot, you cannot use this networking technology to access the controls.
You Might Consider