It only takes a few warm days to start thinking about how refreshing it would be to be cooling off in a pool.
If the kids are too big for paddling pools and the garden hose just won't cut it, you may give serious thought to getting a pool for your backyard.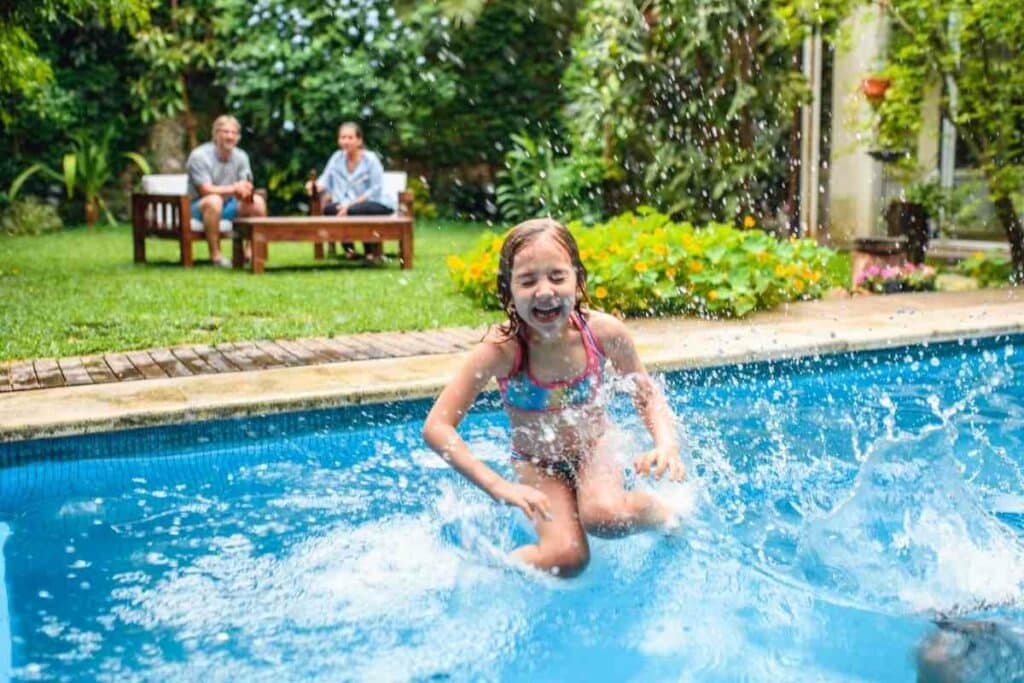 But first, how big does a backyard need to be for a pool?
Thankfully, the answer is not as big as you think!
In This Quick Article – We'll share the dimensions your yard needs to accommodate a pool and some great options for having a pool of your own in any yard. 
How big does a backyard need to be for a pool?
Both pools and yards come in all shapes and sizes, making it possible to accommodate a swimming pool in even a relatively small garden.
A good rule of thumb is that your pool should take up no more than a third of your backyard space.
This ensures that you'll still have a backyard of some sort and you can step out of your backdoor without dropping straight into the water!
The type of swimming pool determines the size of the backyard
You have several options for a pool in your backyard that vary massively in size and installation requirements.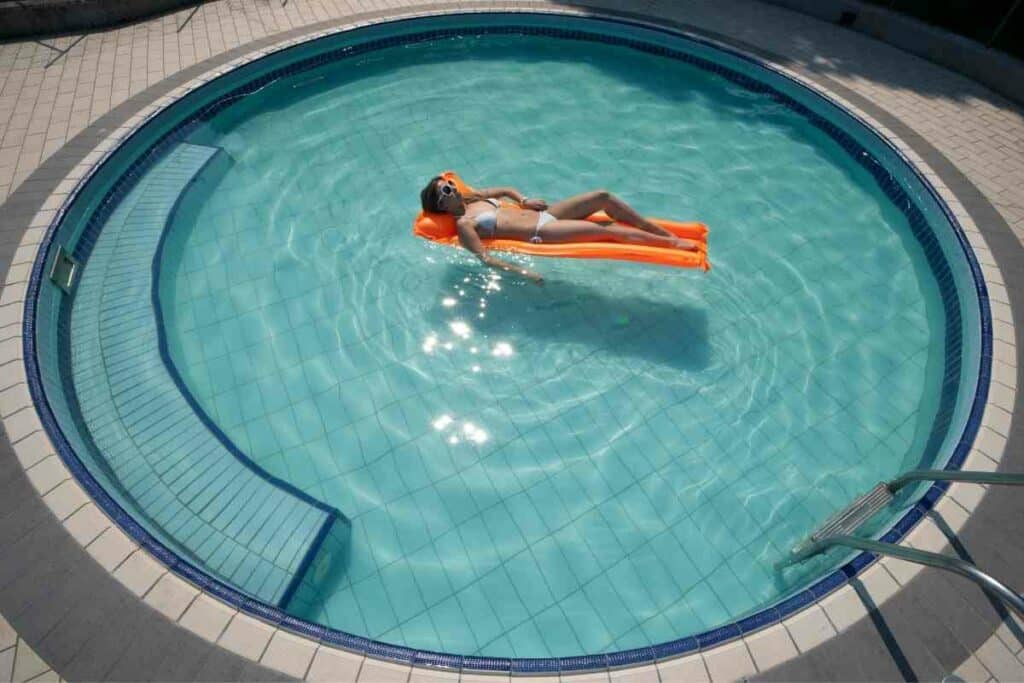 Here are the most popular backyard pool options:
Above-ground pools: These pools sit on the ground in your yard and are typically made from vinyl aluminum and steel. They are cost-effective and can be assembled and dismantled as a DIY job.
In-ground pools: Contractors sink in-ground pools into the earth of your garden and become a permanent feature. They typically comprise a fiberglass or resin pool that is sunk into the pond, much like a pond. 
Lap pools: These pools are the choice for people who want to swim in their pool. They are long and narrow so you can swim a length.
Infinity pools: Favored by celebrities and moguls, the infinity pool has a stunning vanishing edge design that looks like a luxurious waterfall that requires significant amounts of space and complex installation. 
Swim spas: These are a smaller, more recreational choice of pool that uses a jet of water to create a current that a swimmer can swim against without covering a significant distance. A swimming version of a treadmill.
Hot tubs and spas: These popular pool options a small and compact and purely for the recreational benefit of relaxing in water rather than swimming.
Knowing the size of your garden can help you pinpoint the pool size that will work for your property
You can achieve the one-third rule for pool size in most gardens if you are willing to compromise on pool type and size.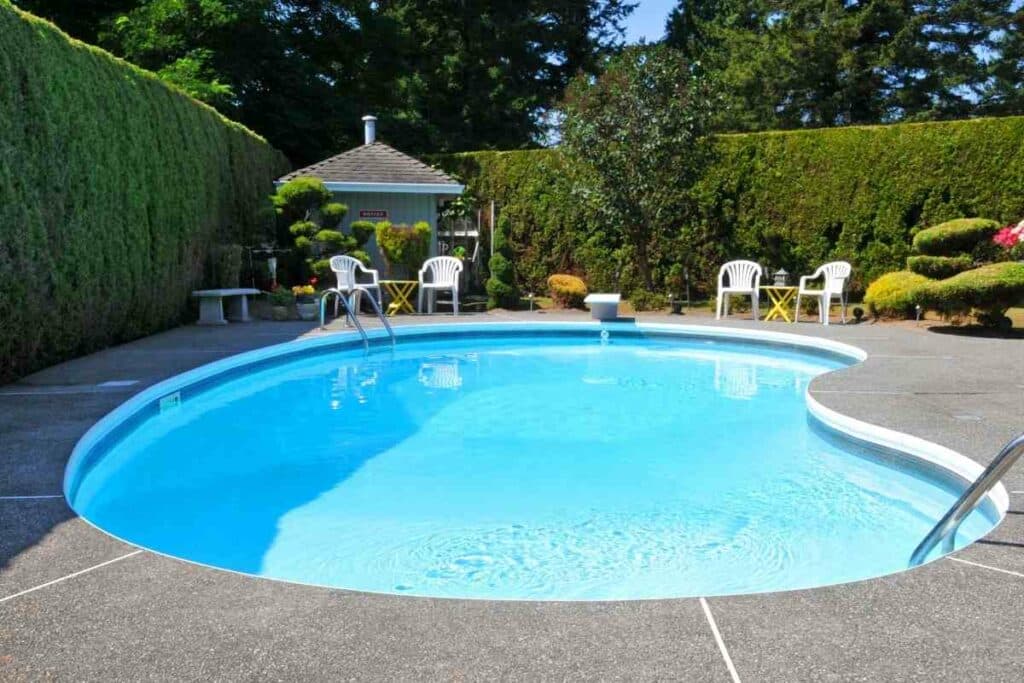 But shape and dimension may mean you can get away with a larger pool! 
Simply look for pools with a footprint that will work with the yard size you have. Most in-ground pools have a length between 20 and 30 feet.
You can use this table that includes the minimum footprint you'll need for the most popular outdoor pool sizes: 
| Pool size (feet) | Minimum yard size (feet) |
| --- | --- |
| 40′ x 20′ | 52′ x 30′ |
| 36′ x 18′ | 48′ x 28′ |
| 30′ x 15′ | 42′ x 25′ |
| 28′ x 14′ | 36′ x 24′ |
| 24′ x 12′ | 34′ x 22′ |
| 20′ x 12′ | 32′ x 22′ |
Minimum yard size by pool dimensions
Pools need yard space 
A decent pool is going to become a central feature of your yard, but there are many other factors you need to consider beyond the pool itself.
Make sure your garden setup has the following factors covered:
The number of people using the pool
Think about it. You wouldn't have a hoard of unruly teens dive-bombing your hot tub.
Stick to the maximum number of people the manufacturer says can use the pool at the same time.
Clearly, if you can get away with a large pool, the more the merrier, but safety always comes first.
You may have to take turns if your backyard, and therefore the pool, is small. 
The shape of your pool
The standard rectangular pool shape with a 2:1 ratio may not be suitable for the dimensions of your yard.
This can be a good thing as it can open you up to the option of trying a non-traditional shape.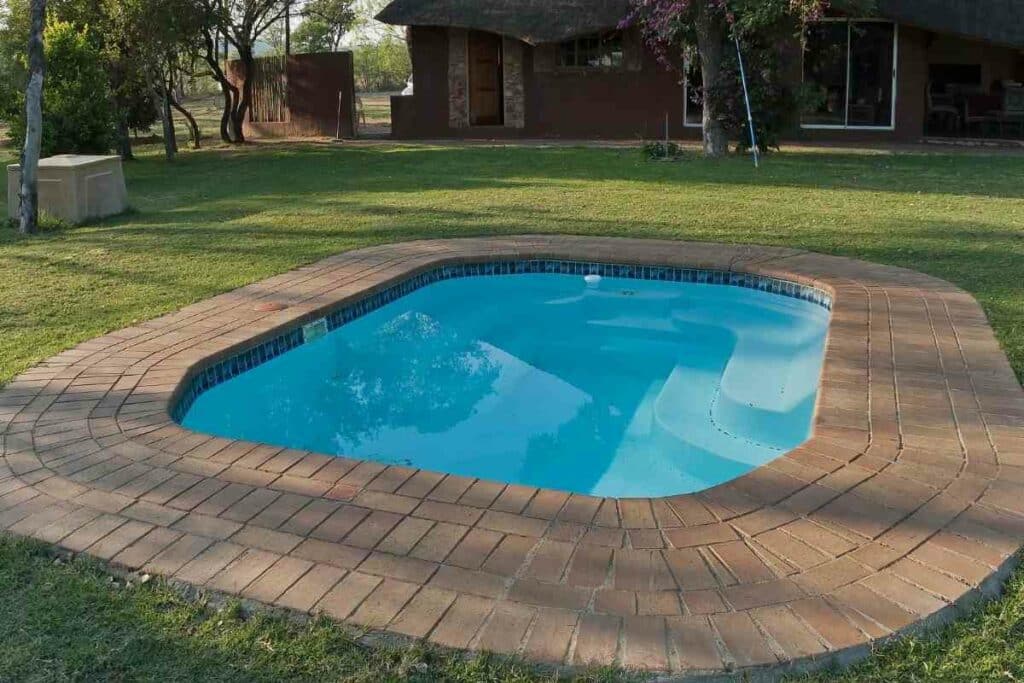 Circular, square or completely custom pools may be an option for compact or narrow yards. 
You'll need room for depth
If you want a real swimming pool experience, or at least somewhere the kids can cannonball safely, you'll have to factor in the depth of your pool.
With swimming pools, you need length to create depth so you have a safe, gradual gradient towards the deep end. 
What is going to surround your pool?
Many pool owners opt to secure their pool with gated fencing that takes up more space.
In some municipalities, this is a legal requirement to prevent children or animals from falling into the pool.
Also, seating like loungers will require further space, along with parasols, slides, and other water features. 
If your yard is small, these hacks could make a pool workable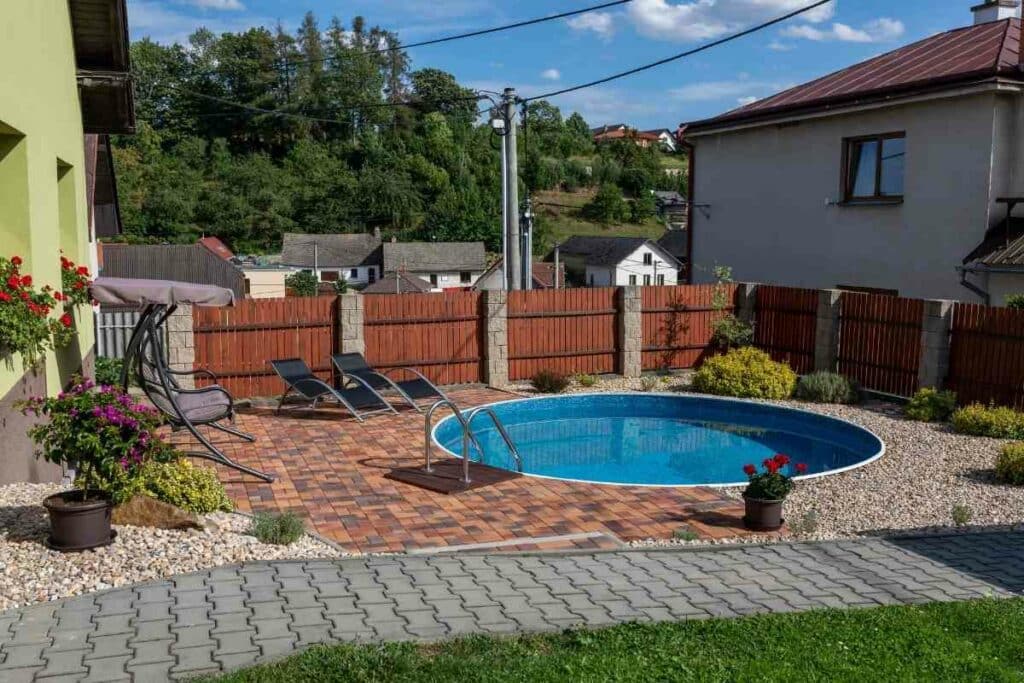 With smart landscaping, you can rip up the rule book and make a teeny tiny pool your summer garden upgrade.
Here are some canny ideas for including a small pool in your yard. 
Your pool can double-up as a water feature
Be creative and build a small pool into a smart water feature.
Switch up your tiling and opt for an understated finish with natural stone-colored tiling that will blend in with the garden decor and reflect light.
A raised border of an above-ground pool provides a place to sit and paddle.
A plunge pool is a great compromise
Plunge pools are a classic option for small gardens as they are compact but offer enough depth for full immersion.
You mightn't be able to do laps, but you can wade, lounge or float in this stylish pool design. The pool can include integrated steps for seating.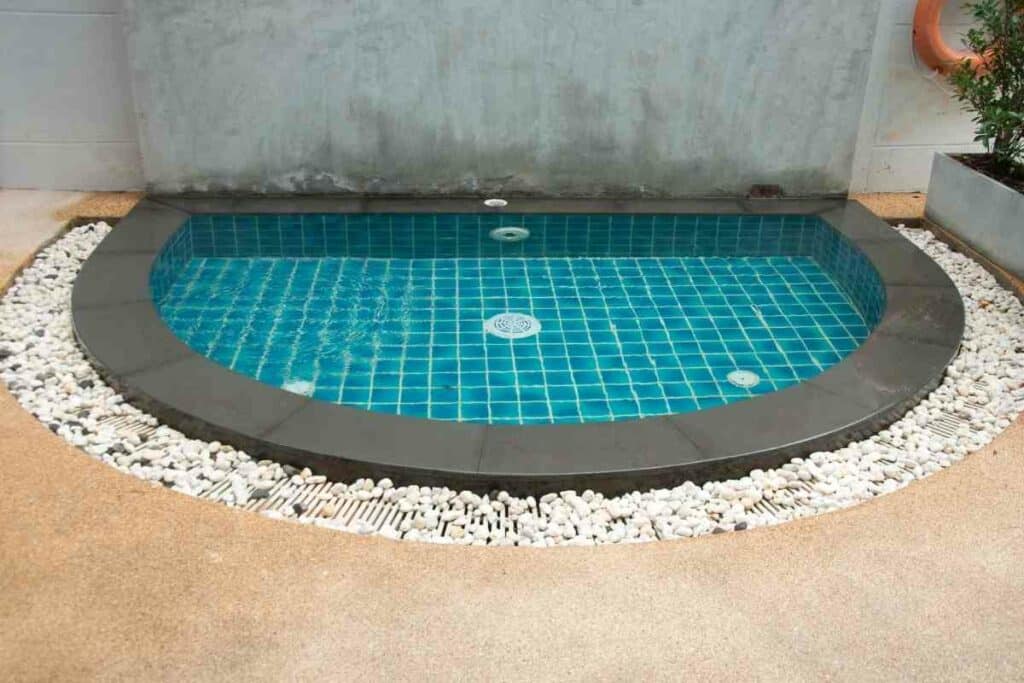 Use edges
If your zoning or neighbors permit, ‌use the edges or corners of your property to squeeze in that pool you've always dreamed of. 
Rounding up 
Pools are the ultimate garden luxury, but when your backyard is small, fitting one in can be a challenge.
Ideally, you need a backyard that has ample space, but there are options for taking a refreshing dip in a small pool that has been creatively located. 
In Case You Missed It