Have you ever been unfortunate enough to wake up and find your trampoline missing after a storm?
Or have you ever found someone else's trampoline in your garden for the same reason?
The truth is that trampolines are notorious for flying off in high winds, gusts, and storms.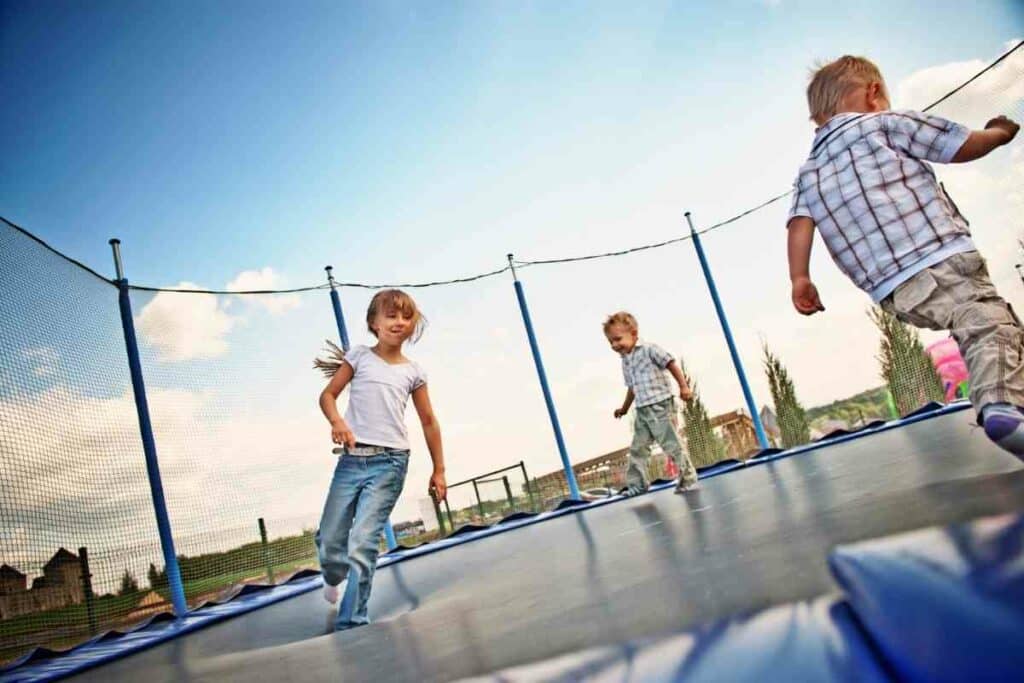 Since these fun garden installments aren't cheap, it's best to protect them from potential wind disasters. To do this, anchoring down is a must.
There are a few different ways in which a trampoline can be anchored and they're all relatively low-cost and simple.
What to Expect? Our how-to guide will help you understand both what you need to anchor down a trampoline and how you can do it. Read on to find out.
How much wind does it take to lift up a trampoline?
Your average trampoline will be able to withstand most minor winds but if you regularly see gusts of 40 mph or more, you'll start to notice your trampoline moving if it's not anchored down, especially if it isn't in a sheltered place.
Garden fences, hedges, or trees can offer some natural protection from the wind and can prevent enough wind from getting underneath the trampoline but they're not foolproof.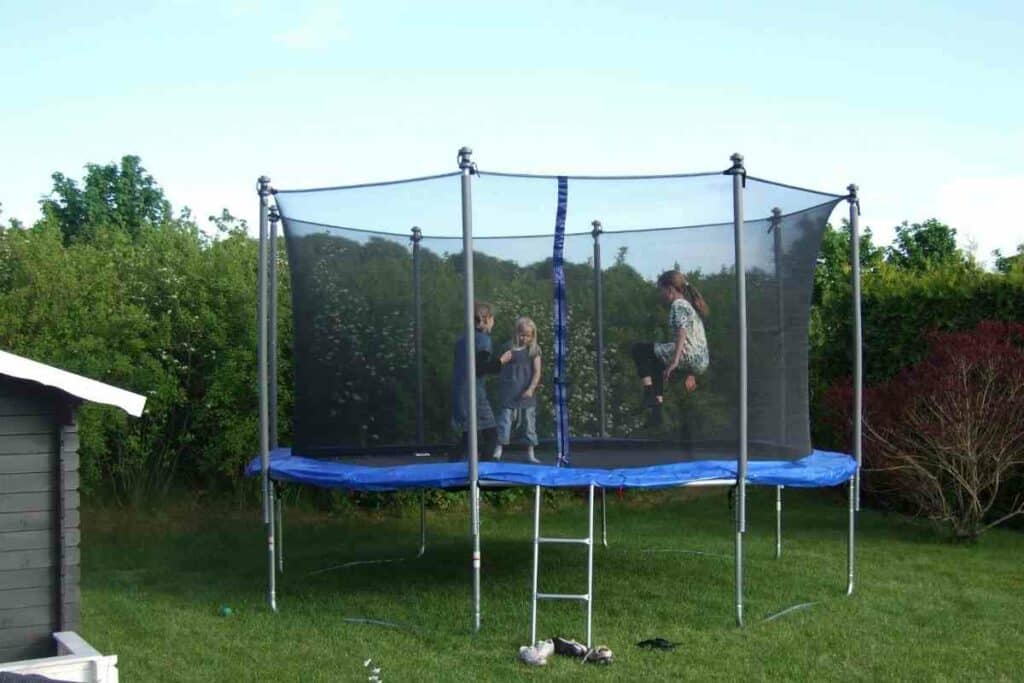 And if you don't have these natural barriers, you'll likely see your trampoline lifting with lower wind speeds.
No matter where you live, it's probably worth investing in trampoline anchoring so that you can keep your trampoline in place and protect your property (and other people's) at the same time.
How to anchor down a trampoline with wind stakes
One of the easiest ways of anchoring down your trampoline is with wind stakes.
These can be installed at any time and it's a good idea to use them from the start.
With wind stakes, you can rest assured that your trampoline isn't going anywhere any time you notice the wind picking up.
It's best to use solid-steel wind stakes that are a U-shape.
If you know you live in an exposed place or a notoriously windy area, you'll need to use heavy-duty wind stakes. Wind stakes usually come in a set of four and they're really easy to install.
Each of the stakes should be placed over the trampoline legs with an even spread between them. This is because you'll see the most stability when they're equidistant. Trampoline wind stakes are usually universal and wide enough for any size of trampoline leg.
To install them:
You'll need to tap them into the ground with a hammer or mallet. You'll usually only need a small number of taps and they'll be done.
Test them by jiggling the trampoline once you've put them in. If you think they feel a little loose, remove them and place them in a new position until you're happy they're secure.
Wind stakes are fine to use on all sorts of surfaces like dirt, turf, grass, or clay. To install the stakes more easily on tough ground, you can add a little water.
To Remove the Wind Stakes – You might need something like a screwdriver that you can use as a lever between the trampoline leg and the stake until it reaches a height that you can pull out by hand. Broken or bent stakes should be replaced as soon as possible.
Anchoring a trampoline on top of a concrete surface
When placed on a concrete surface, a trampoline will move around more easily.
It's important to anchor down a trampoline that's on concrete as it stands a good chance of blowing away.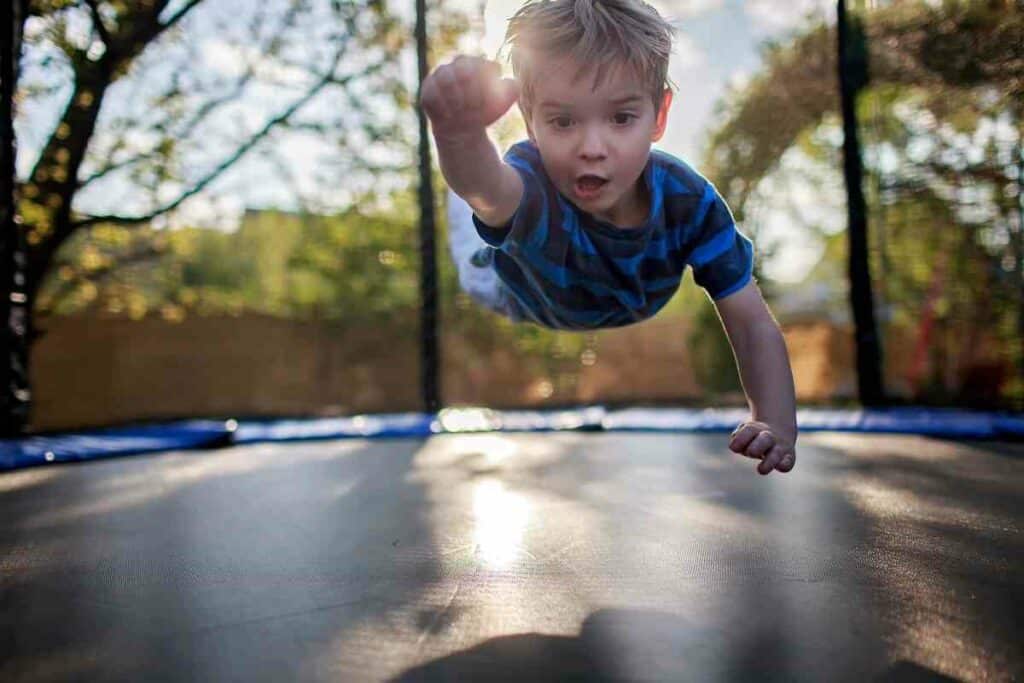 Unlike on a soft surface, however, it's not so easy to do.
One solution is using sandbags or trampoline weights to secure it.
Sandbags are heavy enough to keep your trampoline anchored in high winds – and what's great about them is that they'll take on the shape of the legs and gently mold themselves over them.
Trampoline weights (or gazebo weights) serve the same purpose and can be attached to the legs for security.
How to anchor down a trampoline with auger-style anchors
You can also use auger-style anchors to secure your trampoline.
An auger-style anchor is more than just a stake; this includes a strap system that ties your trampoline down.
The typical auger anchor kit includes:
a steel auger
and four straps to adjust to fit
An auger-style anchor kit is an ideal purchase for trampolines located in areas that are prone to high winds or storms.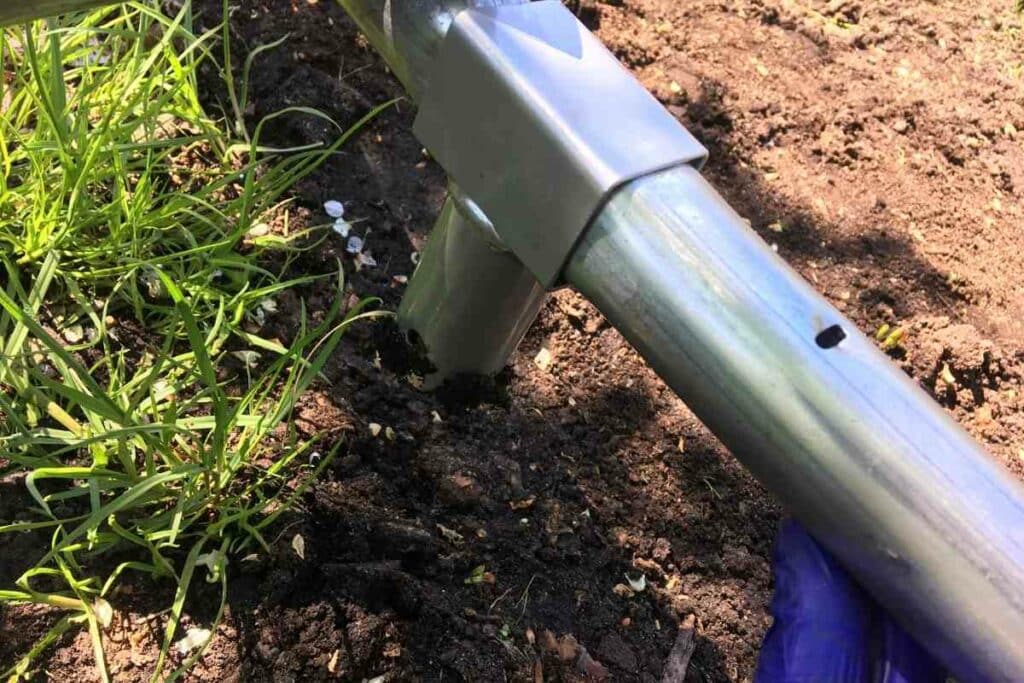 These are more expensive than other types of anchors – but less expensive than repairing a storm-damaged trampoline or replacing a lost one!
To place an auger-style anchor:
You're best measuring between one and 1.5 feet inward from a leg of your trampoline. This is the best place to put your auger.
You should screw the augers down in the ground on every side of your trampoline.
You should ensure that the auger's pointed tip is against the ground then hold the hooked end before twisting it into the ground clockwise.
You should only stop twisting when you can only see the hook remaining. All four of your augers should be installed in this way.
It might be quite difficult to get them into the ground if the earth is hard but wetting the area beforehand will help to minimize any resistance.
To ensure they're secure, try jostling them. They should be in the ground in a vertical position for maximum security.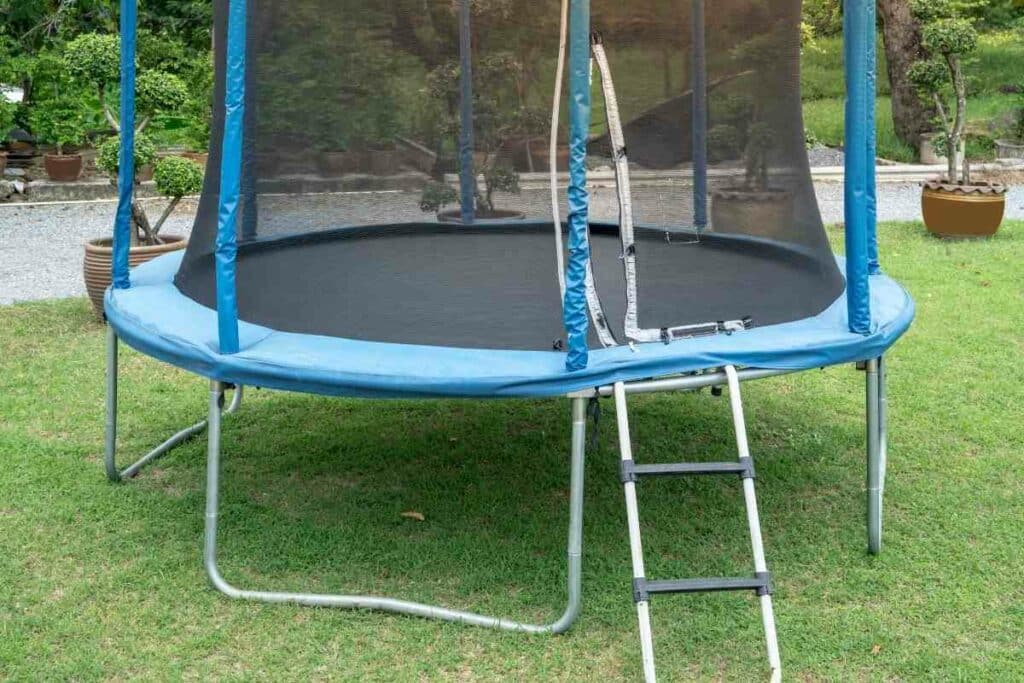 Once they're firmly in place, the straps should be looped over the trampoline frame and then pulled up to pass over the bar placed directly above the augers.
Both of the ends should hang with the same length.
To make the hold more secure:
You should consider anchoring your trampoline at the top of its frame too. You can use a special kit that has a ratchet and two-piece straps for this.
All straps need to be tightened to make sure your trampoline is secure. Tighten each one in turn and check them all more than once until they're all as tight as you can get.
If there are any loose ends, keep them wrapped about the trampoline legs so they're not in the way.
It might also be a good idea to knot them for extra security.
Securing a trampoline during a storm or hurricane
If you have already secured your trampoline but you're worried about the extra-strong winds brought in by a storm, you might want to consider something more secure.
You can find wide-arch, heavy-duty anchors that are very reliable during a storm.
These are usually made from galvanized, thick steel and have eight pins.
For anyone living in an area prone to severe storms, these more-expensive anchor stakes will be certainly worth the investment.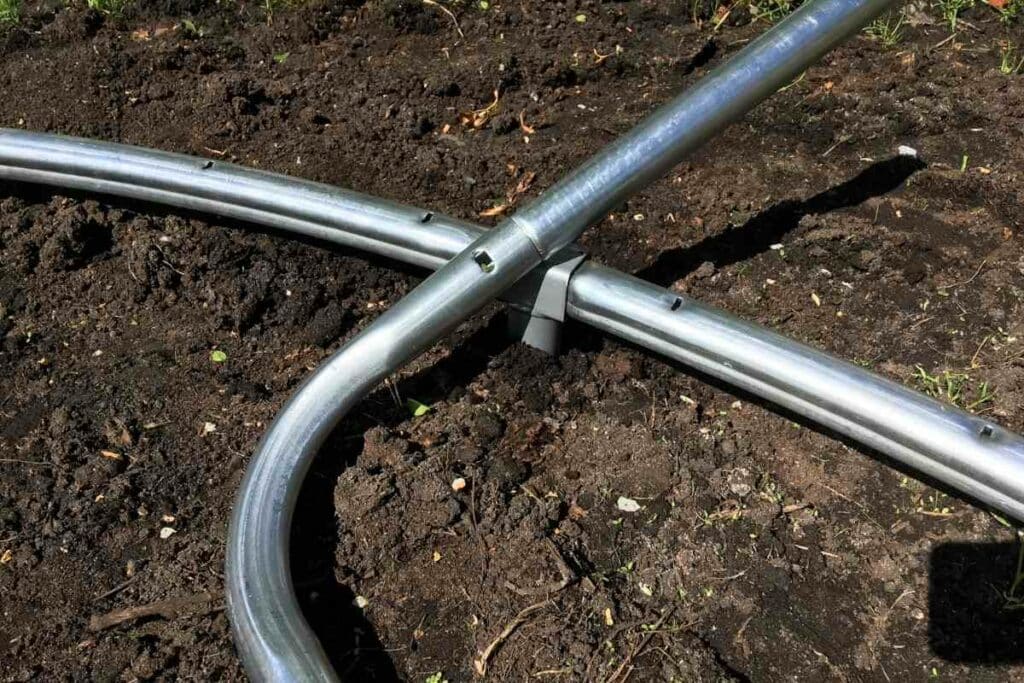 What's more, because they're made with galvanized steel, you won't need to worry about rust and corrosion either!
But what about a hurricane?
Honestly – No matter what anchors you use, a hurricane is likely to damage your trampoline.
If you know a hurricane is imminent and you have time, it's seriously worth trying to store your trampoline indoors or dismantling it.
Dismantling a trampoline is a bit of a hassle but you'd only have to build a new trampoline after the hurricane wrecks your old one anyway!
Of course, this presumes you have enough warning before the hurricane hits!
Always Good Idea – If you don't have a lot of time (or indoor storage space), you can do some damage limitation by removing your trampoline's net to prevent it catching in the wind and lifting off.
Quick tips for tying your trampoline down in a hurry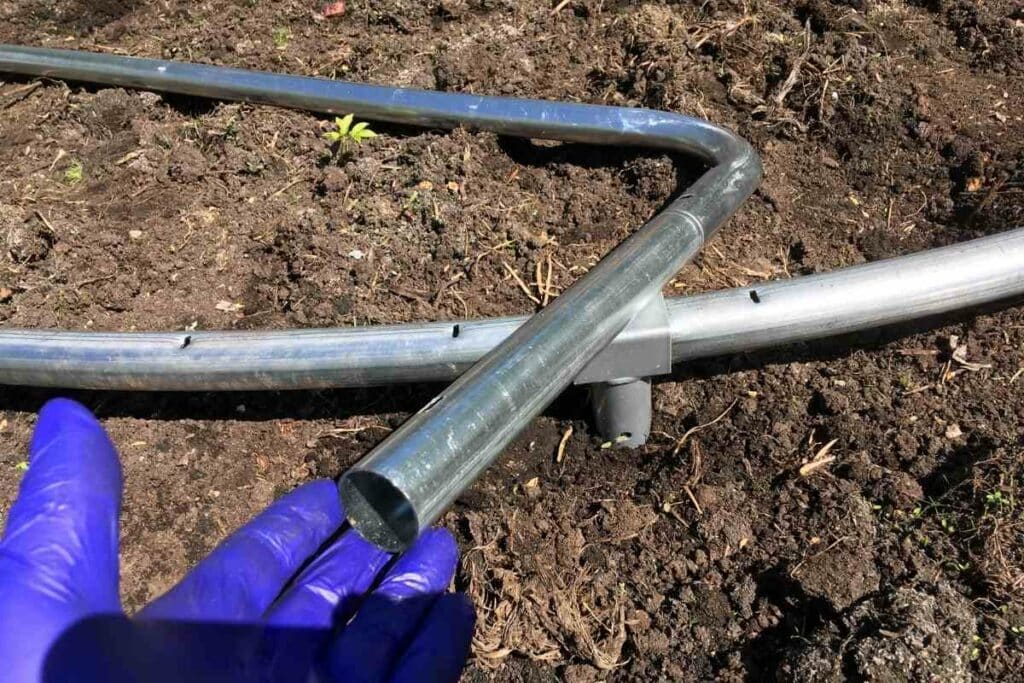 For storm-prone areas, the best way to secure a trampoline quickly is to have sandbags ready to go.
These are the quickest and simplest anchors to use, and you can place them on your trampoline legs as soon as you notice the wind picking up!
Here are some other considerations:
Buying a trampoline skirt to reduce how much wind can get underneath the trampoline to lift it up.
Convert your trampoline into an in-ground trampoline.
Final Thoughts on how to anchor down a trampoline in your backyard
Any trampoline owner will want to protect their investment and protect property from damage.
Anchoring down a trampoline is a must.
Not only do you risk losing your trampoline, but a flying trampoline can cause severe damage to buildings and vehicles.
Trampolines have a large surface area, which coupled with nets, makes them easy targets for the wind to lift them.
Ensuring your trampoline is well anchored is vital – especially if you live in a windy area.
You can buy special anchors specifically designed for holding down a trampoline and keeping it secure on windy days.
What's more, anchors keep your kids safe while bouncing too as there will be no chance of it toppling over if they're very enthusiastic bouncers!
More Related Posts