Festoon lights, also called fairy lights, are a simple installation that can have a significant impact on the outlook of your outdoor space. 
There are several reasons to spend more time outside – barbecues with friends during weekends, coffee while browsing a magazine on the patio, alfresco dinners, warmer weather, and so on.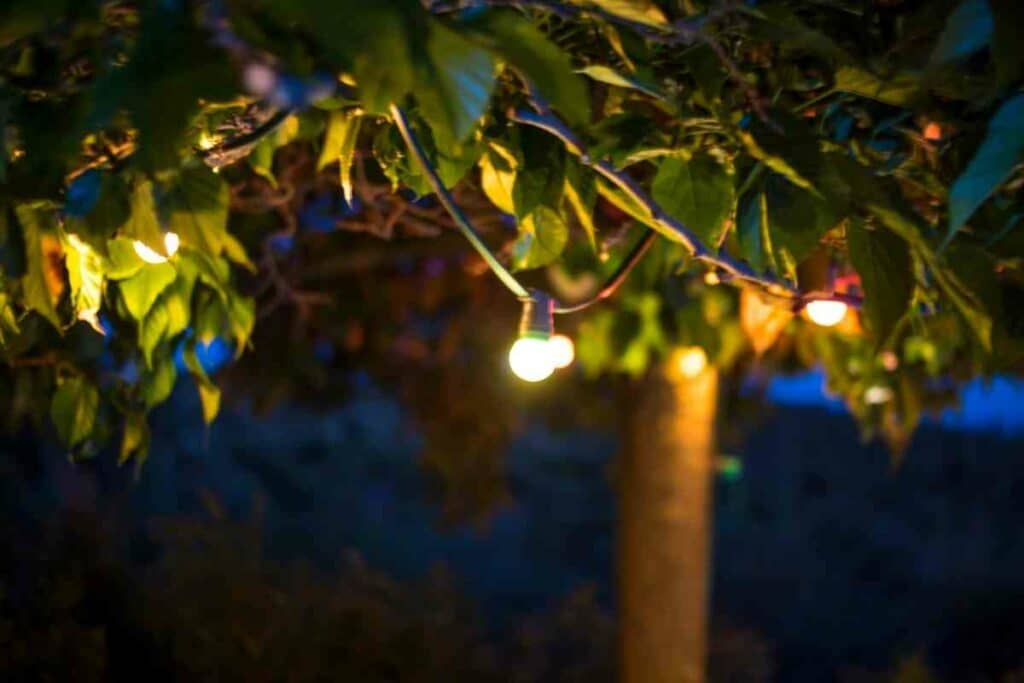 By investing in outdoor lighting, you make your home practical and create a warm and welcoming atmosphere. 
---
That Said: You don't have to conform to popular trends. Try to make your outdoor space outstanding by installing these unusual festoon lights. 
---
1. Glow in the Dark Stepping Stones
What's more wonderful than having a walkway that glows when the sun sets?
Besides its stunning visual appeal, it reduces the risk of tripping at night.
Interestingly, this setup is inexpensive.
With a few LED lights and a special 'glow in the dark' paint, you will amaze everybody who visits you after dusk.
Even better, it works with all types of stepping stones, regardless of the material. 
2. Solar Pagoda Light String
If you're keen on cutting down your utility bills, consider investing in a solar pagoda light string.
It consists of mini lanterns that create the perfect aura for garden parties, especially when draped around trees. 
However, the best thing about these festoon lights is that they're cost-effective and easy to maintain.
Once you settle the upfront costs, you won't worry about monthly bills.
You'll only need to keep the solar panel free of dust and grime regarding maintenance.
3. Festoon Lights with Bluetooth Speakers
When you see this device for the first time, you can easily mistake it for a standard table lamp.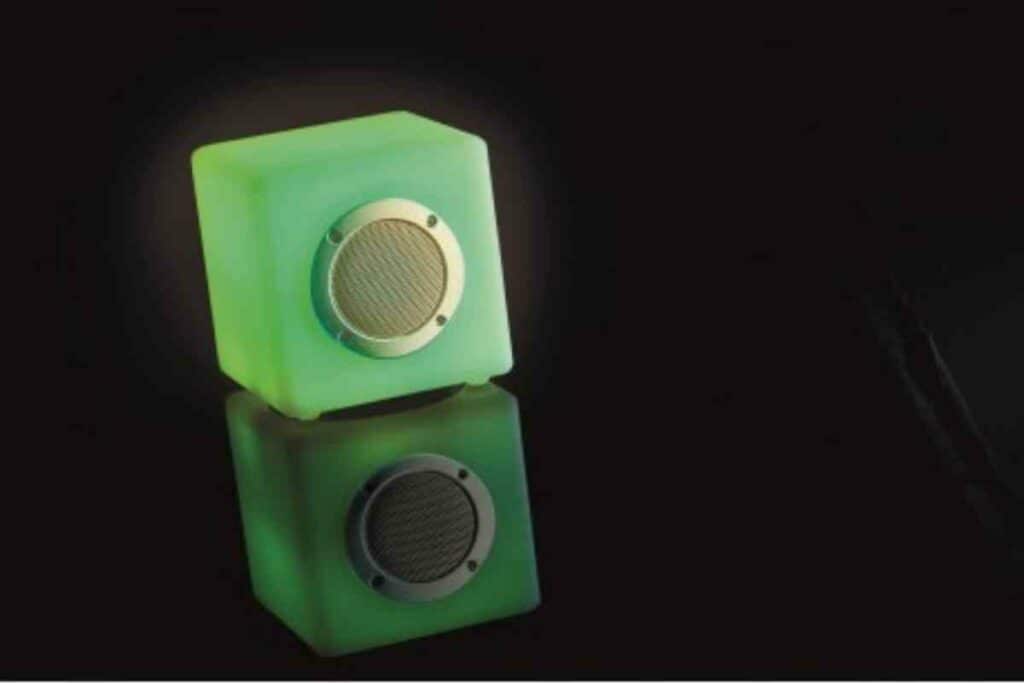 That's right, as it primarily serves as a light fixture, but it has another exciting feature – a Bluetooth speaker.
This gadget lets you okay music using your smartphone while relaxing outdoors.
Even better, it has a remote control that allows you to adjust the light's colour over a 4-metre range.
4. Lit Up Furniture
Investing in lit up furniture spruces up the allure of gazing at the sky at night.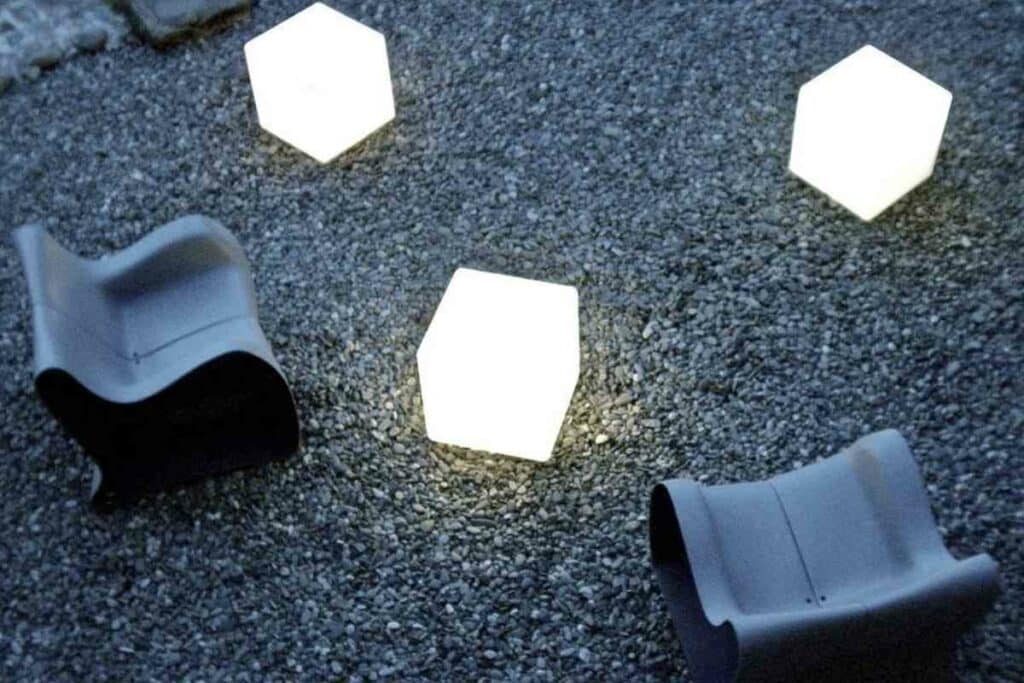 You'll no longer have to return indoors after the sun sets, as this outdoor lighting ensures that you find your seat easily, regardless of how dark it is. 
This outdoor table has a dimmer switch that lets you adjust the amount of light to suit the prevailing mood.
Its top features tempered glass protection, allowing you to place your cocktail glasses without worries.
5. Star Fairy Lights
These stars sit on a discreet and flexible cable that you can easily bend around posts, rails, trees, furniture, etc.
Like stars, they produce a warm white to yellow colour when glowing.
The unique attribute of this model is its inbuilt timer. You can configure it to switch off when your party is over.
6. Elegant Festoon Outdoor Line Lights
For an elegant and classy outlook, these lights from John Lewis are the best bet.
You can use them indoors and outdoors, as they produce a classic white light, perfect for long meals outside during the warmer months.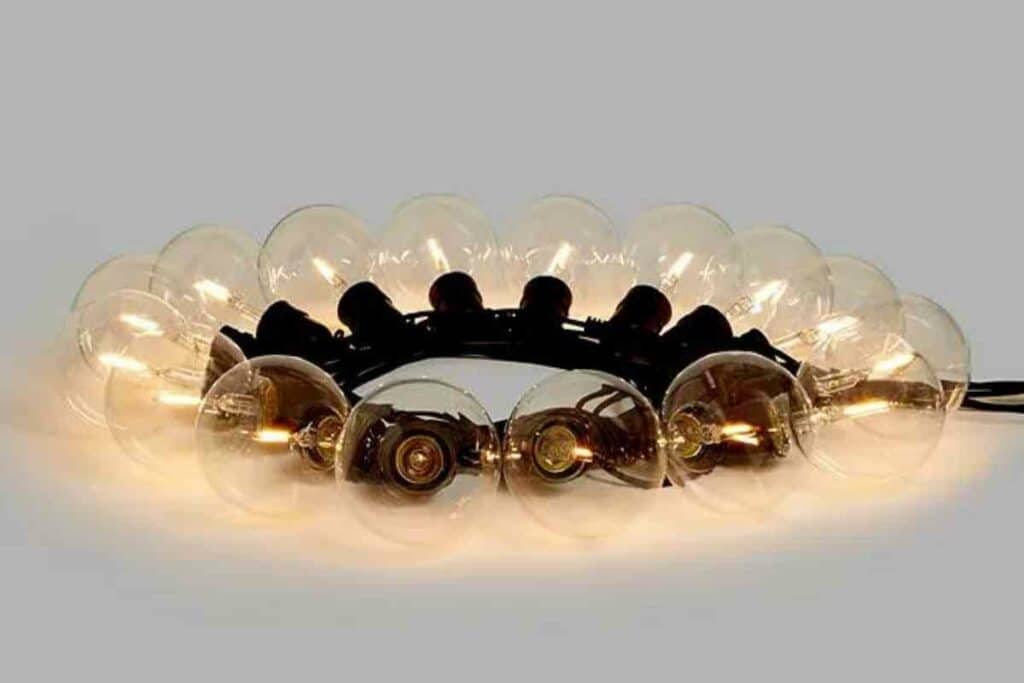 Although the full set has 10 bulbs, that's not a significant drawback.
This is because a minimalist approach matters when it comes to home entertainment.
Additionally, this unit offers a good five metres between the power supply and the first bulb, enabling you to illuminate your garden table easily. 
On the downside, this unit is more expensive than other festoon lights, but it makes up for it with the quality of its glass finish.
7. Bohemia Fairy Lights
Like other bohemian-inspired designs, these fairy lights epitomise uniqueness.
Since they are delicate and not waterproof, it's advisable to use them under a shelter if you intend to use them outdoors.
They also need to be close to a power outlet because the power cable is short.
8. LED Planters
This LED planters work best alongside walkways and driveways.
They improve the appearance of your backyard by showcasing your greenery collection to visitors approaching your front porch. Interestingly, they cost little to run.
9. Outdoor Chandeliers
For those who love grandiose structures, consider purchasing these tea light outdoor chandeliers.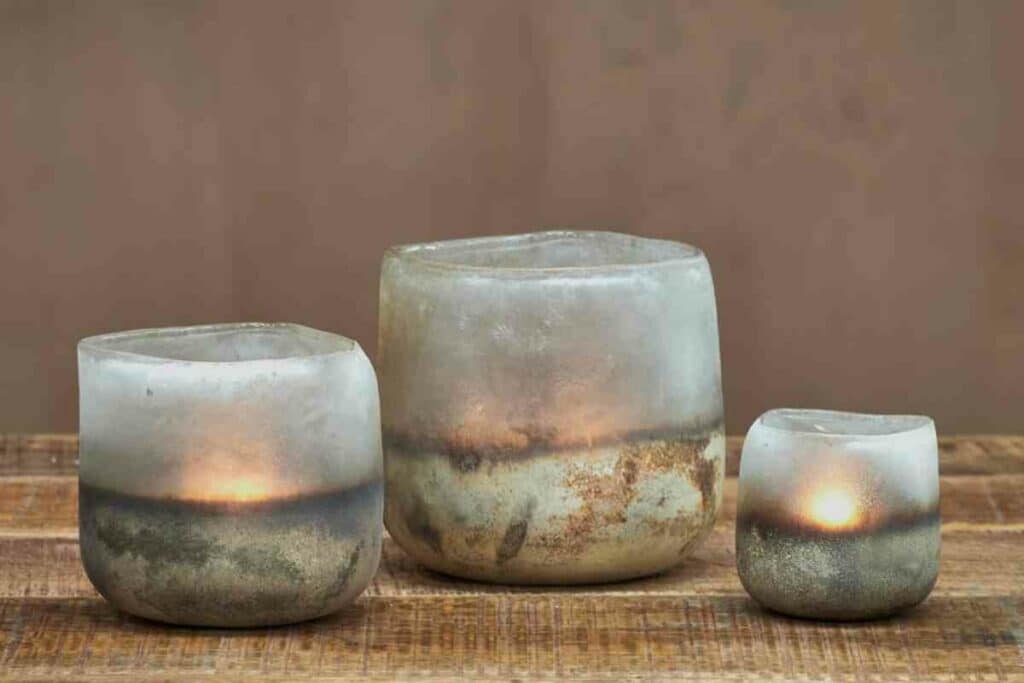 You can create an unusual mood in your outdoor space by hanging these lights from trees, marquees and pergolas using their long chains. 
Where to Place Festoon Lights?
You can install festoon lights anywhere on your property, whether inside or outside.
Simply put, the ease of use and versatility of these equipment limits their positioning to your imagination.
Here are a few places where you can place your festoon lights.
Backyard
Most homeowners like installing festoon lights in their outdoor spaces.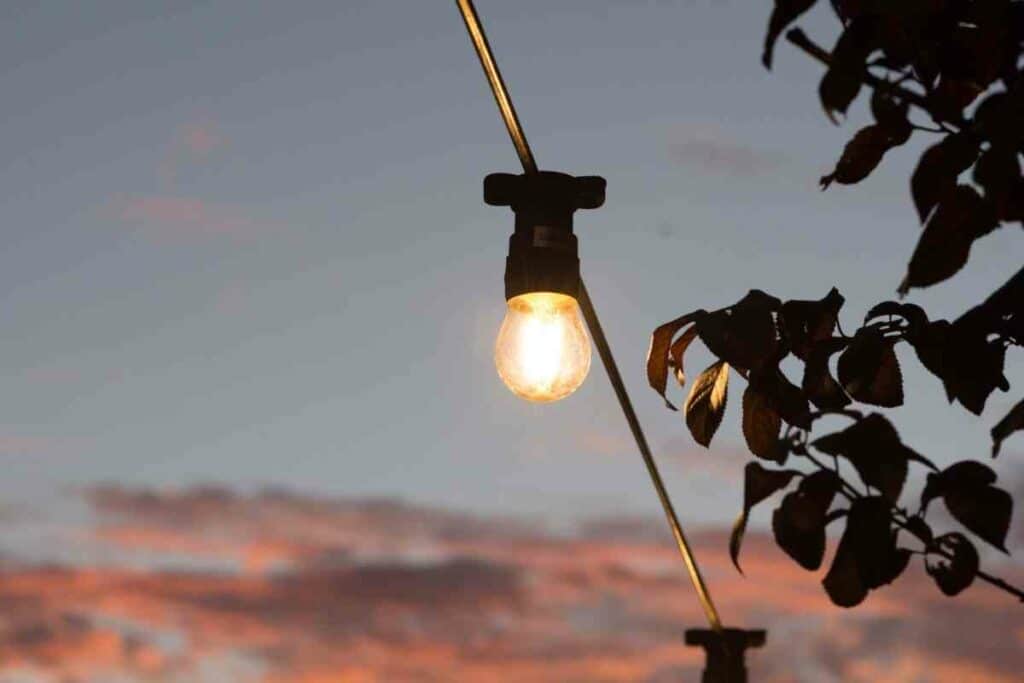 The good thing is that these lights vary in size, making them useful in all types of areas.
You can hang them on strings, pin them on walls, or mount them on roofs and the ground.
Indoors
As mentioned above, the use of festoon lights isn't limited to outdoor spaces.
Inside the house, you can use the lights to decorate your kid's bedroom, your living room, and the staircase railings. 
Modern indoor festoon lights are foldable, meaning that you can easily shift them around the house.
Commercial Applications
On a commercial scale, you are likely to find festoon lights in entertainment areas such as bars, restaurants, eateries, and playhouses.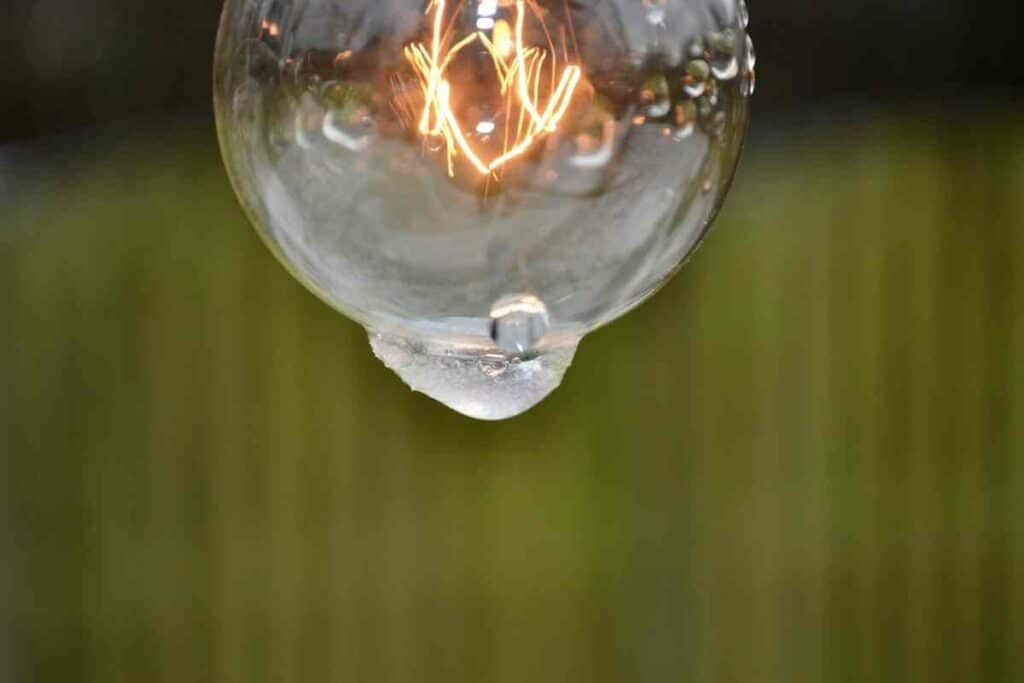 These are usually longer than residential lights and can be as long as 100 metres.
How Do I Hang Festoon Lights?
The best way to hang festoon lights depends on the size of the space where you want to fix the light fixtures.
Other determining factors include the size of the light fixtures and the length of the hanging line.
Here are some valuable tips on hanging festoon lights in your space. 
Plan & Measure
Before buying festoon lights, measure the amount of space you have and the distance you want the lighting to cover.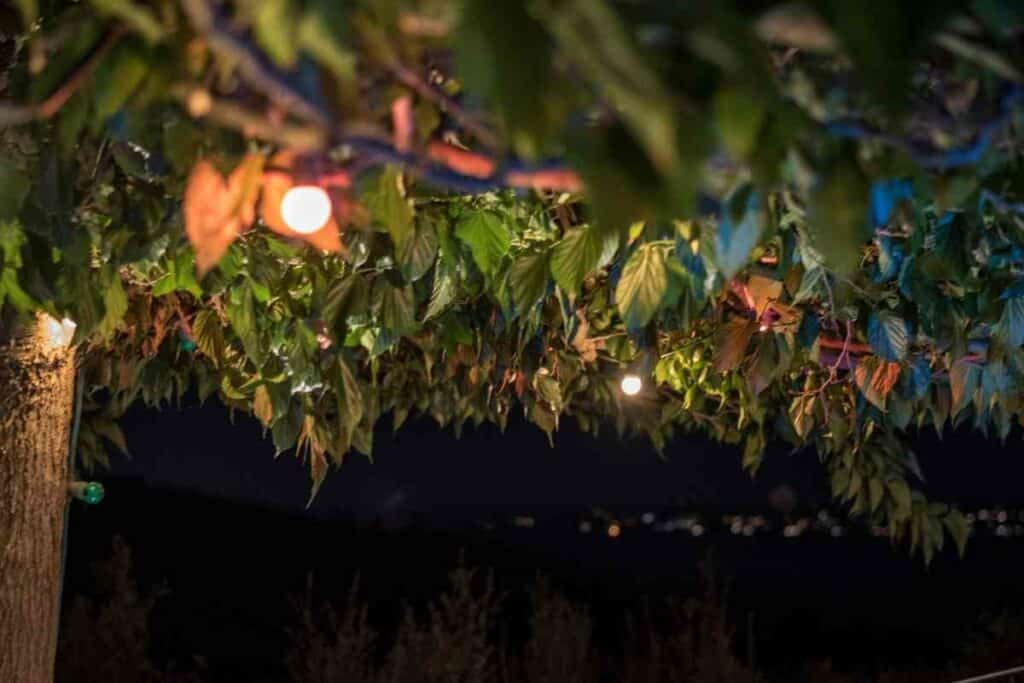 This info helps you decide the length of light and cabling you need, as well as the number of hooks required. 
Don't overlook anything when taking dimensions.
Write down the height and width of the space and estimate your desired drop.
Having these measurements is crucial when you go shopping for festoon lights. 
Install Lamp holders Downwards
As awkward as it seems, some people make the mistake of installing lamp holders facing upwards. The result of this is a poorly-lit area.
Instead, install the lamp holders facing downwards, as this guarantees optimal illumination onto the areas you want to light up. 
Use Hooks and Wires
If you intend to install long string lights, it would be best to avoid using festoon light end caps for support.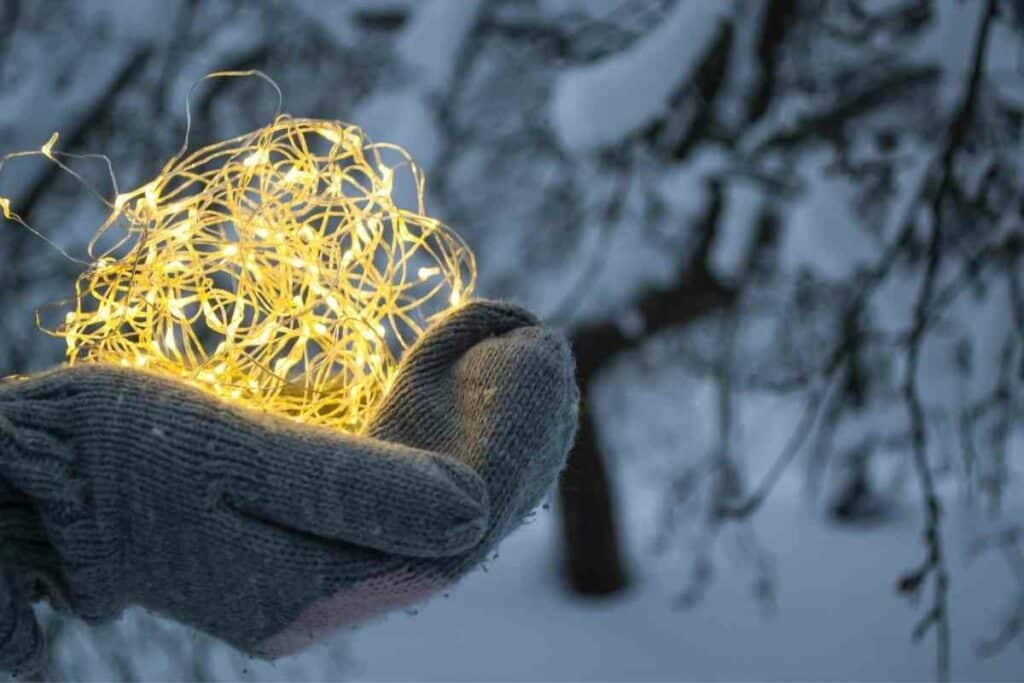 Instead, use cable clips and coaxial staples to secure festoon lights around the space you intend to install them.
Another way of adding tensile strength is by using hooks and wires. These protect your hanging line from drooping and sagging.
---
Quick Tip: You can obtain hooks and wires from local brick-and-mortar outlets and online stores.
---
Be Creative
Being innovative when hanging your festoon lights can significantly enhance the aesthetic appeal of your exterior space.
Unlike most people who hang the lights using strings, think about peculiar moves like draping the lights around your fence, suspending them off your patio roof, wrapping around a lamppost, etc.
Consider the Layout
As mentioned earlier, you can pick from several options when hanging your festoon lights.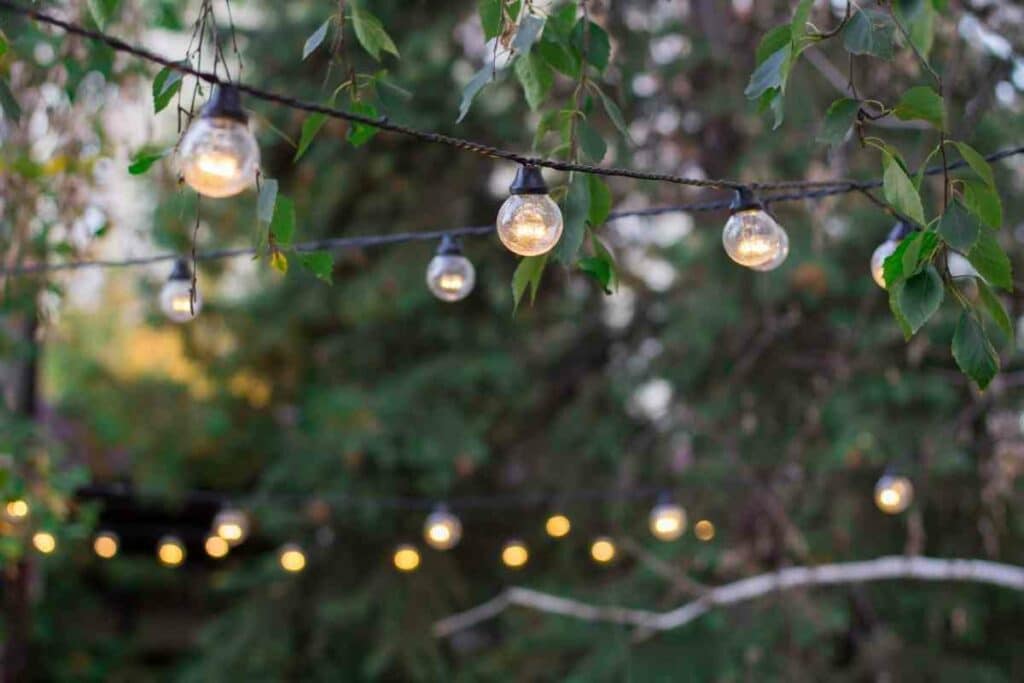 However, you must consider the layout of your space. Precisely, you need to think about its size and intended purpose.
Although you're limited to your creativity, considering the layout can help you choose the best hanging style for your festoon lights.
Here are some popular layouts you can employ when hanging your festoon lights.
Wedge Layout
Here, you hang festoon lights from a tall central point, such as a pillar or a tree. The strings diverge from this point in multiple downward directions, culminating in a wedge-shaped structure.
The most significant advantage of this layout is that it spreads light evenly over large areas.
However, you need to confirm that both ends of each string are secure and close enough to the power source.
Parallel Layout
The parallel arrangement is perhaps the simplest festoon light layout.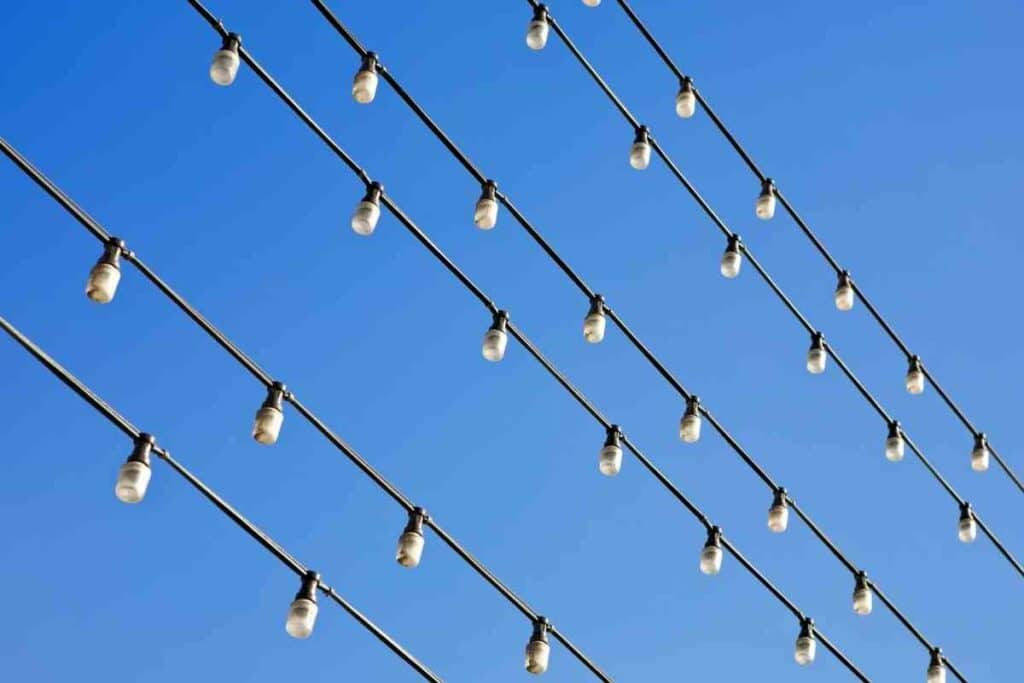 All you need to do is place the strung lights parallel to each other.
Due to its simplicity, the parallel layout is the most popular way of arranging festoon lights.
---
Have You Noticed? It's not a coincidence that you'll find it in cafés, alfrescos, patios, and most outdoor spaces.
---
Criss-Cross Layout
The two layouts mentioned above are suitable for spacious areas.
What do you do if you don't have that luxury? Worry not, as you can use the criss-cross layout.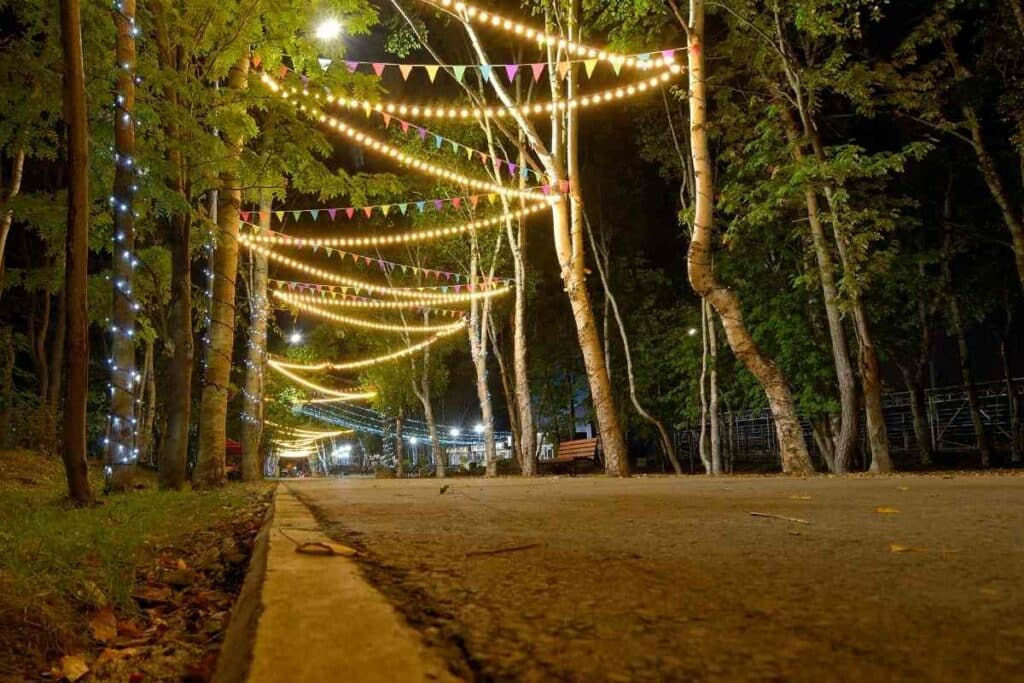 As the name suggests, it involves positioning the strings to cross over each other.
It's particularly useful if you don't want to install many light fixtures.
How Do I Choose the Best Festoon Lights?
Ultimately, your preferences determine the festoon lights that suit your needs.
Regardless, below are some tips that can help you make an informed decision.
The Size of Your Garden
Are you a fan of inviting friends over for pool parties or barbeques? If so, you probably have a spacious backyard. 
Homes with enormous outdoor areas require more illumination so that none of your guests gets left in the dark.
This also means you'll need a layout suited for larger spaces, such as parallel or wedge-shaped arrangements.
Brightness – Fixed or Adjustable?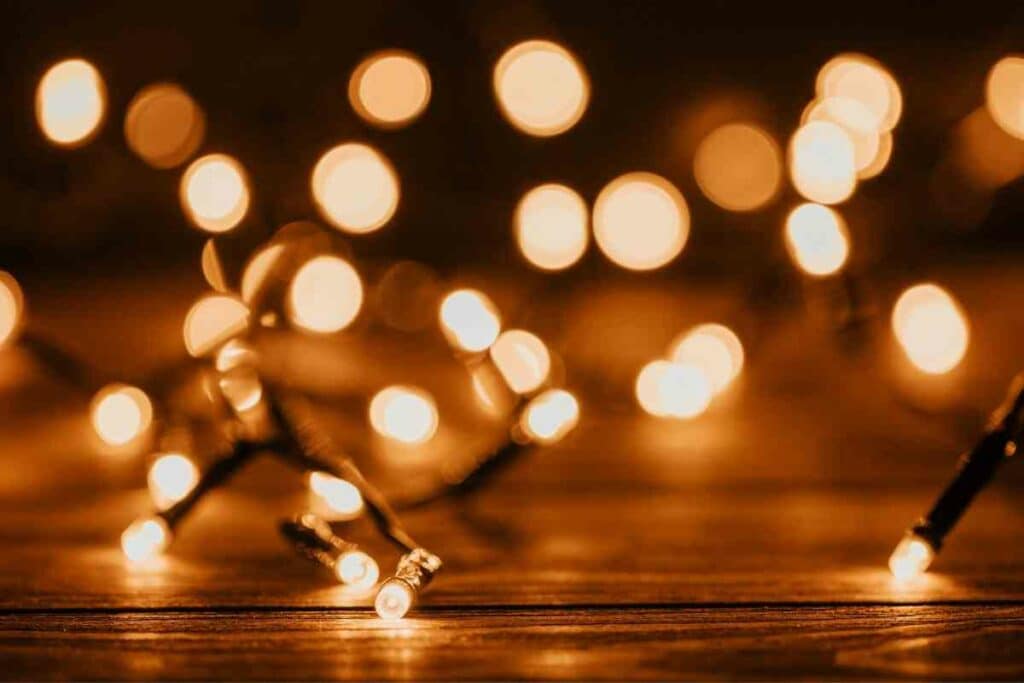 The type of ambience you want to bring about influences the brightness of your festoon lights.
If you're hosting a lover's party, dimmable and dispersed lights are ideal since they epitomise intimacy and romance.
On the contrary, if you intend to host a family get-together, it would be best to install fixed bright lights.
The same goes for casual outings with friends.
What About Glow?
Nowadays, you can choose your preferred colour when purchasing festoon lights.
This is particularly useful to picky people who like specific hues.
---
For Instance: Individuals with a bold personality tend to go for reds, yellows and other striking colours, while neutrals prefer grey and white.
---
Frequently Asked Questions About Festoon Lights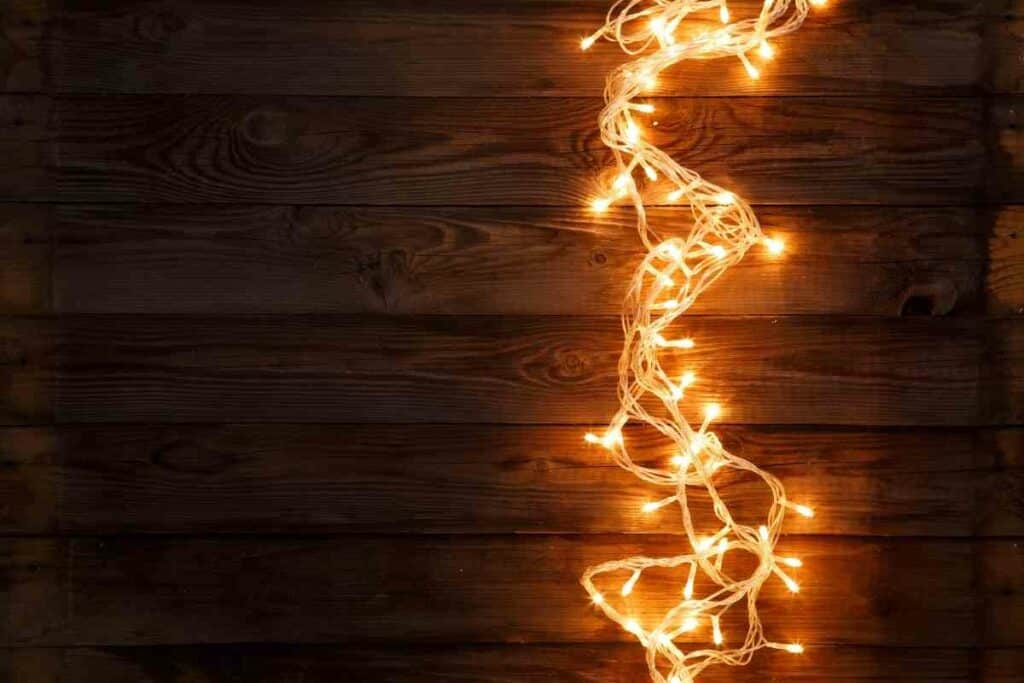 Here are some common questions about festoon lights.
What is festoon lighting?
Festoon lights are used to enhance the mood and appearance of outdoor spaces. They are usually bigger than other outdoor lights.
Can you replace bulbs on festoon lights?
The simple answer is, it depends on the model. You can replace the bulbs in some units, while others don't support this feature.
What's more, some manufacturers are compatible with replacements from particular brands.
For this reason, it's advisable to read the instruction manual or consult the manufacturer before making replacements.
Are festoon lights waterproof?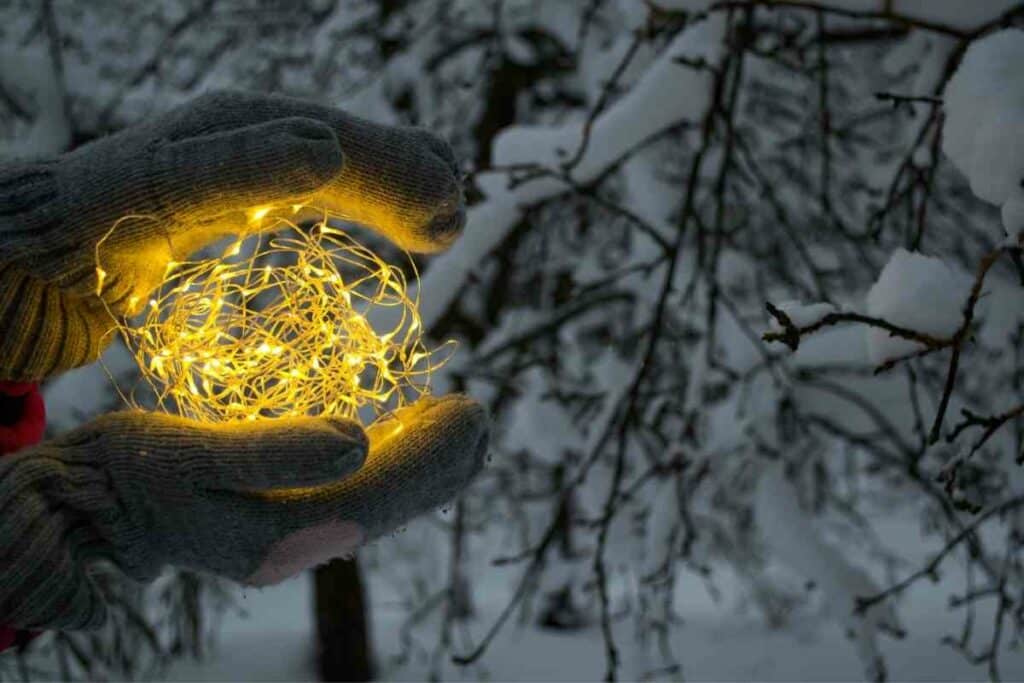 Generally, most of the units available in the market are waterproof, albeit to a specified level.
This means that they can work outdoors and withstand a fair amount of rain.
However, don't expect them to work in flooded areas or when submerged in water.
What Types Are Available?
The two most common types of festoon lights are flush and hanging festoon lights. 
With flush festoon lights, the light fixtures attach directly to the power supply cable.
This style is perfect for illuminating billboards, deck roofs, and signage edges.
Hanging festoon lights feature small cords attaching individual light fixtures to the main power supply cable.
Wrapping Up
Festoon lights can be the difference between a dull space and a vibrant one.
These easy to use, low-cost installations improve the functionality of your outdoor space by making it usable during the night.
When installed indoors, they complement other elements of your interior decor.
Like other home design elements, you have endless options to choose from, including round bulbs, teardrop bulbs, small round bulbs, etc.
It all comes down to your creativity and preferences.
That said, experts recommend purchasing units that use LED bulbs over other types of light fixtures.
Besides being cheap, LED has remarkable durability and is available in multiple colours.
Even better, it consumes electricity at a lower rate than its competitors, such as fluorescent lights.
You Might Also Read