Gardening can be therapeutic.
However, if you live on a property with small spaces, you need to use vegetable planters to grow your favorite vegetables.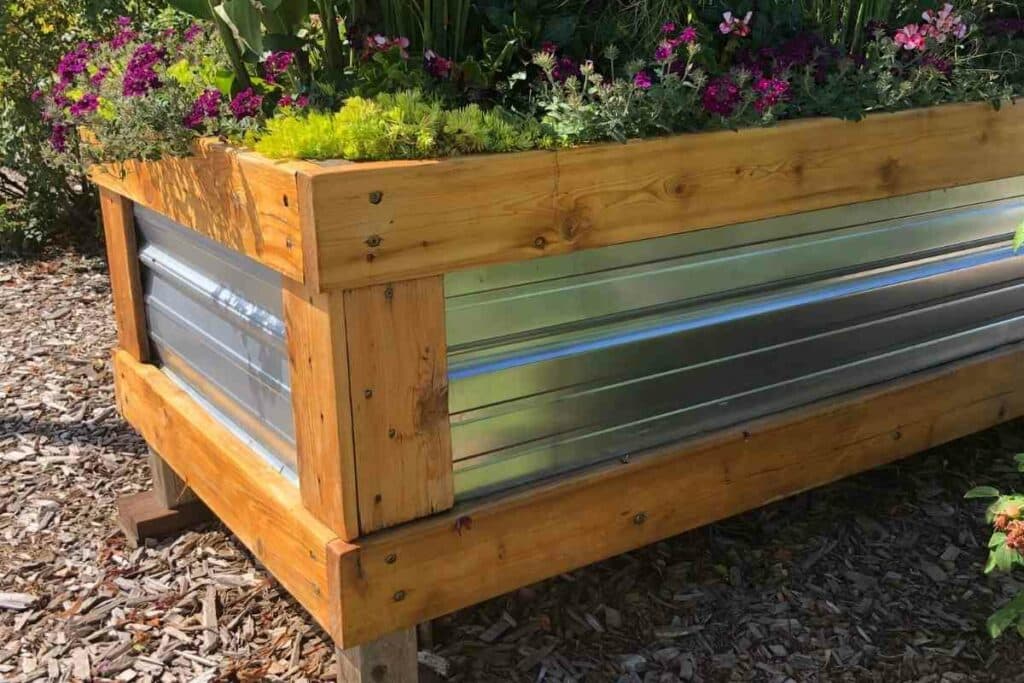 The planters come in various makes and models, all sizes, with various attractive features.
One of the most common features you can exploit in planters is the self-watering mechanisms.
This guide will help you identify 7 amazing self-watering vegetable planters.
How Do Self-Watering Vegetable Planters Work?
When you grow vegetables, pouring too much or too little water is a real problem.
You may end up suffocating the plant in water or drying it.
Hence, many people are turning to self-watering planters for watering control.
Now, how do self-watering vegetable planters work?
A self-watering planter has 3 layers:
A reservoir that holds excess water at the bottom of the pot. The plants can then access the water in the reservoir by capillarity, where the plant roots pull up the water for their use
A perforated top is a layer that separates the topsoil and the water. The perforations allow the plant roots to reach the water beneath them.
Topsoil is the mixture of soil and fertilizer that comes on top of the perforated top. The topsoil provides nutrients to the plants
The self-watering planter also has a drainage/outlet to evacuate excess water.
When setting up a self-watering planter, you start by filling the bottom with water.
Plants then use the water via capillary, using their roots, or a wick that keeps the soil continuously moist. 
During the plant's growth cycle, the water levels drop. The inlet opens up when the water drops below a certain watermark.
When the water in the reservoir exceeds the set mark, you can normalize the levels by opening the drainage.
What Should You Consider When Getting A Self-Watering Planter?
Getting a self-watering planter could be the reason you enjoy gardening or the reason you curse it out.
An easy-to-use planter will make you enjoy the hassle of planting. You also want to get a planter whose capacity can fit your needs.
Most Importantly – You should get a planter that fits your space and serves your plants' demands.
Therefore, before you settle for a metallic planter for your onions, here are a few things you can consider.
Reservoir's size
The size of your reservoir determines how often you water your plants and the type of plant you can grow on the planter.
Remember, some plants only need a little water to thrive, while others require a lot.
Oxygen Circulation
Like other living beings, all plants require oxygen to grow.
So, as you prepare to buy a self-watering vegetable planter, ensure you get one that strikes a balance between water and soil.
This way, it does not compromise oxygen circulation.
Ease of use
A vegetable planter should be easy to use.
The filling mechanism should be accessible, and the water levels should be distinct.
You should be able to tell when the water levels are running low or when you feed your plants with too much water.
Where will you use the planter, and how many plants will you plant?
Outdoor planters differ from the planters you use inside your house.
Outdoor planters experience the harshness of the elements, which means they are sturdier than indoor planters.
In Addition – If you intend to plant many plants, you will get a larger planter compared to someone who wants to grow only two to three plants.
Now, what are the best self-watering vegetable planters you can get for your indoor or outdoor garden?
7 Amazing Self Watering Vegetable Planters
1. The Lakeside Collection Self-Watering Vegetable Planter
Top Features
Strong polypropylene body
Wheels and handle for easy movement
3-gallon water storage reservoir
Trellis panels to support climbers, up to 3 feet high
10 gallons potting soil capacity
You can start your small vegetable, fruit, or flower garden effortlessly with this product. The planter is especially great if you intend to grow climbers since it will offer your plants the support they need.
This is because it comes with a 3 feet high rail that gives the vines the much-needed support to grow tall and long.
The planter comprises a polypropylene material, which is a thermoplastic resin. Polypropylene is common in vehicles because of its shockproof and thermos-resistive properties. The high density of the polypropylene material also makes it an excellent shock absorber.
So, when you accidentally drop your planter, it absorbs the shock from the fall and retains its initial form.
Additionally, the polypropylene material is resistant to heat and UV exposure.
This is because, unlike polyurethane, it does not become stiff when exposed to these elements which becomes stiff when exposed to too much UV.
Pros
High quality of the product
Easy to assemble
Easy to move around
Holds up through the seasons
Saves on space
Perfect for climber plants like passion fruits
Cons
The trellis panel is a bit flimsy and could get pulled by the plants as they grow
In addition, it comes with a handle for easier relocation.
The top can hold up to 10 gallons of potting soil, with the reservoir at the bottom holding 3 gallons of water.
So, you can leave your plants back at home for days without risking a dry-out or wilting.
2. Keter Easy Grow Raised Bed Self Watering Planter
Top Features
An easy to read water gauge
A simple drainage system for better water control
Easy to assemble
Versatile- you can use it indoors or outdoors
Lightweight
31.7 gallons capacity
Durable plastic body with a drainage hole
If you are going for an ergonomics planter, the Keter Easy Grow planters are perfect.
These planters have a comfortable design that increases your productivity, promotes a better safety culture, and is economical.
So, you can avoid bending and straining when gardening.
The built-in watering system holds enough water to nourish your plants for days.
The refill tube pops up at the top of the soil, making it easier to refill. You can use a pipe or a funnel to fill up the reservoir.
Pros
All-weather resistant planter
You need zero maintenance
The material does not fade, even when used outdoors
Easy to clean
Easy to assemble
Suitable for small spaces
Cons
Extra care when loading with soil so that the legs do not give out
And in case it exceeds the intended capacity, you can open the drainage at the bottom of the planter to release the excess water.
3. Emsco Group City Picker Raised Bed Self-Watering Planter
Top Features
Convenient four swivel caster wheels for easy transportation
Sun tracking for small spaces
Easy to follow guides on assembly and growing
A wick-supported self-watering mechanism
A 2-gallon reservoir
An aeration screen to enhance oxygenation
Compact size to save space
A self-contained soil system to deter the growth of weed
Emsco puts a new meaning to convenience with their raised self-watering vegetable planter.
The planter is ergonomically designed and suitable for growing fruit, vegetables, and flowers.
For instance, the planter draws water into the soil through wicking action and has overflow holes to prevent water clogging.
It also has an aeration screen to supply the plants with oxygen and air they need to grow fast, with minimal effort.
The compact design of this product makes it perfect for small corners and balconies.
So, if you are in the city, living in a condo or apartment, and want to grow strawberries or herbs, then this is the ideal planter for you.
Pros
Suitable for tight urban areas
The caster wheels for more effortless movement
It is easy to refill the reservoir
The mulch prevents the growth of weeds in your garden
Cons
The planter is not suitable for seeds
You need unique dirt products like dolomite to grow vegetables successfully
The Emsco planter also comes with a mulch layer. This extra cover keeps the moister in the soil and protects the soil's nutrients by inhibiting the growth of weeds.
More importantly, it keeps any lingering pests and parasites away from your plants, thus guaranteeing healthy garden produce.
4. OurWarm Windowsill Herb Self-watering Planter
Top Features
Water level monitoring window
A double layer design that allows for water reservation
Plastic ABS material that is durable and anti-corrosive
Environmentally friendly, impact-resistant, and sturdy
Lightweight and removable
Water socking strips that keep the soil moist
Water pouring port for ease and convenience
Window gardens add a touch of beauty and life to your home.
Placing a small plant by the window adds to your wall's blank canvas, and the plants tap the full richness of the sun.
For the best window gardening box, OurWarm Windowsill herb self-watering planter is the way to go.
This planter comes with a clear level indicator, through which you can monitor the water levels at any time.
These planters are all about convenience. And whenever you peek outside, you will meet the beautiful small gardens that you can delve into whenever you feel down.
These planters also feature a double-layer design that allows you to store excess water at the bottom.
At the bottom, a cotton wick feeds water into the soil, keeping it moist.
Pros
Perfect for growing herbs like cilantro and oregano
It comes with cotton strips to keep your soil moist
The containers are lightweight
They have an easy to use water pouring spout and water level indicator
A sturdy design
Cons
The plastic material calls for a careful selection of plants
If you want to plant crops that require well-drained environments, you may have to add some sand for better soil drainage
Most importantly, the plastic material is durable, environmentally friendly, safe for your plants, and scratch-resistant.
The soil does not stick to the sides of the planter, making them easy to transplant or clean for your next crop.
5. VINGLI Square Raised Garden Bed
Top Features
A sturdy design
Ventilation and drainage holes
High-density PP material with UV protection and weather resistance and rated as food-grade
Multiple configuration options to fit your space
User-friendly
If you want the best solution to your space and gardening problems, the VINGLI self-watering vegetable planters are the answer.
The all-weather planters are suitable for both indoor and outdoor use.
The high-density polypropylene material used is perfect for all-season use. It is weather-resistant and withstands the UV rays of the sun.
Depending on the number of beds you get, you can achieve multiple arrangements for your garden.
You can stack the beds vertically or arrange them horizontally on the ground. This flexible design allows you to save on space and efficiently maximize your plant's growth.
Pros
The material combination is sturdy, making it a long-lasting option
The planter is spacious
Has ventilation holes to keep the soil aerated
Includes protective caps to avoid any injuries for elderly and young gardeners
The reinforced PP material is UV, weather, and scratch-resistant
Versatile application
Cons
The design is beautiful, but it is a little complicated to assemble
Also, if you have backaches and want to avoid bending while gardening, this planter is your best bet. This is because the product includes some support for ergonomics.
Therefore, you can raise the bed to a comfortable gardening level to avoid backaches. Also, this makes it perfect for senior citizens who enjoy gardening.
6. CedarCraft Self-Watering Elevated Planter
Top features
8 wells that keep the soil moist via wicking action
A water level indicator for accurate watering
4 overflow drains to remove excess water from the reservoir
6-gallons reservoir
A soil separator for better soil aeration
Quick and easy to assemble
Sometimes, you want a wooden planter to go with your interior design.
Saving space at the same time can be a huge bonus, and that is what CedarCraft delivers.
The wood is light, making it easy to move around without straining or breaking your back.
This self-watering vegetable planter features a 6-gallons reservoir to hold water for your plants.
It also includes leg support to minimize the strains on your back and knees. More so, the planter has a fill tube for easier watering to top up the reservoir.
Since the planter is made out of wood, you might be concerned about rotting.
However, the manufacturer uses cedar wood that is very resilient.
The cedar used is also commonly utilized to make decks, outdoor furniture, and construction sites.
Pros
Ergonomic design that lessens strain on knees and back
Easy to use fill tube comes with a water indicator for accurate water measurement
Easy to assemble
Sturdy design for indoor and outdoor applications
Saves you space
Cons
Although Cedar is resilient, it weakens after continuous exposure to different seasons
Additionally, it is perfect for resisting insect infestation.
Lastly, it does not stain, which means you can preserve the color of your vegetable planter for a long time.
7. FOYUEE Raised Planter Box
Top Features
A sturdy galvanized steel metal body
Handle and wheels for easy movement
Ample storage space for your gardening tools
Drainage holes to prevent waterlogging
Easy to set up
Anti-rust protection for both indoor and outdoor use
When you want to forego plastic materials and wood planters, you can go for a sturdy metallic self-watering vegetable planter like FOYUEE.
These metallic planters add a unique look that breaks the monotony in your home.
The steel planter has a grey anti-rust coating suitable for indoor and outdoor spaces.
Despite it being minimalistic, the metallic planter provides ample space for growing vegetables, herbs, and flowers.
The combination of industrial-looking metal and beautiful plants will work for almost all backgrounds.
Moreover, the FOYUEE planter has an elevated design that makes gardening easier without adding strain to your back.
Pros
Easy to set up
Ergonomic design that saves on space
Caster wheels and handle for more effortless movement
Stylish and durable for all seasons
Cons
The planter is heavy
No attached assembly instructions, but you can request them from the company
Another great addition is the inbuilt rack which provides you with space to store your gardening tools.
Frequently Asked Questions
Do I need the same amount of water for all my planters?
It is unlikely that all your planters will require the same amount of water. However, it is possible if they are the same make and brand.
How do you maintain your planter?
The best way to keep your planter going for a long time is to clean it often.
You can remove the soil, clear the holes, and even unblock the clogged drainage holes when you harvest your plants.
Will wooden planters rot?
Some manufacturers use high-quality and treated wood to make planters.
Cedar is among the most durable wood planters you can use. However, if you neglect it, leaving it to the harsh weather conditions, it wears out and may start rotting or falling apart.
Final Thoughts
Small urban home spaces do not have to be the reason you give up on your gardening journey.
With new technologies being introduced in the markets every day, you can plant vegetables in small containers.
Better yet, you can get a self-watering planter, which uses capillary techniques to keep the soil moist.
The planters are easy to use and make gardening fun.
With their ergonomic designs and strong materials, you can work comfortably without having to deal with back and knee aches.
Read Next