Finding the perfect place for your hot tub is a must.
We've got a more in depth article on hot tub placement here, but in this guide, we'll be placing our focus on putting a hot tub under a deck.
Is this even possible?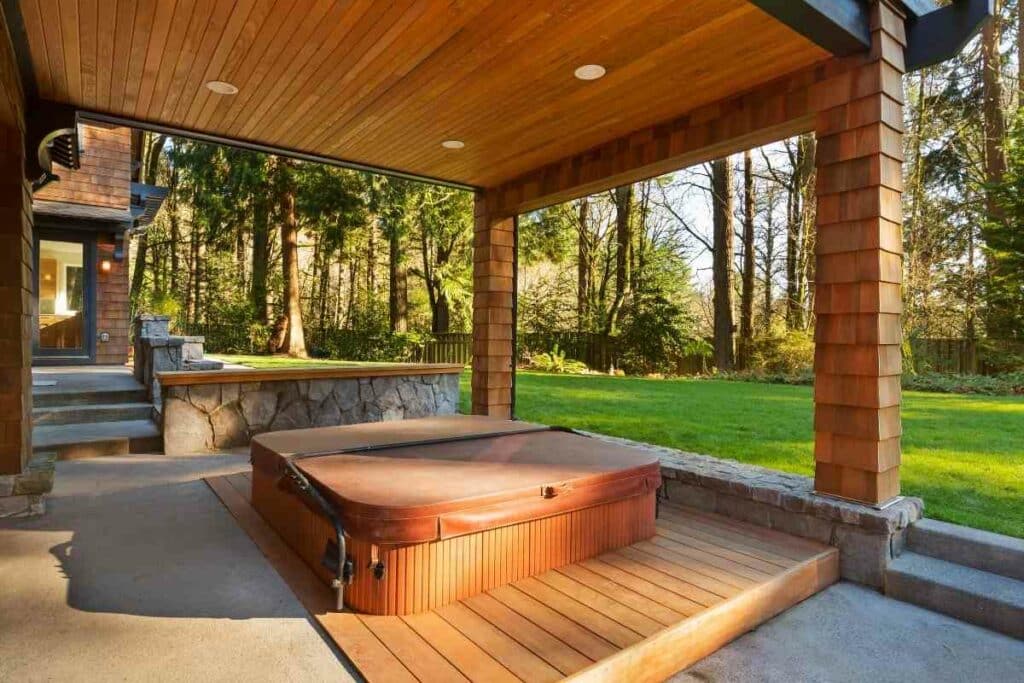 You can put a hot tub under a deck but there are a few things to consider such as moisture build up and whether you will easily be able to access the service side for maintenance.
Many people install their hot tubs under a deck without any problems so as long as you prep right, you can enjoy a sunken hot tub in your garden.
Things To Consider When Installing A Hot Tub Under Your Deck
For the most part, you should be able to install your hot tub under your deck without any issues.
But that is provided that you have taken the right measures for this.
The following things are of the utmost importance and should not be ignored. 
Drainage And Moisture Damage
One of the most common concerns for people who are considering putting their hot tub under the deck is that moisture may build up and cause damage to the entire structure.
Most decks are made from wood and it doesn't take us to tell you that wood exposed to moisture will rot over time. 
The most obvious way to prevent too much damage is to coat the wood with a waterproof treatment. Of course, this can only be done on the surface of the deck.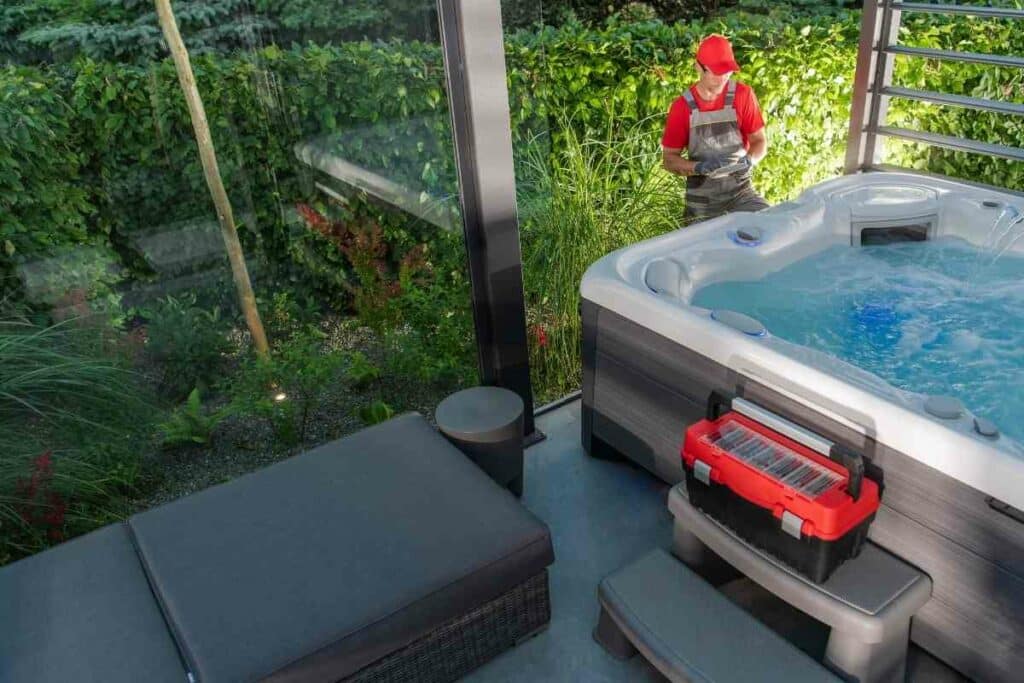 The structure and wooden joists underneath are still going to be exposed to moisture.
But all is not lost and you can still install the hot tub under your deck provided that the air flow under there is sufficient.
This will prevent water and moisture from building up and will therefore protect against mildew, mold, and rot. 
It is also a very good idea to place your hot tub near to an existing drain. If you don't have one, it might be worth considering having one put in.
This will allow water to drain away without clogging up the underside of your deck. It's also possible to install a deck drainage system but we will look at that in more detail later on. 
Maintenance
Another key issue with installing your hot tub under your deck is that this can make hot tub maintenance much more difficult.
Every hot tub has a service side and you must be able to access this in order to properly maintain your tub. 
The equipment access panel can be hidden but this means that, when it comes to doing any repairs, you'll have to remove this cover, which can involve a lot more work than necessary.
---
For This Reason: You may need to leave a portion of the deck open to gain the required access. 
---
Hot Tub Access
As well as being able to access the service side of your hot tub, you'll also need to make sure that the placement of your tub doesn't restrict access getting in and out.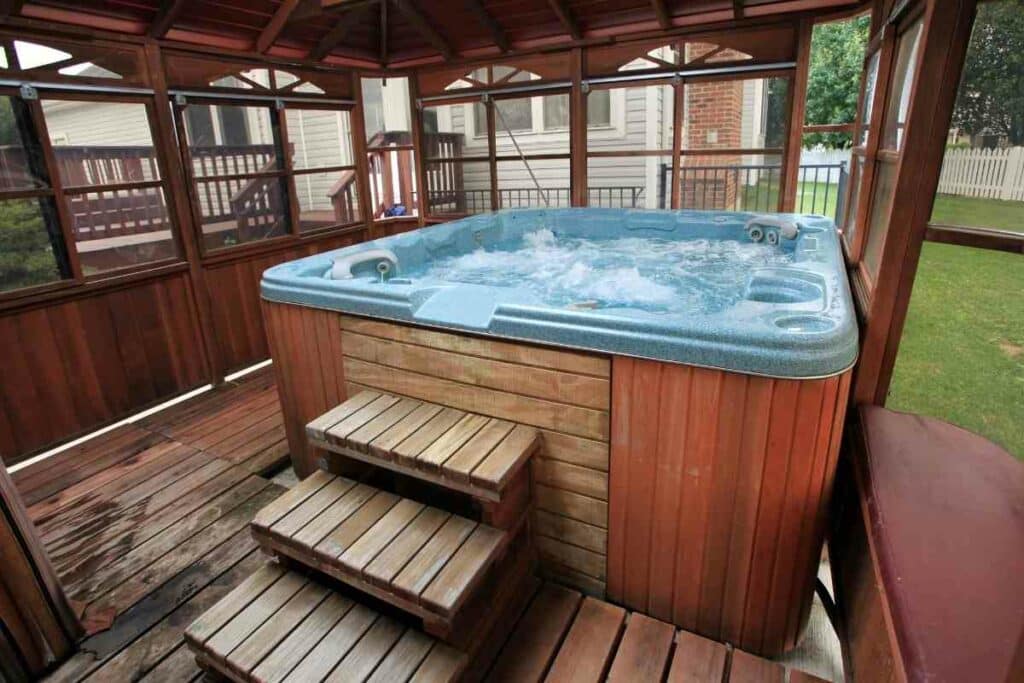 This means choosing a spot within the deck that has at least one level side.
For example, some people may have a raised deck and choose to install the hot tub so that one side is against the wall of the house and two sides are along the edge of the deck. 
Buying A Deck Drainage System
As we have discussed, one of the main problems with installing a hot tub under a deck is that you may experience issues with moisture damage.
While it is a costly venture, having a deck drainage system built in will solve a lot of your problems.
What's More – It's far preferable to install a system like this now than have to fork out for a replacement deck in the near future. 
Companies like Trex, that make decking, also offer some highly innovative under deck drainage systems which are out of sight and extremely effective.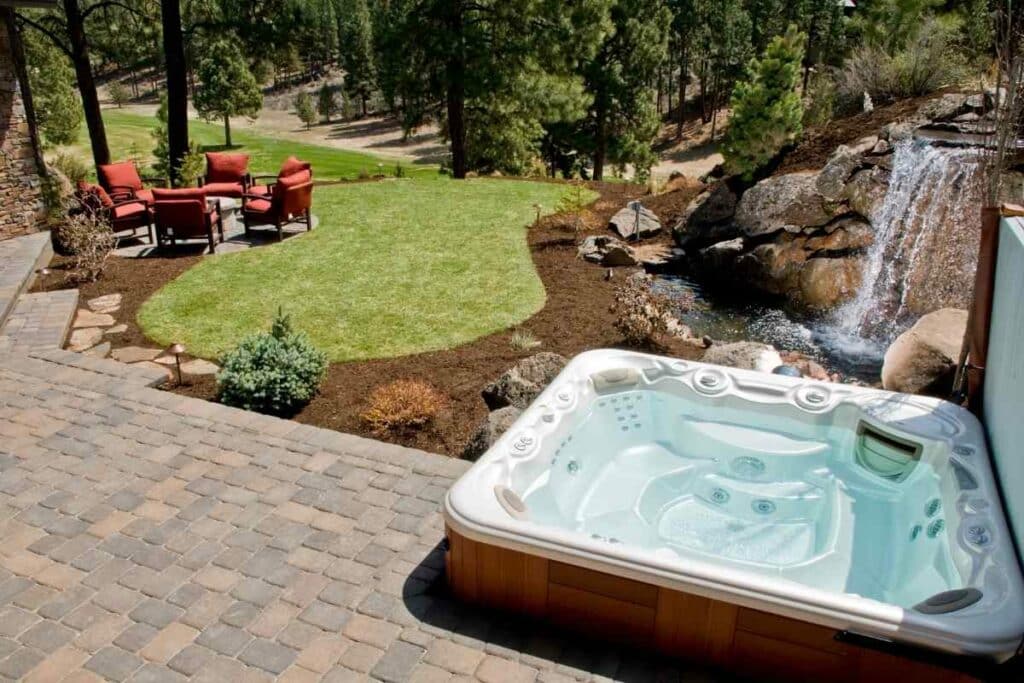 But there are plenty of other manufacturers out there. The key is to look for a deck drainage system that's durable, weatherproof and effective. 
There are two main types of deck drainage systems:
the under joist
and over joist systems
Over joist systems are placed over the joists and water will run along the surface of the deck.
On the other hand, an under joist system sees the water running through the deck slats and into a drainage system underneath. 
Most people would agree that an over joist drainage system is the best option as this prevents any water coming into contact with the joists. 
What About Installing a Hot Tub Below A Two Storey Deck?
As well as considering putting a hot tub within a deck, you might wish to place it underneath a two storey deck.
The great thing about this is that your deck will act as a roof for your hot tub meaning that you can use it in all types of weather.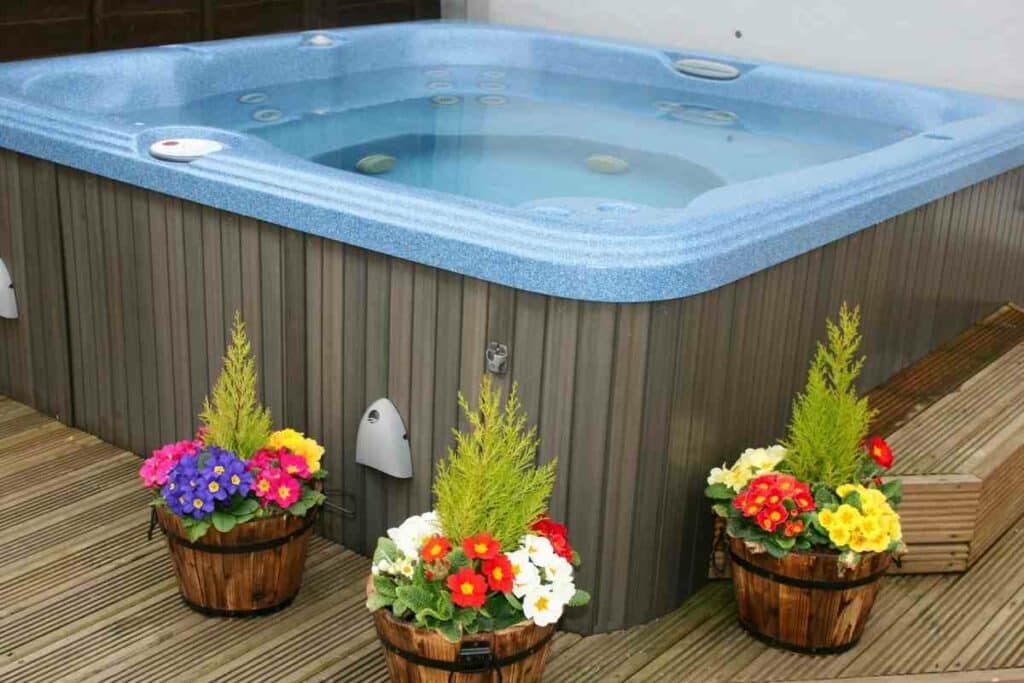 The most obvious issue with this is that water may drip from the overhead deck making for a less than pleasant hot tub experience.
Installing one of the deck drainage systems that we have already discussed is the best way to counter this problem. 
Again – You'll need to consider all of the above points such as ease of access, maintenance and air flow. But otherwise, there is no reason that you cannot place your hot tub in this location. 
Conclusion
Buying a hot tub is super exciting and we are sure that you can't wait to relax.
However, once you have chosen your hot tub, there are a few other things to think about.
The location for your new tub is one of them.
Whether you want to put it within your deck or place it under a two storey deck, the key is to make sure that you have excellent airflow and a good deck drainage system in place. 
Moreover, you will need to ensure that you have easy access to your hot tub's service panel otherwise you'll find yourself struggling every time you need to do any repairs or maintenance.
Also Useful