From different-themed costumes to trick-or-treat games, Halloween celebrations are a favorite time of the year for many people worldwide.
It's not a coincidence that movies inspired by this holiday, such as the 1978 film 'Halloween,' have a history of being box office top hits.
Lately, a new trend has become increasingly popular – the purchase of scary garden gnomes.
What Are Scary Garden Gnomes?
Garden gnomes are little figurines that people used to bring good luck to their farms.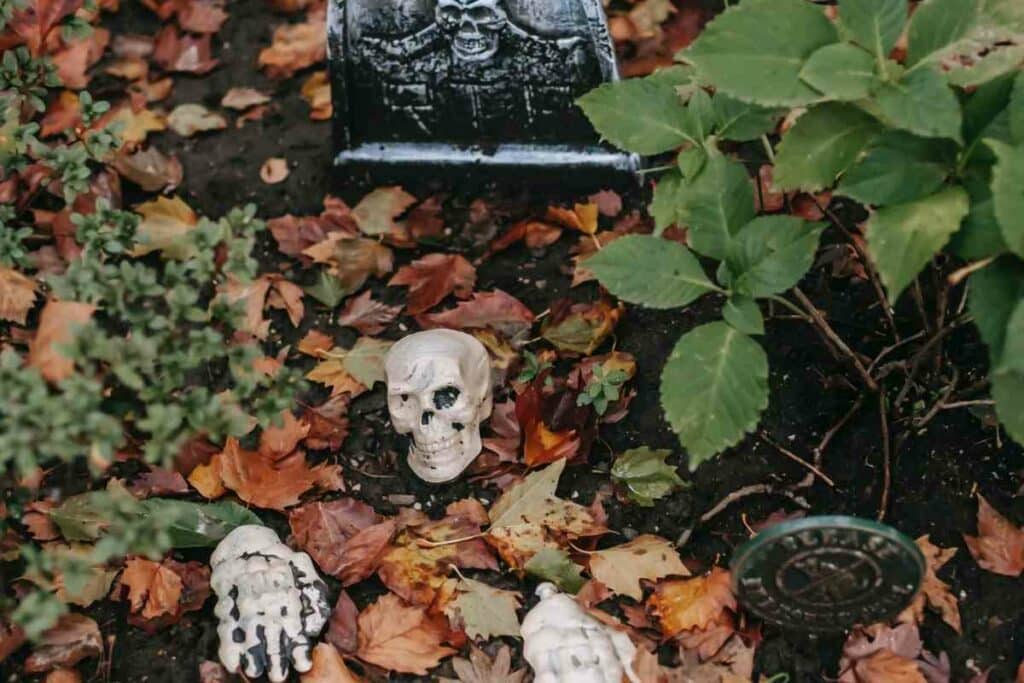 However, they have significantly evolved over the years.
From large and funny sculptures in the past to modern horror-themed pieces, you can purchase spooky gnomes to spruce up your Halloween celebrations.
Here are some scary gnomes that will add creepiness to your garden.
1 – PTC Scary Zombie Garden Gnome
Standing 11.75 inches tall, this zombie garden gnome is one of the most oversized figurines in its genre, a factor that adds to its spookiness.
It has bloodshot red eyes, a bloody mouth and beard, and a missing right arm. At its boot is a skull, probably from one of its former victims.
Besides creepiness, this gnome is built to last. It has excellent craftsmanship and is made of resin, a material resistant to adverse weather conditions. 
Another impressive thing about this figurine is the great deal of detail put into its construction. Specifically, it is hand-painted. 
2 – FICITI Zombie Gnome Evil Gnome Scary Gnome
Any fan of zombie apocalypse movies will get fazed by the level of detail offered by this evil gnome.
Like the PTC gnome mentioned above, it has a missing right hand, a red hat, a bloodied mouth, and a severed left hand. 
The eyes are perhaps the terrifying feature of this zombie. They are red, large, and the left one is gorged out, hanging from its socket.
Regarding posture, the zombie looks like it's coming for its next target; YOU! Beware and watch your step!
What's more, this zombie is weatherproof. It has multiple layers of durable polyresin paint aimed at prolonging its lifetime.
For this reason, it can be a great addition to your home's entrance or in the garden. 
3 – Ebros Walking Dead Zombie Gnome
Crawling zombies have become a thing among Halloween-loving homeowners.
With a severed leg, an extensively decayed face, and rotting body parts, it's improbable that anybody will take more than a glance at this zombie gnome.
It looks like a creature that has risen from the dead and is entirely focused on infecting the surviving human population.
By placing this grotesque zombie in your backyard, you will scare many guests, including the ones who tell off scary-themed structures. 
Concerning size, it measures 7″x7″x5″, and weighs 1.5 lbs.
This statue is made using designer composite resin, allowing it to withstand harsh outdoor conditions.
It also has a hand-painted and polished finish.
4 – FUNPENY Halloween Grim Reaper Sculpture
If you want to add a frightening touch to your home, check out the Halloween Grim Reaper Sculpture from FUNYPENY.
Adorning a black robe that covers it down its feet, this ghost reaper holds a sickle on its right hand and a candlestick lamp on its left.
These remarkable details make it a must-have in indoor Halloween parties.
That said, you can also place this statue on your front door, as it's made using durable and waterproof resin.
It also has an anti-fading, hand-painted, and a high-quality finish on its outermost layer.
Interestingly, each piece of the FUNYPENY Grim Reaper is unique, as it's hand-carved by artists.
Its creative design makes it an excellent gift for adults and kids alike.
5 – SDASF 2 Resin Garden Gnomes
Whoever crafted the statement' two is better than one wasn't wrong.
After rising from the dead, these post-apocalyptic zombie gnomes are ready to infect anything they find on their way with the plague.
Both have spooky eyes and several rotten body parts. Notably, one has a standing posture while the other is crawling. 
SDASF's zombies have robust construction, as they're made of solid resin.
As such, you can place them outdoors with the confidence that they'll withstand the ever-changing weather conditions.
Despite being primarily used for Halloween, this figurine won't look out of place on other occasions such as Christmas celebrations.
It's also an indispensable present for all age groups. 
As a bonus, the manufacturer guarantees to return defective products if you make a claim within 30 days after purchase.
6 – Design Toscano CL6565 Garden Gnome
With a body that doesn't extend beyond its torso, this is one of the scariest gnomes that you can add to your garden this Halloween and beyond.
This one-eyed figurine has rotting flesh all over its body that can instill fear in everyone. 
Additionally, it has raised arms and a wide-open mouth, probably readying itself for its next targets. 
Even better, the gnome has a high-quality design. It's made using hand-cast crushed stones bonded with designer resin.
On top of this is UV-resistant paint that increases longevity if you use the gnome outdoors. 
7 – DWK Flipping Off Angry Outdoor Front Porch Garden Gnome
The little sign held by this gnome says it all – 'GO AWAY!'  
Although the bunny at its foot has a wry smile, the raised right middle finger declares your intent in the first place – that you don't want anybody coming into your garden. 
The DWK evil gnome is relatively large, as it has a height of 17.5 inches and weighs 3.55 pounds.
It's made of resin, a material that guarantees durability and resilience to bad weather. 
8 – Prextex Halloween Zombie Groundbreaker Decoration
As friends stream into your home for trick-and-treat and other Halloween games, surprise them with this ground-breaker zombie gnome that looks like it's resurrecting from the dead.
It has a life-size zombie head and two arms made of weather-resistant plastic.
For this reason, you can use it both indoors and outdoors.
Furthermore, Prextex put a lot of detail into constructing this zombie ground-breaker.
It is handmade and painted with detail to recreate a perfect horror scene. 
9 – Design Toscano Lost Head Garden Statue
Recreate a perfectly set out post-apocalyptic zombie cemetery by purchasing this Design Toscano Lost Head Garden Statue.
Its dimension is 7.5"x5.5"x5", and its weight is 1 lb. This gnome has a sculpturing that's so realistic that people will mistake it for a zombie's head.
Concerning appearance, this zombie has sharp blue eyes and grinned teeth that depict its anger.
The face has multiple flesh-less spots through which you can see the skull. 
10 – MIBUNG Fairy Mushroom Monster Garden Guardian Figurine
Do you want to add a dreadful feeling to your garden?
If so, get the Design Toscano CL6565 Zombie Gnome Graveyard Garden Gnome Statue.
Thanks to its unique design, its mushroom-head communicates its evil intentions through its ghoulish bloodshot eyes. 
The left hand is severed at the wrist, while the left holds a wooden log.
Despite its short stature (it's 4.7" tall), this figurine still maintains its creepiness.
It's made of resin, allowing it to withstand different weather conditions. 
Its fine workmanship makes this sculpture a perfect gift to anybody who loves magic, regardless of the time of the year. 
11 – FICITI The Great Garden Gnome Massacre
Throughout history, dragons have been something of a legend.
If you want to add these fictional fire-breathing creatures to your garden, it would be best if you purchase The Great Garden Gnome Massacre from FICITI.
Its massive size ensures that every first-time visitor notices it immediately they step into your porch.
Whether you're a fan of dragons or like collecting evil gnomes, this piece will leave a smile on your face if somebody gifts it to you.
Its hand-painted finish appeals to everybody with a great eye for detail.
Beneath this paint coating is durable polyresin material that guarantees longevity and the ability to withstand adverse weather.
12 – Zombie Gnome – Bavarian Oktoberfest Skeleton Gnome Gerta
After rising from the dead, this skeleton zombie gnome is ready to haunt the living through Oktoberfest and cap it off on Halloween.
Surprisingly, or perhaps coincidentally, this barebone sculpture looks to be in a celebratory mood, as it has a glass full of frothing beer on its right hand. 
Designed using hand-cast crushed stone, this gnome will last for years. Moreover, it has UV-resistant paint on its outermost layer. 
Wrapping Up
Nothing is as half-witted as believing that garden gnomes bring good luck to those who find them.
Instead, these sculptures are an effective way of showcasing your creativity to your visitors, regardless of the time of the year.
The options listed above can add exceptional creepiness to your backyard and help keep unwelcomed people at bay.
When shopping for one, consider purchasing models made using weather-resistant material so that you place them outdoors.
Also, think of the size – generally, bigger gnomes capture attention more easily. 
You May Also Like