Ever since Covid-19 kept us locked away in our own homes, people are more and interested in investing in their outdoor spaces.
As a result, there has been a big increase in people looking to sort out their decks, patios, and other outdoor living areas that add shade and definition like pergolas.
Pergolas have seen an upward growth and there are more varieties and styles than ever. One question that homeowners frequently question is which material is the best.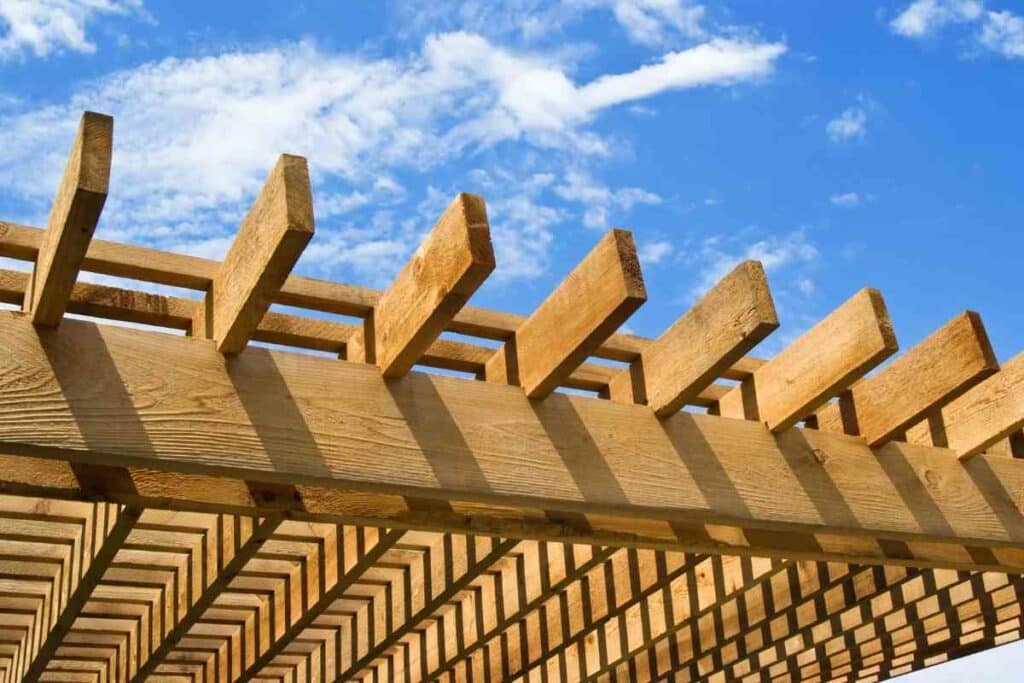 More specifically, people want to compare vinyl Vs wood pergolas.
Traditionally, of course, pergolas have been made of wood. However, these days many other pergola materials are available – including vinyl.
Compared to wood, vinyl is seen as a material with much less maintenance and its popularity as a garden structure material has increased considerably.
In This Article – We'll discuss vinyl Vs wood pergolas to help potential buyers decide which material they should choose for their next garden structure.
Wood pergolas – the advantages and disadvantages
Wood is visually appealing as well as being very versatile.
It's also readily available. For these reasons, this material has been used for constructions for centuries.
Since pergolas have existed, they've typically been constructed out of wood.
However, it isn't just due to tradition and familiarity that wood is a popular choice of material for pergolas.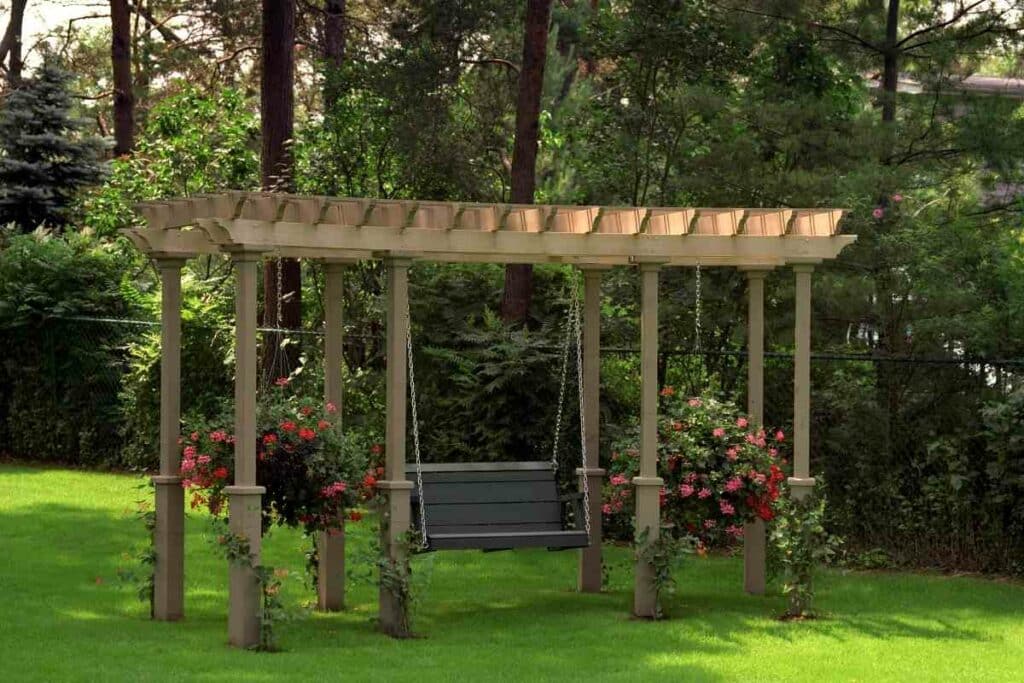 Carpenters and craftsmen are used to working with this versatile material and can make them in all sorts of shapes and sizes.
It's also quite easy to find a woodworker who is capable of building a custom wood pergola for your unique garden space and tastes.
Finally – Wood is also not as expensive as some other materials – especially if the design has been created from scratch with standard lumber.
Beauty Vs Maintenance
Wood is a beautiful material for your backyard.
After all, you can't get much more natural than this natural material. However, this beauty comes at a price over time and requires maintenance.
All wooden structures are susceptive to:
UV light
insect activity
and moisture
To protect it from these issues, wooden garden structures are usually treated or painted, which prolongs its life.
UV rays can cause the sun to denature the structure.
In turn, this can cause the paint to peel. This then needs to be retreated again to prevent moisture from penetrating the structure and rotting it.
Of course, all repairs and maintenance take time and money.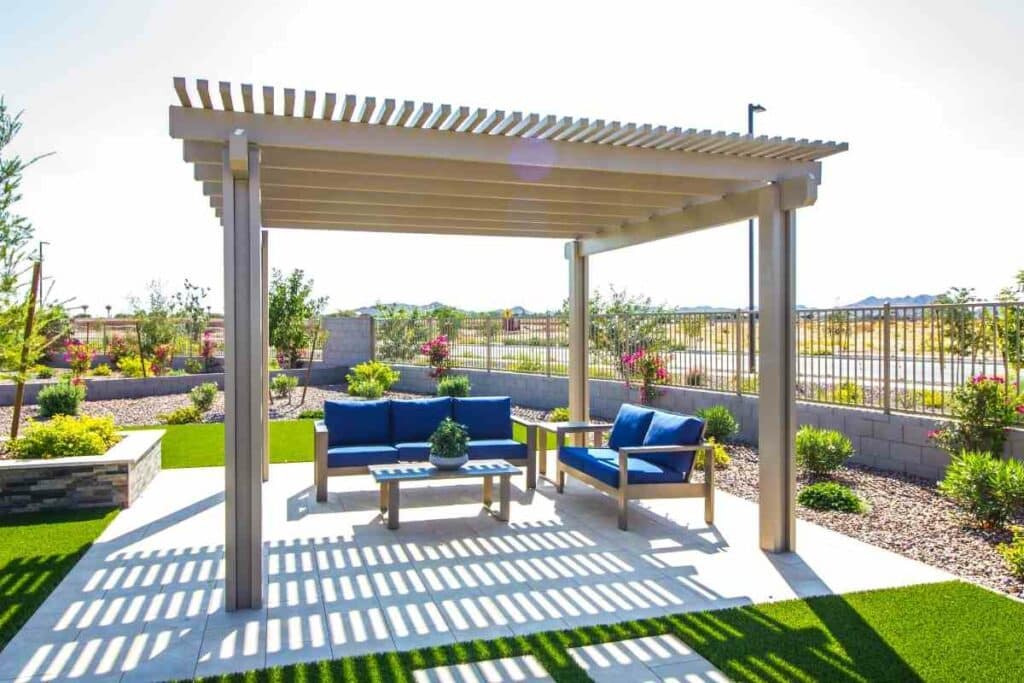 And you can't just decide they're not needed as this will mean your structure will eventually rot and won't be structurally sound anymore. It will also lose its charm.
In some destinations, wood maintenance will be minimal, especially in places where there isn't a lot of rain, for instance.
However, a lack of rain also comes with higher chances of UV exposure, which means that the wood would still need to be painted to maintain its color.
The maintenance problem is one reason why wood pergolas can be frustrating to have in your backyard.
Though it's a versatile and beautiful material, it needs care to keep its esthetics and strength over time. So, if this sort of maintenance puts you off, vinyl could be a viable alternative.
Vinyl pergolas – the advantages and disadvantages
Since the mid-20th century, vinyl has been a popular construction material in outbuildings and homes.
It was created to be a wood alternative that freed up homeowners from onerous maintenance while being attractive.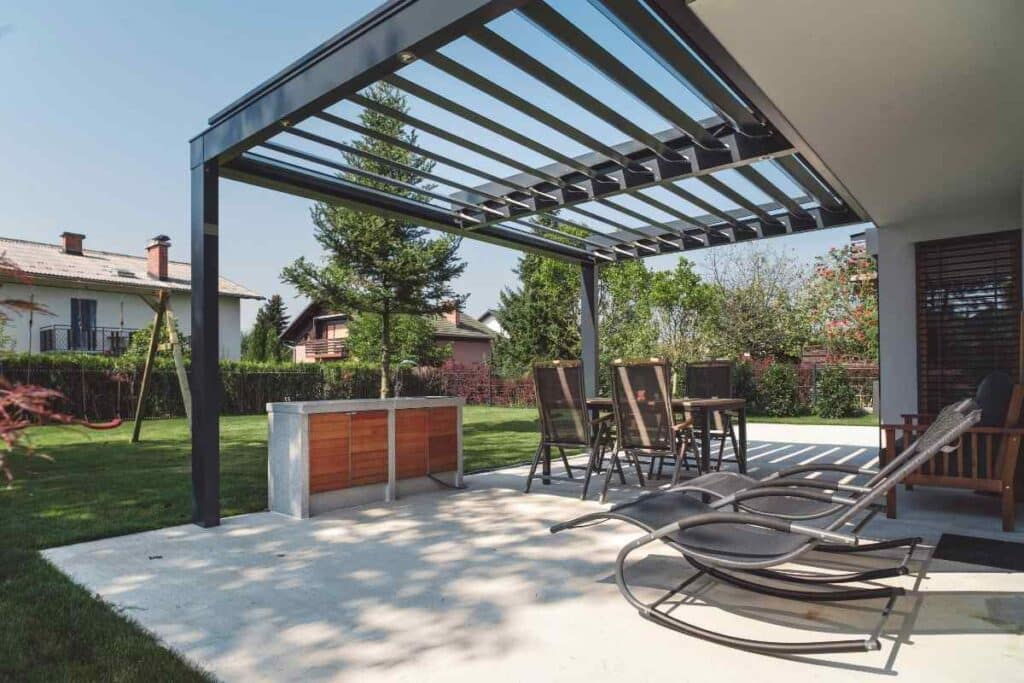 One reason why vinyl is such low maintenance is that the color isn't just on the surface.
This means that it doesn't peel, chip or fade. It also doesn't need maintenance and touch-ups, unlike wood.
Good News – One of the most important benefits of a vinyl pergola is that it doesn't need upkeep or special care. The only thing you'll need to do is pressure wash it from time to time to clean it.
An all-weather material
A vinyl pergola will hold up well no matter the weather.
They can withstand rain, high winds, high UV levels, and extreme cold alike – especially if they have a reinforced aluminum core.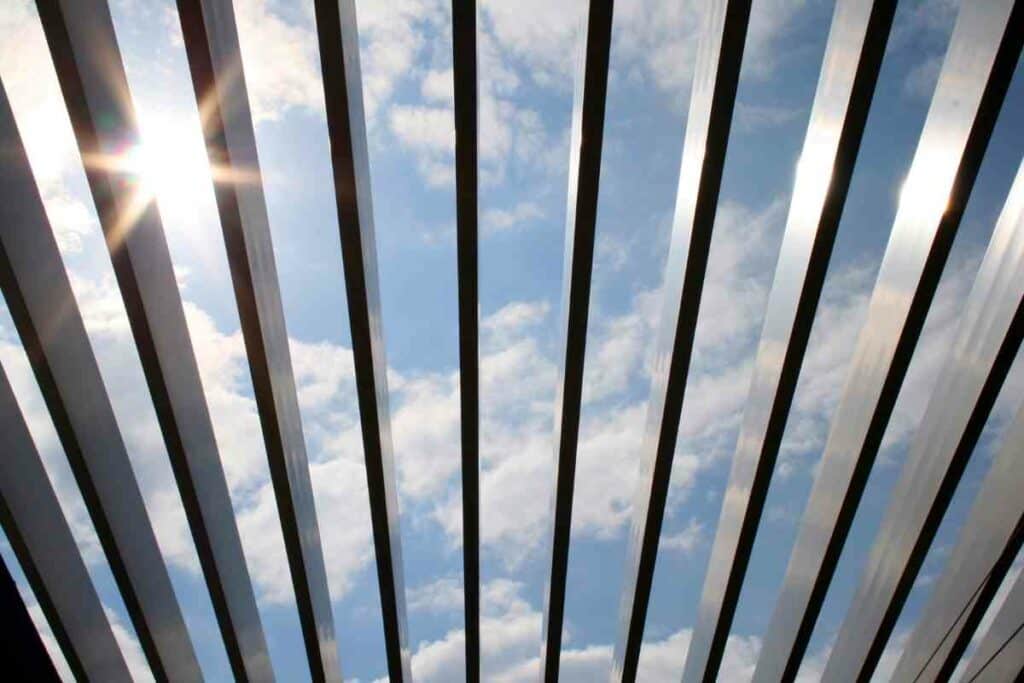 This means that vinyl pergolas are perfect for any place and will last a long time.
One of the worries about a vinyl pergola is that it's not customizable. Even though vinyl isn't as customizable as wood, there are still a lot of choices out there.
You can choose different shapes or widths of columns and can have the pergola attached or freestanding. You can even find a style to match your property. 
DIY Vinyl Pergolas
If you like to get hands-on – or just want to save a few bucks – you can get vinyl pergola kits.
These don't need a lot of expertise or special tools and you'll be able to erect the pergola pretty quickly.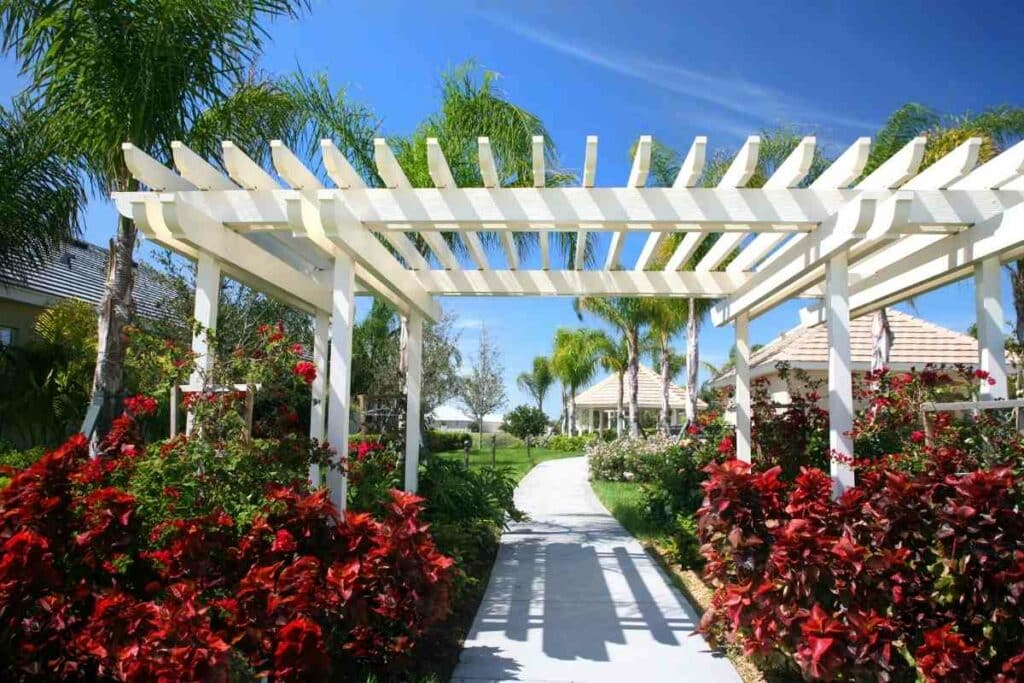 Though you might worry that a vinyl pergola kit is more expensive than a wood pergola, you'll save a lot of money by the fact that you can install it yourself.
One of the downsides of pergolas for some people is the color limitations.
Compared to wood, which you can paint, there isn't an awful lot of choice when it comes to vinyl.
Vinyl Vs Wood Pergola Comparison
If you're still undecided, take a look at our side-by-side comparison table to help you.
| | Vinyl Pergola |  Wood Pergola |
| --- | --- | --- |
| Initial cost | 30% more expensive than wood (but no maintenance costs) | 30% cheaper than vinyl (but maintenance costs further down the line) |
| DIY installation | Easy | More difficult |
| Best suited to | Anywhere | Drier climates (to be longer lasting) |
| Maintenance | Low maintenance (an occasional wash) | High maintenance (repainting) |
| Potential problems |   | Insects, rotting, warping |
| Advantages | Can withstand extreme weather, no maintenance, strong | Natural material, traditional look, can be painted any color, less expensive, naturally beautiful |
| Lifespan | Lifetime | 10 to 15 years with good maintenance |
Vinyl Vs Wood Pergola
Final thoughts on Vinyl Vs Wood Pergola
A pergola is an investment that will add interest and style to your backyard.
What's more, it can truly define your space and bring some shade on sunny days.
For anyone considering investing in a pergola, you should weigh up vinyl Vs wood pergolas to see which type suits your needs best.
If you want something long-lasting that requires little to no maintenance, the vinyl pergola is a great choice.
Conversely, if you want a natural, traditional pergola and don't mind the added work to maintain it, a wood pergola will be a good investment.
More Related Articles