If you want to be able to enjoy your backyard late into the evening, lighting is essential.
However, most people don't have outlets in their yard and look for a solution to light up their outdoor space without digging up their yard to install cables.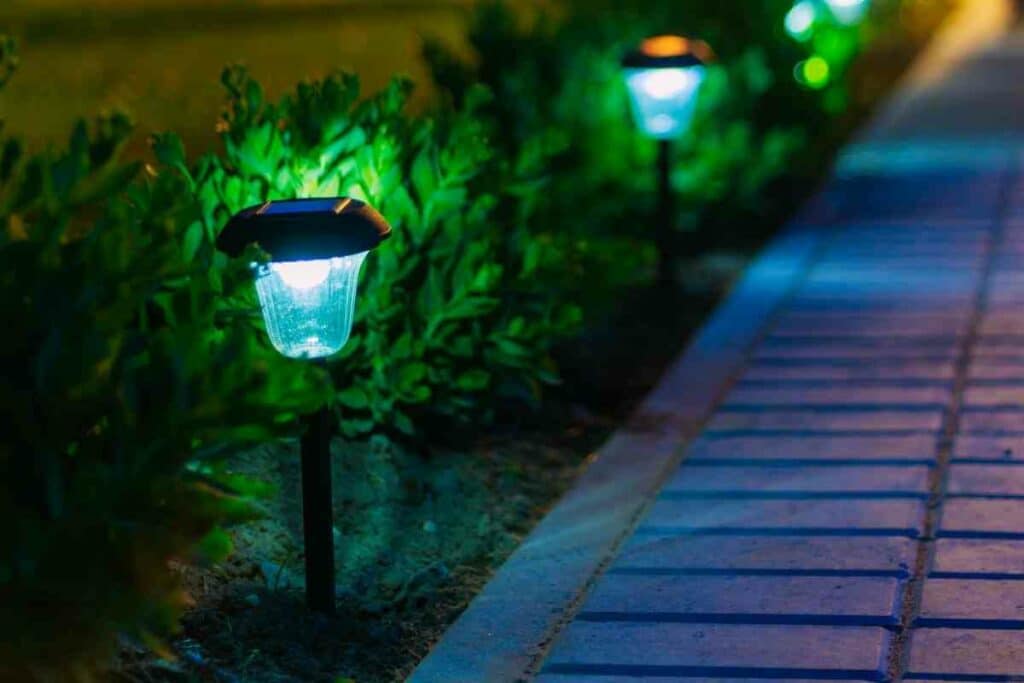 So, how can you add backyard lighting without outlets and wires?
In This Article – We'll go through a selection of practical and convenient lighting solutions to light your space without installing electric cables. Read on to find out 11 solutions to backyard lighting without electricity.
Solution 1: solar lights
Solar lights are great because once you've made the investment, you don't need to worry about electricity bills or buying batteries.
Solar-powered lighting is really where it's at when it comes to having an environmentally friendly, cost-effective lighting solution in your backyard.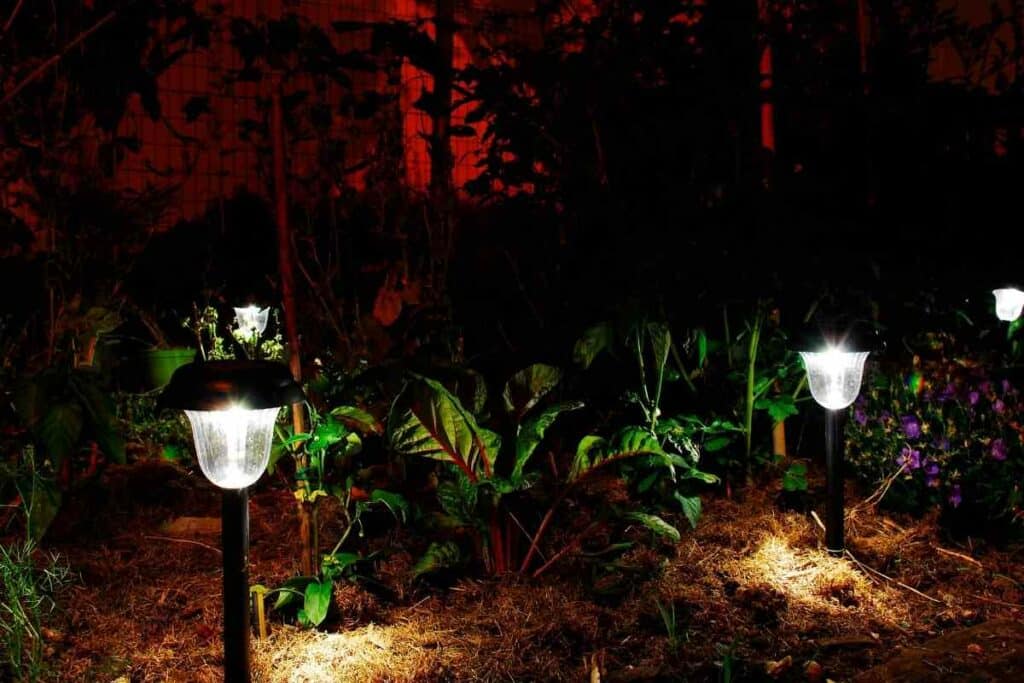 During daylight hours, the solar lights draw energy from the sun and stores it to provide light when it's dark.
There is a huge range of solar lights available, they're usually lightweight and easy to install.
In fact, because there are no wires, you can easily place them wherever is most convenient for you – close to seats, to light footpaths, or next to your barbecue.
At Dusk – The solar light's photoresist will detect the darkness and will turn on the lights automatically. This means you'll get great outdoor lighting to continue enjoying your backyard even when darkness arrives.
Solution 2: solar outdoor chandelier
If you like the idea of an outdoor chandelier for your gazebo but don't have electricity, you can get solar powered solutions.
Solar-powered outdoor chandeliers really add pizazz to your exterior and they're also energy-efficient and eco-friendly.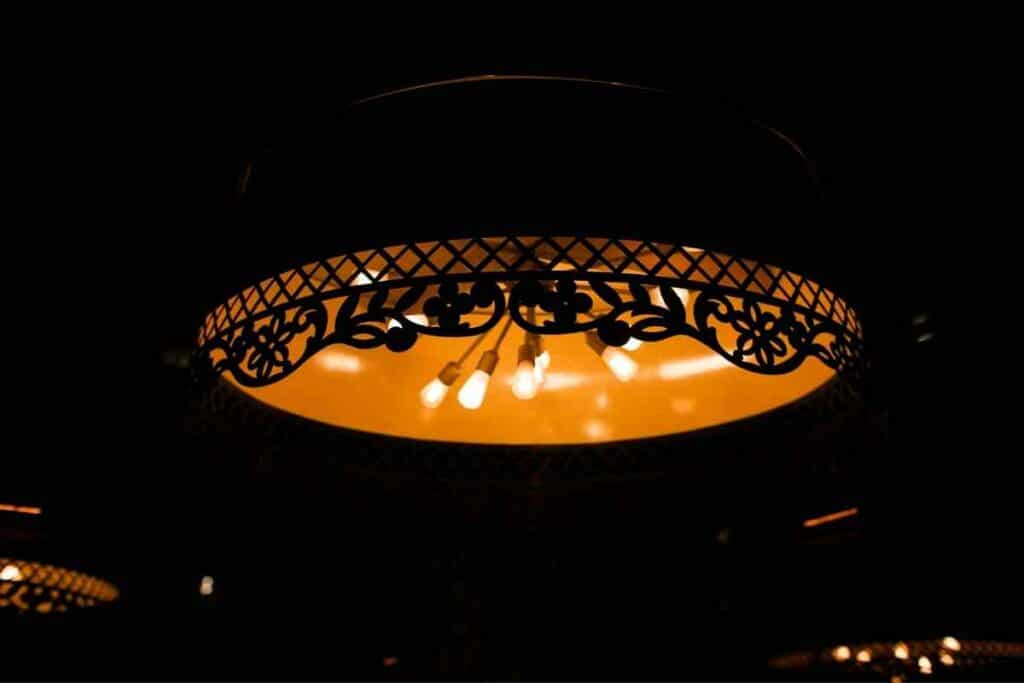 What's more, solar chandeliers are a fraction of the price of traditional chandeliers!
You'll be able to use them to illuminate your seating area or as a special feature for a special area in your garden.
Solar chandeliers are made to withstand the elements and are weather-resistant.
They will have solar rechargeable batteries allowing you and your guests to benefit from these eco-friendly and energy-efficient lights.
Solution 3: Battery-operated outdoor lights
If you want a non-wired solution for your garden lighting, battery-operated outdoor lights are another option.
These are useful for spaces and places that don't get a lot of sunlight and will remain bright regardless of what the sun's been doing.
However, you will need to ensure they have working batteries and change them as needed.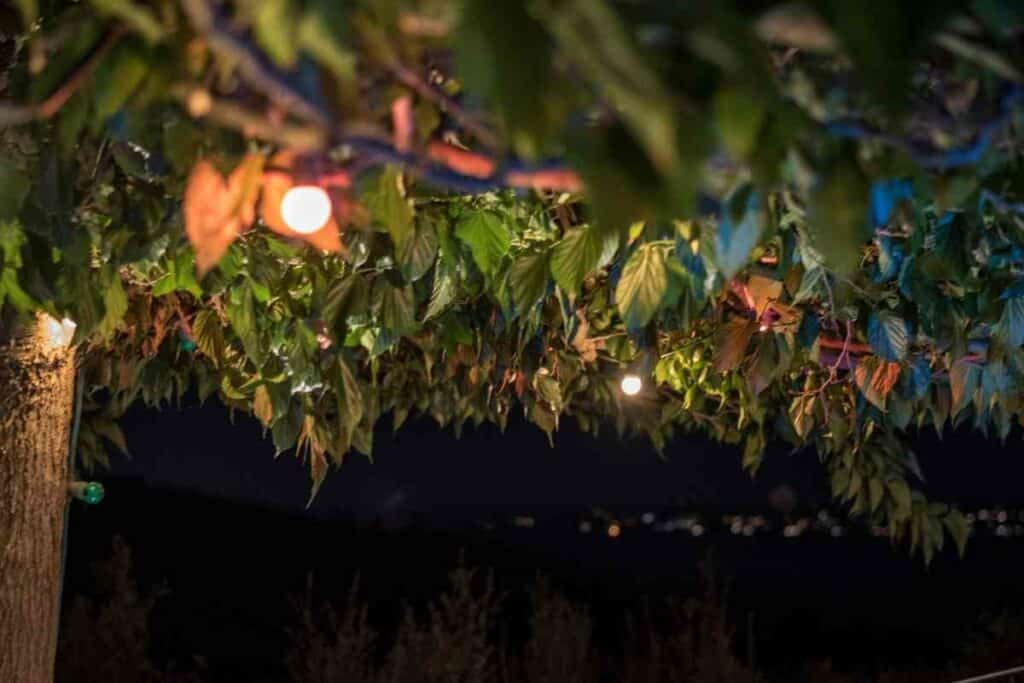 What many people do is use rechargeable batteries in their outdoor lights and have spare ones to hand so that they are always functioning. LED lights will use much less power.
When you go shopping for a battery-operated outdoor light, choose one that can diffuse light over an expansive area.
You should consider models with a durable and weatherproof design so that it lasts a long time.
Typically, batter-operated outdoor lights can last up to ten hours.
If you want them to last longer, you should make sure you switch them off when you're not using them.
Another great idea is to choose a battery light with a sensor that will turn the light on when motion is detected (though you should also have a way to turn it off manually so that the battery doesn't go down if wildlife sets it off, for example).
Solution 4: Outdoor string lights with a battery
String lights add an intimate atmosphere to any yard space.
With a soft, warm glow, you'll have low-voltage lighting for every occasion. These can be positioned on a pergola, rooftop, lawn, or around outdoor furniture.
If you're worried about the weather, choose lights that say they're for outdoor use.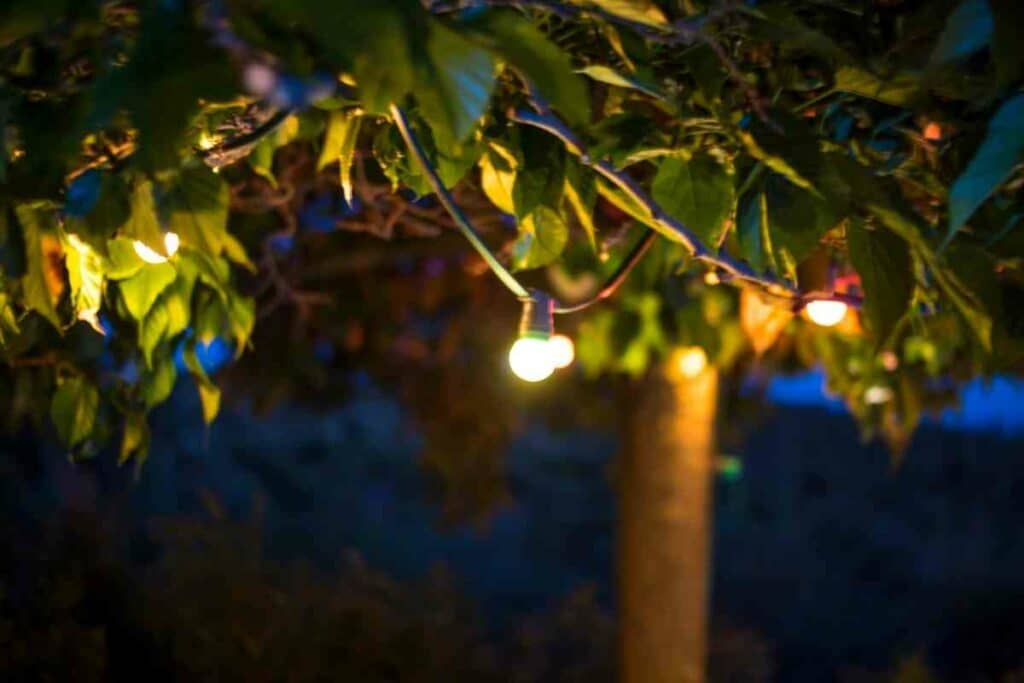 This means they'll be waterproof and will even stay illuminated during rain or snow.
As with any battery-operated lighting, you should choose long-lasting LED bulbs and find ones that can take a rechargeable battery too.
If you use outdoor string lights near your main home building, it is possible to use an extension cord so you could go for ones that plug into an outlet.
It's important that they're still outdoor lights though and that you're really careful with extension cords that can get wet or become tripping hazards.
---
Nowadays: There are so many different string lights to choose from. You can choose multicolor ones and different shades of white too. String lights really have the power to transform a backyard space into a cozy or festive patio or yard.
---
Solution 5: Outdoor Battery-Operated Chandelier
If you really want to go all out, an outdoor battery-operated chandelier is a great addition to any outdoor space.
This will offer instant illumination at the touch of a button and will be a low-cost way of adding security and ambiance to your backyard.
The majority of outdoor chandeliers have bulbs in a teardrop shape. These create a glamorous feel in seating and dining areas.
What's more, they can be used around Christmastime for a truly festive feel.
Outdoor battery-operated chandeliers can be hung anywhere you like.
No matter the location, it will be guaranteed to look luxurious. For those who like entertaining, it's a fantastic choice.
Solution 6: Garden Solar Globes
If you're feeling a little artistic, careful positioning of some garden solar globes can create an amazing effect in your backyard and don't need wires, panels, or an outlet.
These typically come with batteries that can be replaced easily. Globes can be positioned anywhere and so you can create a clustered effect or spread them out in a wider area.
Garden solar globes are typically designed to light up automatically after dusk is detected.
They help add a little color and light to your patio, deck, or backyard whether you're home or not.
If you're entertaining, they're a captivating feature that adds a fascinating aspect to your garden or lawn.
You can install this lighting on any type of surface without the need for wiring or tools.
For a more permanent fixture, you can screw them down, however.
What's More – Since these are designed for outdoor use, they are weatherproof and won't be affected by rain or snow.
Solution 7: Outdoor Candles
It worked before electricity was invented so why not use wax candles nowadays?!
There is a huge range of candles around, from ones in jars to large pillar candles you can put in a lantern.
Wax candles are a low-cost way to light up your garden and they can't run out of battery!
Candles are also great for creating an atmosphere and ambiance. They're also warming if you're sitting close by.
You can put wax candles of different sizes to create an arrangement.
Or you can put them in washed-out jars to create a homemade lantern that will stand up against windy weather.
Solution 8: LED candles
If you don't want a naked flame or struggle to keep them alight, an outdoor, waterproof LED candle is a perfect alternative.
These come in all sorts of sizes so it's easy to create your own unique look for your backyard.
LED candles can supplement other lighting or be used alone to create a romantic, cozy atmosphere when entertaining in the evening.
What's great about modern LED candles is that they're actually very realistic and can even have flickering flame effects.
Lots of these candles also have automatic shut-off timers or settings when they will turn on and off at the same time each day.
The great thing is that they're so energy efficient and you can get up to 1200 hours out of one battery!
Solution 9: Garden Oil Torches
Often called 'Tiki' torches, these bamboo oil torches originated in the Polynesian and Hawaiian cultures and gained popularity during the 1930s in the US.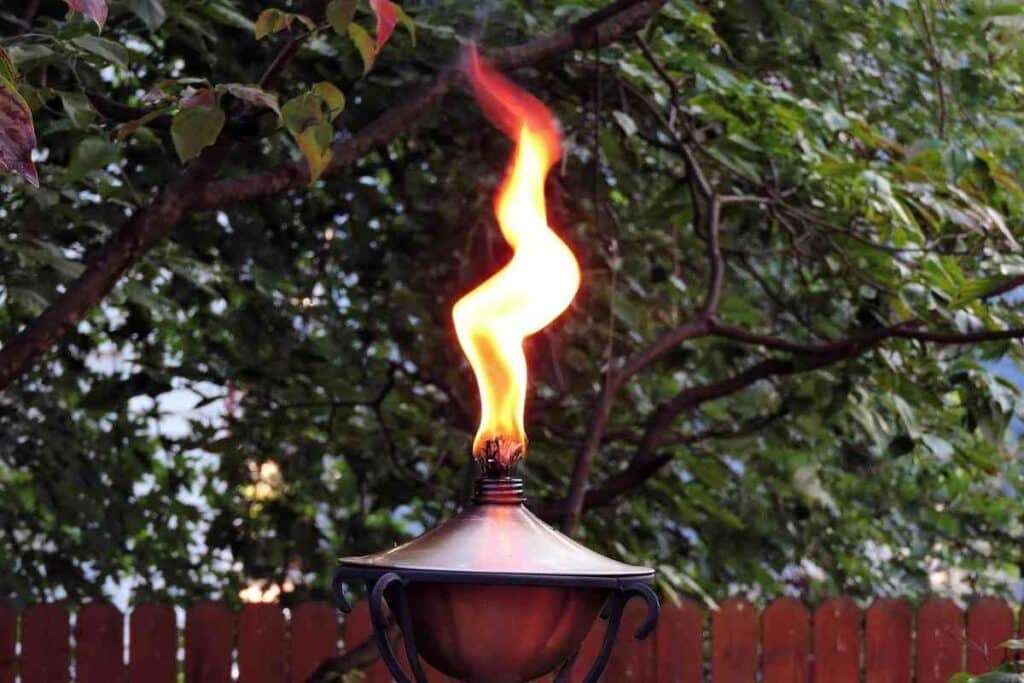 They now come in a range of materials and are a great addition to any backyard.
These torches burn oil, and you can even use citronella oil to help deal with annoying bugs and mosquitoes.
These offer great lighting and create a fantastic atmosphere too. They're great for lining pathways and making a statement.
Solution 10: Hanging paraffin or oil lanterns
Another old-fashioned lighting solution that is making a comeback is the paraffin lamp or kerosene lamp.
This lighting device can be used on a table, or it can be hung up somewhere.
They're useful for lighting when you haven't got electricity and are ideal for backyard entertaining after nightfall.
Often called 'hurricane' or 'storm' lanterns, these are made to withstand the wind.
Many also have dimmers to control how much light is released.
Solution 11: Wind-up lanterns
If you don't want to rely on the sun, batteries, or fuel, a wind-up lantern might be your preferred choice.
After a little bit of effort, a wind-up lantern can emit quite a bit of light.
If You Have Children – These are a great source of entertainment, and you don't need to worry about safety either!
Final thoughts on how to light up backyard without electricity
So, there you have it, 11 backyard lighting solutions where electricity isn't required.
Who knew there were so many?!
What's great about these solutions is that many of them go well together as a combination.
Candles alongside oil lamps, garden torches with string lights, or chandeliers with solar globes.
Whatever you go for, you'll definitely be able to create a great-looking space with no access to electricity required!
Posts You May Like