More homeowners are installing horizontal fences around their homes, and rightly.
Privacy is a top consideration for many now that a large number of people are working remotely and spending more time at home.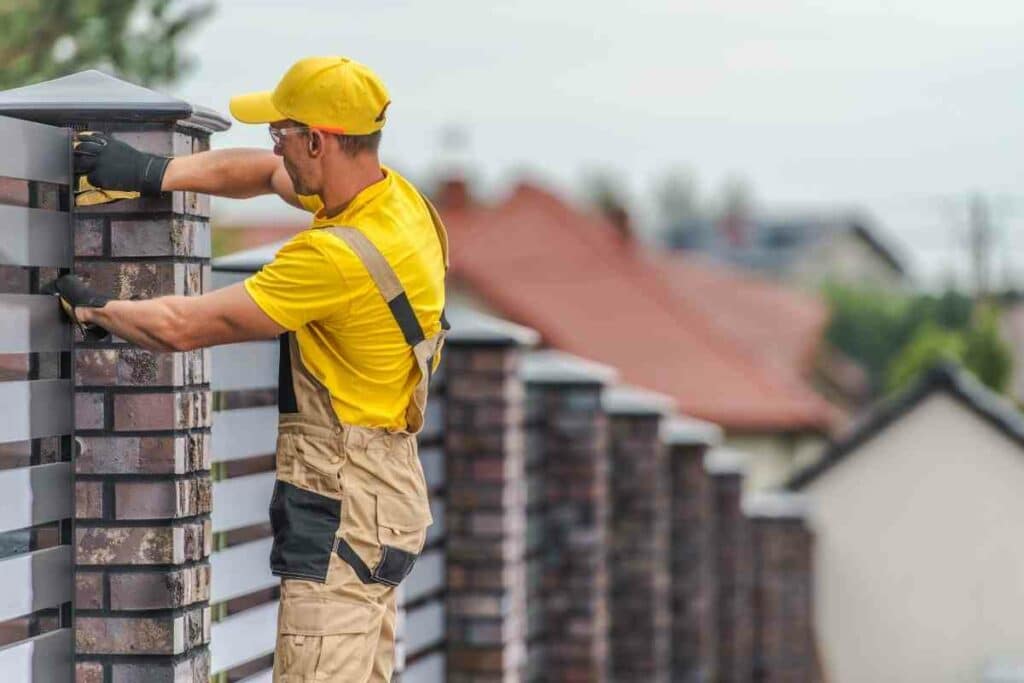 And there's no type of fencing that offers the perfect blend of privacy and stunning looks like horizontal fences, whether you prefer rusticity or contemporary designs.
Why horizontal fences?
If you're wondering why many people favor horizontal fences over vertical ones, here are the reasons.
More privacy
The construction design of horizontal fences guarantees more privacy for your home.
The space between the slats is too tiny for prying eyes to see anything.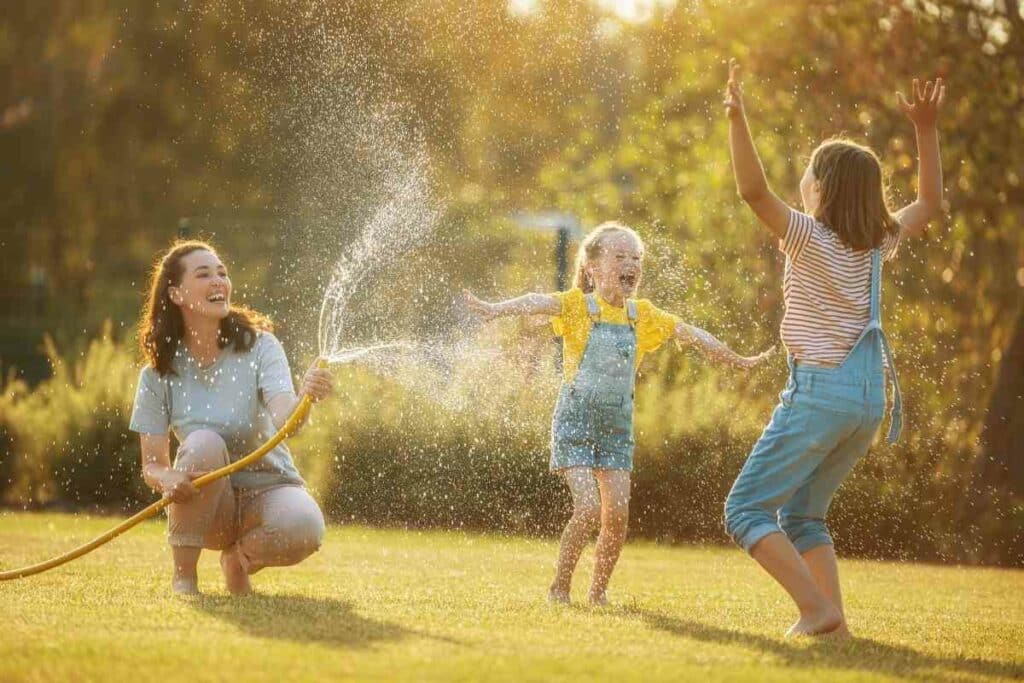 Nobody will see through your fence if you use tongue and groove pickets.
On the other hand, vertical fences have spaces between the pickets. Peeping Toms might use these tiny openings to invade your privacy.
Stunning looks
It takes a concerted effort to make vertical fences beautiful.
However, stunning looks are natural to horizontal fences.
If you want to improve your curb appeal with minimal effort, consider installing a horizontal fence.
It looks great around your compound or in a smaller section like a patio, outdoor garden, and any other structure in your yard.
Its simplicity makes it compatible with modern and rustic styles.
Moreover – Horizontal fences are the best fit for properties on sloped terrain. You can align the slats to mimic terraces and accentuate the original topography of the land. 
Endless customizability
The only limitations to customizing your horizontal fences are your budget and creativity.
Otherwise, the options are endless!
If you like the appearance of construction bricks, you can recreate it on your fence by using stagger plank seams.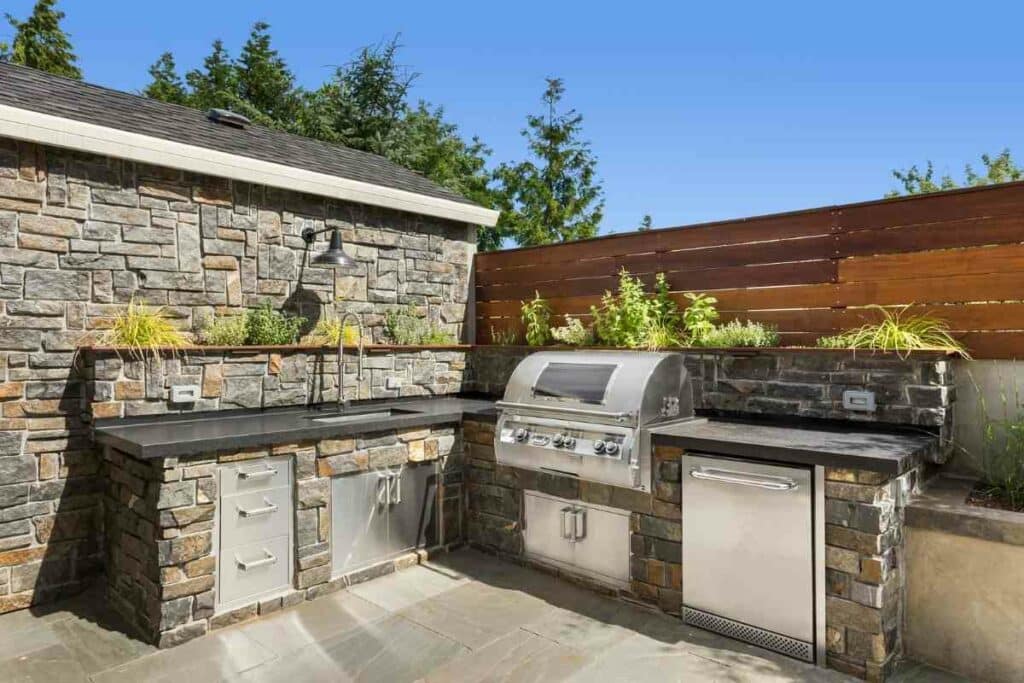 Using pickets with varying widths also enhances the visual appeal of your fence.
You also have a broad range of materials to choose from when building a horizontal fence.
Examples include composite wood, metal, vinyl, and treated wood. Even better, you can combine several materials to create a mosaic.
For Instance – Stained cedar planks can add freshness to a bland-looking environment. To improve security, you can use a fence with wooden pickets and metallic backer rails.
The illusion of space
Do you ever wonder why people prefer clothes with vertical stripes to those with hoops (horizontal stripes)?
Well, it's because horizontal stripes make things appear wider, which most people wouldn't want. But your backyard could do with looking bigger.
Moreover, horizontal fences have clean lines that draw attention to the garden instead of the fence itself.
A horizontal wall creates the impression that the space you have is more extensive than it is.
This effect results from the simplicity of the pickets in a horizontal fence.
If you have a small compound, you can take advantage of the optical illusion created by horizontal fences to make it look bigger. 
Stylish and Modern Horizontal Fence Ideas
Are you convinced that installing a horizontal fence in your home is worth it?
If so, look at these modern design ideas for this year and beyond.
1. Terraced horizontal wood fence
Unless you're an experienced landscaper, it cannot be easy to come up with a practical fence design if your property sits on a slope.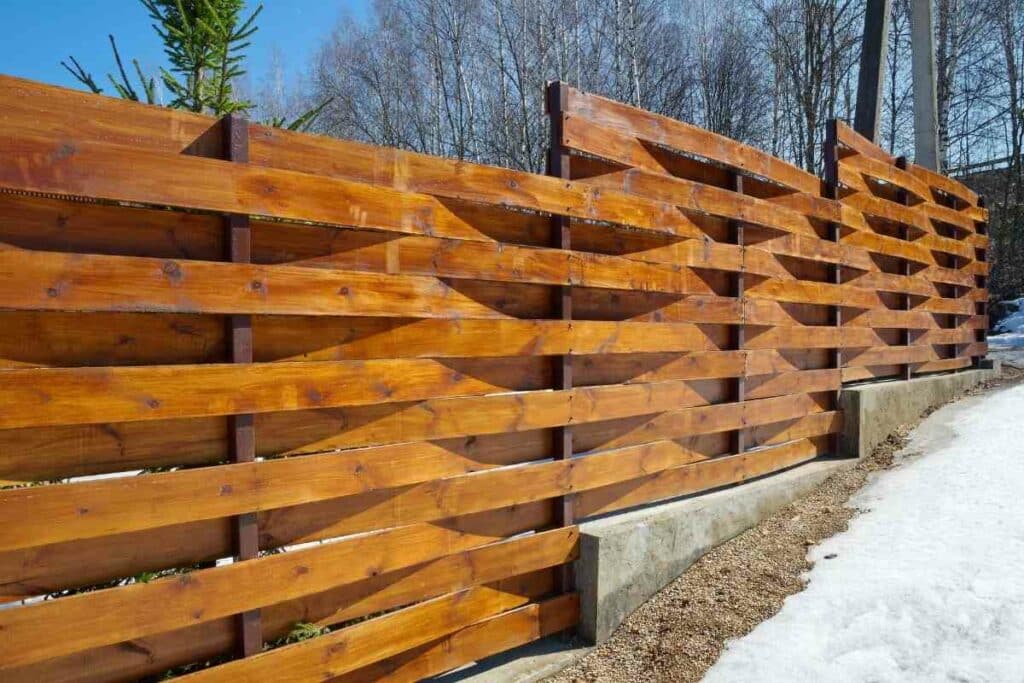 You might choose to use longer fences on the lower areas of your yard, but this makes the project more expensive.
A clever way of getting around this issue is using a terraced horizontal fence.
Besides all the perks of horizontal fences, it accentuates your yard's topography. More importantly, you don't use the extra money to get a visually stunning outlook.
2. Unstained cedar horizontal fence
If you love some pop of color, it might be unsettling for you to leave your fence plain and unstained.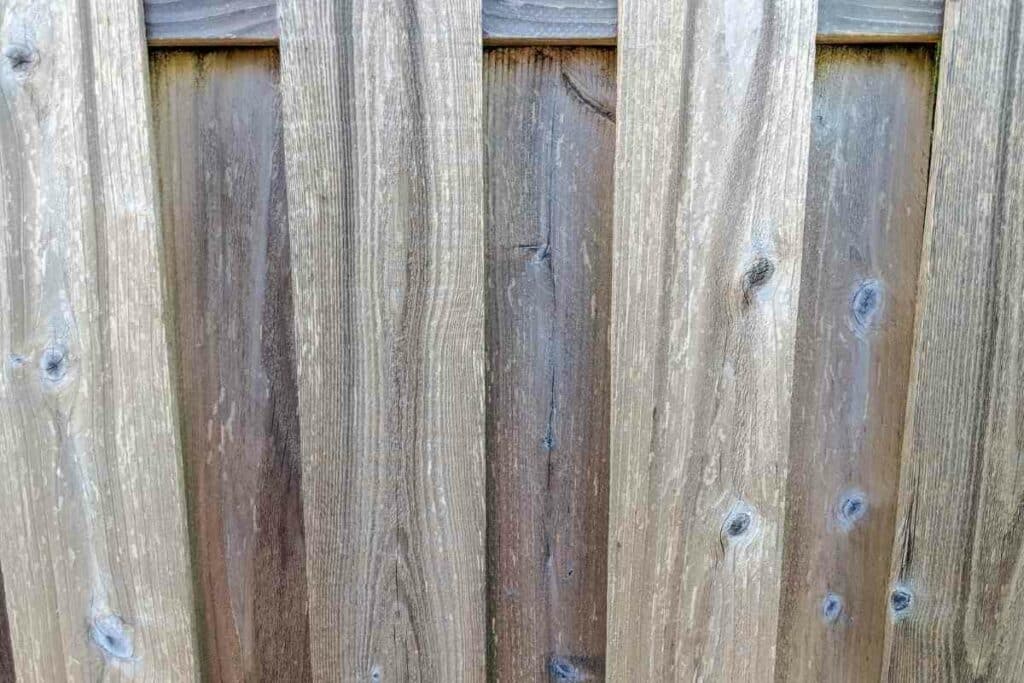 However, the essence of leaving the planks as they are is to allow them to weather to a soft gray hue before sealing, giving your home a nice, rustic appearance.
It's advisable to leave some spaces between the planks to allow air circulation.
This is particularly important if you live in an area with many mosquitoes or own an outdoor garden.
3. Create a motif with different wood types
Do you want a style that's inexpensive yet piques curiosity?
Then, it would be best to try creating a Motif on your horizontal fence using different types of wood.
Thinking of it, it seems that the outcome will be an unsightly mess. In reality, it will surprise you with its aesthetic appeal.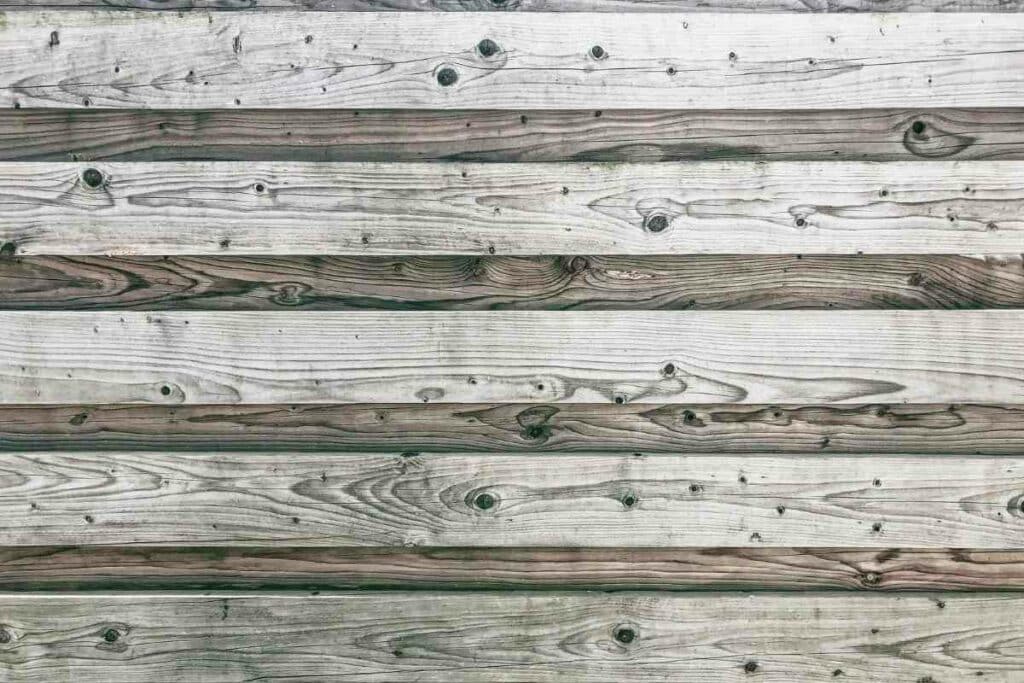 Collect all the wood planks you can find in your yard, provided they are still intact.
You can also repurpose some planks from an abandoned garden shed and other unused structures. The work begins once you remove the nails.
When arranging the planks, use a contrasting beam after every two rows.
For instance, if you used a thicker, dark-hued picket on the lowest row, the third from the bottom would have a thin, light-colored beam, and so on. 
Once You're Done – You'll have a visually stunning motif, all made from repurposed materials. You can apply a thin layer of varnish to beautify your new fence further.
4. Low ipe horizontal fence
Fences mustn't always be tall and obscure your view of the surroundings.
This is particularly true if there's a lake, mountain, or other scenic views in your region.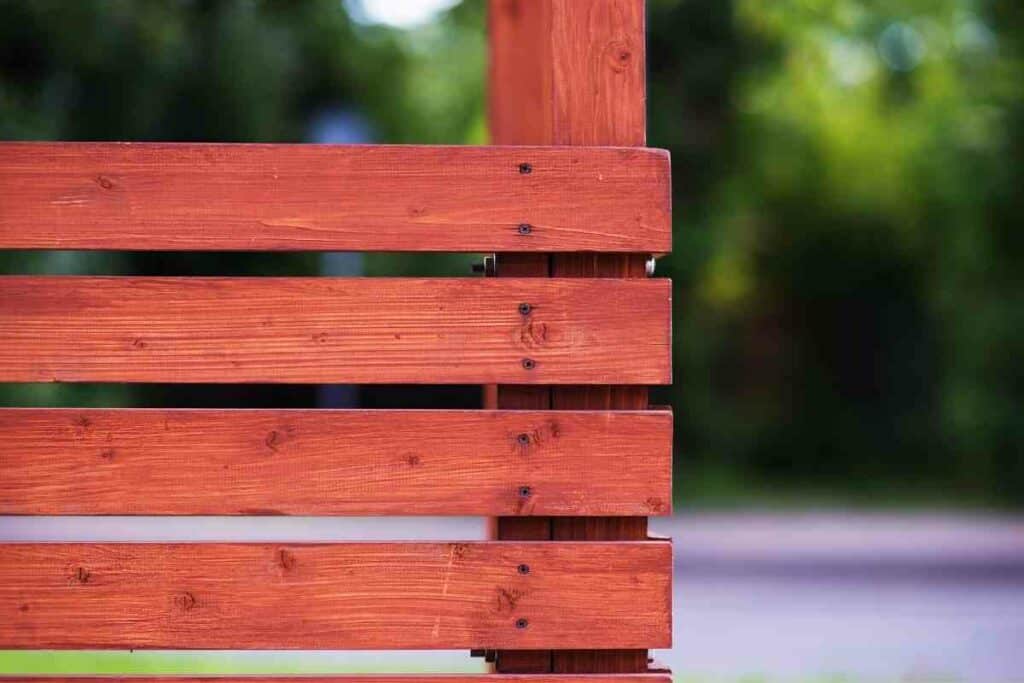 Installing a low ipe horizontal fence around your deck allows you to enjoy an uninterrupted view of the surroundings as you relax, sipping your favorite drinks and listening to soothing tunes.
Low fences can also provide safety for high decks. If you have kids, they can reduce the risk of accidents.
5. Solid geometric concrete horizontal fence
If you love ultramodern minimalist designs, consider constructing a solid geometric concrete fence around your home.
Concrete is primarily used for safety and security, but it can also add beauty.
Its natural gray color is great, despite being neutral. You can paint it black or white to draw more attention.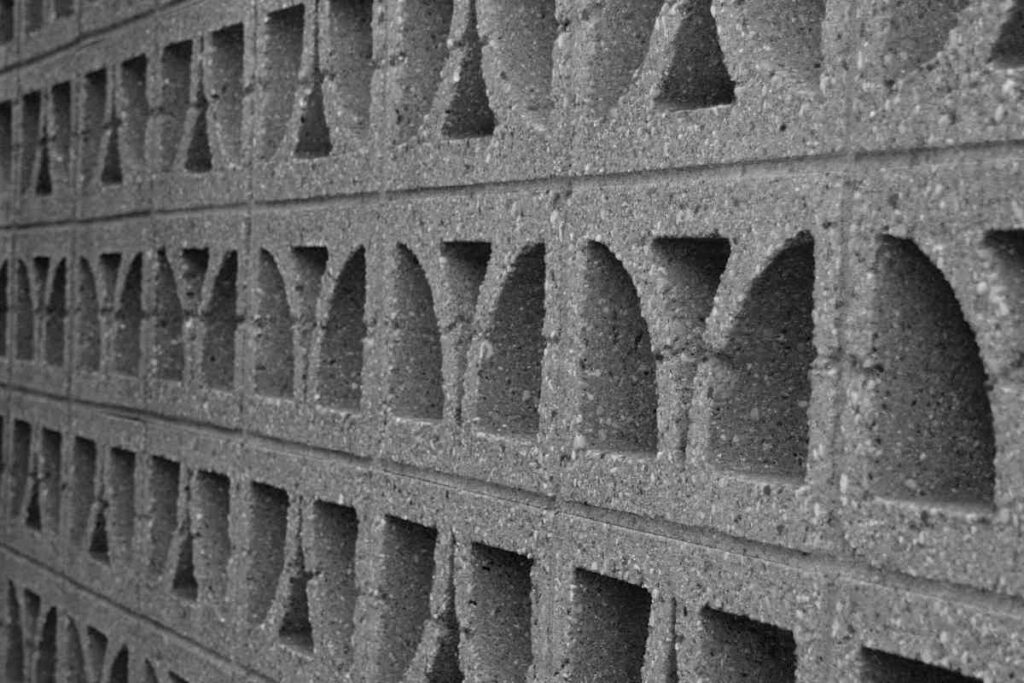 Furthermore, concrete fences have simple, clean lines that spark visual interest and create the illusion of space.
These gaps also promote air circulation, which is crucial if you have an outdoor garden.
It's not advisable to DIY when building a concrete fence. Instead, hire a professional to do it for a clean, desirable, and timely project completion.
6. Break the slats with plants, pillars, or stones
Although horizontal fences are beautiful, using a single pattern throughout your home makes them monotonous and boring.
Creativity is vital if you want a visually appealing fence.
Consider adding other materials to complement your horizontal slats.
For instance, you can break the fence by growing shrubs to cover the gap between the slats.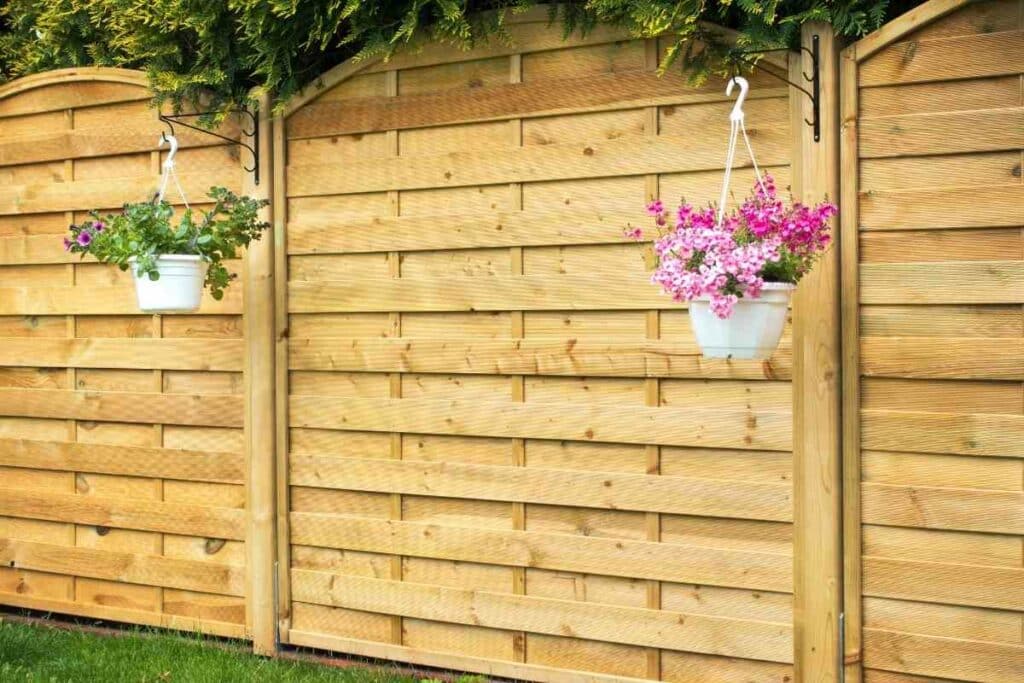 The lush green color provides a beautiful contrast to the color of your fencing material.
You can use concrete pillars to make your yard palatial for a more serious outlook.
Consider alternating horizontal wood slats with gabion walls for a unique, attractive fence if your region has many stones. 
Fences with concrete pillars and gabion walls are beautiful and sturdy.
7. Mirror the materials on your house
Horizontal fences mustn't always be wooden – you can use several other materials to achieve the beauty you desire.
If your home consists mainly of steel and glass, try replicating the same on your lateral fence.
Besides looking like an extension of your indoor space, glass or metallic fences exude class and elegance.
You can also use vinyl for a more premium feel. Vinyl is more expensive than wood, but it lasts longer.
Ensure that the material used on your fence can withstand harsh weather.
This rules out glass as a practical choice in many places, unless you want to use it on a small section of your yard, like around the deck.
However, metals that form a patina after rusting can be excellent fencing materials.
8. Widely-spaced horizontal wood fence
Wide spaces between horizontal slats don't guarantee maximum privacy, but they are enough to section off a secluded area of your property, such as a deck.
The fence keeps you away from the noise of the house, affording you the peace you might want after a busy day.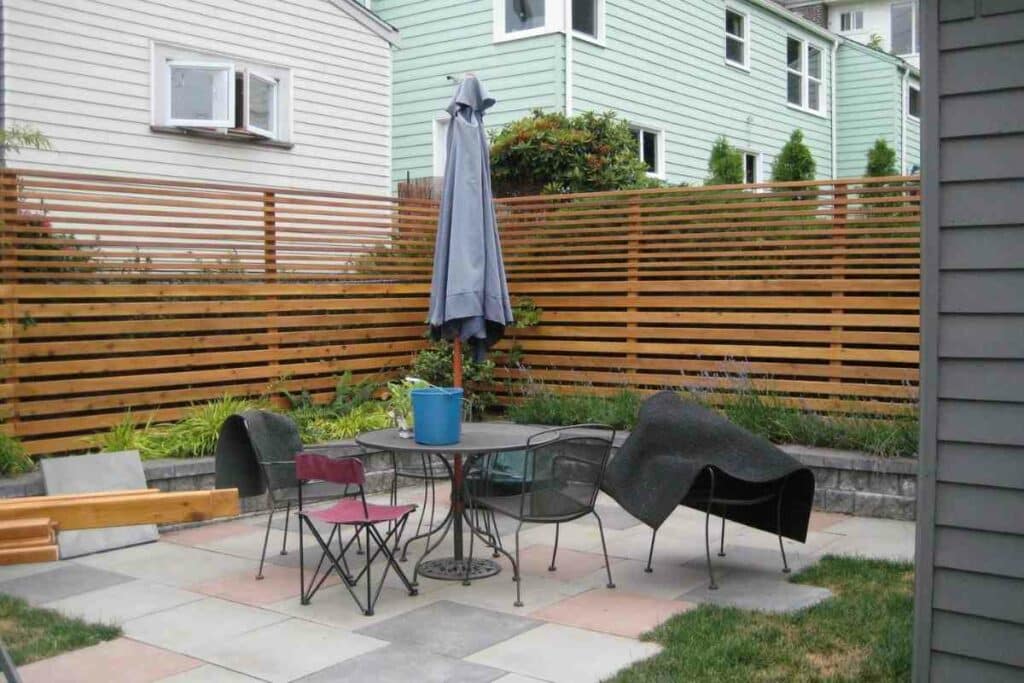 On the other hand, the vast spaces improve air circulation around your deck, creating the ultimate relaxing environment.
What's More – You can paint the slats with a soothing color such as grey or cooler tones of white. 
Widely-spaced lateral fences work best if constructed high. This way, outsiders might notice that you're inside, but they can't tell what you're doing.
9. Horizontal wood fence with metal posts
Wooden fences add a rustic appeal to any home, while metal accentuates most designs.
If you combine the two, you get a heightened rustic design.
Horizontal wood fences with metal posts guarantee privacy and security.
If you live in an area that experiences strong winds, you have peace of mind knowing that the metal posts are reliable anchors. 
Depending on how closely you fit the slats, you might get high or total privacy. All these come at a reasonable cost, especially using recycled materials.
10. Horizontal louvered fence
Horizontal louvered fences give a fashionable sense of privacy.
Their design looks like blinds, such that you can see outside when you peep through them, but the people outside can't see inside – pretty cool.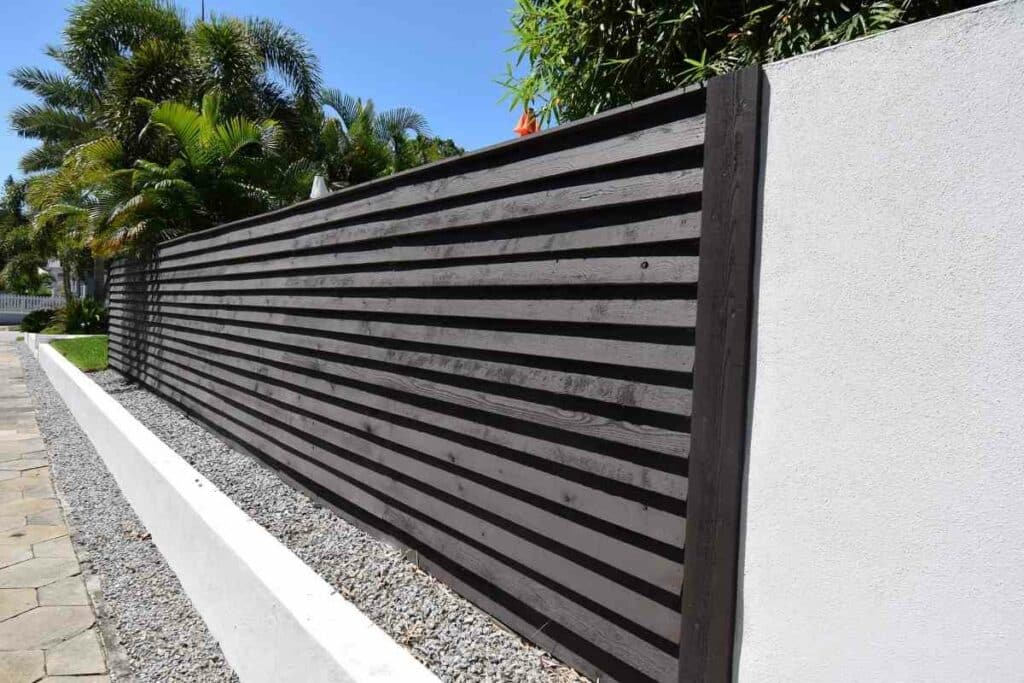 However, the complicated design of these fences makes them practical for use in small spaces, like around decks.
If you want them around your compound, it's best to use them as breaks to your larger, conventional horizontal fence design.
This ensures that you don't suffer the financial consequences of using a louvered design throughout your yard.
11. Horizontal fence with shelving
Do you want a fence that extends your outdoor space?
Then, you might consider building a horizontal fence with shelving, where you can place potted plants, bird feeders, artwork, and anything else to beautify your yard. 
If you have a small backyard, this is an intelligent way to make the most of limited space.
Taking care of your fence
Horizontal fences don't come cheap – they require more materials to cover the same area as vertical fences.
Secondly, they must be built on-site and often have complex designs that further add to their cost.
For these reasons, it's vital to take care of your fence.
Here are some useful tips for prolonging the lifespan of your fence.
Stain your wood
Wood stains beautify your home and increase the durability of your fence.
When applied, they protect the fence against water from your sprinklers and precipitation, which may cause rotting.
Stains also increase resistance to chemicals that might damage your wooden fence.
Paint metal posts
Most metallic fencing posts are made from steel and iron, making them susceptible to rusting.
Over time, the rust eats into your metal and can render it unusable. Moreover, rust makes your fence ugly.
Although most posts have a zinc coating to prevent rusting, it's wise to paint them.
The paint reinforces the coating, guaranteeing more years without needing a replacement.
If your posts have rust, use a wire brush to remove them and apply a primer before painting.
You must call a professional to use effective methods like rust conversion and dry-grit blasting for extensive rusting.
Clean your fences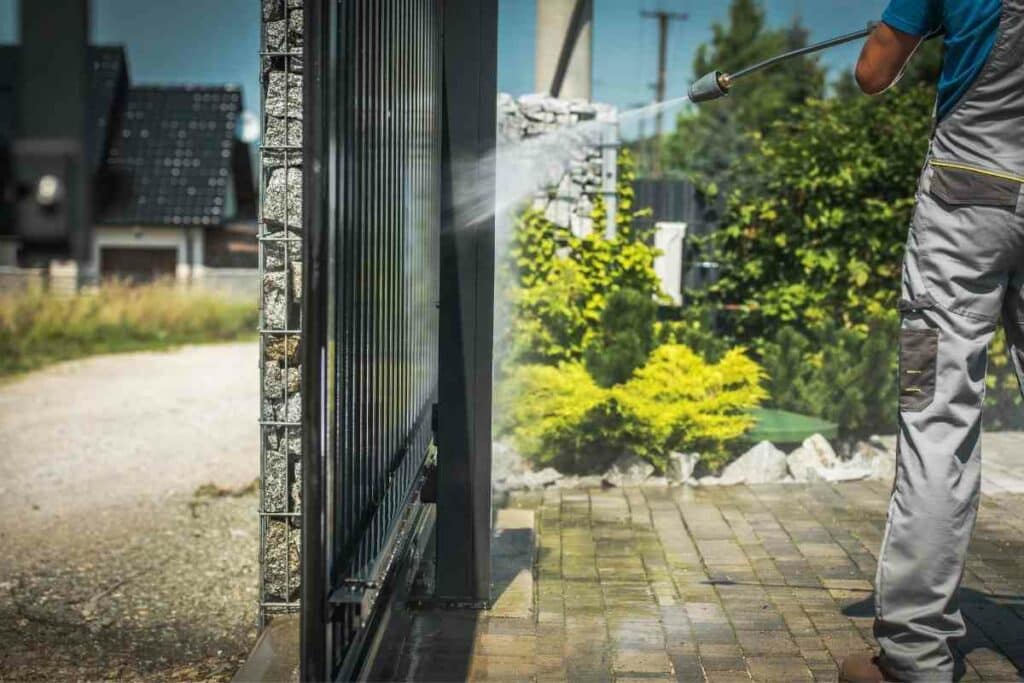 Vinyl fences are the easiest to clean – all you need is:
warm water
soap
a damp cloth
If you have a wooden fence, use a dilute bleach solution.
For metal fences, household detergent and water work best.
Inspect your fence regularly
It's vital to check the integrity of the anchoring posts on your fence.
Factors such as soil erosion, earth movements, and loosened joints might weaken your fence. If you notice any issue, call a pro to fix it immediately.
Wrapping Up
Horizontal fences are becoming more popular among homeowners because of their beauty and several customization options.
The truth is that vertical fences can't match the striking effect of their horizontal counterparts.
Lastly, horizontal fences are ideal for small spaces, like decks, pergolas, and patios.
The clean, simple lines create an illusion of space, unlike vertical fences that give off confined, cage-like vibes. 
You Might Also Like